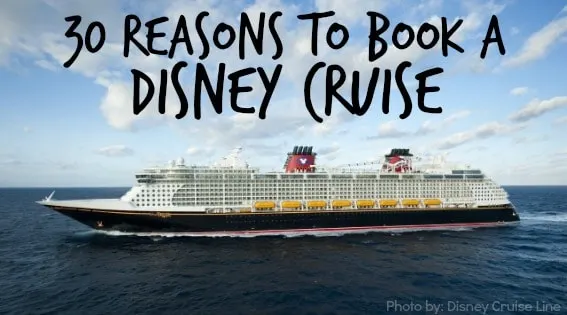 Do you love Disney? Whether you're already an avid fan of the famed mouse or not, Disney sets itself apart from the pack when it comes to their cruise line. How? It's all in the details: everywhere you turn on a Disney ship, and everyone you interact with, has that special 'Disney Difference'. Service, amenities, and ports-of-call all come with that undeniable layer of 'pixie dust' when you cruise with Disney. Not convinced a Disney cruise is worth the extra expense? Read on for 30 more fun reasons to book Disney Cruise Line for families!
Unique On-Board Activities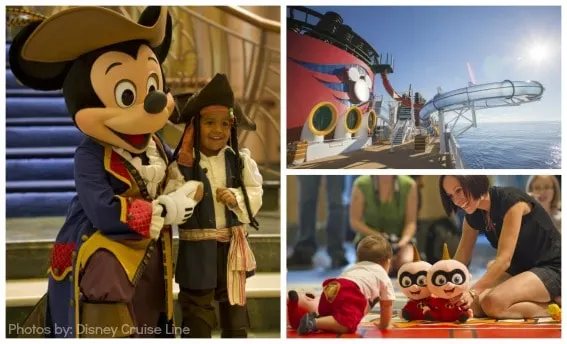 Year-round swimming in freshly heated pools.
Pirate night: a dinner and deck party!
Fantasy's AquaDuck, the 765-foot-long water coaster.
Keep your Disney Autograph Books handy. Characters wander the ship so you can take their pictures and collect signatures.
Family mini golf. Included.
Incredible kids program that takes up nearly an entire deck of the ship. Good luck trying to pry your kids out of there. Hands down, it's by far the best of any cruise line we've been on. Plus, club activities are offered for tweens and teens, too!
Special Disney Magic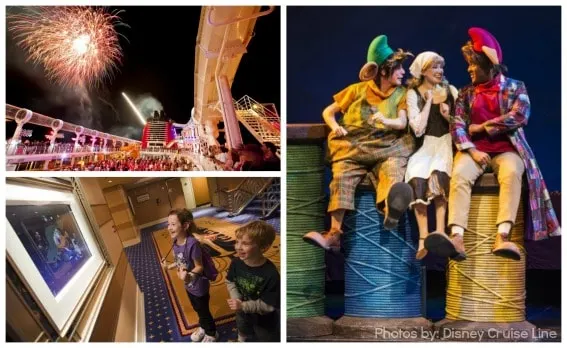 The ship's horn plays a Disney tune when the ship leaves port and every day at noon. When two Disney ships pass each other (in the night or otherwise), they serenade one another. It's possibly the cutest thing ever.

Bring your lanyard for on-board pin trading with crew members.
Search for Hidden Mickeys in the ship's interesting & interactive artwork. Plus, kids can look for a secret character portal and door on the Fantasy.
Disney music plays throughout the ship.
When you board the ship, your family will be welcomed with a personal announcement over the PA. You'll feel like a VIP right from the start!
Elaborate, live Broadway style Disney-themed shows.
Fireworks. Only Disney has a fireworks show at sea.
Disney Cruise Dining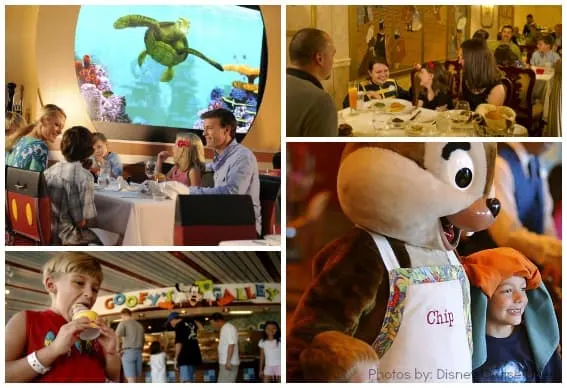 Free Mickey ice cream bars! (You can even get them from room service, which is almost 100% included, by the way.)
One special character breakfast is included in your cruise.
Custom off-menu food options! The chefs will accommodate requests. Just ask.
Little-to-no wait for quick service food, such as Pinocchio's Pizzeria by the pool. Soda, coffee, and tea are unlimited and included (an industry first and big cost saver!).
Efficient omelette station. You order and your omelette is delivered to you. No standing in long lines like on other cruise lines.
Rotational Dining. Alternate between several themed dining rooms on the ship. Your wait staff, who get to know you, rotate with you.
It's the small things: When you ask for ketchup, they serve it to you on a plate in the shape of a Mickey head.
Inside Your Disney Stateroom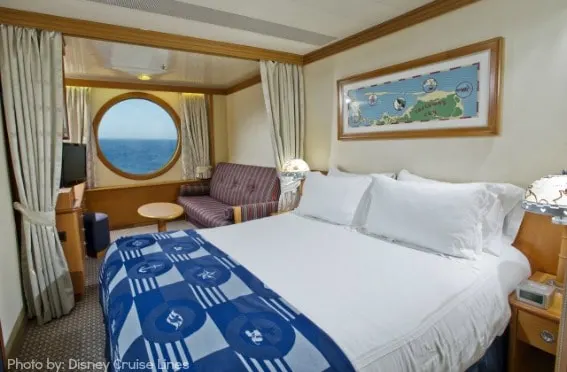 Split bathrooms; there's a toilet and sink that is separate from the shower/bathtub and second sink. Disney is the only cruise line I've been on where the bathroom is split to make sharing easier.
Bathrooms have a small bath tub. This is amazing for families with small kids. Disney is the only cruise line I've been on where the cabins have bath tubs.
Great in-room movie selection. Some not yet on home video. The selection is so good that sometimes it's hard to leave your cabin.
The Disney Advantage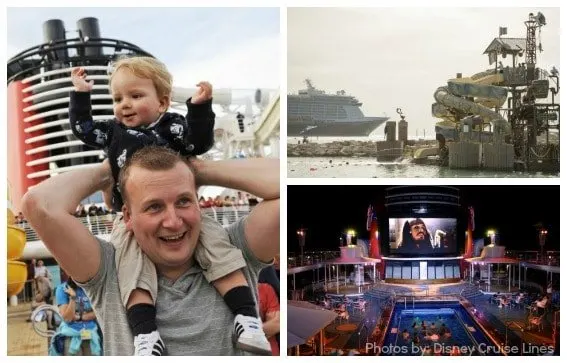 No casino = more dedicated kids space.
Castaway Cay – Disney's own private island. There's even a supervised kids' club on the island! When the ship leaves, the island staff wave goodbye from the dock while wearing Mickey hands.
Not only are there in-room movies, but there's a movie theater showing first run films not yet available on home video, for no extra charge.
Bar servers don't hound you. And drinks in adult-only bar areas are not so expensive you want to faint. Photographers don't hound you, either. And it's easy to purchase photos just once using PhotoPass (similar to in Disney parks).
When you embark and disembark, your luggage magically appears and disappears, all handled by cruise line cast members. Customs is a breeze.
Guests can bring as much alcohol on-board as they want.
There are interesting items in the shops. For the first time ever, I actually wanted to but something in one of the ship's shops.