Updated for the 2017 Season
It's beginning to look a lot like Christmas all over the Gulf Coast of Texas with big city lights and fabulous shopping opportunities. Finding the spirit of the season with kids means lots of fun excitement with visiting Santa, watching eye-popping light displays, and visions of dancing sugar plums. So come celebrate the holidays in Houston, Texas with all the fun events that will make this holiday season sparkle for kids and adults alike!
Sparkling Light Displays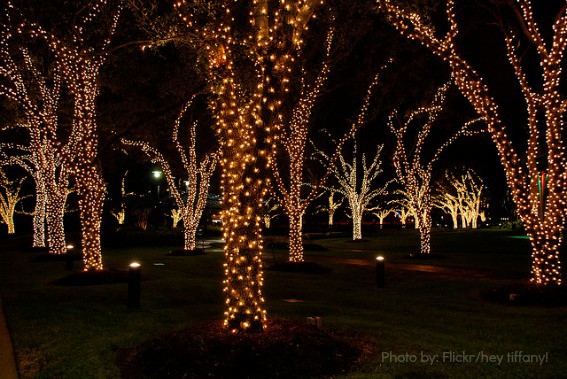 Zoo Lights at the Houston Zoo is a family favorite. Lighted pathways under sparkling majestic oaks will delight kids and adults as they stroll the walkways to see the sleeping animals. Many of the cats at the zoo (ocelots, cougars, leopards, and more) will still be seen with their eyes shining. Holiday music, cups of hot chocolate, and festive treats will get guests in the spirit of the season. Don't miss the enchanted forest where you can see holiday trains chugging through the landscape, life-sized lighted animal sculptures, and the dollhouse village. This nightly event requires separate admission and takes place from Nov 18, 2017 – Jan 14, 2018.
Ooh and aah over the amazing and spectacular lights and holiday décor of The Houstonian Hotel, Club & Spa. Wander through the property to enjoy the 19.5-foot-tall tree, the six-foot-tall Gingerbread Houses with a train traveling through them all, and nightly entertainment with local musicians nightly from 6-7pm, complete with hot chocolate and cookies.
Look for current hotel deals in Houston
Living History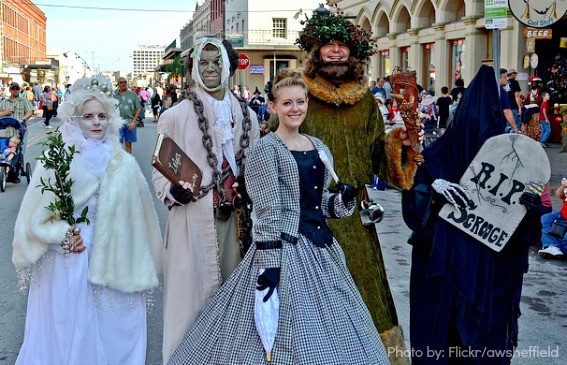 Kick up your boots around the campfire with your kids at the Children's Campfire Christmas held December 9th and 16th, 2017 at George Ranch Historical Park. Families will love seeing what Christmas was like for the first settlers in Texas. A light dinner is included along with a hayride through the park, fun Christmas crafts, and singing Christmas songs around the campfire. More Christmas fun can be found at George Ranch with Christmas in the Park events throughout the month of December.
Enter the 19th-century Victorian world of Charles Dickens at the Annual Dickens on The Strand Festival on December 1, 2, & 3, 2017 on Galveston Island. This annual holiday street festival will entertain families with parades, live entertainment, roving musicians and carolers, along with food, drink, and gift-buying opportunities.
Fantastic Ice Skating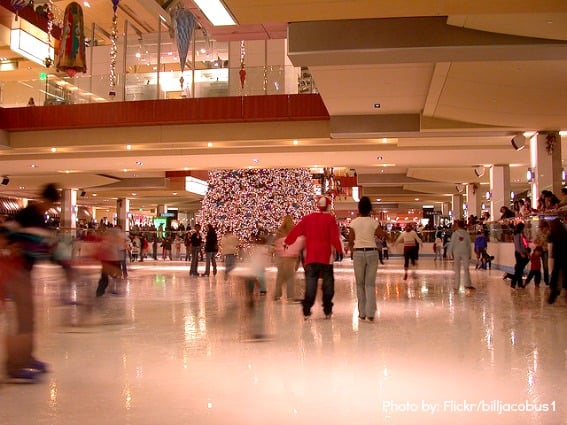 The largest outdoor ice-skating rink in the Southwest is ICE at Discovery Green. Skate among the downtown skyline and enjoy a variety of holiday programming. The rink opens on November 18th with Frostival, a special opening event of ice sculpture carving, live music, and more. Check the schedule to see outdoor movies, skating with Santa, live music and DJs, Jazz on Ice, and Cheap Skate Nights. Perfect for young families is the Ice Box, a special, toddler-friendly rink.
Ice at The Galleria boasts that their rink is one of the top 10 places to skate in the USA, named by Olympian Evan Lysacek. Perhaps it's skating under the amazing glass atrium, or twirling around the tall Holiday Tree that warrants this honor. Families can enjoy Kids Night Out with drop off day care service and fun activities on ice.
The Ice Rink in the Woodlands is a fun place for families to enjoy ice skating plus all the festive happenings with Holiday in the Woodlands. As a bonus, there is a separate ice rink for beginners and children 5-years-old and under.
 Perfect for families with young kids to enjoy their first skating experience!
Check for hotel availability in Houston
Thrilling Parades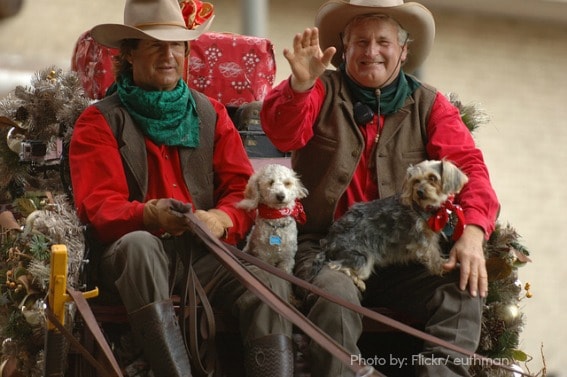 Start off the holiday season with the 68th Annual Thanksgiving Day Parade presented by H-E-B, which is free and open to the public. Find a seat curbside and bring chairs and blankets for the parade's start at 9 am.
Join families gathering for the Christmas Boat Lane Parade on Saturday, December 9, 2017 at 6pm along the Kemah Boardwalk. Bring hot chocolate and festive snacks and watch as the long line of boats decorated in Christmas lights go sailing past.
Theatre Shows & Special Events
Get swept away with dancing sugarplums or watch the renowned choreography of The Nutcracker. Check out these amazing performances and special events intended to delight kids and adults. All dates are in 2017.
"The Nutcracker" at The Hobby Center – Dec 30 – Jan 6
"How the Grinch Stole Christmas" at Jones Hall for the Performing Arts – December 2, 2017
Slumber Party with Clara at the South Shore Harbor Resort on Friday, November 17, 2017 from 6-8 p.m.
Breakfast with the Sugar Plum Fairy on Saturday, November 18, 2017 with a Nutcracker Ballet vignette
All Wrapped Up Together

All the fun of the holiday season can be found wrapped up in sparkling lights at the Festival of Lights at Moody Gardens on Galveston Island. This is one of the largest holiday celebrations in the greater Houston area with more than 1 million lights, animated light displays, and nightly live entertainment. Hop on an inner tube and slide down the 100-foot-long ice slide, skate around on the outdoor ice skating rink, or smile with Santa. Take a driving tour through the park to see the giant light displays or enjoy a fantastic holiday magic show at the Convention Center. All the holiday fun a family can find is right there at Moody Gardens from Nov 11, 2017 – Jan 7, 2018 from 6-10pm.
Houston Magical Winter Lights returns to Gulf Greyhound Park for its third year to present creative, immense lantern displays organized into seven themed areas. Visitors will also love the holiday market, nightly entertainment, amusement rides, and so much more. The festival runs from November 10th, 2017 to January 2nd, 2018.
Special thanks to Texas Tourism, Bay Area Houston Convention & Visitors Bureau, and Mocha Dad for their great suggestions for Kid-Friendly holiday events in Houston, Texas.
Image of Moody Gardens courtesy of www.moodygardens.com
Look for the best hotel prices in Houston
Pin this to bookmark all the holiday fun; we update it yearly: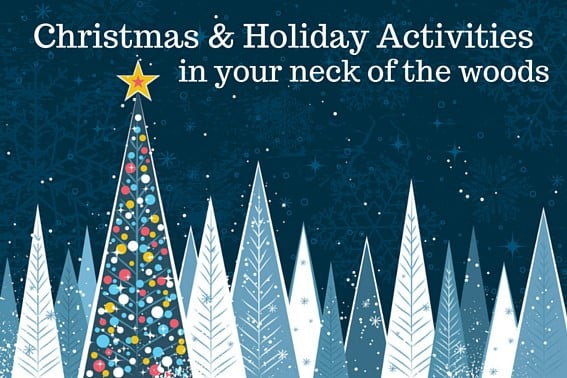 Featured photo by: Shutterstock