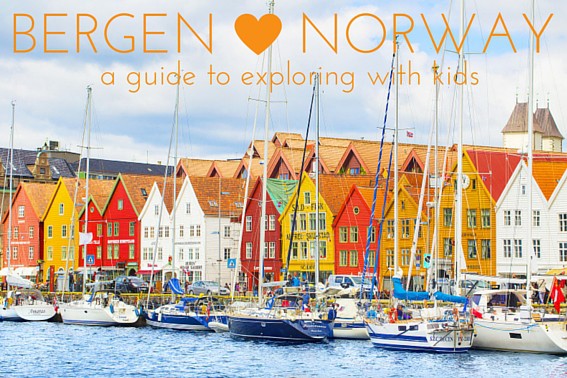 Photo by: Bigstock/maylat
Bergen satisfies all my daydreams about what a Scandinavian city should be. Colorful wooden houses lining historic, cobbled streets. Check! Forested mountains framing a thriving seaport. Check! Friendly locals who take pride in their impeccably clean homeland. Check! While many people visit this city on their way to or from fjord country, travelers who visit Bergen with kids will be pleased to discover a culturally rich and naturally beautiful city deserving of their family's attention. One of the many perks of visiting Bergen in the summer is being able to take advantage of the midnight sun. Sunshine at midnight never got old!
Good to know: Norwegian is the primary language in Norway, but my family found that nearly everyone we encountered in Bergen spoke English which made it very easy to communicate and navigate the city. Norway is not in the Euro Zone. The country's currency is the Norwegian Krone. At time of publication $1 USD was equivalent to .12 NOK. Check sites such as XE.com for current exchange rates.
Getting There
Bergen is easily reached via a connecting flight from international airports such as London, Copenhagen, and Oslo, which are serviced by several direct flights from the US every day. The Bergen airport is located 15km from the city center and the journey takes approximately 30 minutes. The Bergen Airport bus is an easy and cost-effective way to get to the city center. It runs every 10 minutes during peak hours and drops off in key spots such as the Fish Market and in front of the Radisson Blu Hotel Norge. Children travel free with a paying adult (~$10).
Great Places to Visit in Bergen with Kids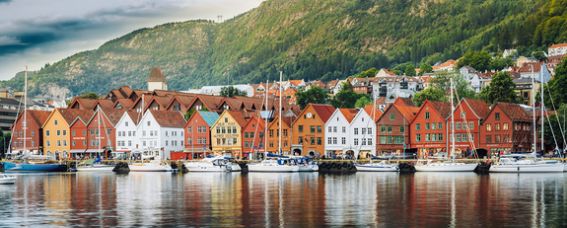 Photo by: Bigstock/Grisha Bruev
If you want to get the most bang for your buck, I suggest picking up a Bergen Card. These passes get you into various attractions around the city as well as free travel on buses and Light Rail. They are a great value for families who want to visit several attractions within a 24, 48, or 72 hour period. Prices range from about $28 (24 hours) to $44 (72 hours) per adult and $10 (24 hours) to $17 (72 hours) per child. The pass can be purchased online or at various locations throughout the city, including the Tourist Information Center near the Fish Market. All of the attractions listed below are included in the Bergen Card unless otherwise noted.
Good to know: Bergen's streets are heavily cobbled so if you are using a stroller, consider bringing something more durable than a cheap umbrella stroller.
Fløibanen Funicular and Floyen Mountain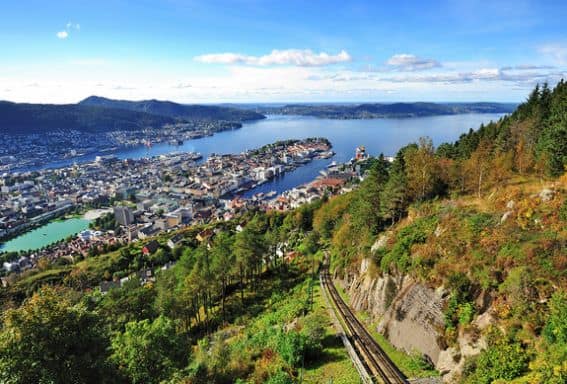 Photo by: Bigstock/NoraC
Bergen is a city that sees its fair share of rain. As a matter of fact, it rains 202 days a year! So when the clouds lift and sun comes out, stop what you are doing and head outside to enjoy Bergen's immense natural beauty. Locals enjoy taking the 6-minute ride up the Fløibanen Funicular, located near Bryggen, to the top of Floyen Mountain to enjoy incredible views of the city and a day of fun in the Norwegian woods. Kids will have a blast playing on the large, troll-themed playground. Families might choose to purchase an inexpensive disposable bbq grill and some meat at a grocery store in town to have a picnic atop the mountain or opt to enjoy lunch from the restaurant near the playground.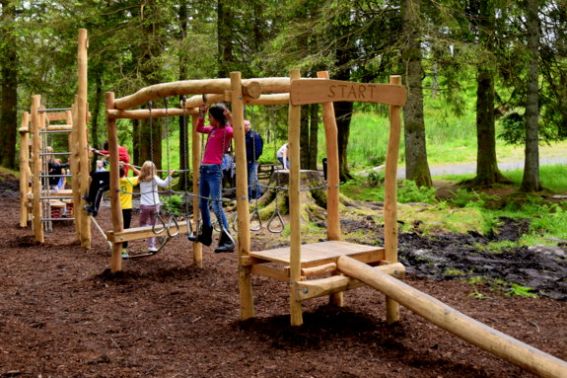 Photo by: Sharlene Earnshaw
In the woods just beyond the main playground my kids were thrilled to discover a wooden obstacle course where they could embrace their inner American Ninja Warrior. There are numerous trails that wind their way through the woods if your family is in the mood for a hike. Your kids might also enjoy the entirely downhill walk back to the city center which zig zags through the woods and a charming old neighborhood clinging to the mountainside.
Good to know: The Bergen Card will give funicular riders a 50% discount during the summer months and free entry the rest of the year.
Mount Ulriken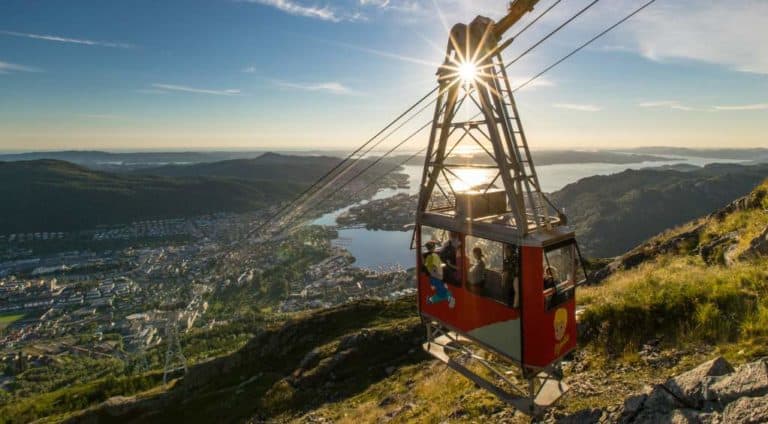 Photo by: CH – Visitnorway.com
Bergen is known as a city surrounded by 7 mountains. The other mountain that is as easily accessible as Mount Floyen is Mount Ulriken. Buses to the base of the mountain depart from Byrggen several times per hour during the summer months. A ride on the Ulriken 643 cable car ($48 RT for a family pass) rewards passengers with the highest viewpoint of Bergen and the surrounding region, 2100 feet above sea level. A restaurant at the top is popular with tourists.
Bryggen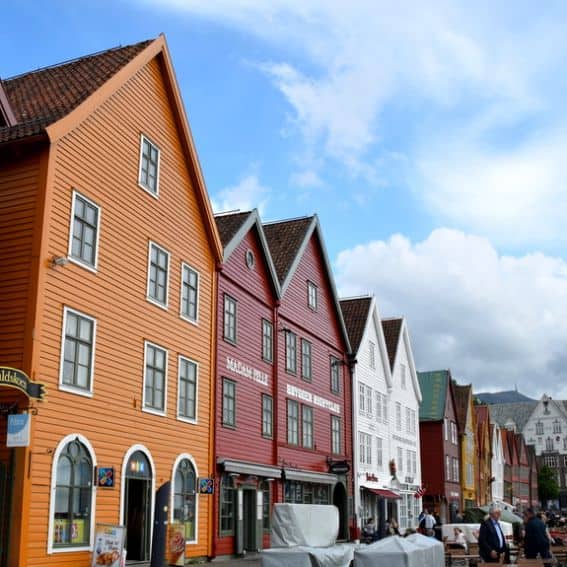 Photo by: Sharlene Earnshaw
The foundations of this UNESCO World Heritage Site were built in the 11th century by Hanseatic merchants. Bryggen served as an important center of trade and commerce between the Nordic north and Germanic south. The wooden, wharfside buildings have been destroyed by several fires over the centuries but were always rebuilt and remains basically unchanged. Most of the storefronts are filled with all sorts of fun items mostly sold to tourists these days but the Hanseatic Museum in the Finnegården building is worth a visit if you are interested in seeing an authentic merchant's office from the Hanseatic period. Behind the merchant buildings of Bryggen is beautiful St. Mary's Church which recently reopened after extensive renovations. The church was built in the 1100's and is a great spot to catch a glimpse of a Norwegian bridge on her big day.
Bergen Aquarium
Photo by: Bigstock/Ravnak
If rainy weather keeps your family inside, a trip to the Bergen Aquarium is sure to put a smile on your children's faces. The aquarium is within walking distance of the Fish Market but bus number 11 and a passenger ferry (during the summer months) will get you there as well. Attractions such as penguin and crocodile feedings, a sea lion show, and touch tanks are sure to entertain the kiddos for a couple of hours.
Good to know: Free entry into the aquarium is not included with the Bergen Card but a 25% discount of admission is.
Norwegian Museum of Fisheries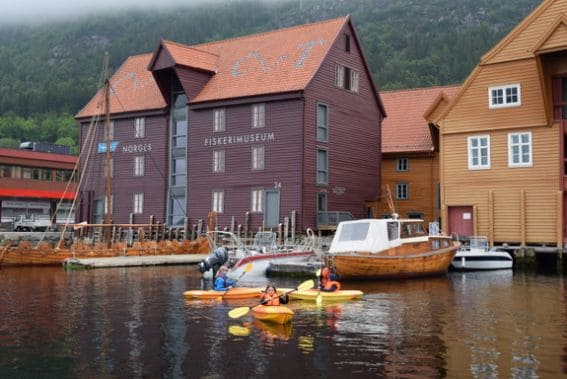 Photo by: Sharlene Earnshaw
The Norwegian Museum of Fisheries, Bergen's newest museum, is housed inside an authentic wharfside warehouse that is similar to those found in Bryggen. The cool thing about this building is that it is sits on stilts surrounded by water, just as the warehouses did centuries ago. Inside the museum are interactive exhibits geared toward children relating to the oceans, Norway's rich fishing history, and preserving our marine resources. There is also a stamp-based scavenger hunt which my kids loved. They were able to turn in their stamped card for a prize. Outside, kids can rent kayaks, row boats, and fishing equipment. My children loved being able to actually kayak under the building. We also enjoyed lunch at the museum's cafe which serves up some pretty tasty carrot cake.
Good to know: Rental of equipment is not included with your admission (free with Bergen Card) but a 50% discount is offered to Bergen Card holders.
Old Bergen Museum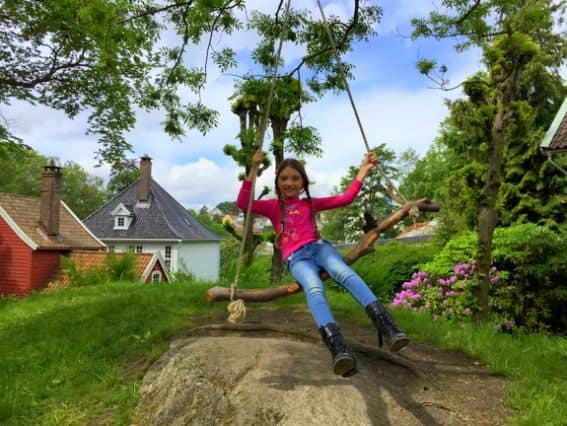 Photo by: Sharlene Earnshaw
I can never resist an open-air history museum and am happy to report that the Old Bergen Museum did not disappoint. The museum is easily accessed via a short bus ride from Bryggen. It is essentially a reconstructed small town featuring 50 wooden houses from the 18th, 19th, and 20th centuries, some of which are occupied by "townspeople" in period costume. Many of the houses are open to the public and furnished to recreate the homes of Bergen townspeople of years past. They include the Tax Collector's House, Merchant's House, Grocer's Shop (a great spot to buy candy!), the Baker's House, the Barber's House, the Dentist's House (complete with tools that will make you feel extra thankful you live in the 21st Century), the Sailor's House, and Ms. Knudsen's Beauty Institute. In the courtyard your kids will be thrilled to discover old-time toys and games waiting to be played with. My family couldn't get enough of the wooden walking stilts. Also not to be missed are the tree swings in the park. The swings fly high and the views are lovely.
Bergen Fish Market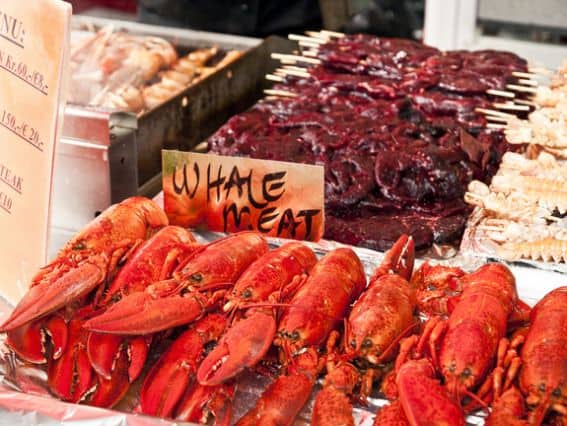 Photo by: Somatuscani
The center of tourist action in Bergen is the Fish Market. This irresistible market features all sorts of fresh fish, produce, and souvenirs. Many stands serve up cooked dishes. Yes, the whale that you see for sale is actual minke whale. Norway is one of the few places in the world where whaling is not illegal. While the idea of eating whale is quite taboo in most places, whaling has been part of Norwegian culture for over 1000 years and Norwegians believe it is an important part of their heritage. They do limit the number of whales killed per year so there is an element of sustainability involved. Ultimately, it is up to you to decide whether or not to sample the whale sausage you might be offered at a market stand. Beyond the Fish Market, there are several restaurants, shops, and cafes surrounding this waterfront area that are waiting to be discovered.
KODE- The Art Museums of Bergen
The KODE art museums are composed of 4 buildings dedicated to different genres of art. KODE 1 is closed for renovations through 2016. KODE 2 houses contemporary art. KODE 3 features works from the "Golden Age" of Scandinavian art, including a collection of paintings by Edvard Munch. KODE 4 is the first art museum in the world with a specially designed laboratory where children can explore art through play and experimentation. The Kunstlab is a place where children are encouraged to touch the art and climb all over the exhibits. What fun!
Food & Dining in Bergen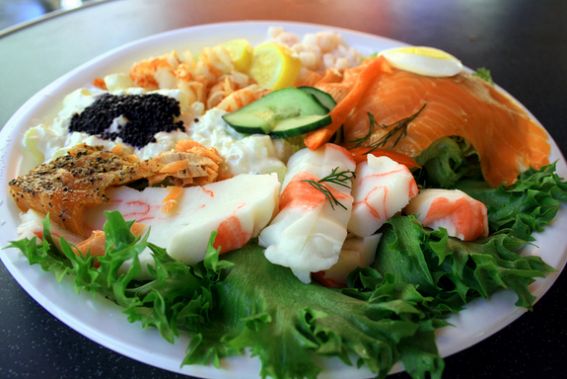 Photo by: Bigstock/AlexAlexl
There is no way around it- food in Norway is expensive. My family quickly learned some tricks on how to bring our costs down. First, always eat a full breakfast at the hotel. Many hotels allow you to pack a lunch from the breakfast spread (which does include plenty of lunch options) for a reasonable fee. Check with your hotel to see if this is available. There are plenty of green spaces in Bergen (Mount Floyen comes to mind), that are perfect picnic spots. Another nice option is to take advantage of the long summer days and pick up a disposable barbecue kit from a market as well as some things to grill. These little kits are readily found and reasonably priced. Believe it or not, Norwegians make a pretty great pizza! We found a large pizza at Peppes Pizza, a popular chain in Norway, to be an economical option for our family at mealtime. There are several restaurants surrounding the Fish Market (which is a nice meal option as well) and at the food court off Torgallmenningen Square which sits adjacent to the Fish Market.
Family-Friendly Bergen Lodging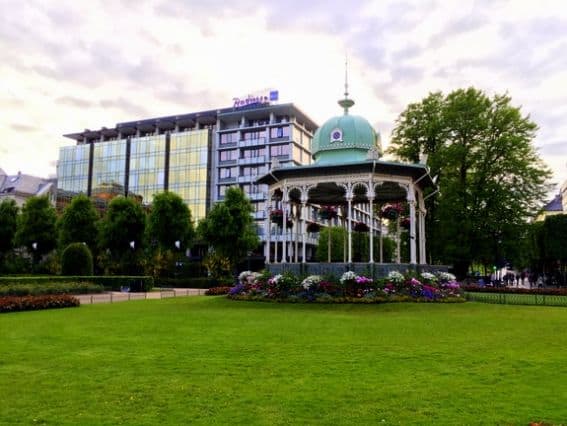 Photo by: Sharlene Earnshaw
There are several nice hotels in the city center to choose from. We stayed at the Radisson Blue Hotel Norge which is located at the end of Torgallmenningen Square. We found the location of the hotel to be ideal. We were a couple blocks from the Fish Market, across the street from a lovely park, and the stepping stones around the pond and fountain out front were our children's favorite play space. Family rooms include a pull-out couch bed which my two children shared. As with most hotels in Norway, our rate included a full breakfast. It also included complimentary wifi and access to the pool.
Good to know: The Bergen Card is available for purchase from this hotel.
Want more Norwegian inspiration? Check out our guide to visiting Oslo with kids.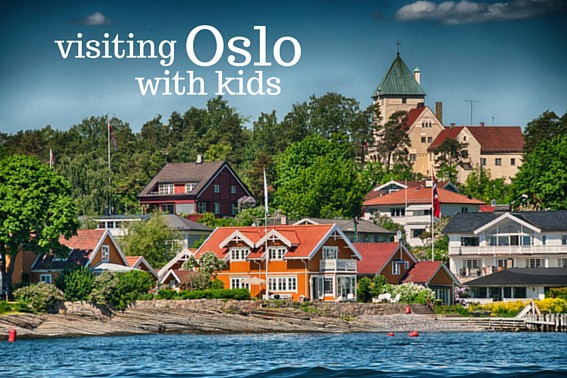 Disclosure: My family was hosted during our Norwegian adventure by Visit Norway. We greatly appreciated the hospitality but all opinions are my own. All images by author unless otherwise noted.