Colorado has no shortage of ski resorts to choose from. However, if you're looking for the ultimate luxury family ski vacation where every bump in the journey has been ironed out, then Beaver Creek Ski Resort is it.
Our trip to Beaver Creek, Colorado began with a surprise wake up call at 3:30am for the birthday boy who hadn't the slightest clue about what was happening. It's not every day a child turns 13 and enters the "glory days" as a teenager. While other families throw big coming of age parties, we mark the occasion with a trip. It's our way of saying, "Hey, kiddo, there's a big world out there, it's now yours to explore!"
The snowboots gave away the first clue. "We're going to the snow?" he asked
Next clue, "Wait, why are we going to the airport?"
But the best moment came several hours later when we pulled into Beaver Creek Resort. His jaw dropped to the floor and his eyes were plastered to the window. We were awestruck by the magnificent view of Beaver Creek Mountain against the Colorado blue sky. Nestled between ski runs, over bridges, and under gondolas, we found one architectural beauty after another. Three village areas make up Beaver Creek Resort offering 1,800 acres of skiable terrain, 150 trails, and 24 lifts.
"Welcome to your birthday surprise!" I chuffed. This mom was pretty pleased with herself.
Thanks to Vail Resorts for inviting and hosting us to experience Beaver Creek Ski Resort first hand so we can share what we experienced with you.
Redefining the Luxury Family Ski Vacation
Beyond the sophisticated beauty of this mountain resort, at its heart, Beaver Creek is all about families. Their goal is to redefine the family ski vacation and to be the #1 luxury ski resort for families in the United States. The attention to detail and gracious hospitality of the staff blew us away during our visit.
The No-Stress Arrival Experience
If you've ever been on a ski vacation, arrival day is exciting but full of logistics to figure out. It can be a challenge getting settled and trying to get to the rental shop in time to pick up your gear. I don't know about you, but after checking in, the last thing we want to do is hustle all the kids back out for a rental fitting.
We were pretty thrilled that Beaver Creek Sports coordinated with the front desk at our condo at Pear Paw to bring the equipment fitting to our comfy condo. Our kids were still running around our apartment like monkeys when Beaver Creek Sports arrived with two huge bags filled with our gear. A few minutes later, we were all set.
I was thinking about how to wrangle all the gear for our morning shuttle ride down to ski school when he popped the question, "Which ski valet location would you like me to drop off your equipment at?" Any mom or dad who has ever lugged their child, dangling with gear across a parking lot, can appreciate my complete and utter gratitude.
The Smoothest First Day of Ski School Ever
Even for our kids who love the snow and skiing, the first day of ski school at a new resort can make or break the ski vacation. Our youngest (7) is shy and our middle child (13) who is a skier wants nothing more than to be on the mountain with the rest of us. The trouble is the rest of us snowboard, and our private family lesson is always with a snowboarding instructor. So, at least for part of our vacation, our middle one has to be persuaded to take a group lesson in ski school.
Tension always surrounds this dynamic. This time was no different. To ease the transition, we needed a drama-free check-in to ski school. The shuttle driver recommended dropping us off at the Vilar shuttle stop where a series escalators delivered us right up to ski school. Beaver Creek is the first ski resort we've been to with outdoor escalators. It's brilliant!
Anyway, noticing that "I'm new here and I'm bewildered" look on my face, a staff member came right up to offer to help. With assistance, we easily completed our paperwork, put ski boots on the right way, tagged the kids, and introduced them to the right instructors. Afterwards, I waved the kids good-bye feeling glad at how quickly I managed to sneak away.
The Makings of the Best Ski School Ever
With two warm cookies in hand, I greeted our kids at 3 pm. "How was ski school?" I asked.
My 13-year old: "I got to ski through trees looking for candy in the snow! Did you?"
My 7-year old: "It was soooo fun! My teacher had a monkey on his head."
Cha-Ching! A successful first day of ski school at a new resort. I couldn't wait to hear about all their adventures.
Beaver Creek's Ski School program is exceptional. The highly skilled crew of instructors love what they do, and it shows. They are so confident in their ski school program that they guarantee that your child will be on the chairlift within three days of consecutive lessons or the fourth-day lesson is free. Beaver Creek Ski Resort has more dedicated learning terrain than any ski resort in Colorado. The thoughtful design of these areas is a testament to their commitment to developing confident and safe skiers and snowboarders who love the sport.
Haymeadow Park
Haymeadow Park caters to beginners who have graduated from riding the magic carpet to their first chairlift and may be nervous. Although it's a beginner area, it has fun features like a mini race course and other sculpted terrains like the Winding River, Buffalo Bumps and Berms, and Ske-Cology, an environmental learning area. These features were designed to keep learning interesting and entertaining while a student builds confidence around basic skills.
Red Buffalo Park
The Red Buffalo Park learning area takes advanced beginners and intermediate skiers and snowboarders to the highest point at Beaver Creek Mountain (11,400 feet). This 200-acre learning area is serviced by a high-speed lift which with a mix of Gondola cars and chair lifts. We had fun honing our skills on the 13 perfectly groomed green and blue trails. I have to admit it wasn't just the kids who enjoyed discovering all the hidden gems designed to delight kids as they perfect their skill. I too had fun searching for whimsical snow sculptures, weaving through the "teepee run," and looking for candy in the "gold mine" nestled in the trees.
Hospitality that Goes the Extra Mile
Any resort knows that the key to a great experience is fantastic staff. We were blown away by the warm and sincere hospitality we received at Beaver Creek. From shuttle drivers to ski valet, from ski instructors to food service staff, everyone was eager to go out of their way to accommodate our needs.
Here's just one example. On our last day, we bumped into our 7-year-old at lunchtime. She came running to us with tears because she had advanced in her skills and was now in a group with older kids. It happened that they didn't speak much English and didn't talk to her. She was sad she couldn't make a friend.
As soon as the instructors saw that she was upset, they started working on a way for her to switch to a different group. They ended up having one of the instructors she had skied with the day before taking her for a private lesson. I got to tag along on my snowboard, and soon she was all smiles.
Here's the reality of traveling families- they consist of many different personalities and children are often unpredictable. Beaver Creek empowers its staff to flex to the changing needs they see. I was so impressed with how eager they were to help and their ability to change things around to ensure that our whole family was having a great time.
Sweets and Smiles on the Mountain
Even when things aren't going quite right, there's always a warm chocolate chip cookie nearby to put a smile back on your face. Beaver Creek's signature 3 pm cookie time is a beloved tradition. But it seemed like 9 am was also cookie time, and for kids, any time at the Cookie Cabin on the mountain was also cookie time.
I usually care to not feed my family too many sweets, but when everyone's on the slopes working hard on their turns, sweet surprises are irresistible. At the top of Haymeadow Express, the old-fashioned Ice-cream Parlour serves up massive shakes and floats. We decided this was the perfect spot to celebrate our 13-year old's "coming-of-teenager" birthday. The Cookie Time Shake was the cherry on top of an epic birthday ski vacation.
As soon as our kids heard that there was a Candy Cabin hidden somewhere on the mountain, they were obsessed with when we were going to visit. Located at the top of Strawberry Park Express (Lift 12) and Beaver Creek Mountain Express (Lift 18), their sweet dreams were fulfilled. With pockets overflowing with candy and artisan craft chocolates, they left several pounds heavier.
Kid-friendly Adventures in Fine Dining
There are exceptional dining experiences offered at Beaver Creek. The food is excellent, but the setting is casual, making it enjoyable for families.
Ski-in or shuttle up (using the Village Connect app) to Saddleridge restaurant, located in a historic private retreat. The architecture of the lodge is reminiscent of a National Park lodge, with high wood ceilings and beautiful stonework.
The menu takes comfort food and delivers a fine-dining twist – grilled venison tacos, elk carpaccio, or simply the best bowl of mac and cheese you'll find on this side of the Mississippi. DO NOT miss the thick-cut candied bacon. Diners should be warned – you won't be able to get it out of your mind for weeks.
In the evening, we visited Allie's Cabin and Beano's Cabin. We recommend making a reservation for an early dinner (6 pm) because dinner begins with a snowcat powered sleigh ride up the slopes to dinner. Also, dress warm and cuddle up for family snuggles under the thick blankets. As the lights of the resort dim, enjoy the night sky with billions of twinkling stars.
Upon arrival, we traded our winter coats and boots for a pair of cozy slippers. The dining room serves a multi-course prie-fixe menu. If you're picking between Allie's Cabin and Beano's Cabin, we found the food at Allie's Cabin more traditional while the latter more creative. In addition, kids 13 and under can order from the kids' menu.
There are many other fantastic restaurants in Beaver Creek Village including Toscanini that serves authentic Italian cuisine and an impressive wine list. Kick back and enjoy their popular aprés served daily from 3-9pm.
Park Your Car and Say No More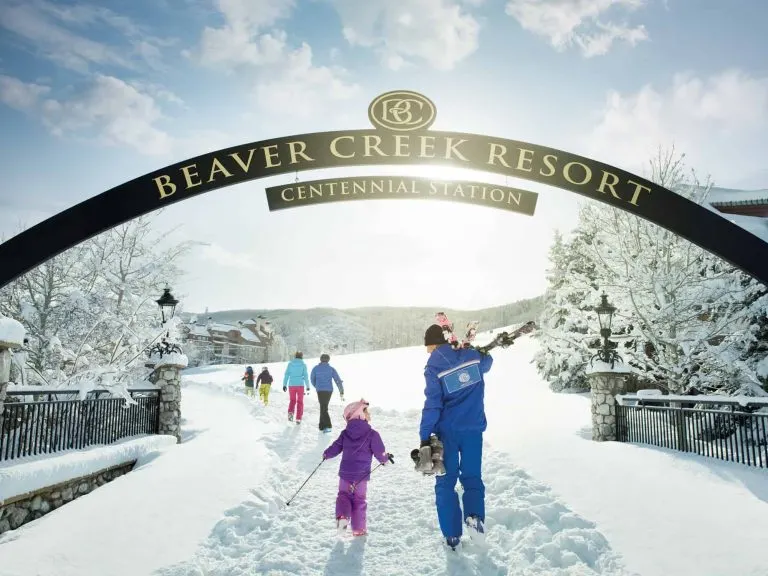 When you arrive at Beaver Creek Ski Resort, you can park your car for your whole vacation. Or take the shuttle from the airport and don't even bother renting a car. The free shuttle service picks up from the entire resort, even private condos, and homes. Beaver Creek's entourage of buses and vans are air-conditioned, have comfortable seats, and are impeccably clean.
If you've gotten used to getting around with Uber or Lyft, you'll love the Beaver Creek Village Connect app. This gem allows you to request a ride at any time.
Where to Stay at Beaver Creek
The volume of self-catering luxury accommodations, most with ski-in/ski-out access to Beaver Creek Mountain is astounding. While known for its luxury accommodation, Beaver Creek also offers moderately priced lodging options. Hotel rooms start as low as $180/night for a mid-week stay.
Hotel Style Accommodation
Park Hyatt, the Ritz Carlton, and the Westin Riverfront Resort and Spa offer traditional hotel rooms. All have ski-in/ski-out access to Beaver Creek mountain.

Compare hotels, condos, townhomes, and vacation homes.
Trekaroo is an affiliate of Booking.com. Which means that you get the same awesome prices, but we get a few dollars to feed our baby kangaroos.
Park Hyatt is right next to ski school in Beaver Creek Village, and there are many different restaurant options within easy walking distance.
The Ritz Carlton is in the Bachelor Gulch area and has it's own ski school check-in as well as a ski nanny service to help with drop off and pick up from ski school. Ritz Carlton and the Westin both of a kids club program for kids who are not skiing or snowboarding. The Westin is the furthest from the slopes, but it has easy access to the mountain via a gondola.
The Pines Lodge is an intimate boutique property located in Beaver Creek Village with a variety of different rooms. From typical hotel style accommodation to condos and townhomes. Its central location overlooking Beaver Creek Village is particularly great the non-skier who wants easy access to off-mountain activities and dining.
Condo and Townhomes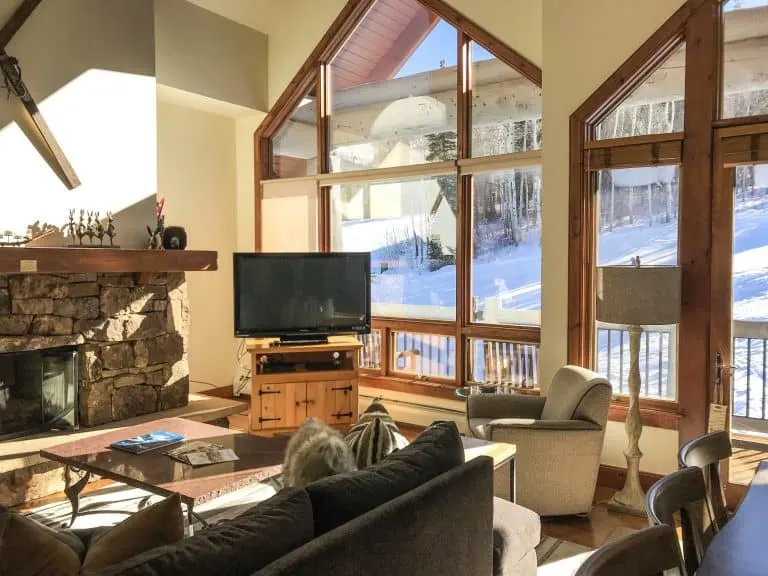 We were very excited to find a wide variety of 2-4 bedroom condos and townhouses perfect for one or two families. These lodging options give you more room to spread out and allow you to self-cater. Plus, many condos are located slope-side throughout Beaver Creek Mountain with ski-in/ski-out access. In addition, you can request housekeeping services as you desire.
We loved our spacious two bedroom condo at Bear Paw with a full kitchen. Making our breakfast in the morning made getting ready for the ski day much more relaxing. When we had wet gloves to dry, we used the washer and dryer conveniently located right in the unit. After a long day on the slopes, we relaxed our tired muscles at the hot tub and swimming pool.
Tip – You can get groceries delivered to your condo at Beaver Creek by Resort Delivery You can also rent baby equipment including clean humidifiers from Travel Vail Baby.
Multi-family Lodging
Families traveling together won't have trouble finding homes that can accommodate larger groups from 15-25 people. There are 5-6 bedroom townhomes in addition to larger architectural luxury mountain homes. So bring along the grandparents or your favorite pals. You won't regret it.
Plus, privately owned condos, townhomes, and homes are all a little different. The Beaver Creek lodging website has all the available units in one place, and their customer service staff can help you select the units that fit your family perfectly.
Ready to go?
How to Get to Beaver Creek Ski Resort, Colorado
Beaver Creek is in the town of Avon, Colorado. The closest airport is Eagle County Regional Airport (EGE), just a 30-minute drive to Beaver Creek Resort. During the winter, American, Delta, United, Air Canada, operate direct flights from the following cities: Atlanta, Chicago, Dallas/Ft. Worth, Denver, Houston, Los Angeles, Miami, and New York/JFK, New York/LGA, Newark, Phoenix, Salt Lake City, San Francisco, Toronto, and Washington DC. One-stop flights are available from 250 cities.
Beaver Creek is also about 2 hours east of Denver International Airport (DEN) with many carriers operating direct flights from most cities.
We flew from SFO to DEN. The EPIC Mountain Express operated by Vail Resorts picks ups and drops off at both EGE and DEN. Both private and shared shuttles are available. Plus, the shuttles have free high-speed WiFi to help pass the time.
Renting a car at the airport is another option, but it's unnecessary because Beaver Creek Resort has a free and very efficient shuttle service. We wish you well as you travel to Beaver Creek.
*Disclosure: We received complimentary lodging, passes, lessons, and meals to enable us to experience a wide variety of experiences at Beaver Creek Resort during our visit. But as always, these opinions are entirely my own.