If you family loves lots of adventure, being surrounded by nature, and visiting national parks, then Adventures on the Gorge should definitely be on your vacation radar. This resort blew my family away this summer both with its spectacular setting and the sheer amount of activities that could be enjoyed. Our favorite vacations tend to be when we can be active during the day while still being comfortable and well-fed at night, and Adventures on the Gorge hit all the marks.
When I initially told my friends we were heading to West Virginia on our summer vacation, I definitely got some surprised looks. The truth is, many people don't know much about West Virginia or consider it a vacation destination.
When New River Gorge was given national park status in 2020, it suddenly popped onto my radar. I quickly learned that it was home to world-class river rafting, which my family loves. I did more research and discovered that Adventures on the Gorge was a resort on the park boundary that offered rafting, along with more than I could have ever imagined. I knew it would be the perfect outdoorsy addition to our planned family vacation to Washington DC.
What is the best time of year to visit New River Gorge National Park and Adventures on the Gorge?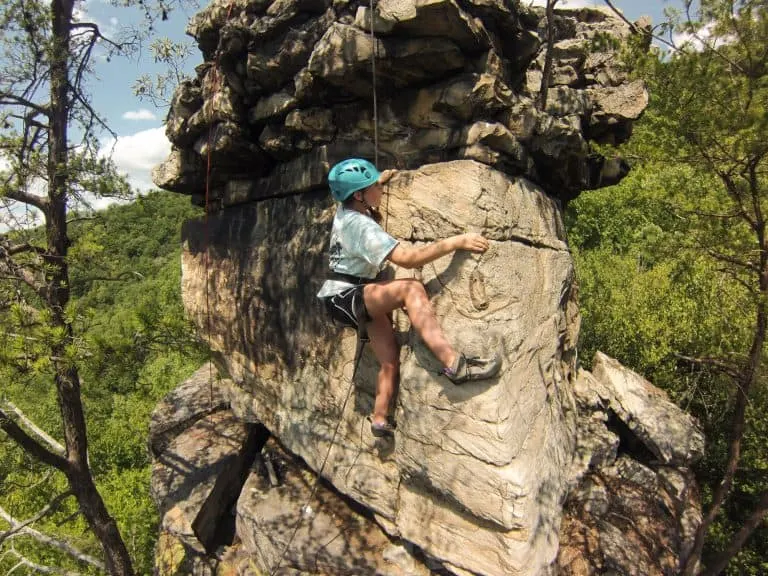 New River Gorge National Park and all the surrounding outdoorsy attractions are best enjoyed from May through October. The fall is the ideal time to visit when the leaves are changing and the entire area explodes with color but summer is still great and likely the time when most families have vacation time available.
I definitely want to come back in late October one year so I can witness the spectacle of Bridge Day when the New River Gorge Bridge is closed to automobile traffic so that people can walk across it and watch base jumpers and rappelers do their thing!
I hope you use this Adventures on the Gorge review to plan your family's vacation in West Virginia. And I suggest you book early! Adventures on the Gorge is well-known in the driveable area and many families make it an annual excursion.
Explore more of the state! Here are our favorite things to do in West Virginia with kids!
Adventures on the Gorge Review- 15 Reasons Why We Love this West Virginia Resort
An Incredible Location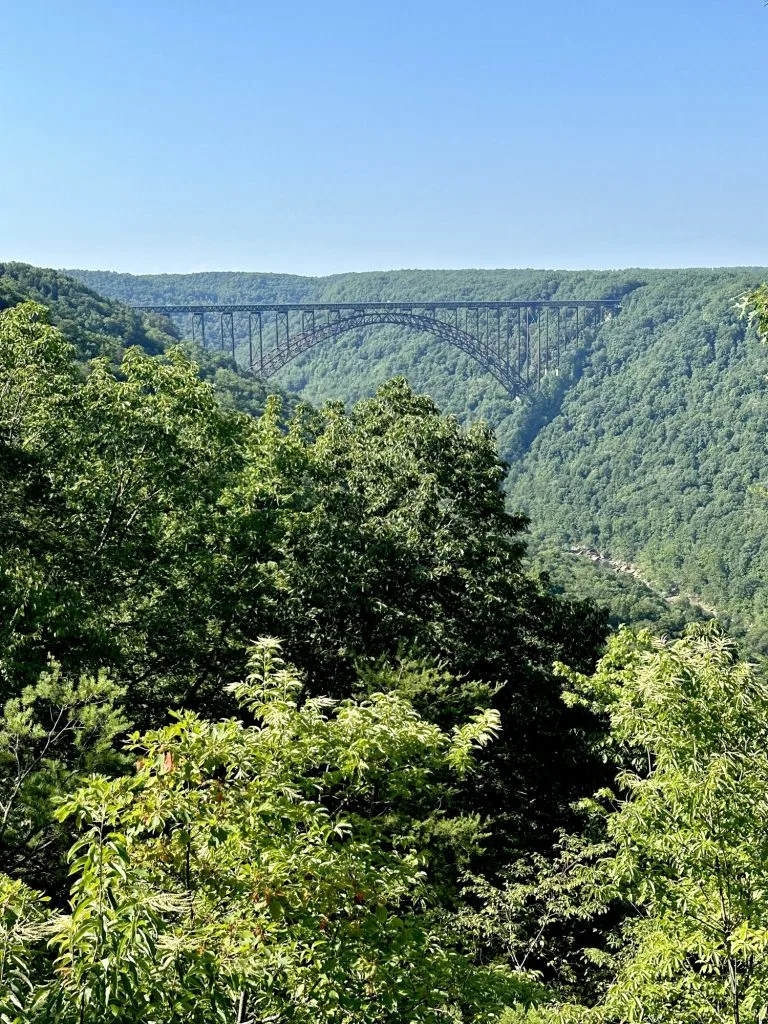 One of the best things about Adventures on the Gorge is its superb location, right on the edge of the New River Gorge. Views of the gorge and the New River Gorge Bridge can be enjoyed from various spots on the property. You are surrounded by deciduous forest filled with hemlocks, maples, and gorgeous rhododendrons which are incredibly showy when they bloom.
New River Gorge National Park's Canyon Rim Visitor Center is just five minutes down the the road, as is the New River Gorge Bridge. The Endless Wall Trail, one of the most popular (and scenic) hikes in the national park is only five minutes away as well! Fayetteville, the cute little gateway town for the park, is about five miles away.
What is the closest airport to Adventures on the Gorge?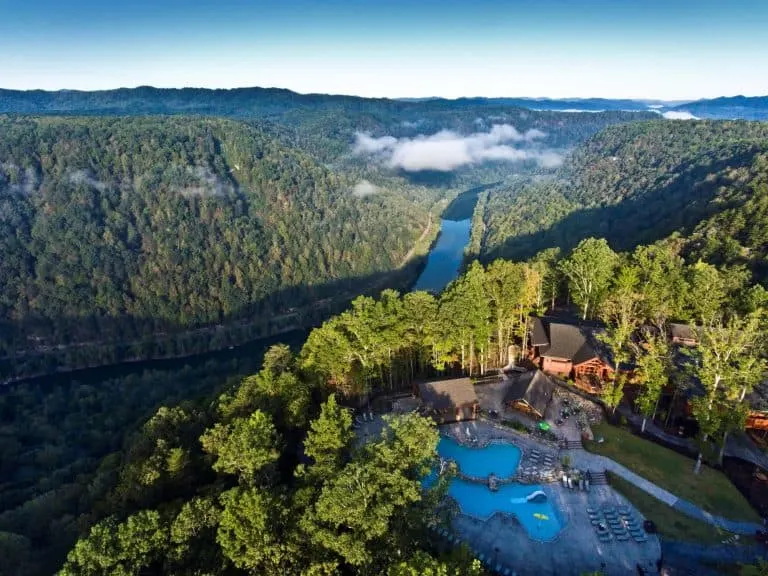 Adventures on the Gorge is about 4-5 hours from Charlotte, Cincinnati, Pittsburgh, and Washington DC. There is an airport in Charleston, about an hour away, but we found it difficult to find a reasonable flight from the West Coast.
So we flew into DC, spent a few days there, and then road tripped to West Virginia, stopping in Harper's Ferry on the way out and driving through Shenandoah National Park on the way back. It was an awesome road trip!
Lots of Great Lodging Options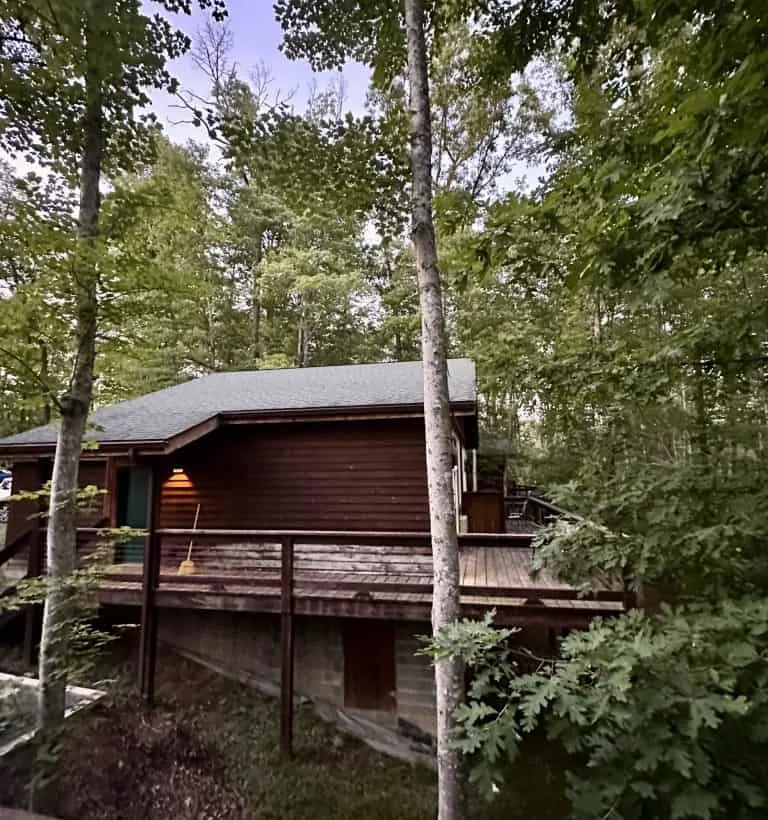 Adventures on the Gorge offers all sorts of packages for families. It is possible to get a feel for what is offered on their website, but giving them a call is also a great way to go. Accommodations range from tent campsites to cabins that can accommodate large family groups.
You won't find a lodge or hotel at Adventures on the Gorge, but there are hotel-like cabins. We stayed in the Sunnyside Cabins which are very spacious with two queen beds, a kitchenette area with a mini fridge, microwave, and sink, and a large bathroom. My favorite part of the cabin was the shaded deck which overlooked the forest. It was the perfect place to enjoy my morning coffee and watch the fireflies blink in the evening.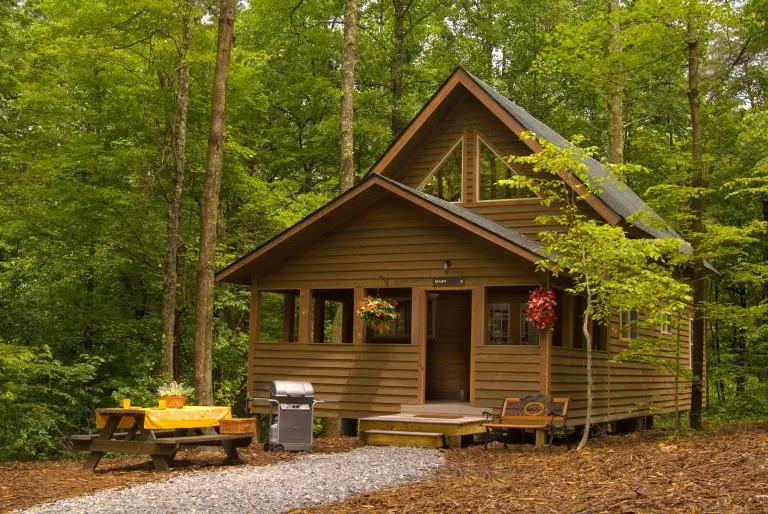 I love that there is a huge range of lodging options to that families can find something that fits their budget and style. Tent campers will love the elevated and covered tent sites which are pretty clutch when you have a big downpour like we did the last night of our stay. There are also great, shady RV sites and traditional tent sites.
You can also glamp with all the comforts of home, stay in a rustic cabin, or book a cabin that sleeps 12 for a memorable multi-generational getaway. It really is a special place.
Do I need to stay at Adventures on the Gorge to book an experience?
You do not need to stay at Adventures on the Gorge to book an experience. It is extremely convenient if you do and I highly recommend it, but if lodging is booked up by the time you plan your vacation, you can still book activities.
River Rafting Adventures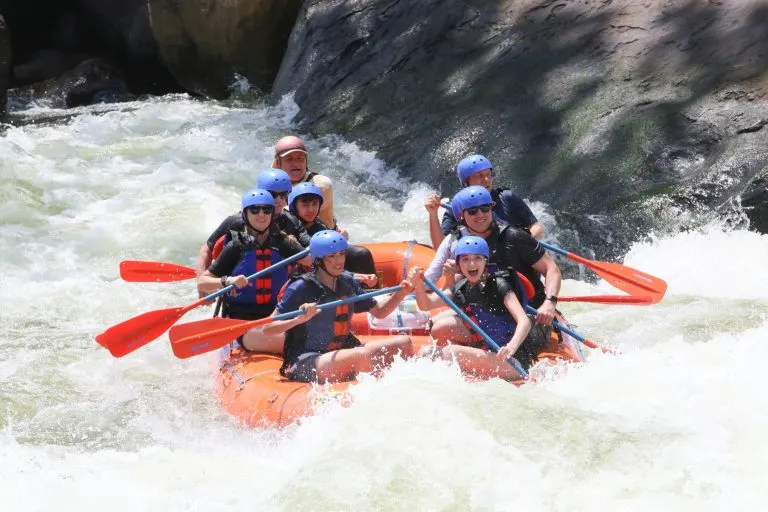 If you ask me, the best thing about Adventures on the Gorge is the river rafting. My family loves to raft and we have done trips in California, Peru, Costa Rica, Utah, and more. We just can't get enough!
Adventures on the Gorge offers trips on the Upper New River, Lower New River, and the Gauley River. These trips each offer something different, which means it is easy to find the perfect fit for your group.
Despite its name, The New River is actually one of the oldest rivers in the world. It carves its way through the rolling Appalachian mountains which are brilliantly green in the summer, and a rainbow of changing colors in the autumn.
The Upper New River is perfect for families with younger kids as well as those who might be new to river rafting and looking for a more "splashy but not too splashy" option. Kids as young as six can participate in this trip which has Class I-III white water. Most people opt to ride in a two person inflatable kayak on this stretch.
My family enjoyed a day on the Lower New River which features 25 rapids ranging from Class II through IV. It is open to families with kids as young as 12. We had new rafters on our eight-person raft, as well as experienced rafters. Everyone did great and had a blast! The scenery is spectacular and the summer weather is often prime for a day on the river.
The truth is 90% of your rafting success is dependent on your guides and the guides on the New River are pros who navigate obstacles with ease. Our guide, Mike, had been at it for more than a decade and kept us entertained with fun facts and corny jokes in between rapids.
He also gave us plenty of opportunities to jump off the raft and swim in the water which was as warm as a swimming pool- far warmer than us West Coasters were used to! My kids jumped in whenever they had a chance, and also took the opportunity to do a little cliff jumping after lunch.
Speaking of lunch- it is included on your day trip excursion and food always tastes better on the river. There was a great sandwich spread, a yummy rice salad, plenty of fresh fruit, and even strawberry shortcake for dessert! And, after our day on the river, we were treated to bus drinks on the drive back to Adventures on the Gorge. My Whiteclaw really hit the spot!
The Gauley River is the best option for families with teens 15 and up who have river rafting experience and want a challenge. It is serious river rafting with Class III – V rapids and is hailed as one of the best whitewater runs in the world! The Upper Gauley has five class V rapids in one section! It is known to be especially epic in September and October when there are scheduled water releases from Summersville Lake.
Timber Trek Adventure Course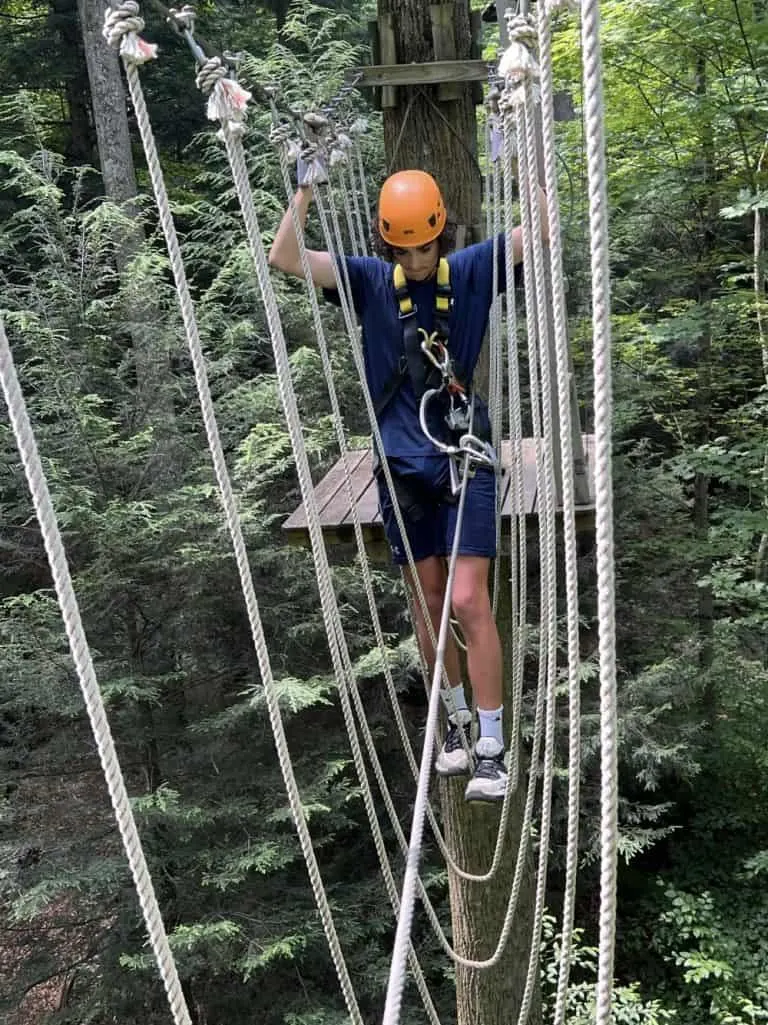 Second only to river rafting was our time spent on the Timber Trek Adventure Course. It is a super fun combination of high ropes courses, zip lines, and various obstacles suspended in the air. Expect to encounter rope bridges, swinging logs, cargo nets, and lots of creative obstacles along the way. This experience is sure to challenge your family both mentally and physically, all while having a blast.
The course starts with a safety briefing and equipment orientation to ensure that all participants understand the safety procedures and are properly equipped with harnesses and helmets. Experienced guides are present to supervise and assist participants throughout the course. If you get stuck, just holler!
Children under 14 must be accompanied by an adult, but there are course options for kiddos as young as four. The youngest guests will love the Chipmunk and Firefly routes which are closer to the ground and made for little kids to climb on. They even have a little zip for them!
The main Timber Trek structure is massive with five different routes to take- two beginner, two intermediate, and one difficult. Each course takes about 30 minutes to complete and I found even the beginner courses to still be challenging. None of us ever made it to the difficult course because after knocking out the two beginner and two intermediate courses, we were wiped out. The heat and humidity didn't help anything, though there was plenty of water for us to drink in between courses.
The main Timber Trek course is open to kids as young as seven, as long as they have an adult with them, but they may only do the beginner course. In order to conquer the intermediate courses kids must be 10 and the most difficult course has an age limit of 12.
I definitely suggest reserving a morning time slot for the course, because it can get hot despite being fully shaded. And don't book any other strenuous activities the same day as your aerial adventure. Take advantage of some pool time after all your hard work!
The other awesome option is to participate in Moontrek, the nightime version of the aerial course when things are lit up by lights and neon. During the evening you can enjoy the two little courses as well as one beginner and and one intermediate course. We walked by Moontrek in the evening a couple times and it looked so fun!
Choose Your Own Zip Lining Adventure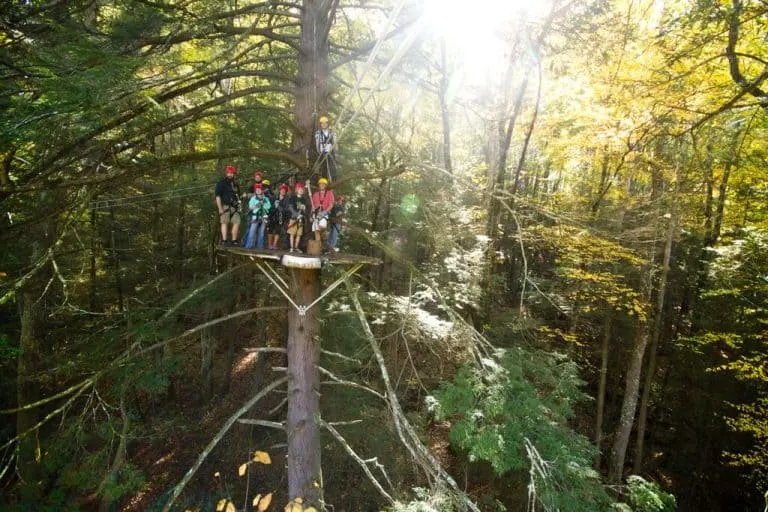 Adventures on the Gorge has two different zip line courses for you to experience and both are a blast. Just like the aerial course, I suggest booking a time earlier in the day to increase your chance of coooler weather and decrease your chance of thunderstorms ruining your fun.
The Treetops Canopy Tour is a great tour for people who want to zip, take on some sky bridges, and experience a rappel at the very end. This trip includes 10 zips as well as a bit of hiking in Adventure on the Gorge's forest filled with hemlocks and rhododendrons.
Kids as young as 10 and as light as 90lbs can participate in this tour. I have done several zipline tours over the years and I really enjoyed this one because it includes some active adventure in between zips and the guides did a great job educating us about the forests while keeping us entertained. My kids were nervous about the rappel at the end but once they realized that it was quite slow and they were in full control, they really enjoyed it.
If you are looking for zips that are faster and longer (and weigh between 100 and 260lbs), you will want to book the Gravity Ziplines Tour. The course is off the main property but Adventures on the Gorge has a bus to get you there and bus drinks to celebrate your zip line experience after.
The Gravity Zipline course has six ziplines starting with two 500-foot warm-ups. Then zips get longer and faster- 1,300 feet, 1,600 feet, and 1,800 feet- before taking on the Adrena-line, 3,150-foot zip that goes 65mph! A zip that long will definitely give you enough time to realize how high up you are!
Epic Rock Climbing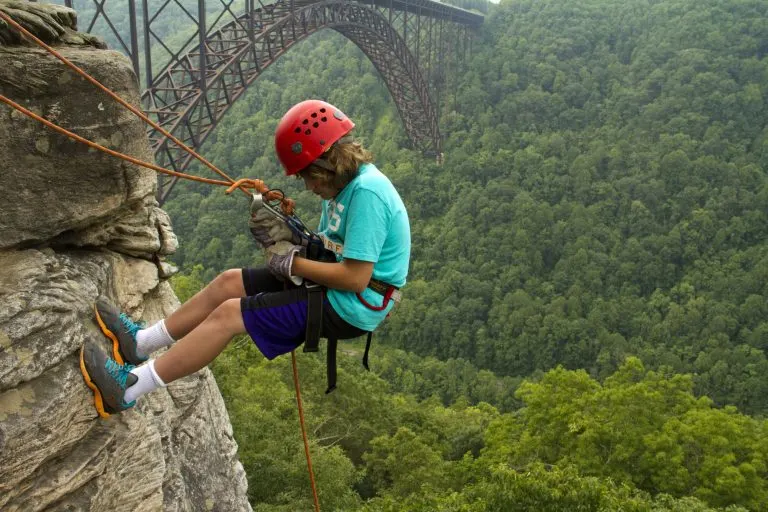 The New River Gorge in West Virginia is a nationally known rock climbing destination for avid climbers. If you have rock climbers in your family they will definitely want to head into the park to scale popular spots like the Endless Wall.
If you are new to the sport or don't want to pack your own gear, you will want a guide to help you explore the area and provide equipment, Adventures on the Gorge has half day and full day options for families with children as young as eight. Half day trips are four hours long which is plenty if your arms and hands aren't used to the sport. I suggest picking a morning time to enjoy cooler temps and avoid afternoon weather.
Conquering the rock walls of the New River Gorge is not as simple as scaling the walls of a climbing gym- but it can be even more fun! Bridge Buttress and Beauty Mountain have routes that a good for beginners as well as experienced climbers, and the folks at Adventures on the Gorge are more than happy to help you on your way.
Climbing includes the chance to rappel as well, an exhilerating experience you won't soon forget!
Test Your Fear of Heights on Bridge Walk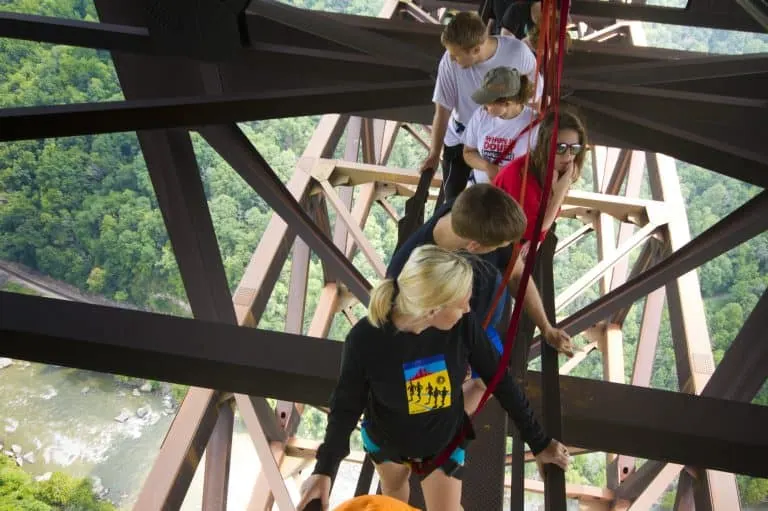 Ready to walk on a catwalk on the longest single-span bridge in the Western Hemisphere 850 feet above the New River?
Due to the bridge's design and the topography of the area, it's difficult to see much of a view driving across the New River Gorge Bridge. However, when the bridge was constructed, it was built with a two-foot wide catwalk underneath, and visitors are allowed to join tours and walk the catwalk for an invigorating experience you won't soon forget.
The Bridge Walk is 1.25 miles long, and generally takes visitors ages 10 and up a couple of hours to complete. Bridge walkers are harnessed using a safety system that runs the entire length of the bridge during their entire Bridge Walk experience.
While the harness system had me feeling totally safe and ready to hang my feet over the side of the bridge, many in our group felt that this experience was more thrilling (or terrifying) than rock climbing and rappelling! If you have a fear of heights, you probably want to skip this one. But, if you are looking for an adrenaline rush, check it out!
Hiking in New River Gorge National Park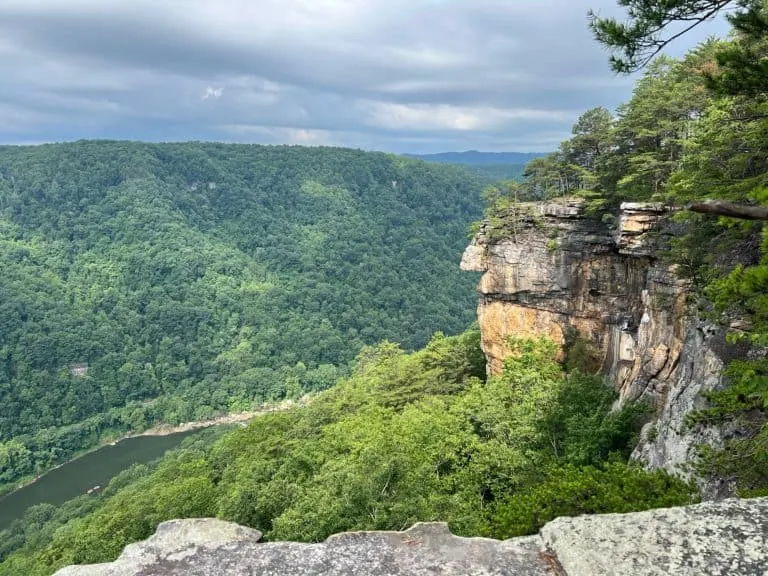 One of the best ways to enjoy the forests and scenery of New River Gorge National Park is to get out on the park's 100 miles of trails. Many of the trails are just a short drive from Adventures on the Gorge such as the beloved Endless Wall Trail which has some of the best views in the state.
If you are hoping to learn more about the region's flora, fauna, and history while hiking, consider booking a guided hike with Adventures on the Gorge. They have two-hour and three-hour options which are open to families with kids as young as eight. Hikes are typically 3-4 miles in length.
Trekaroo tip: There are several state parks in the area surrounding New River Gorge as well. Take time to explore the! You will also want to drive out to Sandstone Falls at the southern end of the park.
Enjoy Fun on the Lake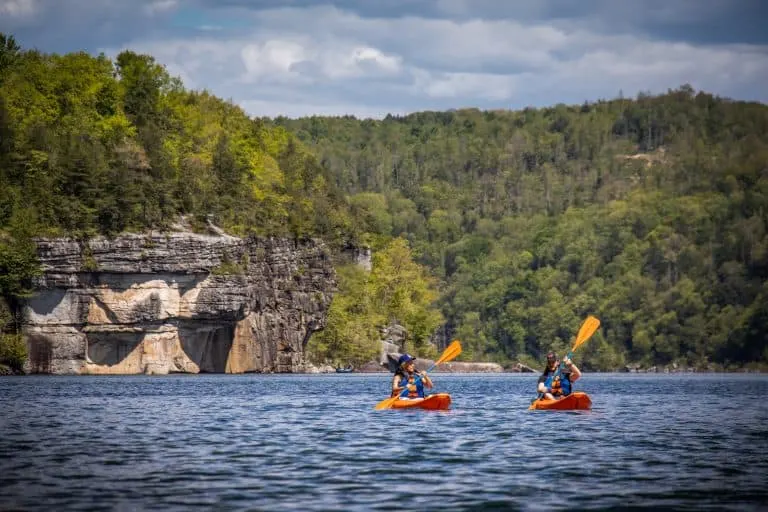 If you aren't up for whitewater but still want to enjoy time on the water, Adventures on the Gorge has a couple different lake-based options for you! Summersville Lake is just down the road and is a great place to enjoy kayaking and stand-up paddleboarding. This lake is the largest in West Virginia and surrounded by the same great scenery that you can enjoy on a rafting trip, but at a slower pace.
The Lake Multisport Adventure takes families out on a pontoon boat to enjoy a day on the lake. From the boat you can swim or paddleboard the day away. This trip is open to families with kids as young as eight.
The pontoon boat tour takes families to a few of the most scenic parts of Summersville Lake. Often the excursions go to small a waterfall area with interesting rock climbing features as well as Long Point, where rocks jutting out of the cliffside make a diving board of sorts for some moderately thrilling cliff jumping.
The Canyon Falls Pool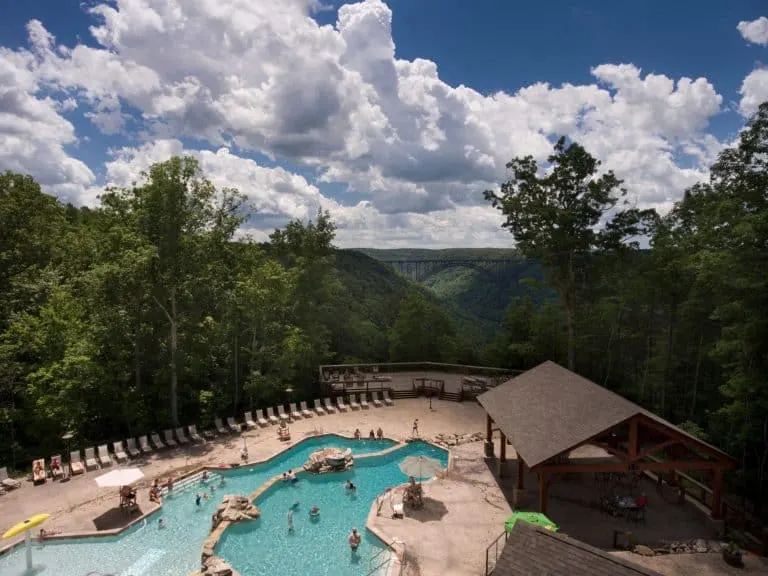 We love the pool at Adventures on the Gorge! The Canyons Falls Pool is 3,000 square feet and has gorgeous rock waterfalls and lots of space for everyone. There is a zero-entry portion of the pool with a little slide and splash area that especially perfect for the little ones.
The pool deck has one of the best views I have ever seen from a resort pool. The New River Gorge Bridge sprawls in the distance and the deck clings to the edge of the gorge. Plus- there are poolside drinks to enjoy from the Snack Shack and the pina coladas are on point!
There's nothing quite like sitting by the Canyon Falls swimming pool at sunset, watching the kids splash in the waterfalls and go down the tot-sized slide as the sun sets over the New River Gorge. The light on the New River Gorge Bridge in the hour before sunset is mesmorizing.
Plenty of Great Food and Shops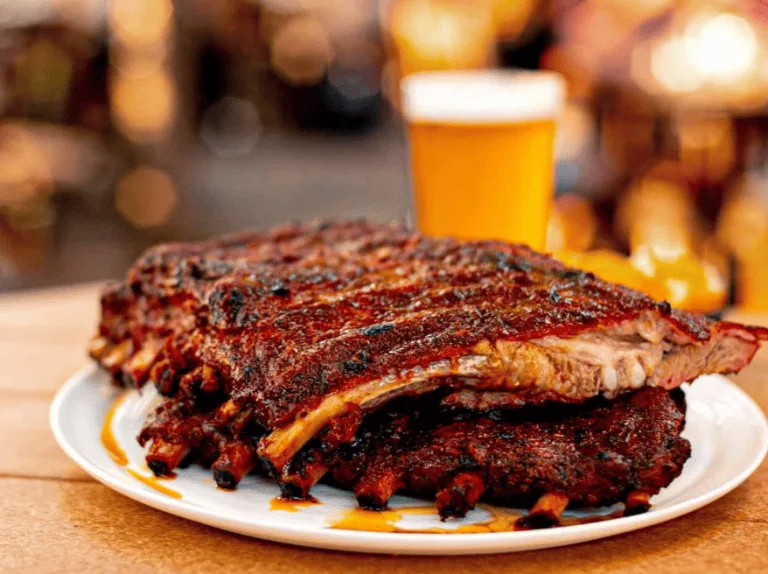 Adventures on the Gorge has a few different restaurants on property, as well as a coffee shop and two retail shops.
We started every morning with coffee from Sweet Java Falls, and as a black coffee drinker I can assure you they've got the good stuff. They also make all those fancy espresso drinks everyone seems to love, great smoothies, and grab-and-go hot breakfast sandwiches and bakery items.
We ate at Chetty's a couple times during our stay. It is a pub with indoor and outdoor seating and a very casual vibe. Come in sweaty after completing the ropes course or grab a beer and some appetizers while watching the highlights from your rafting trip play on their big screens. There is a playground downstairs where kids can play while waiting for their food.
Smokey's on the Gorge is the property's signature restaurant. It is open for breakfast and dinner. This is the spot to get hearty favorites such as eggs, biscuits and gravy, and sausage before heading out for the day's excursions.
Smokey's is a great place to enjoy a nice dinner out on the patio within full view of the sun setting over the gorge to the west. Since we had been smelling the heavenly scent of smoked meats whenever we walked by the restaurant, my famiy opted to go for the bbq dinner options- ribs and pulled pork were both big hits.
There are two large retail stores on the property- Canyon Rim Store and Mill Creek Store. They have some similar offerings, but I suggest checking both out because we found some different items in each one. These shops are great places to buy souvenirs, snacks, and items you might have forgotten at home, like bug spray and water shoes. They had lots of great sweatshirts and tshirts to choose from.
Experience Float Fishing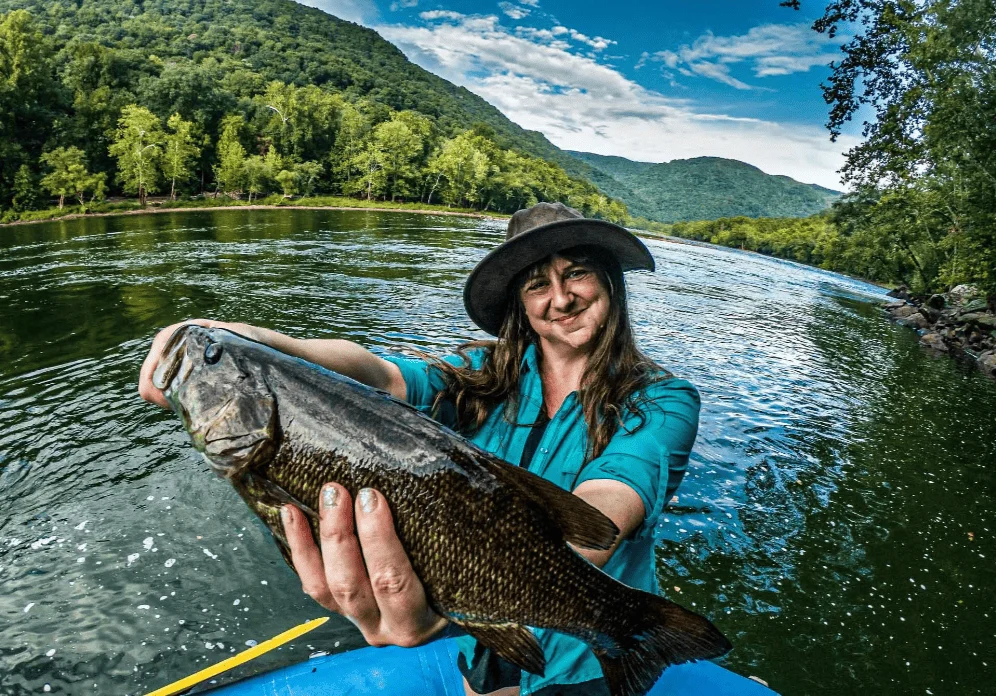 Another way to enjoy the river is by fishing. The New River is prime small mouth bass territory. There are half day, full day, and even two-day float trips offered by Adventures on the Gorge and they provide everything you will need (minus a fishing license)- tackle, rods, reels, plastic bait as well as lunch, snacks, and beverages.
These trips are open to kids as young as eight and since they are guided, the pros will take you to spots where you are sure to reel in plenty of fish to cook by the fire!
Go Mountain Biking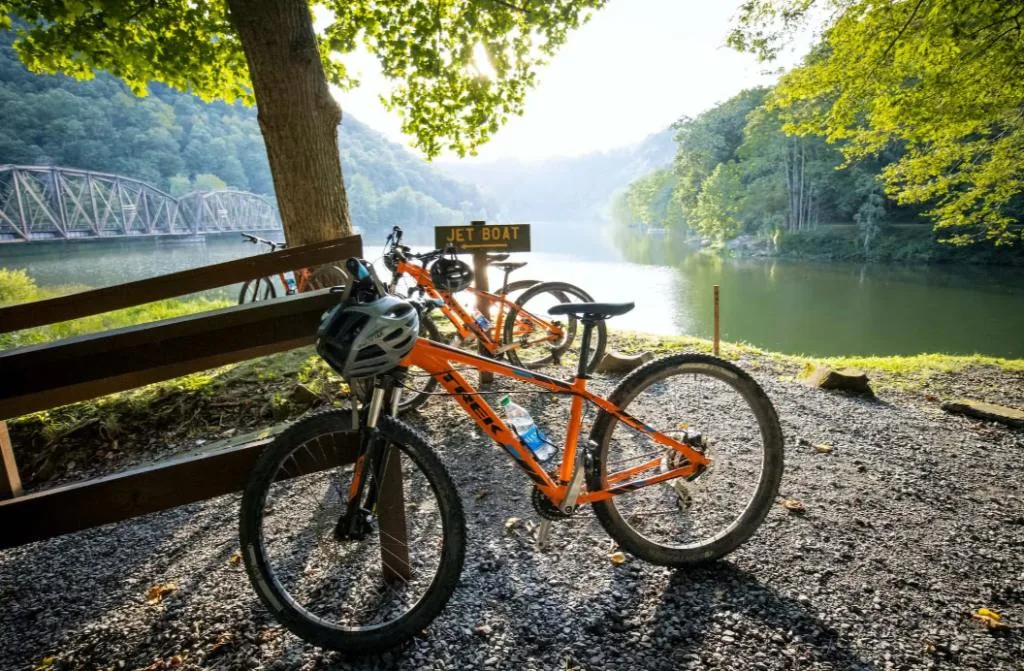 It is no surprise that you will find great mountain biking in the Mountain State! New River Bikes knows the best spots for beginners as well as experienced single track riders and they offer half and full day trips. Trips include use of their bikes, helmets, plenty of water, and transportation. This expereince is open to kids as young as eight.
Play Laser Tag and Paintball
Still want more fun? How about laser tag or paintball in the forest with obstacles to hide behind! There are even referees to help keep the game fair. Each session is two hours long and open to kids as young as ten. All the equipment you will need is provided. The main difference between the two experiences is the mess and the sting that paintball creates.
Experience Caving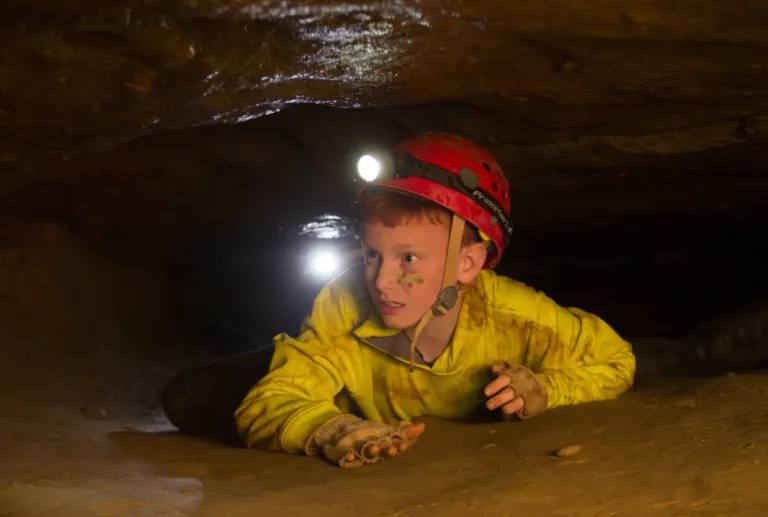 There are several caves in Appalachia and going caving is a great way to explore underground while staying active.
Wild Cave Tours takes you to Lost World Caverns where guides will take you crawling and climbing your way through the cavern. You will want to wear old jeans and long sleeves because it is cool in the cavern (55 degrees) and things get muddy! Don't worry- showers are available after your caving experience so you can rinse and off change into clean clothes.
SInce you remain underground during the tour, this is a great rainy day activity that families with kids as young as 10 are welcome to join. It's also a fun and active way to take a break from the heta of the summer for a few hours.
Disclosure: The author and her family received a discounted rate at Adventures on the Gorge so that she could cover the story for Trekaroo. The experience was great but all opinions are her own.