Just off the coast of Southern Georgia, there sits a quiet little island. Jekyll Island is a haven of history, nature, and discovery. It was once a retreat for America's wealthiest families. Annual visitors included the Rockefellers, Morgans, and Pulitzers. These families came to Jekyll Island to "secure an escape." In the early 1950's, the state of Georgia purchased the island and it quickly became a top destination for families, due in part to the Jekyll Island Authority's numerous preservation and conservation efforts.
The Jekyll Island Authority has worked very hard to ensure today's guests feel the same sense of escape as their predecessors. Visitors won't find endless shopping malls, chain restaurants, or high-rise hotels. Development of the island is limited to just 35 percent of the available land area to preserve the critical barrier island ecosystem.
To make the most of a weekend in Jekyll Island, here are the activities I consider must-dos for every family.
Georgia Sea Turtle Center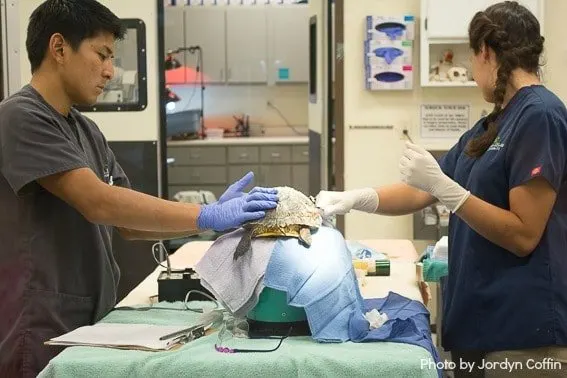 Created by the Jekyll Island Authority in 2007, the Georgia Sea Turtle Center is a sanctuary for injured sea turtles and a center of education for the public. Its mission is to empower individuals to act locally, regionally, and globally to protect the environment.
Though it is an advanced hospital, it's open to the general public and offers an interactive Exhibit Gallery and Rehabilitation Pavilion with many sea turtle patients regularly on view for guests. Additionally, indoor and outdoor educational programs are available year-round for visitors of all ages.
Biking Around the Island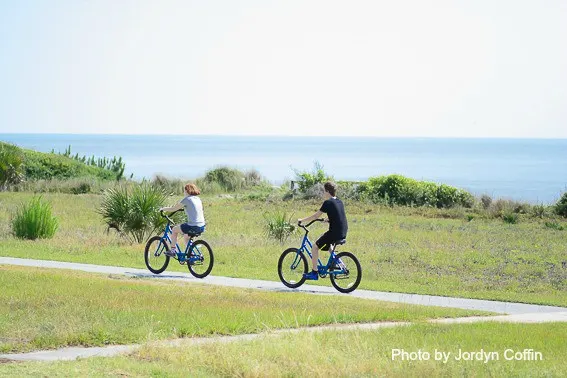 Jekyll Island is home to over 20 miles of supreme bike paths that circle the entirety of the island, winding in and around sand dunes, along beaches, and through historic sites. Ancient oak trees offer ample shade. Bicycling has long been a favorite activity and the best way to see all the significant points of interest.
You can bring your own bikes or rent them. Bike rentals are located at several locations around the island including the Holiday Inn Resort on Beachview Dr.
The Old Rope Swing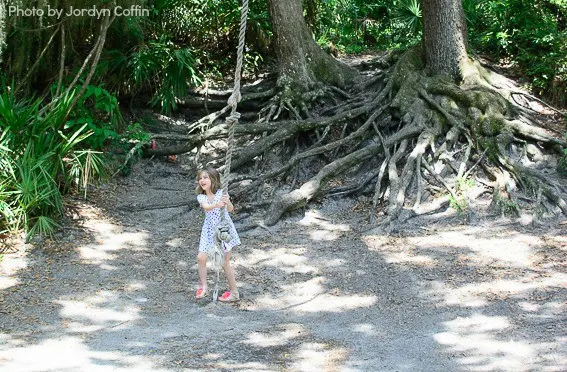 This is a hidden treasure near St. Andrews Beach. Not many tourists know about its existence, but ask any local about it and you will be regaled with tales of childhood summers spent swinging and attempting madcap feats from the nearby trees.
To find the swing, head to St. Andrews Beach. Upon pulling into the parking lot, notice a small clearing off to the right. Hike up a narrow path that opens to a giant clearing and you'll find the old rope swing. Be prepared though, the draw of this swing is undeniable for kids and adults alike, families can easily spend all afternoon in this one spot.
Jekyll Island Historic District Tours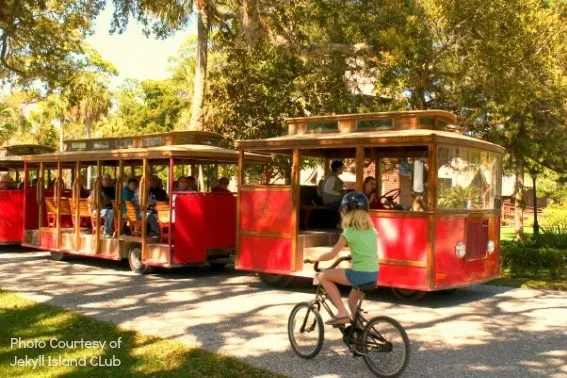 Take an open air tram ride throughout the island's distinguished historical district. The 90-minute tram tour guides guests through the 240-acre National Historic Landmark District and includes entry into two restored cottages. Kids will love waking in the footsteps of the wealthy elite by exploring where they stayed and played while "escaping" to the island. Trams depart from the Jekyll Island Museum at 100 Stable Rd.
Driftwood Beach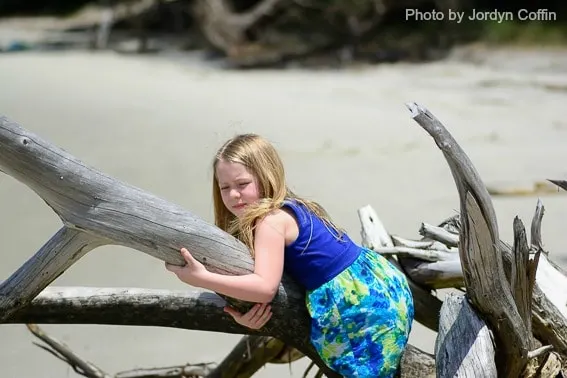 Known by locals as the tree graveyard, Driftwood Beach is a popular location for family pictures and weddings. Kids will delight in finding their inner monkey, scaling trees with ease. Parents, don't forget to bring a camera! This is an ideal location to take a family portrait.
Driftwood Beach extends from the Clam Creek Picnic Area to the Conference Center. From Clam Creek Picnic Area, just follow signs for the Wildlife Viewing Area and take the paved walkway toward Clam Creek. Walk over the bridge to see two beach access points toward the left.
Tips: There is a $6 fee per vehicle, per day for visiting the island. Weekly passes can be purchased for $28 and annual passes for $45. Many local restaurants are closed or close early on Sundays. Make sure to call ahead or check their websites ahead of time.
Where to Stay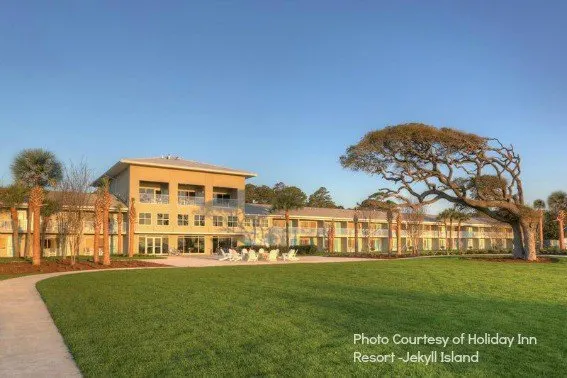 There are many hotels, cottages, and campgrounds to choose from on Jekyll Island, but this girl's favorite resort is the Holiday Inn Resort on Beachview Rd. The very helpful staff, daily activities for the kids during the summer (and on the weekends the rest of the year), on site bike rental, and clean, modern rooms will keep us coming back to this resort year after year. Located directly on the beach, this resort boasts a year round heated pool, two restaurants open 7 days a week where kids 12 and under eat free every day, and beautiful ocean view rooms that can accommodate a family of any size.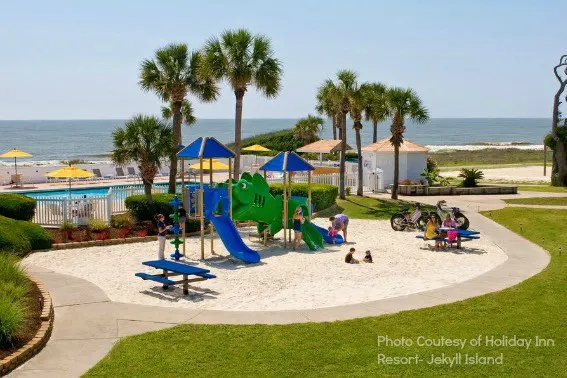 Jekyll Island is an amazing place for a family looking for a break from the distractions of a busy life and just want to escape to a place filled with history, nature, and relaxation.
Disclosure: Thanks to the Holiday Inn Resort Jekyll Island for hosting us on this trip. All opinions are my own.