In the late 1960s the world was fascinated by the idea of space flight. The wonder and mystery was all anyone could talk about. In 1969, the world was glued to their television sets as three astronauts ( Cmdr. Neil Armstrong, Col. Edwin Eugene "Buzz" Aldrin, and Lt. Col. Michael Collins) made history by landing on the moon. Children everywhere were captivated as they watched Neil Armstrong take the first steps on the moon's surface. One such child was so fascinated by what he was watching that he decided that he wanted to follow these great men into space. His name was David Wolf and eventually he did just that.
Image by: Shutterstock/Andrey Armyagov
I had a chance to interview Dr. David Wolf recently and talk to him about his journey to becoming an astronaut, his accomplishments as an astronaut, and what he is doing now at The Children's Museum of Indianapolis to keep younger generations as excited about space as he was and still is.
In my interview with Dr. Wolf he said something that stuck with me, he said "Nothing is more captivating than space travel." It's absolutely true and it got me thinking about what I can do to get my own kids excited when it comes to learning about space.
Why Teach Kids about Space?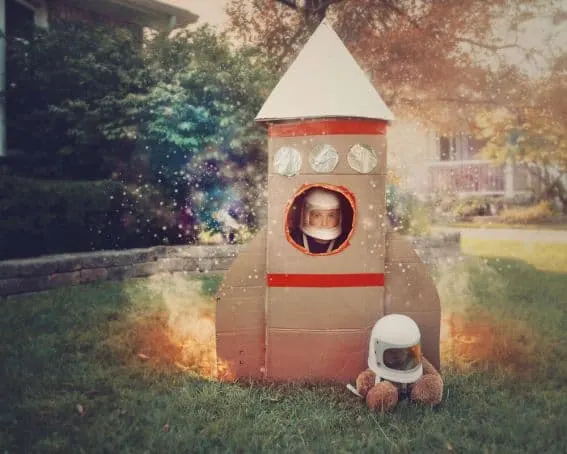 Image by: Shutterstock/Angela Waye
Despite all we have achieved in the last 50 years, space exploration is still in its infancy. Scientists still have so many mysteries to solve when it comes to the universe. Their discoveries will help us to better understand our planet and its role in the universe. Fostering a passion for space and space travel in children is what will lead to new discoveries in the universe that can benefit us all.
How to Teach Children about Space
Dr. Wolf teaching students at the Indianapolis Children's Museum
Dr. Wolf described the days leading up to the first moonwalk as thrilling and captivating. He recounted days spent in front of the TV watching Walter Cronkite interviewing astronauts and watching with fascination as they described the mission in great detail with their words and models. "It's exactly that energy that still works for young people and their families at The Children's Museum."
Dr. Wolf continues to consult with NASA, is the managing director of Earth Tomorrow, Inc., and has been the Extraordinary Scientist-in-Residence at The Indianapolis Children's Museum since 2013. He has dedicated himself to exposing families to a wide array of educational opportunities and possibilities in a way that captivates their interest and encourages them to continue the learning at home. He loves to speak to classes full of children and watch their eyes light up as he describes what it was like to spacewalk and help build the International Space Station.
The Children's Museum of Indianapolis shares his vision and passion for encouraging children to learn about science and space and it is opening a new space themed exhibit in the summer of 2016. When I asked Dr. Wolf about this new exhibit he told me, "Inspiration can come from any source and we are building pure inspiration from end to end with this new exhibit."
Dr. Wolf stresses the importance of hands on learning through the museum's interactive exhibits and hands-on STEM programs, designed to engage children and their families and encourage them to explore the universe around them.
Learning about space can happen in a variety of ways and in a variety of places. Books, videos, and museum exhibits provide ample opportunities to learn about the vastness of space and the fascinating job of being an astronaut.
A special thanks to Dr. David Wolf and his team at the Indianapolis Children's Museum for supplying his time and expertise for the purpose of inspiring a new generation of space explorers!
Where to Learn about Space
Trekaroo families love the following space-related museums and centers for the space-themed inspiration they provide:
Children's Museum of Indianapolis – Be transported into a world of stars, galaxies, solar systems, and other space wonders in the 130-seat, full-dome planetarium. Learn to identify constellations, experience the jewels of the Indiana night sky, and watch super novas form before your eyes. Stay tuned in the Summer of 2016, when the highly anticipated 'Beyond Spaceship Earth' experience debuts.
Smithsonian National Air and Space Museum– The Smithsonian's National Air and Space Museum maintains the world's largest and most significant collection of aviation and space artifacts, encompassing all aspects of human flight, as well as related works of art and archival materials. It operates two landmark facilities that, together, welcome more than eight million visitors a year, making it the most visited museum in the country. It also is home to the Center for Earth and Planetary Studies.
U.S. Space and Rocket Center– Home to Space Camp, Aviation Challenge Camp, and Robotics Camp the U.S. Space & Rocket Center (USSRC) is the most comprehensive U.S. manned spaceflight hardware museum in the world. Its large rocket and space hardware collection is valued in the tens of millions of dollars. From America's first satellite, Explorer I, to next generation space vehicles like Sierra Nevada's Dream Chaser, the museum showcases the past, present and future of human spaceflight.
Kennedy Space Center Visitor Complex– One of Florida's most popular destinations, Kennedy Space Center Visitor Complex tells the epic story of the U.S. space program – from the first day through the present. The 70-acre arena, a gateway to a working space center, takes visitors on a journey that's both entertaining and educational, interactive and inspirational.
Space Center Houston– The center features more than 400 space artifacts, permanent and traveling exhibits, attractions, and theaters related to the exciting future and remarkable past of America's human space-flight program. The experience is designed to engage adults and children alike.
California Science Center invites guests to examine the challenges and innovative solutions required for human space exploration. Get a feeling for what space is like, how we are learning to live and work in space, and how we are preparing for bolder and more distant missions.
Educational Resources
Image by: Shutterstock/alphaspirit
Ready to learn more? Check out our award-winning Road School Series on traveling and learning with your kids. From walking the steps of history to hands-on science & technology, to diving into literature, art, and music, and teaching your kids to understand environmental and social concerns, we've got a road school topic for your family to discover.