Last Updated on
Trekaroo generates revenue from purchases made through links to our partner brands.
Most kids learn about the historic Pony Express in school. Many travelers have heard mention of America's loneliest highway stretching through the great basin of central Nevada.  However, chances are that your family has never driven America's Loneliest Highway US Route 50 in Nevada. It stretches out from Carson City, Nevada, east towards Great Basin National Park and certainly remote, but also quite scenic. In 1986, Life Magazine named this section of US Route 50 "The Loneliest Road in America." After driving this section of highway with my mom and kids I can confirm that  thirty years later, the label is still accurate.
America's Loneliest Highway US Route 50 in Nevada – Road Trip with Kids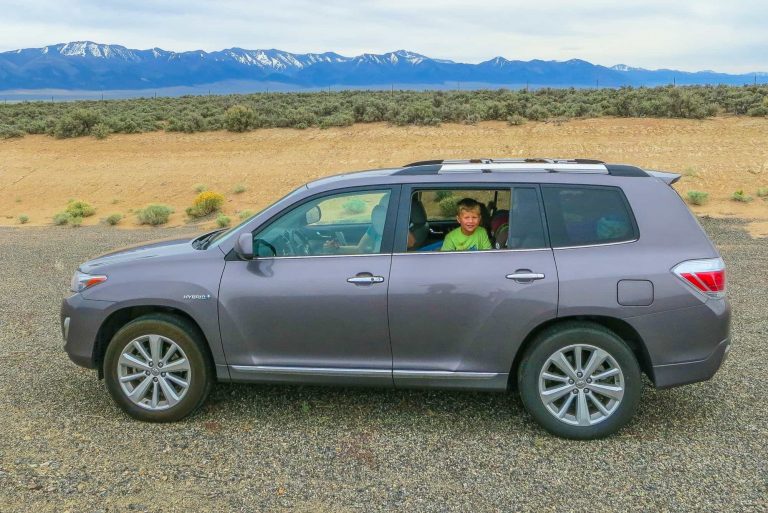 Pit-Stops and Playgrounds on a Nevada Road Trip with Kids
The options for roadside attractions along The Loneliest Road range from the quirky Shoe Tree in Fallon, located near the intersection of Hwy 50 and Hwy 361, to searching for gemstones at Garnet Hill outside of the town of Ely. A unique passport program gives families extra motivation to make a pit-stop in each town. The Highway 50 Survival Guide, downloadable from the State of Nevada's website, has eight stops at each of the towns along the route: Carson City, Dayton, Fernley, Fallon, Austin, Eureka, Ely, and Baker. The Opera House in the historic mining town of Eureka might be most impressive stop along the route, but the Survival Guide includes at least two or three points of interest for each town.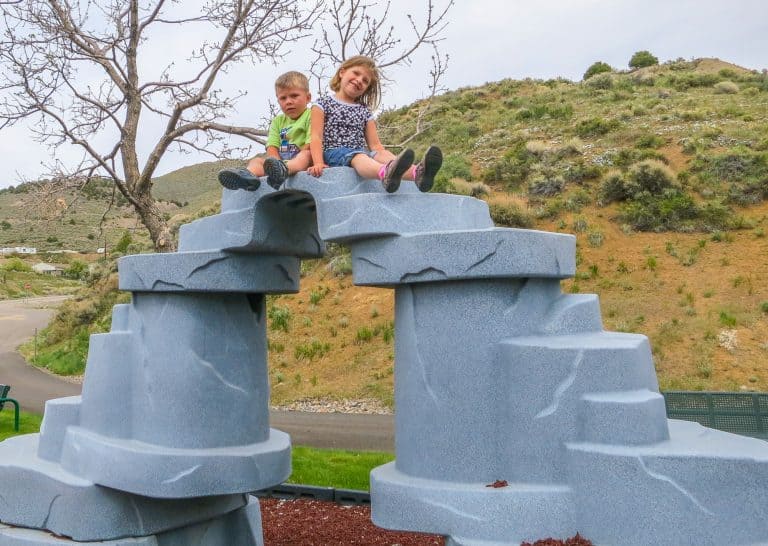 When we traveled this route, my kids were a bit young to appreciate most of the roadside attractions.  We were on a mission to make it as far as we could on our first day of day of cross-country travel.  Parents of small children will be relieved to know that we found two amazing playgrounds with restrooms on our drive, Oats Park in Fallon and Bert T Gandolfo Park in Austin.
Ultimately, we found that there was much to see without ever getting out of the car. Just east of Fallon, it's impossible to miss Sand Mountain, a two-mile long, 600-foot-high sand dune. Fallon is home to United States Navy Strike Fighter Tactics Instructor Program. It was the inspiration for the 1980's movie, Top Gun. Reportedly, airplanes can often be seen practicing over the desert basin. Markers for the historic Pony Express can be found between Fallon and Austin at Cold Springs and Middlegate. And, at sunset, our family even spotted some antelope roaming the range near Great Basin National Park.
Great Basin National Park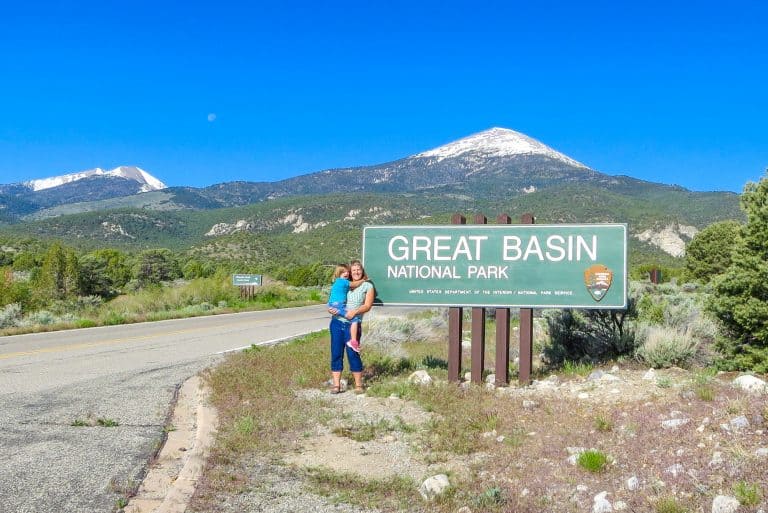 Snow-capped Wheeler Peak is an amazing sight rising out of the Great Basin. The National Park is the true gem on this remote road trip. The two main highlights of the park are the drive up Wheeler Peak and exploring Lehman Caves. Near the end of the breathtaking drive up Wheeler Peak is the trail head to the Bristlecone pine trees.  These trees are some of the oldest living organisms on earth. Unfortunately, the road was not fully open when we visited in May, despite low snowfall and drought conditions. Don't count on it being open till June.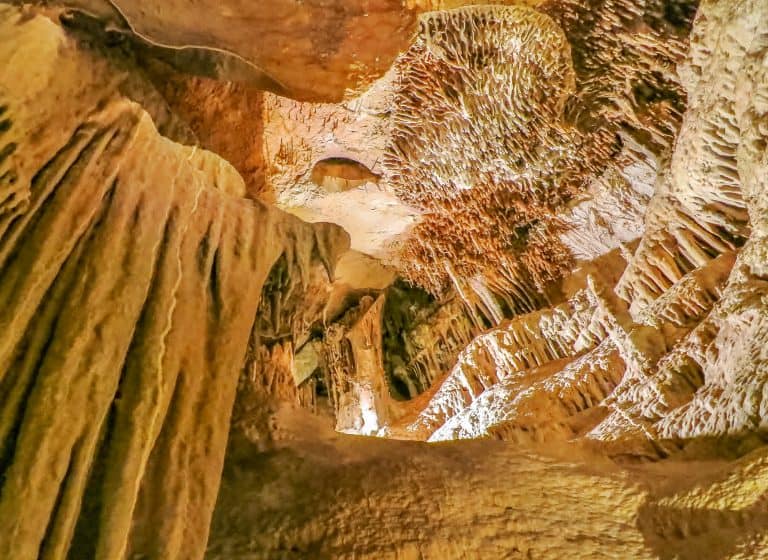 We were able to enjoy the trip down into Lehman Caves, distinctive for its large number of shield formations throughout the cave. Great Basin National Park makes nearly every list published on the least visited National Parks in America. Families can enjoy nature in relative seclusion here at almost any time of the year.
Visiting Great Basin National Park on your next Nevada road trip? Check out Trekaroo's Best Things to Do in Great Basin National Park with Kids.
Road Trip the American West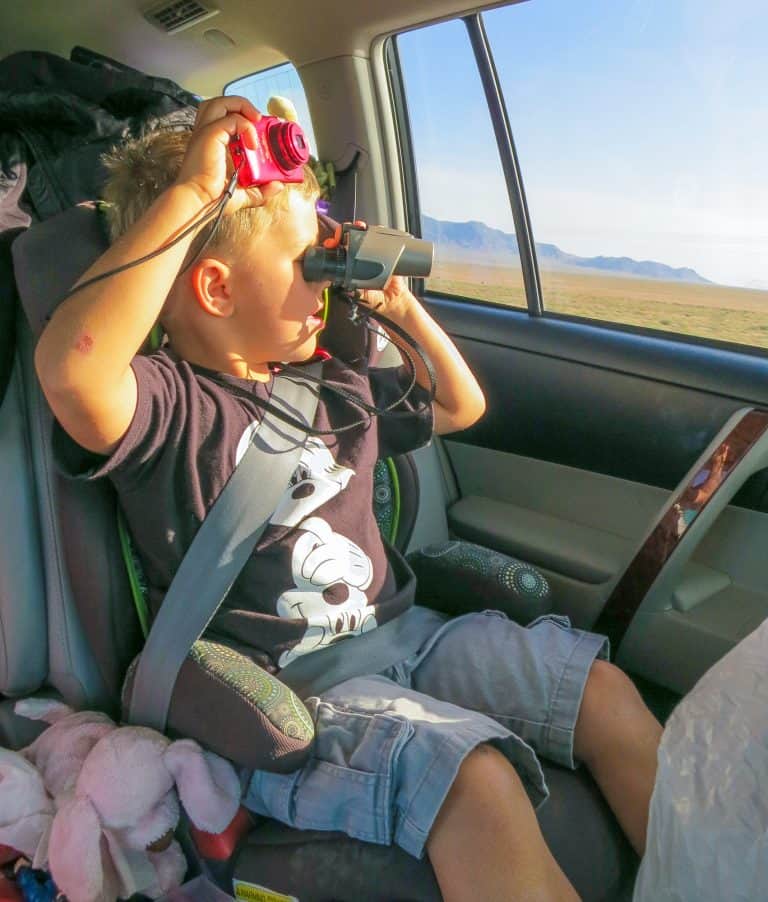 Most travelers include Great Basin National Park and Highway 50 through Nevada as part of a much larger road trip. It is the perfect opportunity to get off the interstate and get a break from the congested roadways of America. To the west, Highway 50 continues to Carson City, home of the Nevada State Railroad Museum and South Lake Tahoe.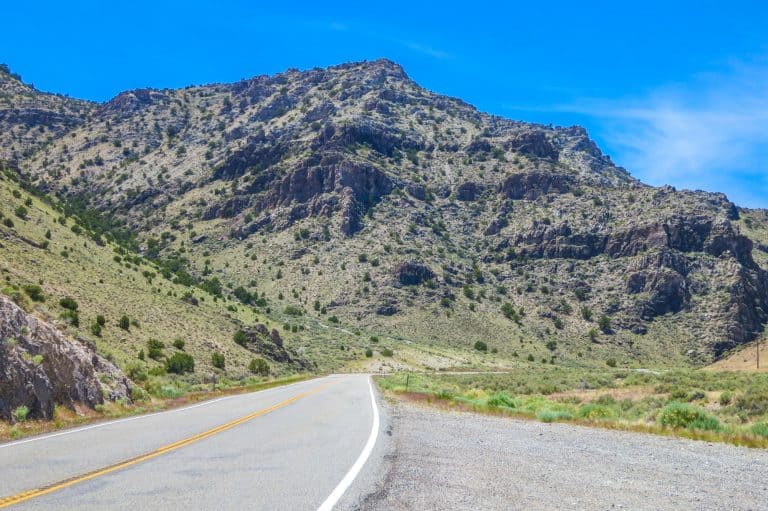 As the Loneliest Road meanders east into Utah, there are several more remote, scenic miles of highway before reaching Interstate 15.  I15 travels north to Salt Lake City and south to Zion National Park, the perfect place to begin a tour of Utah's five spectacular National Parks.
Where to Stay when Driving US Route 50 in Nevada
There are few choices for lodging along Highway 50 in Nevada. We chose to stay at the Border Inn just outside of Great Basin National Park on the Nevada-Utah border. The accommodations are very basic, but it's a convenient base for exploring the national park, especially if you are driving in from the east. If you're driving in from the west, I would recommend checking into one of the chain hotels in Ely which is about an hour west of the park. Pictured above: Our arrival at the Border Inn after driving across California and Nevada in one day.
The Road Less Traveled – America's Loneliest Highway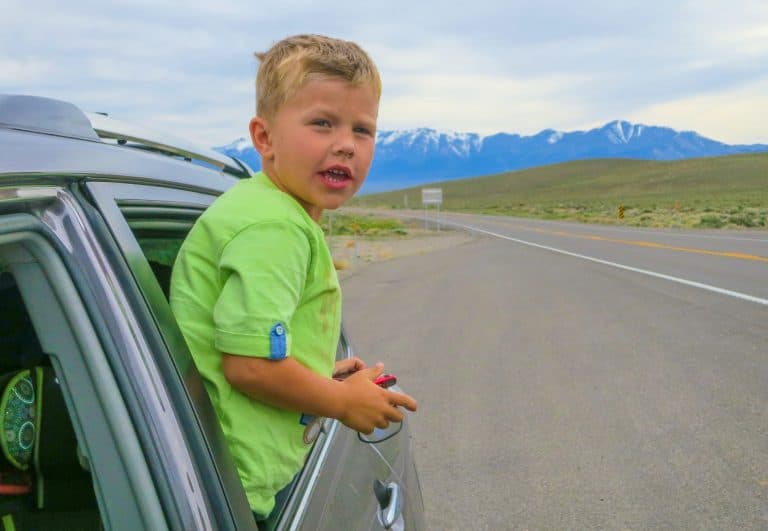 Personally, I'd rather drive a deserted two lane highway over a crowded interstate any day. So, when given the choice of driving the remote Highway 50 or Interstate 80 across the state of Nevada, I found the idea of driving Highway 50 very intriguing. However, traveling with my mother, four-year-old son, and five-year-old daughter, I was a bit concerned about safety. I did an exhaustive search for any information that I could find on Highway 50 trying to determine how lonely the Loneliest Road actually would be on a Saturday in May. How often would we see another car? Was there cell phone service? Would we be able to get help if we broke down? I found few answers. Yet, my adventurous spirit won out, and I decided to make the drive anyways.
I'm so glad that I chose the road less traveled! There was just enough traffic to assure me that we wouldn't be spending the night stuck on the side of the road even if we were to break down.  Every five minutes or so we'd encounter a car coming the opposite direction. Yet, there were still plenty of opportunities to view the wide open road stretching out to the horizon without another car in sight. While cell phone reception was spotty, it wasn't completely non-existent.
Read more on Trekaroo about our Ultimate Guide to Road Trips with Kids.
America's Loneliest Highway US Route 50 in Nevada – Part of  The Lincoln Highway Stretching Across the US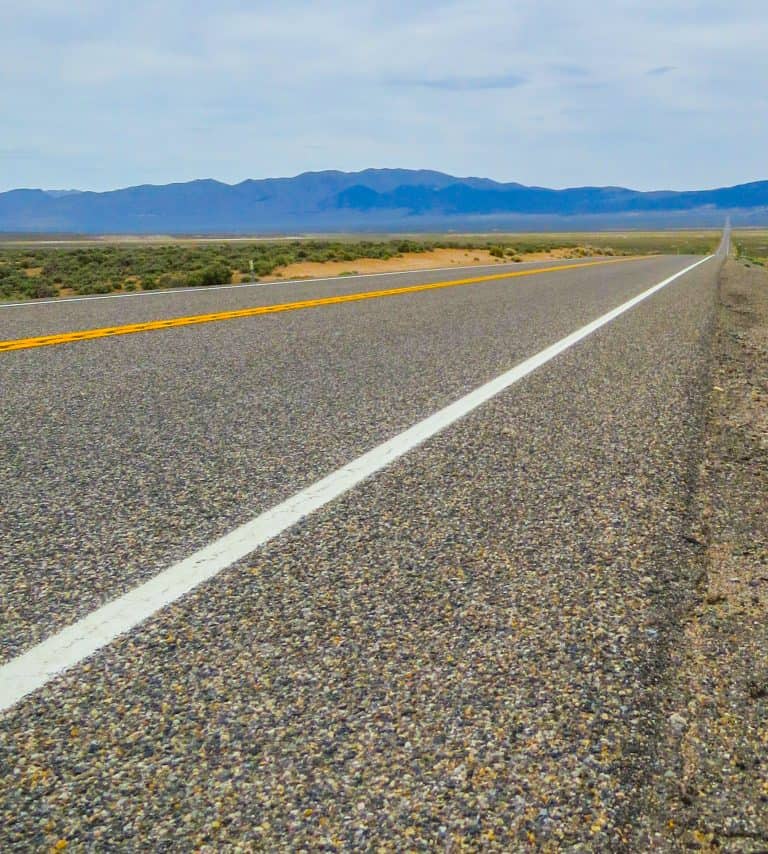 A few months after our cross-county military move was complete, I realized how appropriate it was that we began the first leg of adventure driving Highway 50 across Nevada on the transcontinental Lincoln Highway. One summer day when I was driving along Constitution Avenue in Washington DC past the White House, I glanced up to see a Route 50 sign. The road on which we started our journey east was also the road that ultimately took us into the Nation's Capital, my husband's new duty station.
SaveSave