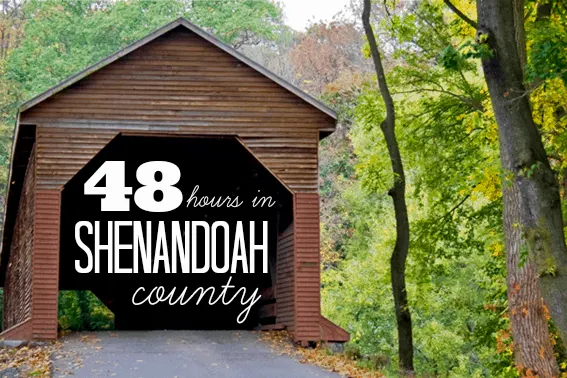 The following guest post is written by Britni Vigil of Play. Party. Pin.
This past weekend my family went on a fun whirlwind tour of the Shenandoah Valley. It was so nice to get out of the craziness of the city and enjoy the slower-paced country life for a few days.
The Shenandoah Valley is full of fun and unique things to do for kids and adults of all ages. These are just some of the highlights of what there is to do; you can find tons of other ideas on the Go Blue Ridge Travel website including a great section called the Kids Trail with activities you can search that are specifically for kids!
Sponsor Spotlight – Shenandoah County: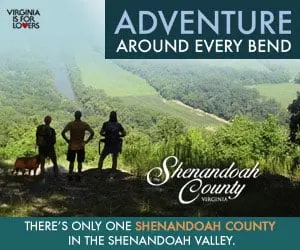 Take the family for a weekend escape and make memories to last a lifetime! Explore underground caverns at Shenandoah Caverns, hike to breath-taking vistas, float the Shenandoah River, or get your adrenaline pumping while zip lining or biking at Bryce Resort. Pick fresh berries, navigate your way through a corn maze, feed llamas, gather chicken eggs, or let your creativity flow along the Shenandoah County Artisan Trail. Discover why there's only one Shenandoah County in the Shenandoah Valley!
A Summer Weekend in the Shenandoah County
Friday
If you're in the DC Metro area, leave in the late morning to avoid rush hour traffic driving west on 66. Drive directly to Shenandoah Caverns where the price of your caverns ticket will get you into the entire Shenandoah Caverns Family of Attractions including the caverns, American Celebration on Parade (the owner is the largest collector of parade floats and decor in the entire U.S.), Main Street of YesterYear, and Yellow Barn. Spend your afternoon enjoying the gorgeous rock formations in the caverns, checking out the floats from presidential inaugurations and other important events in history, and exploring YesterYear.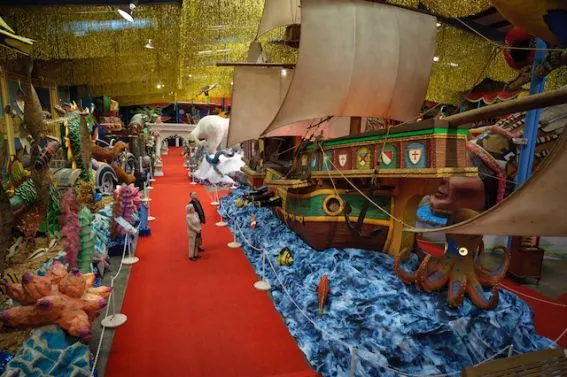 Look, but don't touch at American Celebration on Parade, where kids can get up close with a bit of colorful and fun history.
After you're done at the caverns, drive around the corner and make a quick stop at the Route 11 Potato Chip factory, a homegrown company that started in the owner's basement, to see how they make their small-batch chips and grab a little snack. The sweet potato and BBQ were our favorites.
Take a short detour and drive thru Meem's Bottom Covered Bridge, the only VDOT-maintained covered bridge in Virginia that you can still drive through. It's right around the corner from the caverns and on the way to your next stop, New Market.
Finish your evening in New Market with some of the best fried chicken and fried green beans at Southern Kitchen. If you're visiting in the summer, walk up the main street and you'll likely hear one of New Market's live summer concerts going on. Drive back to your hotel in (or near) Woodstock to get a good night's rest before your busy day tomorrow.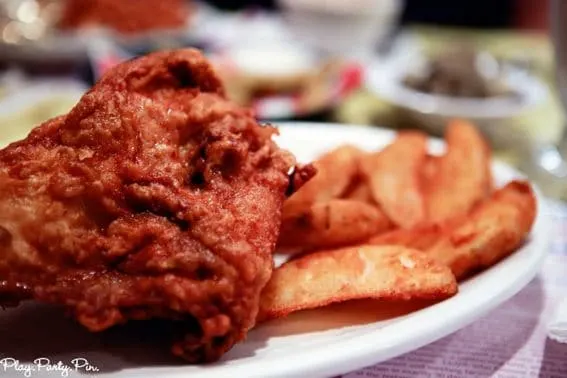 Southern Kitchen's fried chicken doesn't get much better. Make this a must stop in Shenandoah County.
Saturday
Mosey on over to the Woodstock Garden Cafe, set right in the middle of the Fort Valley Nursery, for some live music, a farmer's market, and of course, breakfast. Try their breakfast bowls that come with a warm biscuit topped with a number of different egg and meat combinations. And don't forget to grab a salted caramel pretzel brownie to enjoy later and a unique gift from their huge collection of gifts for gardening lovers.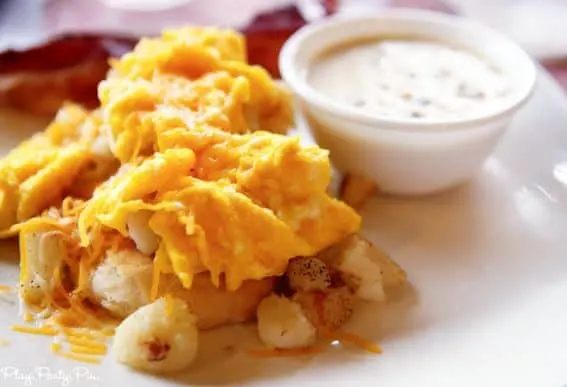 Woodstock Garden Cafe's eggs and biscuits make for happy parents who need extra fuel to keep up with active kids.
After breakfast, drive right around the corner into George Washington National Forest and take the short hike up to Woodstock Tower for gorgeous views of the valley below including all seven bends of the river. If you have older kids, it's a short two-mile roundtrip hike up to this old park ranger forest fire lookout tower. If you would prefer not to hike, you can also drive up the mountain and park about 1/4 mile from the tower.
Cool off from your hike at the newly renovated W.O. Riley Park that now includes a community pool, splash pad, and playground area. Your kids will have a ball sliding down the slides built right into a hill and trying out all of the unique parts of the playground. I know my guy was ready for a little slide and splash time once we arrived.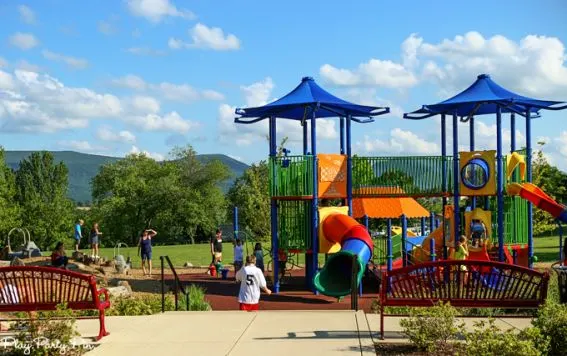 Cool off and have some fun at W.O. Riley Park
Head back to main street for lunch at the Woodstock Cafe and Shoppes, a Woodstock staple right in the middle of town. Try one of their artisan sandwiches or wraps and while you're waiting for your food, look around the little shop area at items from local artists. Keep your kids entertained with dominoes or a board game from a stack of games they keep in the cafe just for people to play with while they eat. You can't ask for more family friendly than that!
Next, drive a few miles north to the town of Tom's Brook, Virginia, home to a handful of stops along the Shenandoah County Artisan Trail. Spend an hour exploring Posey Thisisit Llama Farm where you can feed llamas, kiss llamas (a highlight for me and my son), purchase handmade items made from the llama fiber (great for crafting!), and learn everything you'd ever want to know about llamas from the friendly and knowledgeable owner Joyce.
Enter to win a Shenandoah Valley Vacation at Massanutten Resort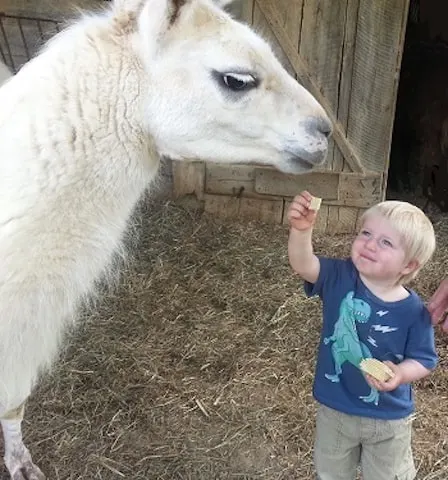 Feed a llama? Check! This is one bucket list item you have to do with the kids when exploring the Shenandoah Valley
Leave the llama farm and drive a few minutes to the Laughing Orange Studio to see this amazing viral fairy garden in person and pick up a gorgeous handmade ceramic piece from the artist, Susie. If you're going to be in the area for more than just the weekend, you can also check out her workshops for a chance to make your own fairy garden.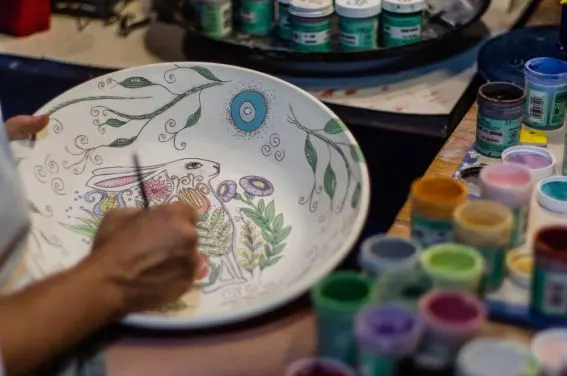 Susie painting her pottery in her Laughing Orange Studio
After your artisan afternoon, head north on Route 81 to the Stephen's City Family Drive-In. Stop right before you get to the drive-in at Scoops & Swirls for a brownie sundae or your frozen treat of choice. It's also the perfect location for watching the cars drive by and relaxing for a few minutes before heading to the drive-in.
Finish off your night with dinner and a double feature. Stephen's City Family Drive-In is the only operating drive-in movie theater in the area and within easy driving distance from DC. Arrive when the box office opens, grab a corn dog or hamburger from the concession stand, and play with your kids in the play area while you wait for the movie to start. Throw the kids in their PJs, snuggle up in a few blankets you had in the back of the car, and enjoy two current movies for $8.00, a steal compared to what you would pay to watch a movie at a regular theater.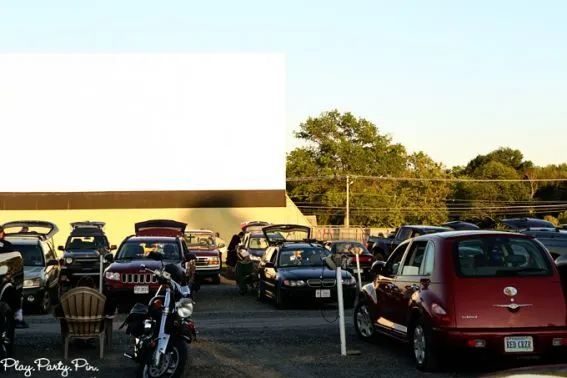 Grab the kids and head to the Family Drive-In for a night of fun and excitement the whole family is sure to enjoy.
Sunday
Sleep in after your late night at the theater then head to Bryce Resort for a morning of fun and adventure. Bryce Resort has something for everyone in the summer so take your pick of mountain biking (skiing in the winter months), zip lining, grass tubing, rock climbing, trampoline jumping, or a simple game of mini-golf. Or just take the lift to the top of the mountain and back down. This unique lift is one of the only lifts to actually have "cars" designed specifically to hold mountain bikes.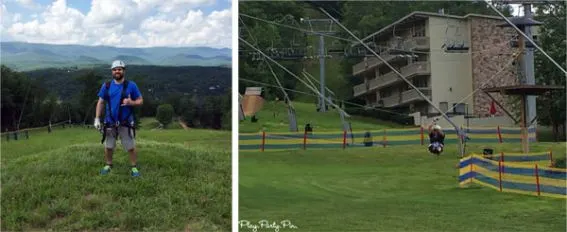 Zip lining, mountain biking and grass tubing- Oh My! There is so much to do at Bryce Resort.
If you are a truly adventurous family, you could spend the entire weekend doing things at Bryce Resort. Book a stay at Chalet High, a vacation rental property that is perfect for families looking for a little space and those traveling with family and friends who want to stay together in one place. Chalet High just did a huge renovation and the pedestal locations are perfect for large families who want to have their own kitchen, enough space to spread out, and more of a home than a hotel experience.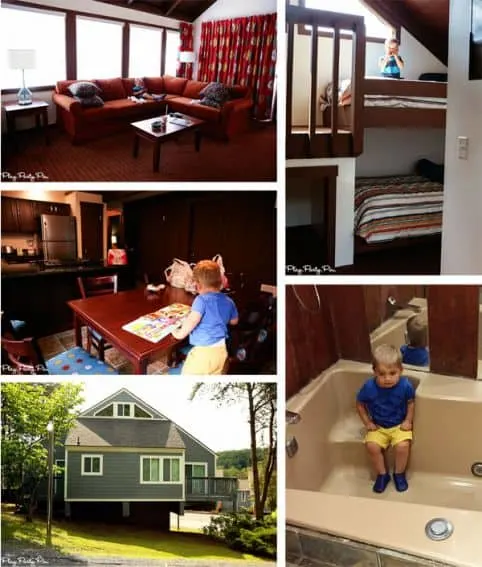 Chalet High is the perfect place for families to set up camp while they explore Shenandoah County.
After your morning of adventure, drive a few minutes to Lake Laura for a relaxing few hours swimming and sun tanning. Or rent a canoe, kayak, or paddleboat and really explore the lake and all of its inhabitants.
Leave the lake and head north to Strasburg for lunch at Cristina's Cafe, a great little local spot with live music and delicious soup, salads, and sandwiches made from locally-sourced ingredients. And don't forget to pick up one of their baked goods! They'll be perfect for your drive home later in the day.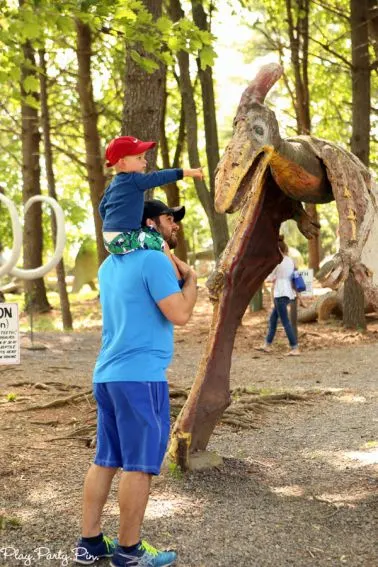 Little dinosaur lovers won't be able to get enough of these replicas at Dinosaur Land.
Finish off your trip with a short stop at Dinosaur Land, just off 66 and right on your way home. This is a fun little park filled with large replicas of dinosaurs, sharks, and even a King Kong that the daring can climb on and sit in its hand. It's the perfect stop on the way back to DC and a good way to break up the two-hour drive.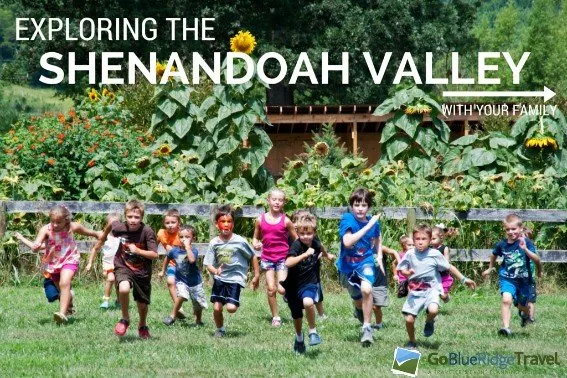 While staying at Massanutten Resort, families can explore the entire Shenandoah Valley region of Virginia, boasting plentiful activities to enjoy including hiking trails, museums, cultural attractions, fabulous dining, and family fun.
Check out our favorite family exploration opportunities in the Shenandoah Valley.
Disclosure: Britni and her family experienced Shenandoah County complimentary, for the purpose of review. All opinions are her own. All images courtesy of Shenandoah County and Britni Vigil.