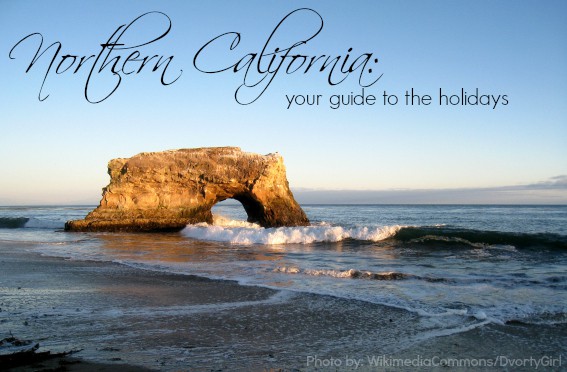 The holiday season is upon us and Northern California is filled with a plethora of family-friendly activities. Whether you're soaring with Santa above San Francisco in the world's largest airship, waving at surfing Santa from the shores of Capitola, or meandering through historic Christmas Villages draped in holiday lights, Northern California offers something for everyone.
Ride the Rails with Santa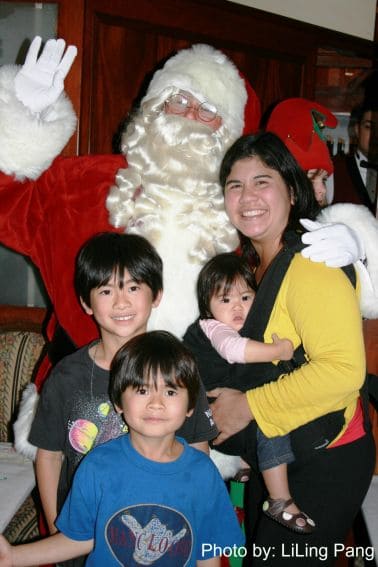 Northern California Christmas trains are popular events that sell out quick. During the months of November and December, numerous train companies offer young guests the opportunity to meet Santa in vintage passenger cars decked with dazzling lights and holiday swag. Napa Valley's Santa Train combines the best of worlds, a mother's love of wine and a child's love of Santa. The Polar Express in Sacramento (should you be lucky enough to have already secured tickets for the often sold-out event) gives out the "first gift of Christmas" — a sleigh bell — to each passenger. On the return trip, all join in and sing Christmas carols when pulling into the station at the California State Railroad Museum. Sacramento & Sierra Christmas Trains carry not just Santa, but elves, storytellers, musicians, hot cocoa, and cookies. The Niles Canyon Railway Train of Lights features 15 train cars draped in holiday lights. The Christmas Train to Willits is a 90 minute merry treat for pajama clad passengers. Roaring Camp Railroads offers the children of Santa Cruz not just one, but two holiday trains departing directly from the Santa Cruz Boardwalk: Santa Cruz Holiday Lights Train and Holiday out with Thomas.
Explore where to catch the Polar Express.
Recapture the Spirit of Christmas Past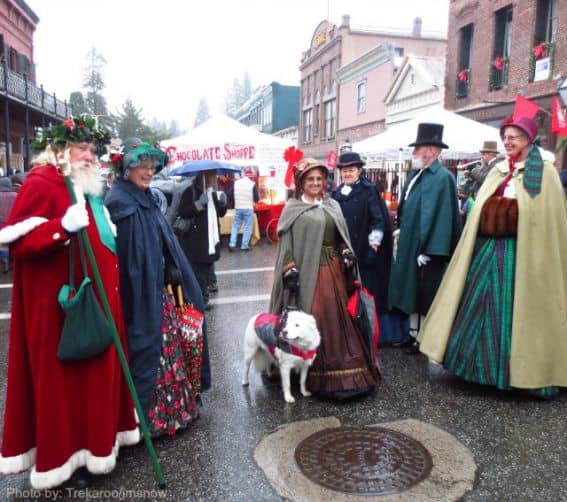 Evoke the spirit of Christmas past amidst the delightful backdrop of historic downtown Grass Valley during their yearly Cornish Christmas Celebration. Mill and West Main Streets are blocked to traffic and packed with the resonances of an old-fashioned Christmas while the Grass Valley Cornish Carol Choir croons Christmas carols on the steps of the historic Union Building. Delight your senses with the aromas of your favorite foods while you stroll down the bustling historic streets of Downtown Grass Valley. Listen to musicians play Christmas music as shops bathed in Christmas lights twinkle in the night air. In Nevada City, at the Victorian Christmas, you'll see kids and adults dressed in period costumes and Santa Claus. Delicious food and drink can be purchased from a number of specialty food vendors.
When:
• Cornish Christmas Celebration held every Friday Night, Nov. 29 through Dec. 20, 2013 from 6:00 – 9:00 p.m.
• Nevada City Victorian Christmas held Wednesdays, December 4th, 11th & 18th from 5:00 to 9:00 p.m. & Sundays, December 15th and 22nd from 1:30 – 6 p.m.
Winter Wonderland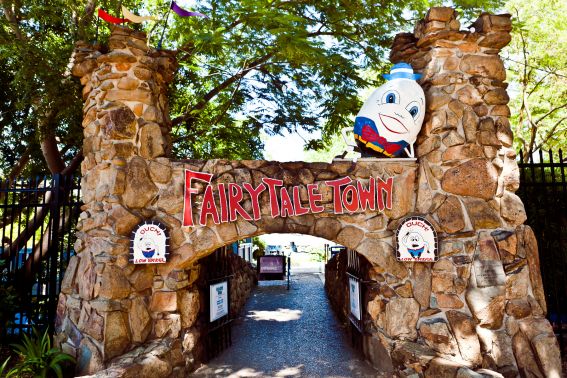 On special days in December, Fairytale Town in Sacramento will be decorated with festive trimmings and lit up with dazzling lights, starting at dusk. This holiday event features hands-on craft activities and holiday vendors. Two of Santa's reindeer will visit on December 14-15 and children can visit with Santa in his workshop on December 14-15 and 21-22. December 24 is free admission day! In nearby Old Sacramento, celebrate the 5th annual Theatre of Lights performance. Shows kick-off November 27 thru December 31 on Thursdays through Sundays, with special performances on opening night, Christmas Eve, and New Year's Eve. In December, Children's Fairyland in Oakland celebrates the winter holidays of many cultures: Christmas, Chanukah, Kwanzaa, Las Posadas, Diwali, and Chinese New Year! Enjoy crafts, a festival of lights, and a visit from Santa.
Be sure to check Trekaroo's lists for Fun Holiday Activities for Kids in Sacramento, CA.
Break for the Slopes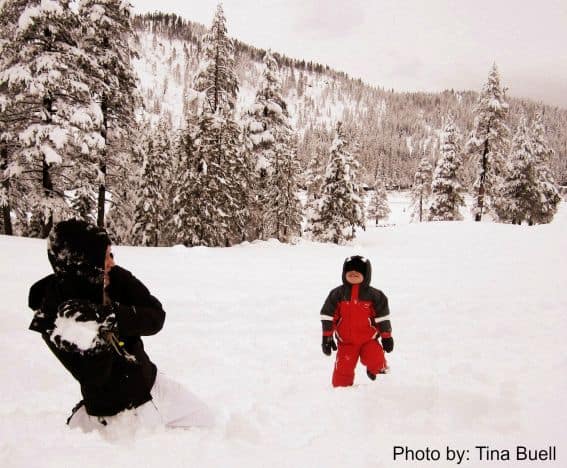 Magical Memories at Resort at Squaw Creek
Thanksgiving weekend brings the much-anticipated start to Resort at Squaw Creek's Magical Memories holiday celebration. The event begins from 5 p.m. to 8 p.m. on November 29 with the Gingerbread Village Unveiling and Grand Tree Lighting Ceremony. Winter Wonderland Locals' Nights take place on Wednesday, December 4, 11 and 18 with free musical performances, ice skating and complimentary hot cocoa. Through January 4, events at Magical Memories include caroling, fun with Buddy Bear on the ice rink, winter wonderland stories with Mrs. Claus, elf tuck-ins, snowshoe tours, breakfast with Santa, or Hanukkah menorah lighting.
Noel Nights at Northstar California
The Village at Northstar, Noel Nights takes place on the first three Thursdays of December from 5 p.m. to 8 p.m. Gawk at the breathtaking trimmings of a 35-foot tree, ice skate until 9 p.m., roast gooey s'mores by fire pits, applaud holiday carolers, or pose for pictures against a backdrop of glittering lights while waiting in line to meet Santa.
Heavenly Holidays
Celebrate nearly two weeks of Christmas at Heavenly Holidays. This elaborate 13-day family-friendly festival at the Heavenly Village features professional ice skating shows, ice sculptors, and carolers. Santa's Workshop will be recreated inside of a 16-foot interactive snow globe where families can get their photos taken with Santa! Festivities begin on December 21 and conclude on December 31 with A Heavenly New Year's Celebration featuring an outdoor concert, fire dancers and a 9:00 p.m. ball drop and fireworks show!
Holiday Feasts
Hyatt Regency Lake Tahoe shines like the fresh fallen snow. Having recently undergone an extensive $20 million remodel of its 422 guest rooms and suites, some of its holiday offerings include The Christmas Buffet at Lone Eagle Grille with an exclusive kid's buffet and a family art and crafts station and The Christmas Buffet at Sierra Café featuring a jolly decorate-your-own Christmas cookies station.
Granlibakken Conference Center & Lodge offers a hearty Thanksgiving feast that celebrates family and friends around the dinner table. Join the group celebration for $40; $20 for children 12 years and younger. Before dinner, work up an appetite outdoors at Granlibakken's Treetop Adventure Parkand. Set 30 feet off the ground, the ropes course and zip line will be open Thanksgiving week (weather permitting) and throughout the winter season.
Camp Richardson Historic Resort and Marina is an all season resort with lodging in cabins and hotel rooms. The Beacon Bar and Grill, situated on the scenic shore of Lake Tahoe, is offering special menus for Thanksgiving, Christmas, and New Year's Eve.
Enjoy Winter Holiday Activities for Kids in Lake Tahoe & Nevada.
Sequoia and Kings Canyon National Parks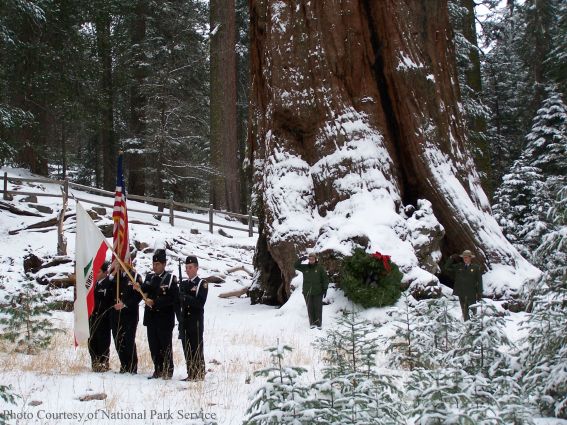 Wuksachi Lodge
On December 8,  the 88th annual Trek to the Nation's Christmas Tree (the General Grant Tree) begins at 2:30 p.m. and features live entertainment. A memorial wreath placed is placed at the base in honor of the men and women of the Armed Services, and an NPS representative will speak on the tree's role as a national shrine. Attendees can park at the Grant Tree Trail entrance lot, take a free shuttle from the Kings Canyon Visitors Center, or a paid shuttle ($30 for just shuttle; $50 for a lunch or dinner shuttle) from the Sanger Chamber of Commerce offices. In addition, Kings Canyon park admission is free from 2 p.m. through 4 p.m. on the day of the event.
Additional holiday activities include:
• December 14: Annual Sequoia Christmas Bird Count. This free event kicks off at the Foothills Visitor Center and is open to all ages. Attendees will walk through the forest with a nature guide and learn about Sequoia's species of birds.
• December 18: Wuksachi Lodge will be hosting a wood ornament decorating workshop
• Wuksachi Lodge will be hosting a Christmas Eve cookie decorating workshop and a visit from Santa. Santa will lead carols and tell Christmas Eve bedtime stories around the fire.
Tenaya Lodge and Yosemite National Park
This is not your ordinary competition! Hundreds of families gather at Tenaya Lodge on November 29 and December 21 & 22 for a gingerbread decorating contest and go through 1,000 pounds of candy to duke it out for the top house in 5 categories—Traditional, Wackiest, Kids Only, Outside Influence (i.e., bringing in their own lights and décor), and Most Creative. This is a really fun spectacle even if you're not competing.  Additional holiday activities include the annual tree lighting ceremony at 6:30 p.m. on November 30th.
Petaluma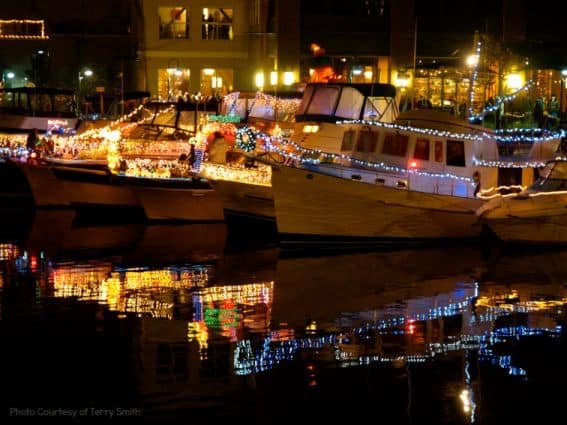 Santa's Riverboat Arrival
Rudolph and his reindeer pals get the day off when Santa and Mrs. Claus arrive in Petaluma on a Jerico tugboat on November 30 at 11am. Their trusty tug chugs up the Petaluma River and arrives at noon at River Plaza shopping center where the waiting crowd has been entertained by a variety of festive performers at this free event. After Santa and Mrs. Claus disembark, they are greeted by costumed dancers from Petaluma City Ballet's "Nutcracker" and are escorted to a Santa's workshop for photos with children and lots of Christmas wishes.
Lighted Boat Parade
On December 7, 2013, at 6:30 p.m., a flotilla of lighted boats makes a dramatic arrival at the Petaluma River Turning Basin. This free event is an annual favorite for amateur and professional photographers alike; the reflection of the lights off the water creates a magical effect. After the parade, spectators can keep the festive mood going by shopping and dining in historic downtown Petaluma, just steps from the Turning Basin.
Kid-Friendly Luxury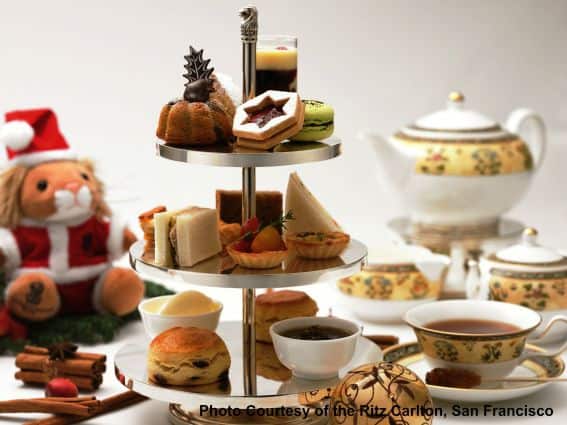 The Ritz-Carlton, Half Moon Bay
At The Ritz-Carlton, Half Moon Bay, bring the children in to enjoy breakfast with Santa and Mrs. Claus. The breakfast buffet will feature traditional morning fare with Christmas selections and a Christmas candy table on Sunday, December 22, from 9:30 a.m. to 12:30 p.m. $54 per person.
The Ritz-Carlton, San Francisco
The legendary Teddy Bear Tea at The Ritz-Carlton, San Francisco runs from November 29-December 1 with seatings at 10 a.m. and 1 p.m. Children and their beloved stuffed animals are invited to assemble in The Terrace Courtyard Tent for a glamorous tea service featuring Stretchy the Elf, Holly Berry, and the giant Ritz-Carlton Teddy Bear. Holiday entertainment is served along with hot chocolate, holiday confections, and assorted sandwiches. $110 per guest.
Mandarin Oriental, San Francisco
Mandarin Oriental, San Francisco invites children and their families to Ho-Ho-Homes for the Holidays for two delightful hours of gingerbread house decorating fun with Christmas elves. This afternoon of sugary delights takes place at the hotel on Saturday, December 14 from 2 p.m. to 4 p.m. Adults and children alike will learn how to decorate gingerbread houses and holiday themed sugar cookies using an array of sweets including icing of all colors, sprinkles, candy canes, gum drops, and licorice. Children will receive their very own chef's apron, chef's hat, and boxes to take home their finished houses and cookies. $60 per child, reservations required.
Rosewood Sand Hill, Menlo Park
See Santa and share classic holiday stories such as How the Grinch Stole Christmas and The Nutcracker as children gather in the Library lounge by the Christmas tree for Afternoon Tea and hot cocoa at Rosewood Sand Hill. Kids will take home a special teddy bear and write handwritten Christmas cards for children of The Ronald McDonald House at the Children's Holiday Tea with Santa on Saturday's in December.
Carmel Valley Ranch, Carmel
Set amidst the beautiful Santa Lucia Mountains in Carmel, the Carmel Valley Ranch is hosting a great lineup of holiday activities and attractions on their 500-acre resort.  The inaugural Chanukah First Night Celebration takes place November 27th and offers families an overview of the festival as well as sweets and treats.  Other great activities throughout the season include a Nutcracker Holiday Tea, Craft Faire, Gingerbread house building competition, and family portraits.
While you are in the city, learn Where to Enjoy Holiday Lights in San Francisco
Stunning Apple Hill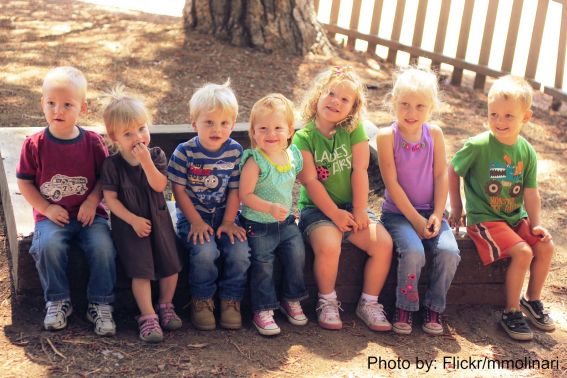 Apple Hill, located just northeast of Placerville, is a beautiful destination to pick and chop a Christmas tree. Currently, seven full-sized Christmas tree farms open the day after Thanksgiving and remain open until Christmas Eve. Visiting Apple Hill is a memorable experience any time of year, especially over Christmas! Some of the more popular Christmas Tree Farms include: High Sierra Iris Gardens, Hillside Tree Farm, and McGee Christmas Tree Farm. Christmas at Apple Hill isn't just about picking a Christmas tree; many farms offer great family oriented activities for the kids and have steaming cups of hot chocolate or homemade apple cider waiting for you.
Be sure to check Trekaroo's lists for Apple Hill Christmas Tree Farms.
Holidays with an Ocean View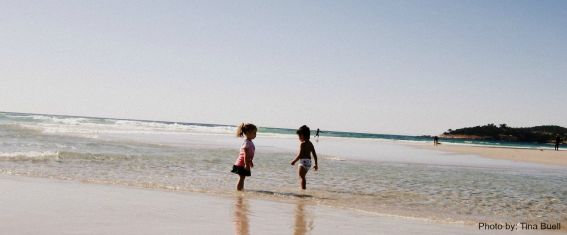 Monterey's signature holiday event is Christmas in Adobes. On December 6 & 7, stroll thought the streets of Historic Downtown Monterey and enjoy live performances as volunteers in period attire welcome you into 19th Century homes decorated in historical style. Refreshments, games, history, and merriment await the entire family.
Direct from the North Pole, Santa and Mrs. Claus fly in by helicopter to Carmel Valley Village Airfield on December 14, at 10:30 am! There they'll board their sleigh and lead a parade through Carmel Valley Village. The parade is filled with horses, a train, vintage cars, and more! Afterwards, kids can take a photo with Old Saint Nick at the Carmel Valley Youth Center.
The Holiday Parade of Lights is an annual tradition in Pacific Grove's hometown parade down "Main Street, USA." This lighted parade includes floats, marching bands, dance troupes, performing horses, and Santa Claus. Afterwards, carolers will walk through the streets of downtown as local shops stay open well into the evening for the holiday celebration.
Welcome the New Year with the entire family (ages 5 and older) at the Monterey Bay Aquarium! The evening will feature a sparkling cider toast at 9 p.m. and a Pinkberry sundae bar to celebrate the countdown to the New Year on East Coast time. Fun family oriented activities and programs are planned for this unique night of celebration. Rise with the fishes on New Year's Day and enjoy a continental breakfast, then join the aquarium's naturalists in admiring marine and wildlife from the Great Tide Pool Deck.
Read Trekaroo's reviews on Monterey Bay Aquarium.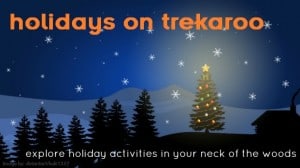 Find holiday activities and events in your neck of the woods.  We've got the inside scoop on cities across North America.
Comments
comments