Last Updated on
Trekaroo generates revenue from purchases made through links to our partner brands.
Always camera-ready from every angle, to say San Francisco is a beautiful city is an understatement of gargantuan proportions. Should you need proof, here are some unique spots to soak it all in with your kids and even some with your dog in tow. Be sure your phone or camera is fully charged because the best views in San Francisco are all truly snapshot-worthy!
Golden Gate Bridge
The walking platform along the Golden Gate Bridge is not only a great place to enjoy breathtaking views of iconic landmarks like Alcatraz, or famous spots in the city skyline like the Palace of Fine Arts, Coit Tower, and the Transamerica Pyramid, it reveals an amazing look into the Civil War era Fort Point located beneath it.
Crissy Field
Part of the historic Presidio, it is hard to believe that this scenic area was a landing strip for military planes when the U.S. Army occupied the area. Enjoy sweeping views of the Golden Gate Bridge, Alcatraz, and the city skyline while running and walking the trails, flying kites in the grassy areas, and playing in the water or admiring the restored marshlands of Crissy Field.
Twin Peaks
On a clear day, Twin Peaks is a great place to take in striking panoramas. It will seem like they've been unrolled for your viewing pleasure right at your feet. Older kids will enjoy the adventure of navigating stairways and alleys to access the trailhead and the 360-degree views at the summit. If you're not into hiking or there are little ones in your crew, drive up the Eureka North peak. No matter the method you choose, it is well worth it.
Alamo Square
Head to Alamo Square Park, for a prime view of one of San Francisco's most photographed locations — the Painted Ladies, a row of tight escalating Victorian houses back-dropped by sky scrapers. Alamo Square Park is dog-friendly and even has an off leash area for four-legged friends who accompany you to take in this scene.
Baker Beach
Wedding and portrait photographers love this spot, I have at least six friends with photographic proof to back this up! It's also another great place for appreciating an unobstructed view of the Golden Gate Bridge while enjoying the sand and surf. Be sure to bring plenty of sand toys with you!
Sutro Heights and Seal Rock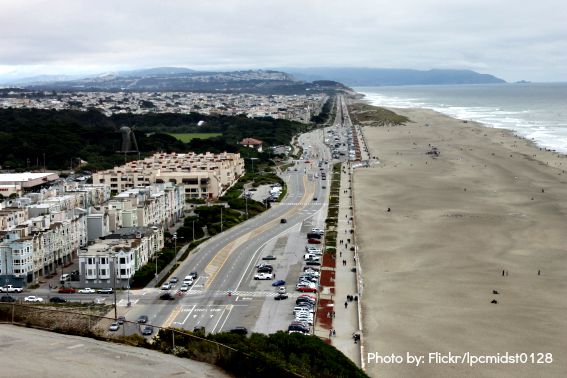 The perfect spot for treating yourself to a breathtaking view down the Great Highway and the Pacific Ocean, Sutro Heights Park was where the home of Adolph Sutro, entrepreneur and San Francisco's 24th mayor, once stood. Head down the road to the ruins of his water fun business Sutro Baths, to take an unusual hike among the bath's remains and enjoy an unforgettable view of Seal Rock, an offshore perch often inhabited by sea lions.
Exploratorium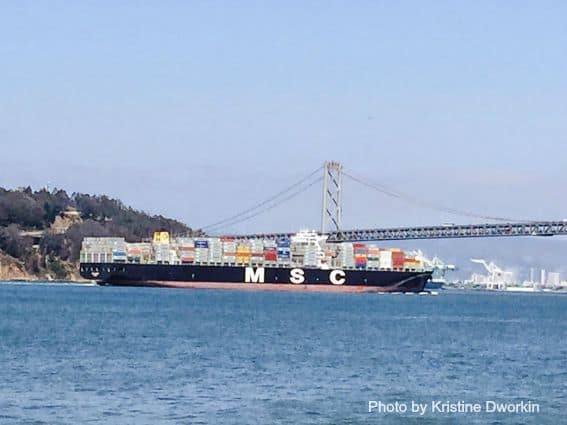 The Observatory Deck of the Exploratorium is a great spot to watch boats on the Bay, particularly pilot and tug boats as well as cargo ships. It also yields greats view of the Bay Bridge and Treasure Island out across the Bay.
Treasure Island
It was originally built for the World's Fair, but Treasure Island has since served as a landing area for Pan Am Clipper Flights and a US Naval base. Pack a picnic and take a drive over to the island to enjoy sprawling views of the San Francisco skyline and the new span of the Bay Bridge.
Coit Tower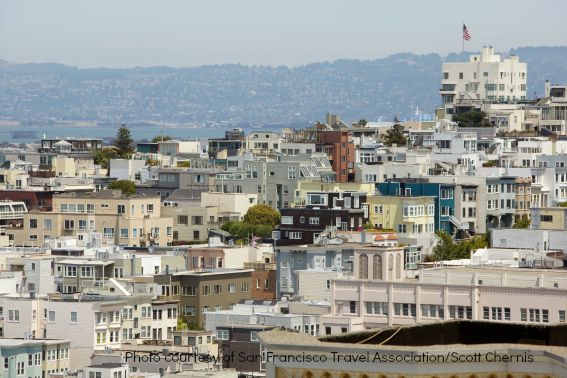 The only view on this list that comes with an admission price, enjoy the newly restored murals inside Coit Tower before riding the elevator to the top. You'll be blown away by sweeping perspective of the city's downtown area; it's worth securing a ticket!
Alcatraz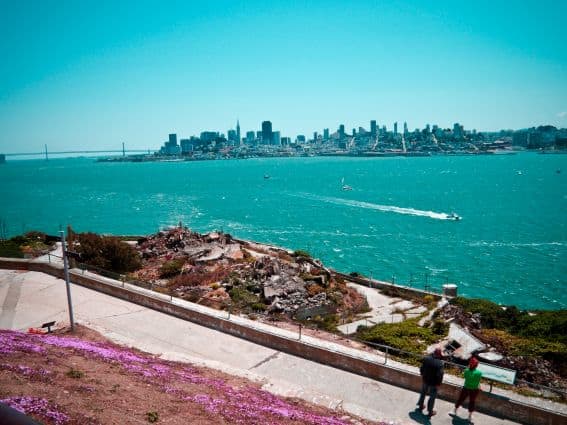 Once a maximum security federal prison, there's no better way to understand how taunting a view of the city by the bay would have been for the inmates here than to stand on Alcatraz. Take time to enjoy the city skyline from the yards and paths surrounding the Cell House.
Mt. Davidson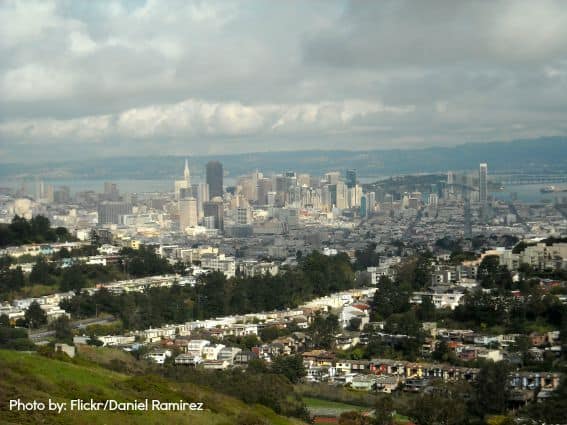 The highest natural point in San Francisco, a clear day reveals views of Twin Peaks and downtown from 928 feet over the city. Dogs are allowed on leash. A 103 foot cement cross at the top makes this area of eucalyptus and undeveloped forest feel almost like an outdoor cathedral.