Ready for an all-inclusive getaway that the whole family will love? The Royalton Splash Riviera Cancun is a new 1,005-room luxury all-inclusive property which has first-rate service, beautiful rooms, a fantastic waterpark, sparkling pools overlooking the Caribbean, and excellent dining.
I was recently invited to check out the new resort so that I could bring all the details to our dedicted legion of family travelers. I am happy to report that the resort exceeded my expectations and I am eager to recommend it to families with kids of all ages.
Since my kids were celebrating a birthday, I invited them to tag along on mom's work trip. They had a great time and their birthday at Royalton Splash Riviera Cancun is certainly one they will never forget.
Royalton Splash Riviera Cancun made our list of the best resorts in Cancun for families.
Royalton Splash Riviera Cancun Review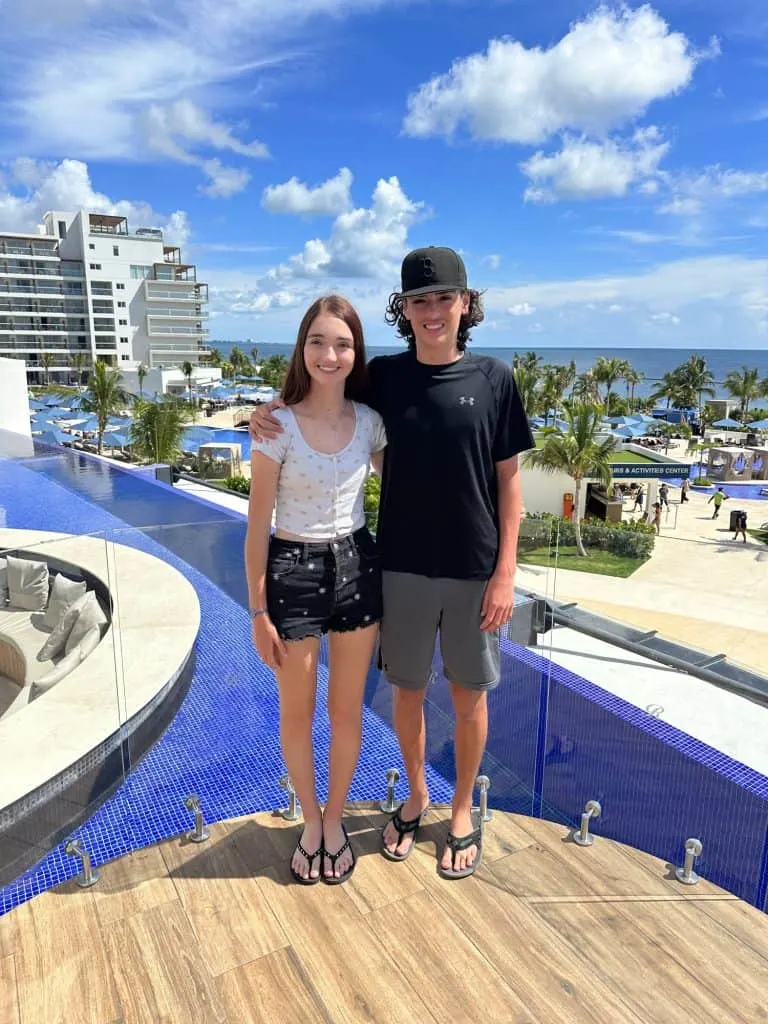 This resort is just 35 minutes from Cancun International Airport and airport transfers are easy to arrange ahead of time. If you book your stay directly with the resort, your transfers with NexusTours are included.
The pool area has multiple pools with swim up bars, a large water park with 14 slides and a lazy river, a splash pad and kids club for the youngest guests, evening entertainment, and unlimited dining at 10 a la carte restaurants as well as a buffet, and a sports bar on property! Here are the details on some of our favorite aspects of the property.
Book your stay at the Royalton Splash Riviera Cancun.
Waterpark and Lazy River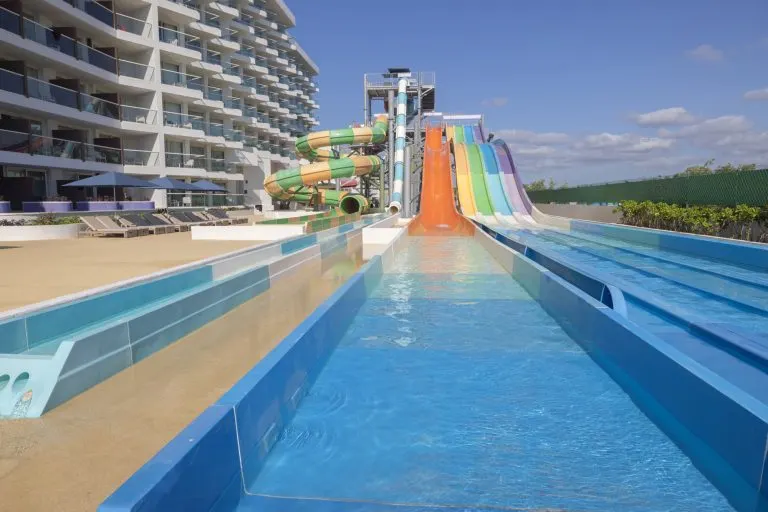 The waterpark and lazy rivers at Royalton Splash Riviera Cancun definitely did not disappoint! As a matter of fact, this waterpark has slides that are high quality and just as fun as our waterpark at home, but without the cost and crowds!
In all there are14 water slides to enjoy including tube slides, several double raft slides, and even toilet bowl-style slides that "flushes" you through a hole into the splash pool below.
This new waterpark is one of the largest in the Caribbean. Best of all, since the water park is only open to resort guests, we never had to wait more than five minutes to ride the slides!
As much as I loved the waterslides, I loved the lazy river even more! It reminded me in many ways of the type of lazy river you might find at a Disney park because it had lush landscaping around it, several fun tunnels and water features, and larger than life statues of creatures from the local jungles, such as iguanas, snakes, and jaguars.
My kids and I also loved that a good portion of the lazy river was shaded. The Yucatán Peninsula's sunshine can be quite intense, so it is nice to be able to enjoy the floating in the water water while getting a little escape from heat.
A Special Water Play Area for Younger Kids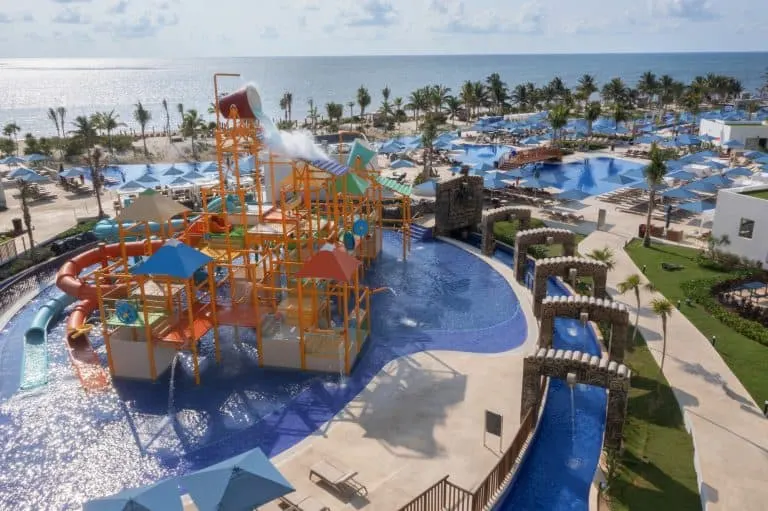 Royalton didn't forget about families with young kids when they designed their pool area. They have a huge, multi-level water playground for the little ones with several smaller slides coming off the structure.
The water in this area is only a few inches deep and there are kid-sized life jackets to borrow. I was very impressed by the size and quality of diverse attracions for young kids to enjoy.
More and More Pools to Enjoy!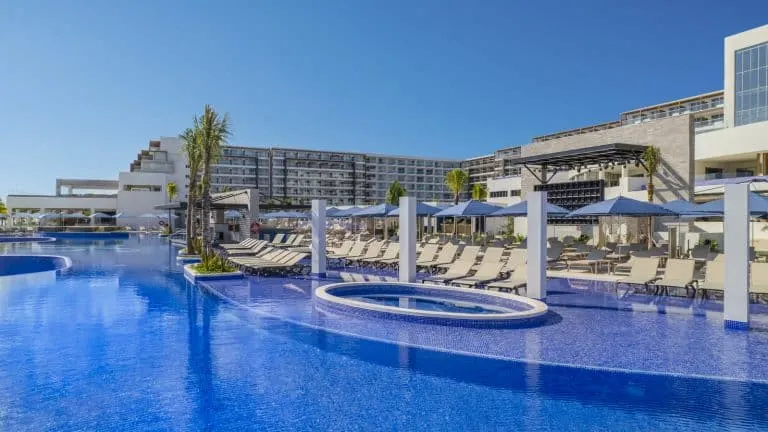 In addition to the waterpark, the resort has several huge pools. These pools serve as the heart of the resort during the daylight hours. There are plenty of lounge chairs and umbrellas, as well as multiple lounge chairs in the shallow portions of the water. My kids and I thought the pool temperature was perfect, and we appreciated that there was opportunity to do as little or as much as you wanted to do while poolside.
My kids joined several organized (but super casual) water volleyball games. It was lots of fun to watch them play their favorite sport with visitors from all over the world. There was also water basketball games and several different types of fun water exercise classes being offered during our stay.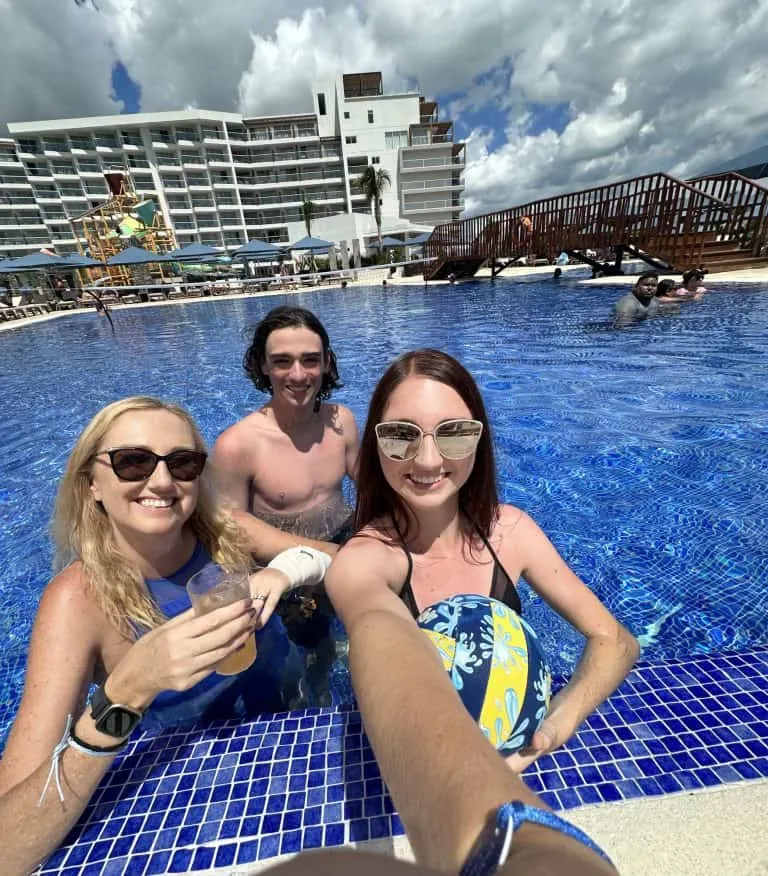 I think the thing my kids loved the most was the swim-up bars. I'm surprised they both didn't morph into virgin piña coladas by the end of our trip based on how times they swam their way over and asked for "solamente una mas".
Kids Club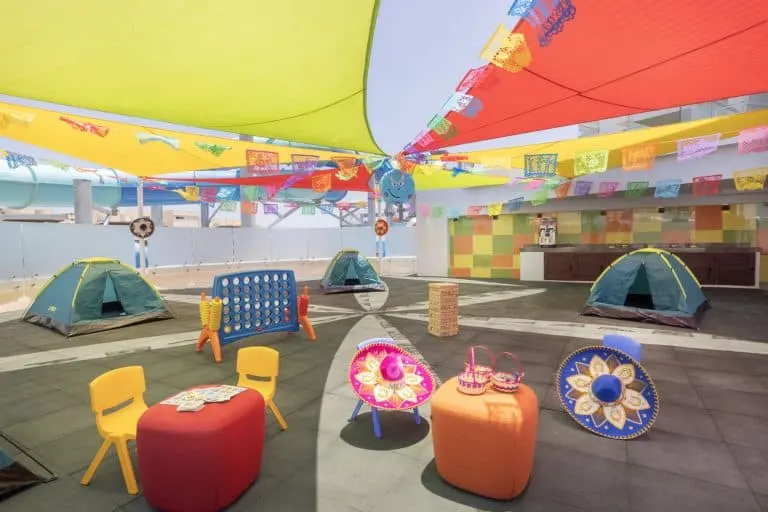 When my kids were younger, they loved a good kids club, and my husband and I loved that we could spend some time together without worrying that our children were missing out.
The Clubhouse Kids Club on property is for ages 4-12 and is filled with three stories of fun! It is open from 9AM to 7:45PM daily, which means you can enjoy an adult dinner, time at the spa, or relaxing pool time while knowing your children are being entertained by specialists trained in all stages of child development.
A variety of activities are planned for the kiddos throughout the day like mini Olympics, robot building contests, nature scavenger hunts, dance lessons, learn the language classes, arts and crafts, and more. The space is bright and cheerful, and there is plenty to keep them occupied in between structured activities.
There is also a Nanny Care Program which is offered from $25 per child per hour which is great if you want enjoy a later evening while knowing a certified childcare professional is taking good care of your children.
Lots of Caribbean Beachfront to Enjoy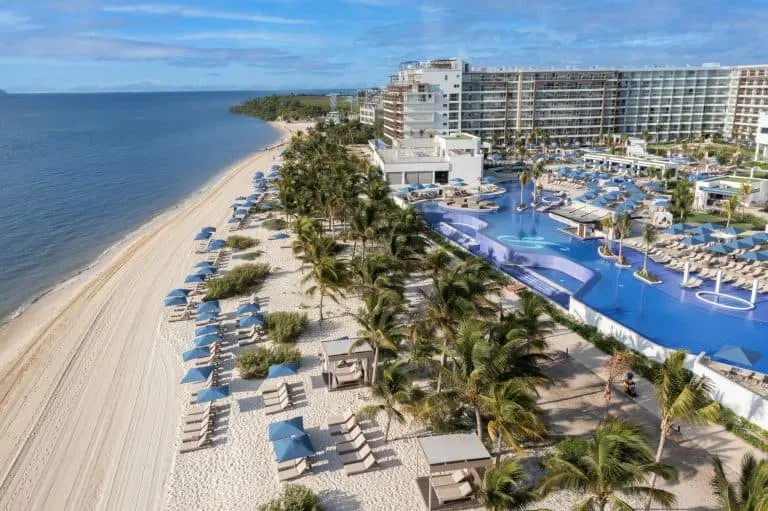 The beach at Royalton Splash Riviera Cancun is filled with powdery white sand and calm blue waters. I had read online before our visit that some of the previous guests had complained about seaweed, but when we visited, there wasn't any seaweed in the water. The resort does a good job of grooming the sand does have a machine to clean up the seaweed that makes its way to the beach.
The water during our September visit was actually warmer than the pools which were already at an extremely comfortable temperature. There were several lounge chairs available for use on the beach, and many of them had umbrellas. Employees that serviced provided drink service to those beach lounge chairs and there is a beach bar near the sand.
Still, I was surprised by how few guests were actually on the beach. Maybe it is because the Caribbean waters were just too warm or more likely, it was because the numerous pools and their swim-up bars were just too hard to resist.
Note: The resort does sell sunscreen in its gift shop, but it is a whopping $30 a bottle. We couldn't bring sunscreen with us since we only had carry-ons. This was the only thing that really disappointed me at the resort.
Excellent Restaurants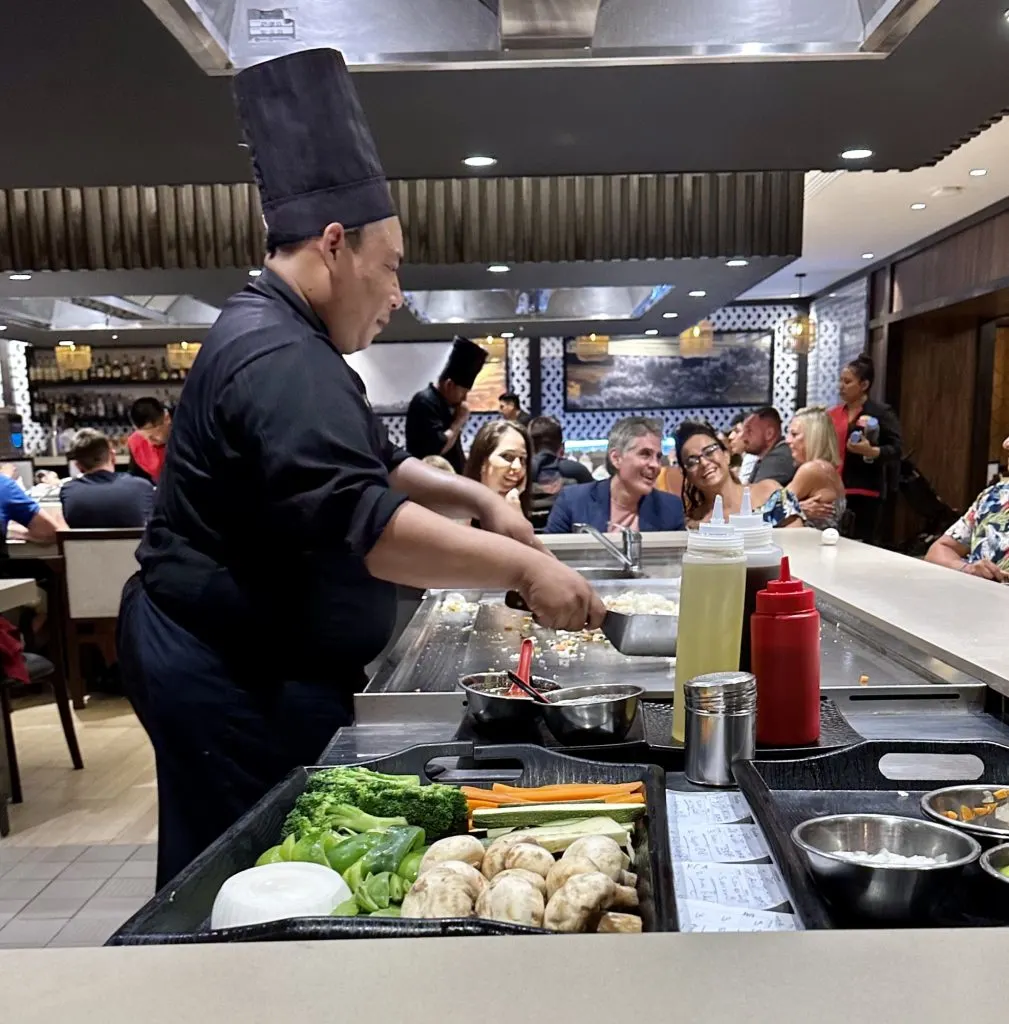 I was incredibly impressed with the restaurants we visited during our stay at Royalton Splash Riviera Cancun. There are eight dinner-only restaurants on property that are open to families and one that is adults only. During our three-night stay wewere able to try three different dinner restaurants- Zen, Hunter, Steakhouse, and Cave.
We were incredibly excited to enjoy our first dinner at Cave. It truly did feel like we were dying inside of one of the Riviera Maya's famed cenotes. This restaurant has an international menu. My daughter loved Korean barbecue rib mini tacos and we can also speak highly of the pork chop and fish.

On the second night we ate at Zen. Anyone who is familiar with Teppanyaki-style dining knows that dinner basically also comes with a show. Our chef kept us entertained while we had sushi appetizers and watched him prepare the main course. He did a great job of keeping the entire table engaged, including young children, who were seated with our group. My teens loved every minute of it.
The third night also happens to be my son and daughter's birthday, so I Let them decide where we were going to eat. My son immediately suggested Hunter Steakhouse since we don't each much red meat at home and he always will jump at a chance to enjoy a steak dinner. While my son and I chose the riby eye, my daughter opted for shrimp fettuccine alfredo. All of our food was excellent, including the crème brulée for dessert.
In addition to three dinner restaurants we visiting there is also Smoke (BBQ), Rio (Brazilian Grill), Agave (Mexican), Taj (Indian), Grazie Italian Trattoria, and Ma Maison (French Cuinine, Adults Only). There is also the Gourmet Marché buffet and SCORE Sports Bar open for dnner if you want something more casual.
Note: Not all restaurants are open every day so check the resort schedule when you arrive to plan out your meals. Reservations are encouraged.
Included Grab and Go Offerings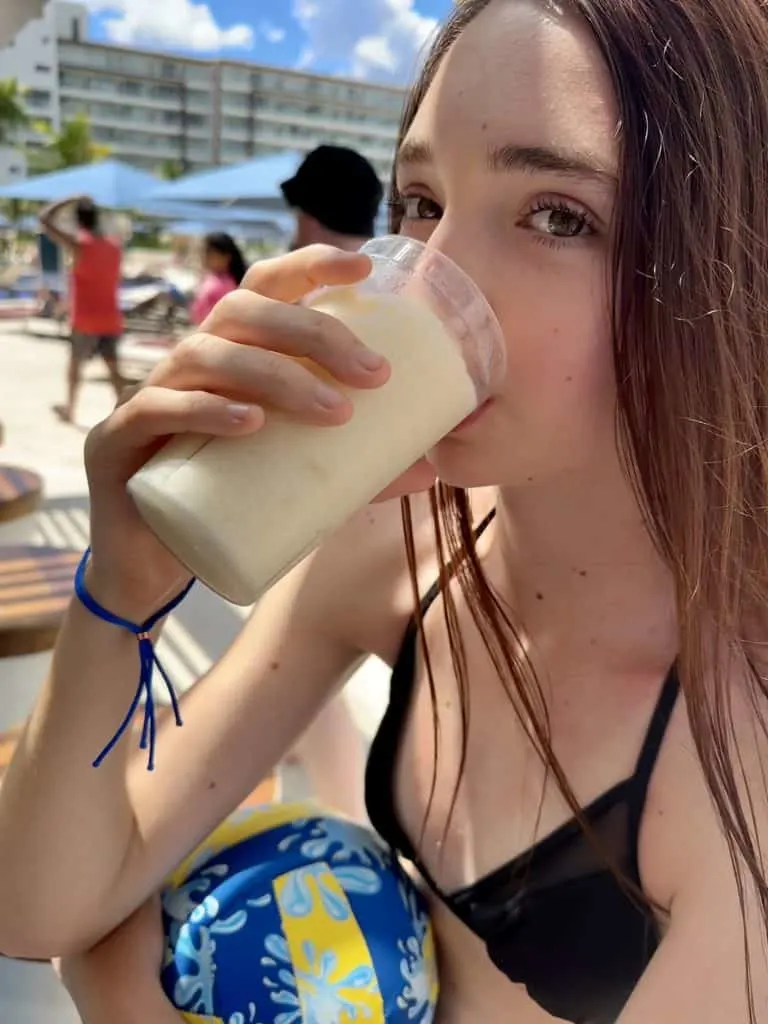 When you are spending most of your day in a bathing suit, you don't always want to take the time to head back to your room to get changed for a sit down meal. I love that the resort had a couuple different food trucks and quick service options around the pool so that we could eat a quick bite at lunch without having to dry off.
I also really appreciated that the Scoops Gelato Shop and the coffee shop which serves up premium coffee drinks and bakery goods were both included in our all-inclusive price. So many times these types of perks are considered add ons.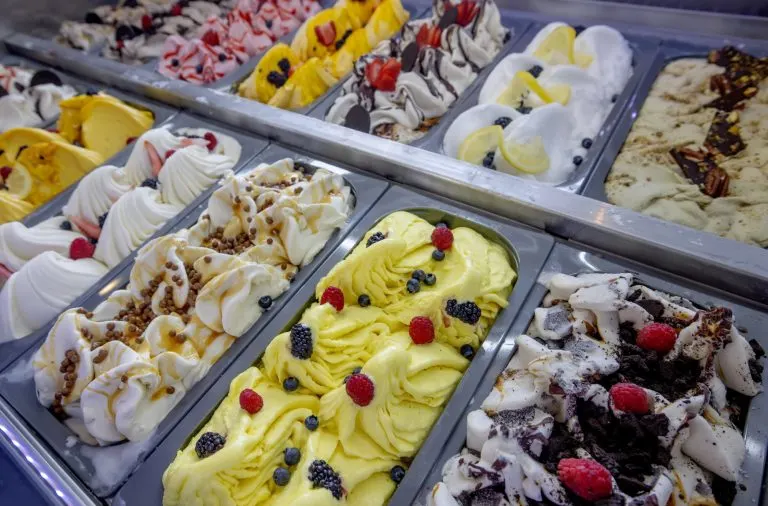 Poolside gelato can be worth its weight in gold when trying to keep a cranky preschooler from having a meltdown. And let's be honest, an afternoon iced mocha can be worth its weight in gold to a parent with jetlag as well.
Read more of our Mexico with kids coverage.
Variety of Room Options That are Great for Families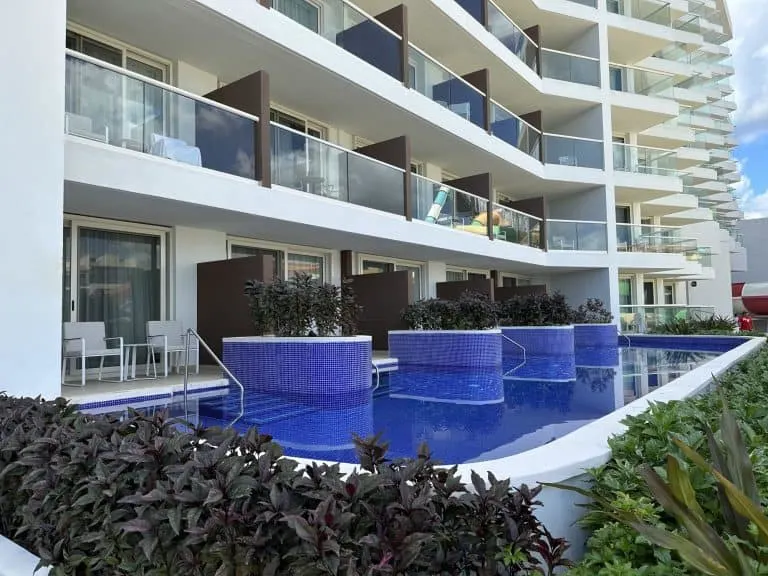 While most rooms are designed to sleep four people, there are suites that can sleep up to eight people. There are also rooms with their own jetted tubs and incredible oceanfront views, as well as two-bedrooom suites with four queen beds that are perfect for multigenerational group or larger families.
My kids and I stayed in a luxury junior suite swim out which had two queen beds. It also had what was referred to as a "sofa bed", but was more like a love seat with cushions that folded out. Only very small children would be able to use it as an actual bed. There was no actual mattress like you would find on a more traditional sofa bed so were unable to use it as a third bed.
Our room was very spacious and nicely designed, and we loved having a fridge stocked with complementary drinks and a couple snacks. Even better was the pool that sat just outside of our patio door!
Families with small children will want to book the swim-up rooms. Your younger child can nap in the room while you relax on the patio and watch your older childrem swim in the pool. I saw several smart families within similar situations utilizing these rooms in just this way.
The bathroom area was large and suited my family's needs quite well. I appreciated that the shower was closed off from the vanity area and the toilet had its own separate door as well. This allowed multiple people to use the bathroom area at a time.
What we didn't really like was that there was a strip of glass in the shower that was clear and visible from the main portion of the suite. It was high enough that only our faces could be seen (and we are a tall group), but it was still kind of weird. I would have appreciated full privacy while showering.
Diamond Club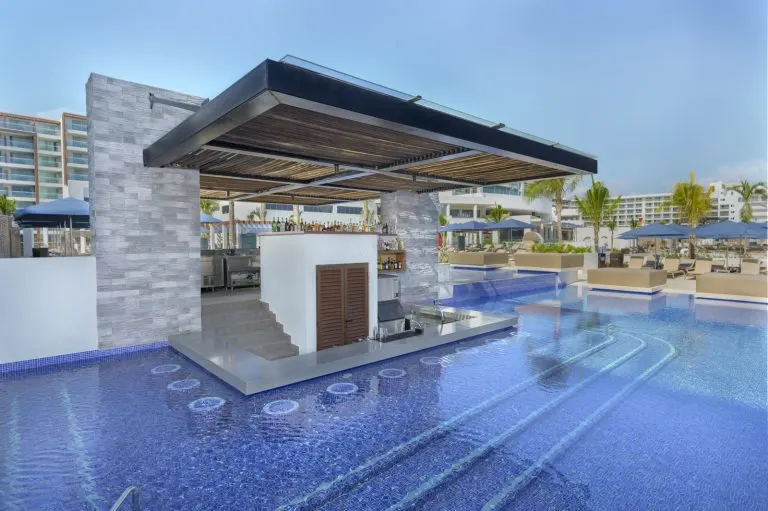 If you want to be treated like a king or queen during your stay, book a Diamond Club room. Not only do you get upgraded rooms, access to a more upscale (and incredibly delicious) breakfast buffet, access to a private pool and lazy river area exclusively for Diamond Club guests, and an hour of therapeutic hydrotherapy in the spa, you also get a butler!
My kids were absolutely blown away by the prospect of having butler service and honestly, /i was a little bit nervous. I'm used to taking care of myself and had this vision of a British man wearing tails standing in the corner. Thankfully, both Alex and Carolina immediately made us feel welcome and comfortable when we met them in the Diamond Club Lounge at check-in.
Trekaroo tip: Head to the lounge to check out about 20 minutes before your scheduled transportation pick up to load up on the delicious food offerings and grab a bottle of water for the ride.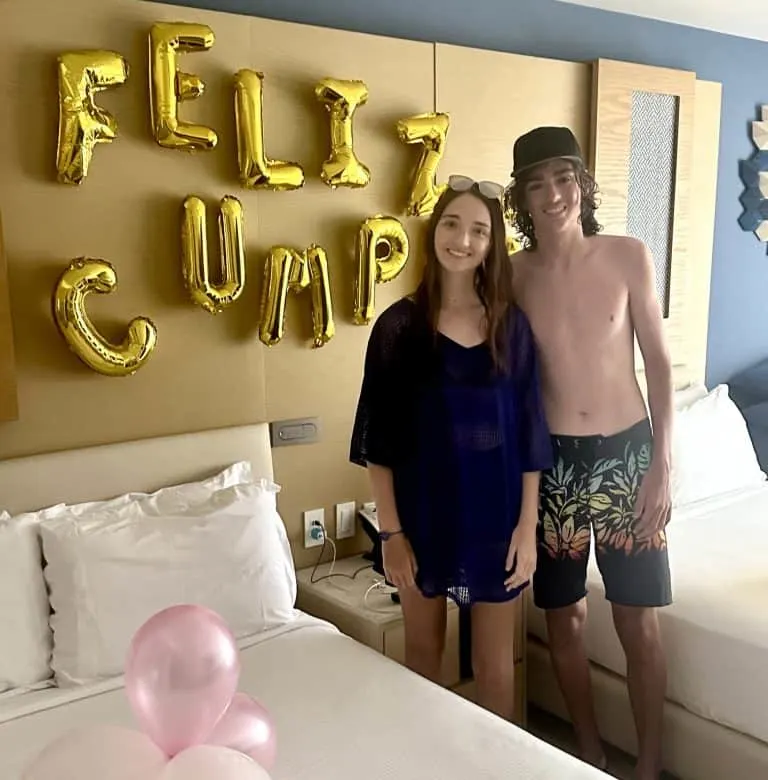 We created a group chat (the resort has excellent wifi) on What's App so that we could easily reach each other whene there was a need, whether it be last-minute dinner reservations, an escort to first aid, birthday decorations, or an emergency slice of birthday cake.
They were also available for beach butler service, answerds to just about any question I could come up with, and left little treats like sparkling wine and truffle chocolates. My family felt very spoiled and grateful for the tremedous hospitality was showed by all.
Royaton Spa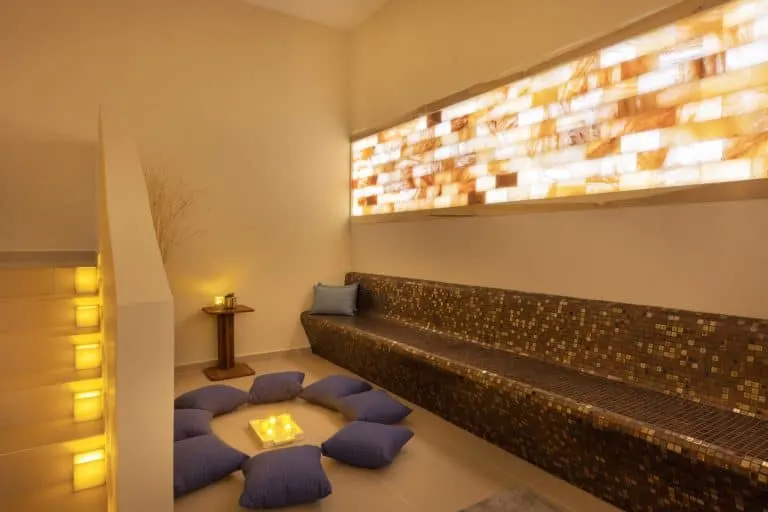 Why not pamper yourself while on vacation? The Royalton Spa is full service, aesthetically beatiful, and huge! You can get hydrotherapy, several types of massage and facials, a variety of body treatments, and more. Plus they have their own indoor pool area and a fitness center with state-of-the-art equipment and ocean views to keep you inspired while you work out.
This spa also has treatments for kids and teens! 25-minute "couples" massages with your 7-12 year olds is a great way to spend time together. Teens won't be able to resist a strawberry mini facial or a mani pedi. Both are great gift options for teens which can be notoriously difficult to shop for.
Evening Entertainment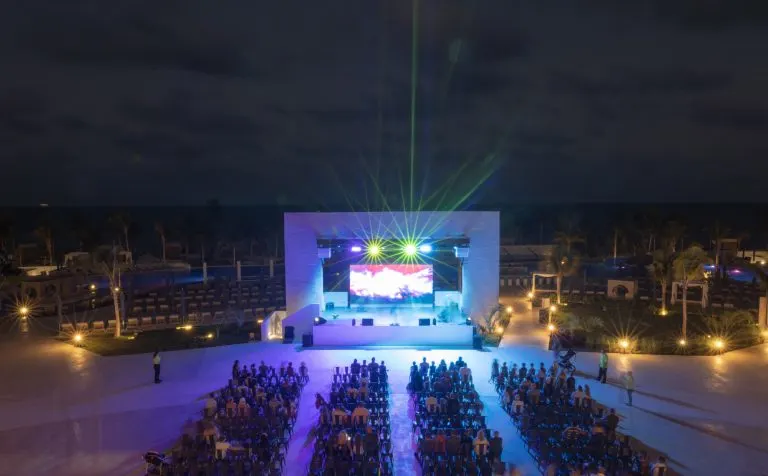 My daughter and I always made time to enjoy the evening entertainment. On our first night the resort hosted their weekly White Party which included live entertainment, including a very talented singer who sounded just like Selena. Many of the guests were dressed in white and that is certainly encouraged, but I had on a dark floral dress and felt just as included in the fun.
Another evening entertainment highlight was the circus performers who performed a variety of acts and kept us anxiously on our toes while the completed impressive feats. All the evening entertainment took place on a large outdoor stage in the center of the resort.
Photos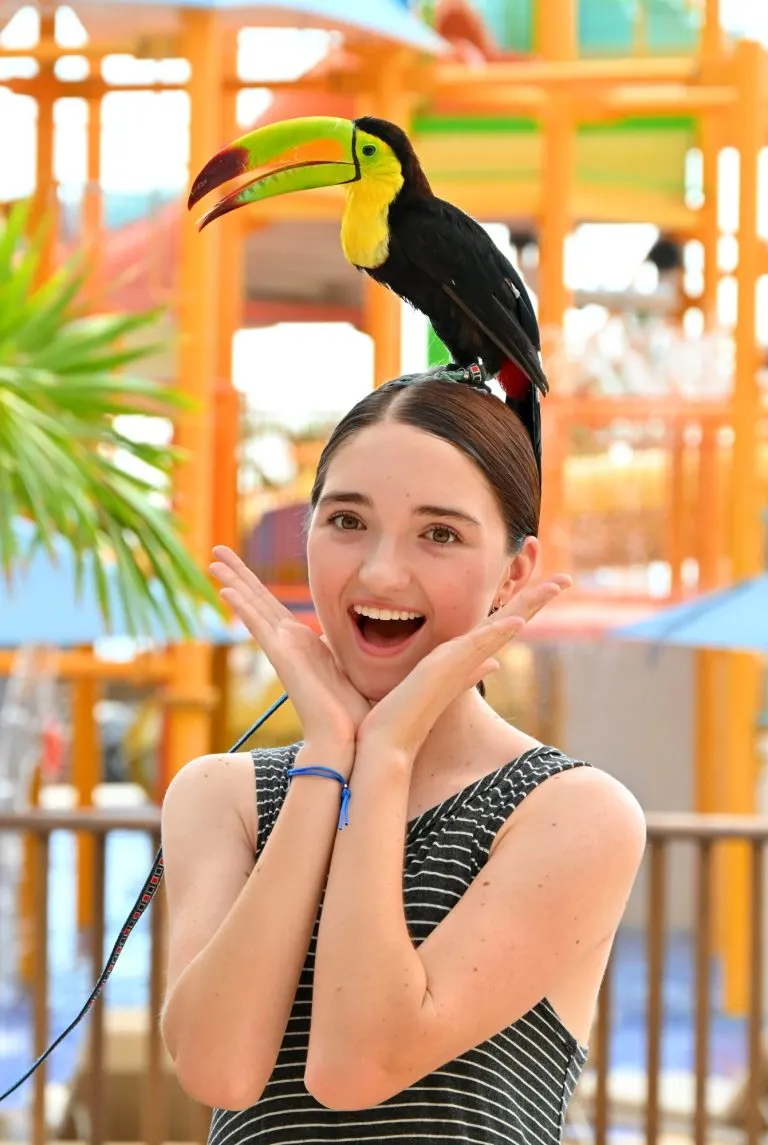 One thing I was not expecting was the professional photography opportunities on property. We were walking from breakfast one morning and noticed an employee with a toucan. My kids and I love animals and couldn't resist getting a closer look.
The employee asked if we wanted to take a picture with it and immediately my well-traveled skeptism immerged. I started to worry that this was going to be like spots like Honolulu or Vegas where unsuspecting tourists take a picture and are suddenly pressured to pay large tips or be harrassed. I was very wrong.
The photgrapher assured us there was no obligation to purchase anything. So we posed with the toucan and took a few family photos. When we returned later to check out our photos I was blown away at how great they turned out! Once again I was not pressured to buy and encouraged to take more pictures.
We were even given the option to schedule a family session on the beach at no cost and then decide which photos we wanted to purchase at the end of our trip. Photos are $30 each for up to seven photos. After that they have special packages you can choose from. The $30 includes a print in whatever size you would like as well as the digital photo. Did I mention no sitting fee? Try finding a deal like that back home!
Indoor Extras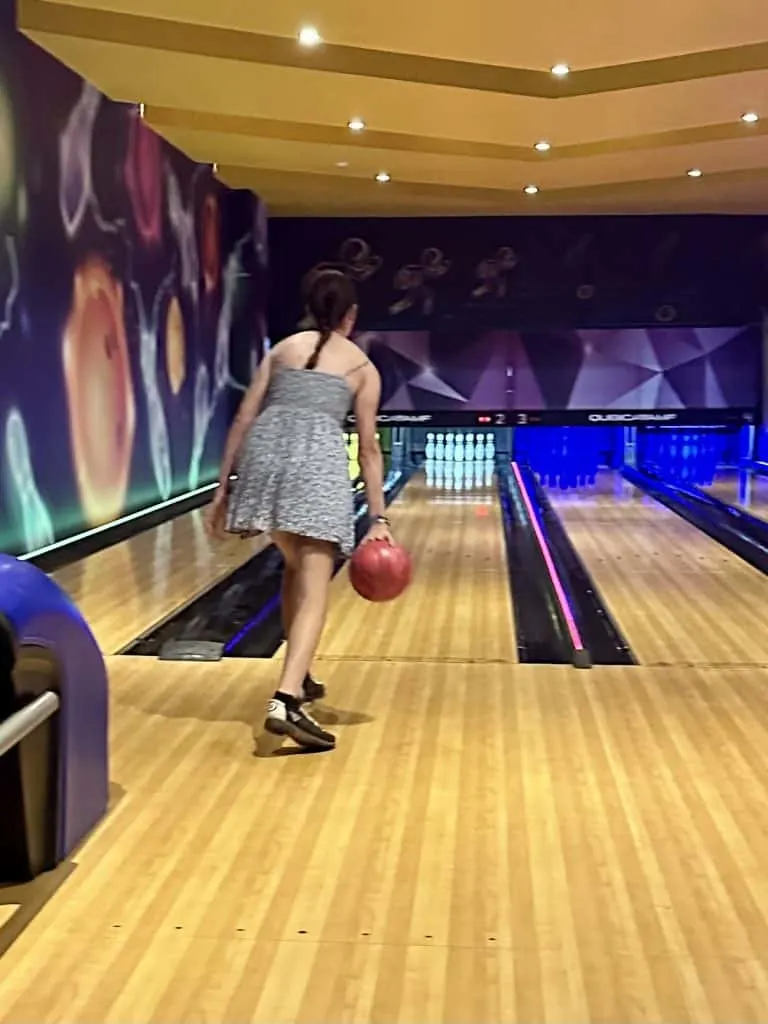 As much as my kids would like to spend all day in the water, the pool does close when the sun goes down or if there are thunderstorms in the area. Afternoon rain is common in this part of Mexico, especially from May to November. It is similar to Florida in that it usually only rains for an hour or two (Mother Nature needs to keep the surrounding jungle lush!) and then all the fun outside is back on!
During the rain (or perhaps before or after dinner), head inside and check out the Game Up Entertainment Center. This is where your family can go bowling, enjoy a spirited game of laser tag, or jump to your heart's content in the trampoline park. Do keep in mind that these activities are one of the few things that do not fall under the "all-inclusive"umbrella.
If you are looking for free entertainment that isnt water related, there are sand volleyball nets, a variety of lawn games, ping pong, and organized games put on by resort staff throught the day.
Great Value for Your Money & Part of the Marriott Bonvoy Program
In my opinion, this all-inclusive resort is a great value. I played around with their booking calendar and picked some dates during Spring Break. A family with two adults and two teens can stay in a luxury junior oceanfront suite for four nights for a little over $2500. This includes all your meals and snacks, drinks (excluding premium options), waterpark access, great pools, a nice beach, and plenty of included entertainment.
You can find even better deals if you look at their pricing calendar select off-peak travel times. The same scenario would cost $1850 in mid-June! In my opinion, an all-inclusive resort with this much to offer is much better than what a large ship cruise in the same price category can offer.
Royalton Splash Riviera Cancun is also part of Marriott Bonvoy so if you are a family who loves to use their point when they travel like we do, you will be happy to know this all-inclusive resort can be booked with points! And, even if you decide not to use point you can take advantage of the fact that Marriott Bonvoy members who pay for four nights get their fifth night free! That's a tremendous value, especially for an all inclusive stay.
Disclosure: The author was invited to Royalton Splash Riviera Cancun for the purposes of writing an unbiased review article. All opinions are her own