There are dozens of resorts in Cancun and the rest of Riviera but which are the best resorts in Cancun for families? We asked our own travel experts, as well as some of our travel blogging pals, to share their favorite family-friendly resorts in the region.
The result is a list that covers luxury all inclusives, resorts with water parks your kids won't ever forget, hotels with great food and white sandy beaches, and properties which embrace families as their target audience.
12 Best Resorts in Cancun for Families
Royalton Splash Riviera Cancun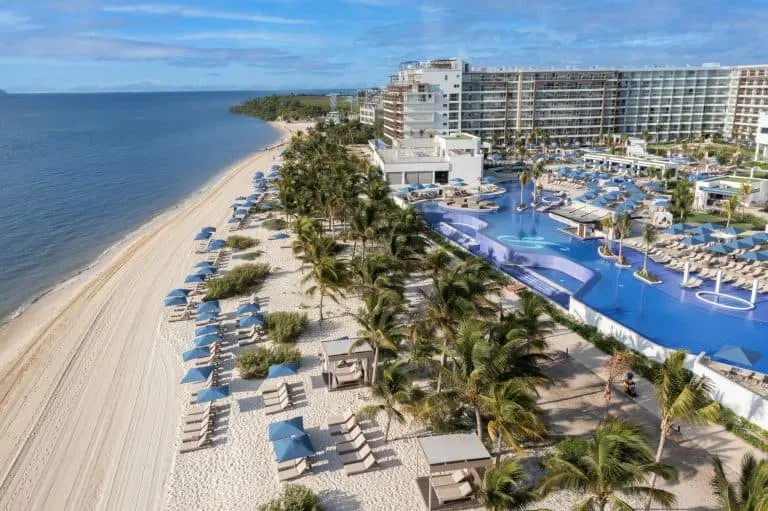 The Royalton Splash Riviera Cancun is a new 1,005-room luxury all-inclusive property which has first-rate service, beautiful rooms, a fantastic waterpark, sparkling pools overlooking the Caribbean, and excellent dining.
The pool area has multiple pools with swim up bars, a large water park with 14 slides and a lazy river, a splash pad and kids club for the youngest guests, evening entertainment, and unlimited dining at 10 a la carte restaurants as well as a buffet, and a sports bar. Of all the Meixco resorts I have visited, this one definitely has the best water park area.
I was pleasantly surprised by how great every meal was during our stay becuase I have been to a couple all-inclusives where the food is subpar at best. We especially loved dining at cave which was built to look like we were dining in one of Cancun's famed cenotes.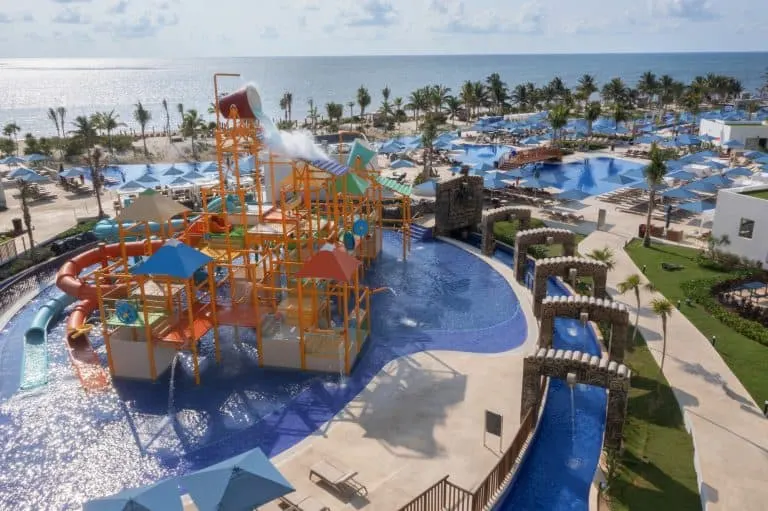 If you want to be treated like a king or queen during your stay, opt for the Diamond Club. Not only do you get upgraded rooms, access to a more upscale (and incredibly delicious) breakfast buffet, access to a private pool and lazy river area exclusively for Diamond Club guests, and an hour of therapeutic hydrotherapy in the spa, you also get a butler!
Read my full review of the Royalton Splash Riviera Cancun.
Moon Palace The Grand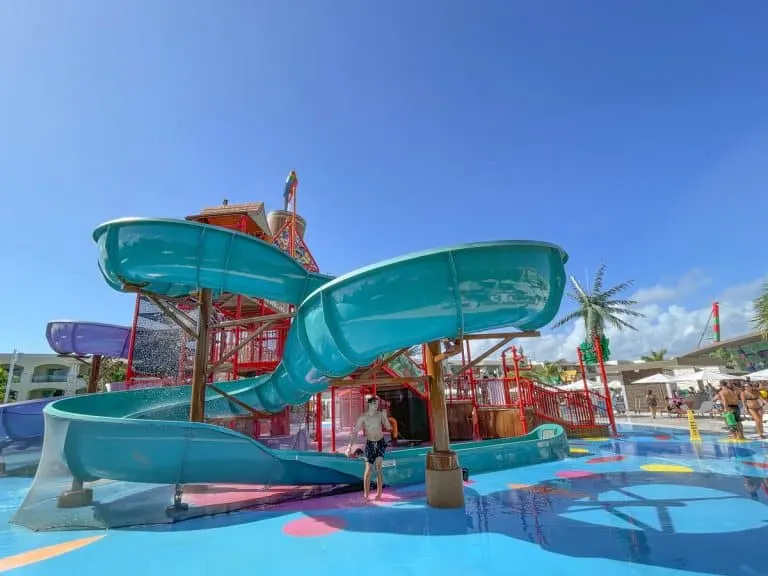 One of the best resorts in Cancun for families is Moon Palace The Grand, located just 10km from the Cancun airport. Parents will love the huge rooms and wide range of high-quality restaurants, while kids will love the included water park and wide variety of pools plus an incredible kids club.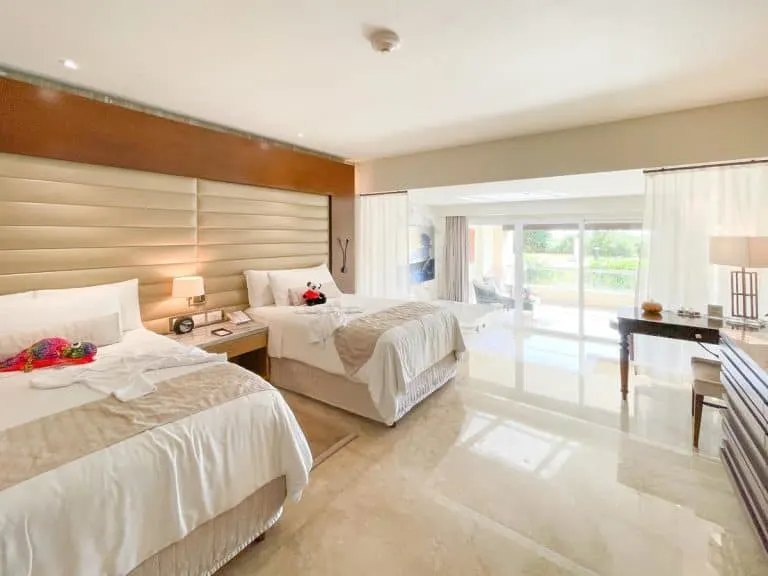 There's fantastic entertainment every night – favorites include the "Lucha Libre" Mexican wrestling night, complete with a festive outdoor dinner. If that's not enough to keep you busy, guests at Moon Palace The Grand can use all of the facilities at the attached Moon Palace Cancun resort or take a day trip to one of the other Palace Resorts properties in the area.
You can nearly always find deals for kids to stay free too, making Moon Palace The Grand a good value for the quality of resort you'll experience.
Melissa Con, TheFamilyVoyage.com
Grand Velas Riviera Maya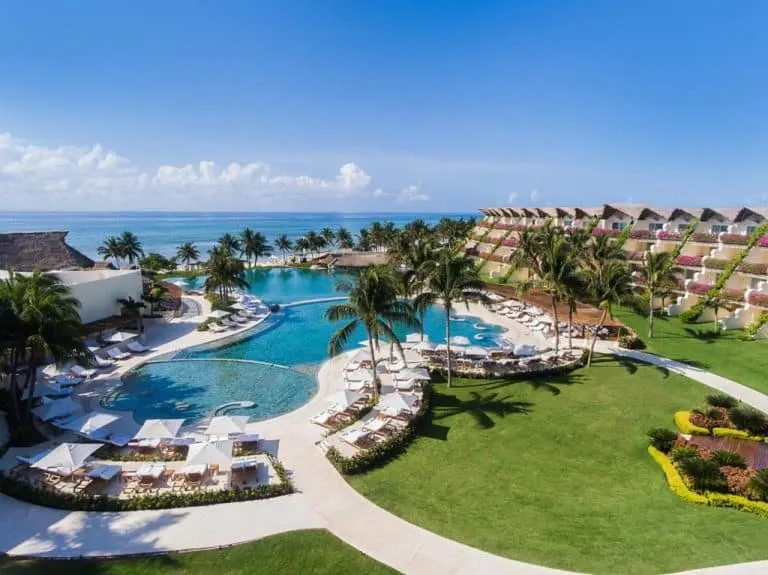 The Grand Velas Riviera Maya is a perfect choice for families and multi-generational groups with kids of all ages. Between two kids' clubs, the teen club, and a full roster of activities on property, no one will be bored.
And as an all-inclusive, you also won't have any sudden surprises on your bill when the kids decide to order room service pizza every day or raid the mini bar full of snacks. And unlike some all-inclusives, the food is actually good, with eight restaurants to choose from.
This luxury resort is located about 40 minutes from the Cancun airport and in close proximity to the Xcaret parks, Tulum Mayan ruins, and the resort town of Playa del Carmen if you want to venture off the resort property.
The property is divided into two sections, with a shuttle that operates between the two. The Ambassador section is on the beach and this is also where you find the main pool, one of the kid's clubs and the teen club, making it the best choice for families.
For a quieter vacation, the Zen section has a lush jungle setting. The Ambassador rooms are also quite large, making it possible to fit two queen beds and a rollaway bed for larger families and 80 percent of the rooms in this section are interconnecting.
Tamara Gruber, We3Travel.com
Finest Playa Mujeres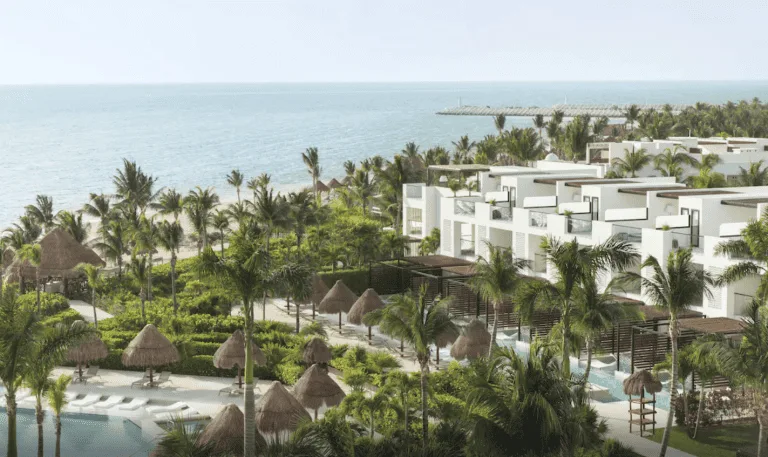 One of the best resorts in Cancun for families is Finest Playa Mujeres. This is a smaller resort, which means you can walk everywhere in just minutes instead of taking a golf cart or having to walk for 20+ minutes like at some of the mega resorts.
The kids club allows kids as young as three years old to be dropped off, as long as they are potty trained. There are lots of fun activities in the kids club as well as a water park for them to play in.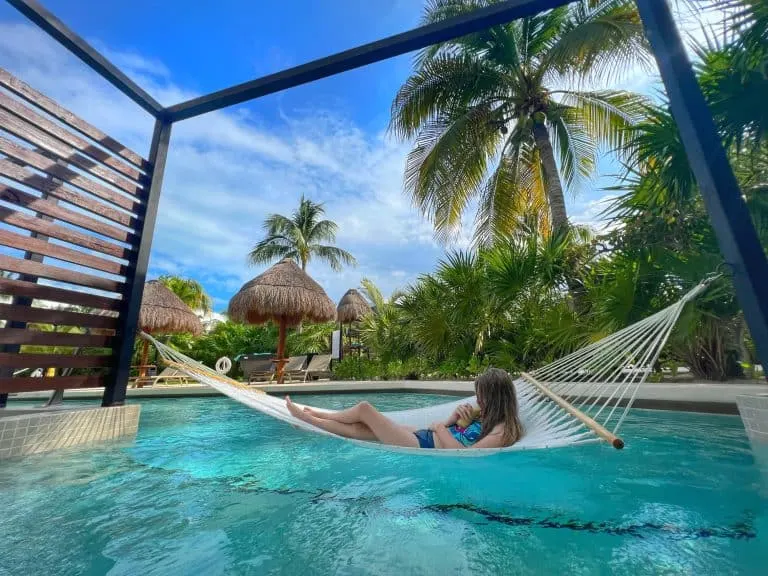 Have older kids? There are activities like archery and soccer, for kids 12 and up at the resort. Stay at a swim up suite, where your kids can play in the pool right by your room.
The resort has beach toys for them to use and lots of kid friendly food options at the restaurants, including a kid buffet for breakfast and lunch. This all inclusive resort is a great place for families looking to relax without the hustle and bustle of a bigger resort.
Book your stay at Finest Playa Mujeres.
Maggie Alexander, MilanasTravels.com
Fairmont Mayakoba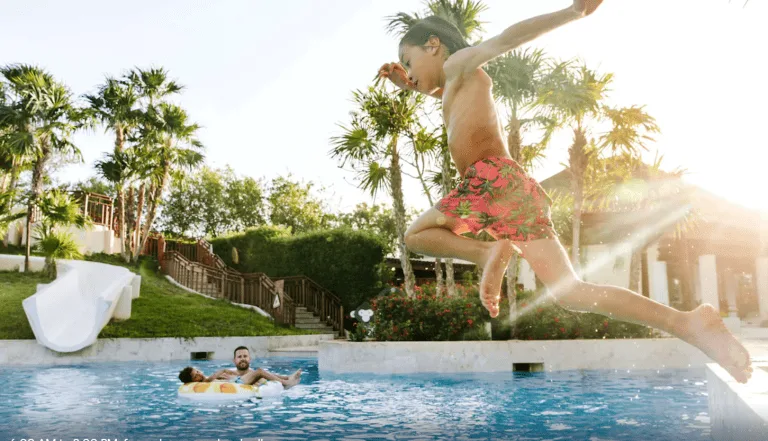 The Fairmont Mayakoba is a AAA 5-Diamond resort made up of 401 rooms situated in Riviera Maya's private and luxurious Mayakoba community. Designed to preserve the natural surroundings and mangrove forest, it is thoughtfully built in and around the jungle. The property has a native and wild feel in a clean, calming, serene and spacious environment and is a true escape from the hustle and bustle.
Families can choose from a spacious guest room, a luxurious two-story casita or an expansive suite with all of the amenities they need for an exclusive getaway. Take advantage of the acclaimed kids club, children's menu, connecting rooms, babysitting services, cribs, and watersports gear available.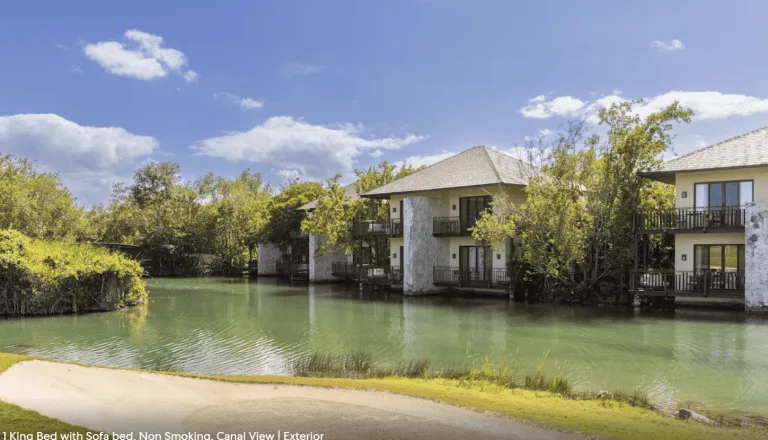 Plenty of activities are available and many are included in the resort fee, so there's no more planning needed to keep kids happy and entertained. There are five resort pools, a championship 18-hole golf course, fitness equipment and classes, a spa sanctuary nestled in the mangrove forest, plenty of beach space and chaise lounges to relax on and the ability to do as much or as little as you want here.
As in all Fairmont hotels, children ages five and under eat free from the children's menu and kids from 6-12 eat for half price.
Sharon Nolan, Trekaroo
Hard Rock Riviera Maya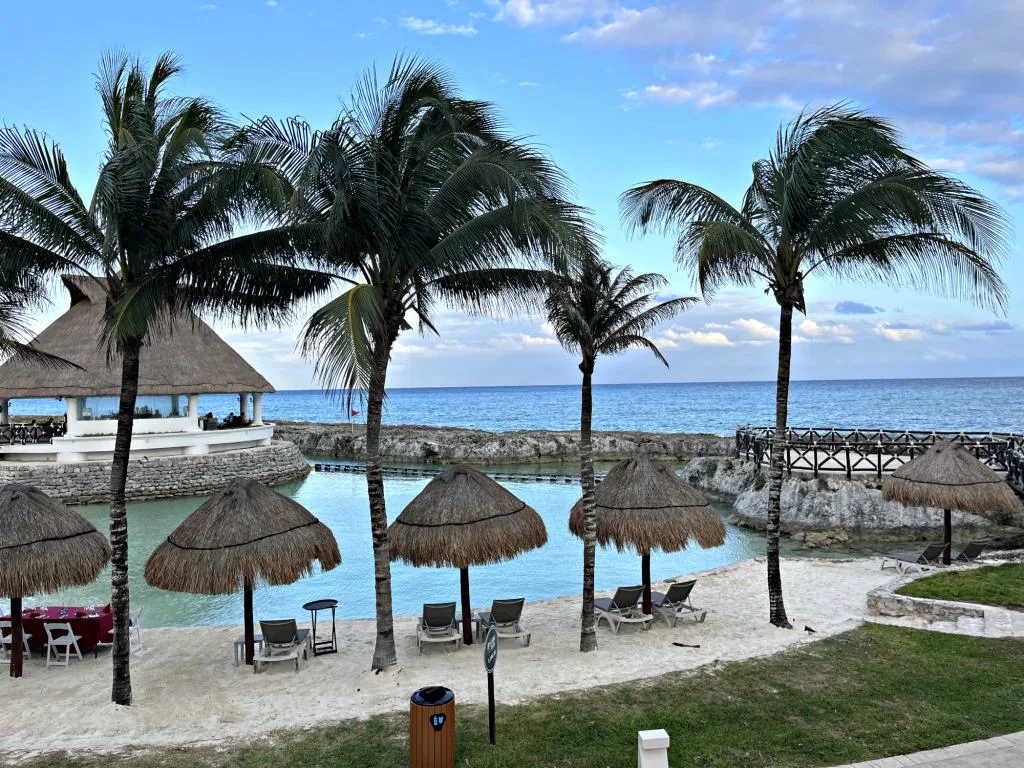 Hard Rock Riviera Maya is one of my favorite family friendly all-inclusive resorts in Mexico for families that are looking for a large resort with endless activities.
Hard Rock Riviera Maya is Rock-&-Roll-themed, in fact, you can even rent a guitar during your stay! There is also a large waterpark on site, a bowling alley, laser tag, and Hyperx gaming lounge. In addition to fantastic pools and watersport. There is an awesome nightclub on site as well.
The beach at Hard Rock is interesting – it's a man-made lagoon, which offers beautiful soft sand, calm water, and no seaweed. This is really perfect for families with littles, although not the real beach feel, so if that is important to you, it is something to further consider.
The rooms at Hard Rock Riviera are undergoing a refurbishment. I personally love the two bedroom sky terrace option – a guaranteed connecting set of rooms with a private roof deck! Consider this room for the best views in Mexico!
Book your vacation at Hard Rock Riviera Maya
Harmony Skillman @ Momma To Go
Nickelodeon Resort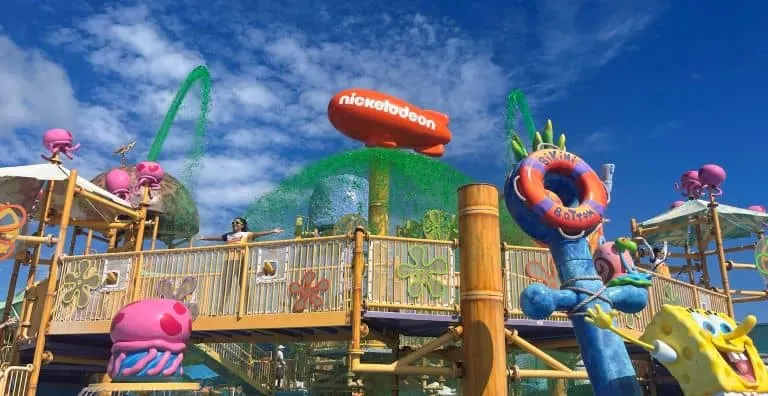 The Nickelodeon Resort in Riviera Maya is a great option for families with kids. Recently opened in 2021, every inch of the hotel is shiny and new.
Every room at this hotel is an oceanview suite with at least one bedroom, two bathrooms, and a swim-up pool. If you're not on the ground level, you get a swim-up pool on your balcony. The spacious rooms and two showers will make your stay more comfortable than the average hotel room.
Check prices for the Nickelodeon Resort in Riviera Maya.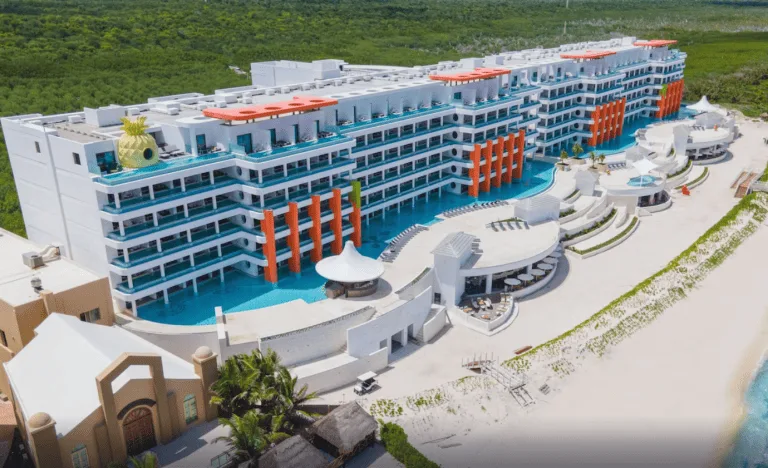 The resort is all-inclusive. This means the vast majority of the food, alcohol, activities, entertainment, kids' club, gratuities, and airport transportation are covered when you arrive.
The Nickelodeon Resort is a beachfront property, but the beach is not the highlight of the property. Aqua Nick, a massive waterpark, is included with your stay. Aqua Nick offers several large waterslides, two lazy rivers, an activity pool, large play structures, and a daily mass sliming.
Nickelodeon characters, including characters from Paw Patrol and the Teenage Mutant Ninja Turtles, roam the resort.
Adriane at PutOnYourPartyPants.com
Hilton Cancun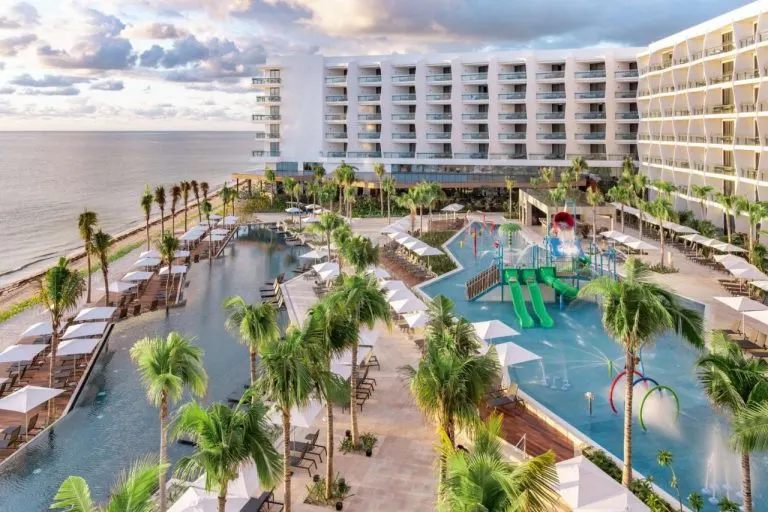 One of the newest all-inclusive hotels, Hilton Cancun, is also one of the best spots for families to get away. We've stayed at dozens of CUN resorts, and Hilton provides one of the widest ranges of amenities and experiences for families of all ages.
Check rates for Hilton Cancun, an all-inclusive resort.
From swim-out suites with food and beverage service to the waterpark deck (complete with a candy shop included!), you'll find everything your family is looking for.
We took our two kiddos (plus a baby on the way), grandma and grandpa, and aunt and uncles for a whole family trip. Perhaps the best and most underrated detail: if we were at a restaurant and the kids wanted something not served, the waiter literally went to another restaurant to get it or made something special right there. Wild. The Hilton Cancun has to make the shortlist for your next family adventure.
Nick and Brittany, FamilyOnStandby.com
Kempinski Hotel Cancun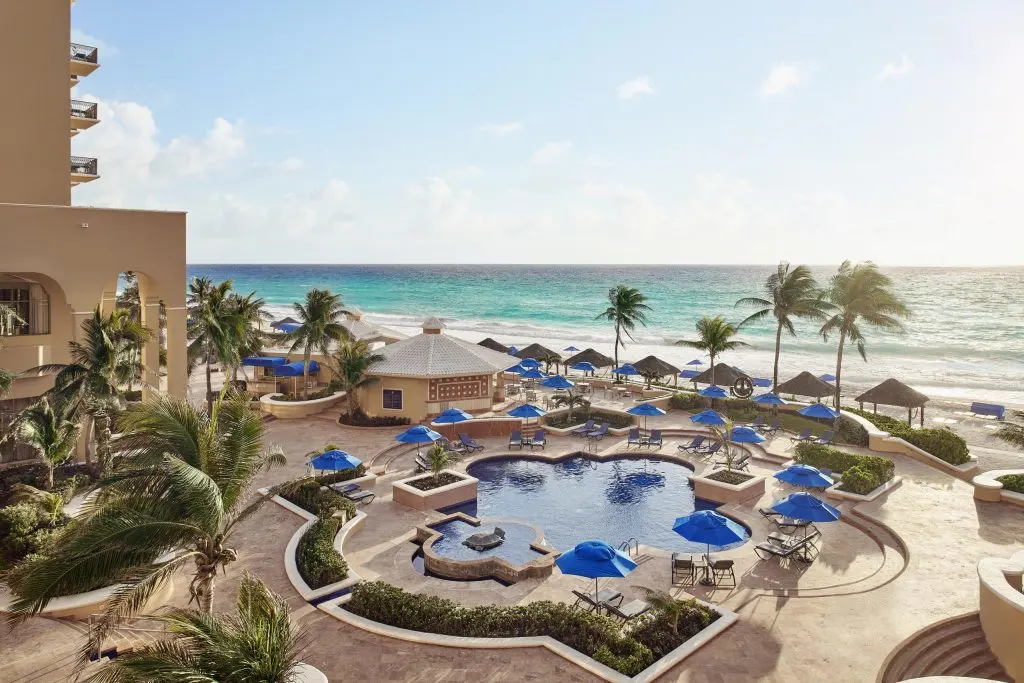 Opened under the Kempinski name in 2022, this 363-room luxury hotel is a former Ritz Carlton. Families interested in a five-star escape will love the well-appointed rooms, all featuring private balconies or terraces with panoramic views of the Caribbean Sea.
The hotel is located on one of the best beaches in the area and is just 25 minutes from the Cancun airport. Rooms and suites offer plenty of space for families, and bathrooms feature soaking tubs set away from the rainfall showers so baths can be taken easily.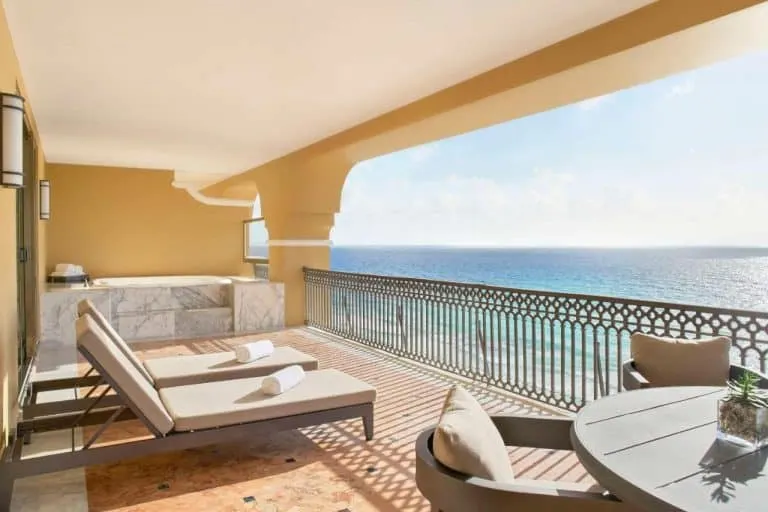 Kempinski's Kids Club offers both full and half day programs for children ages 4-12 for a fee. Experience everything from craft creation to art projects related to the ocean or time of year, to "field trips" to spot iguanas, or collect shells. There are two swimming pools on site, beachfront cabanas, a fitness center and a spa.
Five restaurants are on-property sevring up a variety of meal options. Three deliver a casual dining experience, and one buffet for breakfast and lunch that makes eating with kids easy. Additional options exist for parents wanting a night out to themselves, and babysitting services can be arranged for a fee.
Book your luxurious stay at the Kempinski Hotel Cancun.
Sharon Nolan, Trekaroo
Hyatt Ziva Riviera Cancun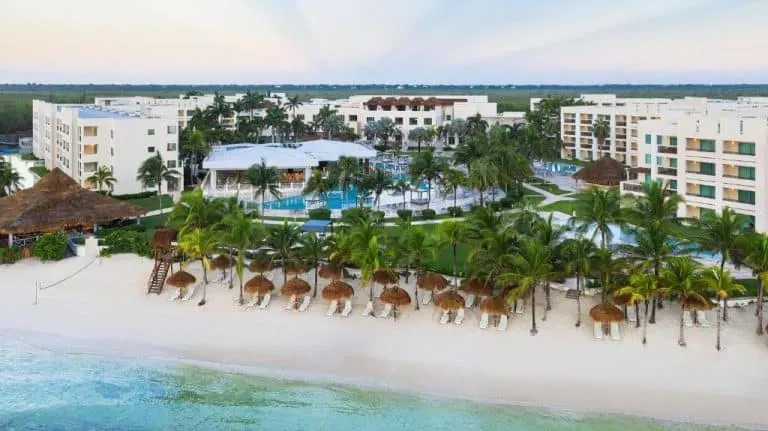 Hyatt Ziva Riviera Cancun is a great option for families. It is known for its Delphinus dolphin program which includes a dolphin pool where trainers teach dolphins skills to show off to guests and visitors can pay a fee to swim with the dolphins.
This property has multiple pools, and the main pool has a swim-up bar as well as entertainment staff which put together various activities for guests thorughout the day.
Adults will love the spa, fitness center, and multitude of bars throughout the property. Kids love the KidzClub which has a daily schedule of activities including arts and crafts, beach and pool time, and more. It is open until 9PM which means mom and dad can enjoy a date night without the kiddos.
Restaurants throughout the proprty serve up Italian, Mexican Asian, seafood and other international cuisines. There is always evening entertainment with themes like 80s Night, and Disney Night. And everyone enjoys Pasteles where they can grab treats like ice cream, gummy worms, and popcorn.
Stay at the Hyatt Ziva Riviera Cancun.
Seadust Cancun Family Resort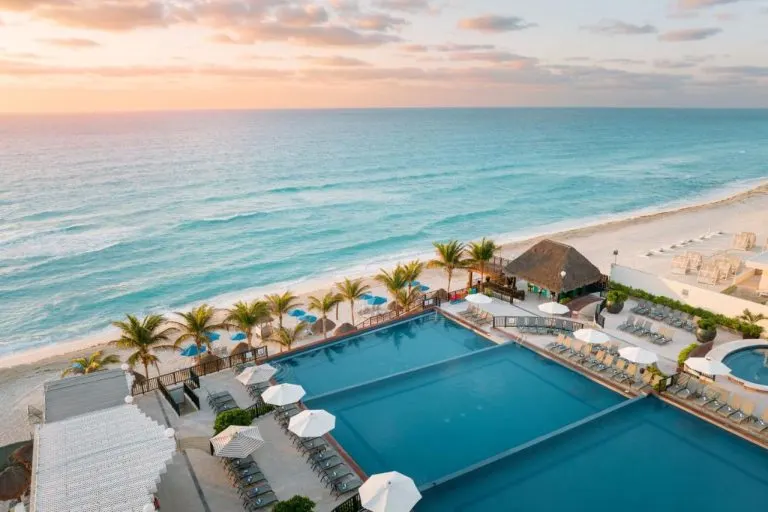 Cancun's Hotel Zone has a seemingly unlimited number of accommodation opportunities. From all-inclusive high-rises to smaller, boutique hotels and luxury Cancun resorts, choosing one of the many hotel options can be a bit daunting.
Seadust Cancun Family Resort provided everything we needed for a Caribbean getaway: gorgeous beaches, delicious food, tasty drinks, plenty of activities for the whole family, and clean accommodations. With kids-stay-free specials and fun packages that include nearby excursions, Seadust is a best-bet for families looking at one of the many Cancun resorts for vacation.
Multigenerational families looking to holiday together will especially love a stay at Seadust. Its "Cruise Ship" layout keeps every offering central; families can relax, play together, and enjoy the best of Cancun. Kids will love searching for "treasure" at the Treasure Island Water Park, with both an area for littles designed to look like a pirate ship and a "big kids" area with larger slides, spilling over water buckets and lots of splashing fun.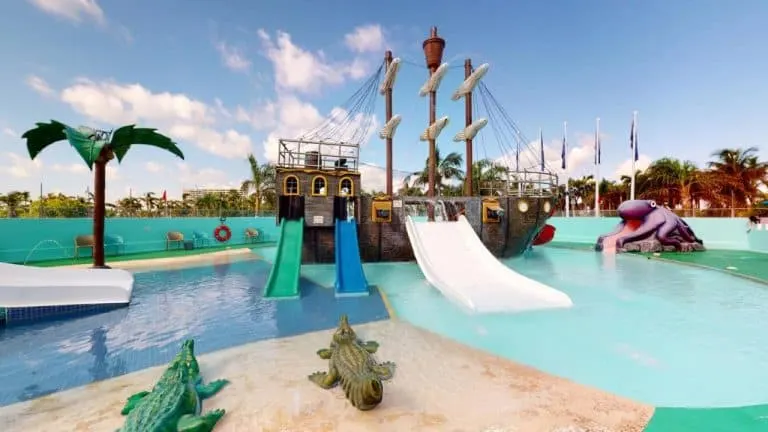 At the main pool, overlooking the Caribbean Sea, families can play in one of three levels of infinity pools, all with varying depths (including one with a large area perfectly sized for tots). A variety of games and activities take place daily at this pool including trivia games, water polo, water basketball, water volleyball tournaments, water balloons, face painting, crafts, dance lessons, and even cooking lessons.
-Katie Bodell, Trekaroo
Hotel Xcaret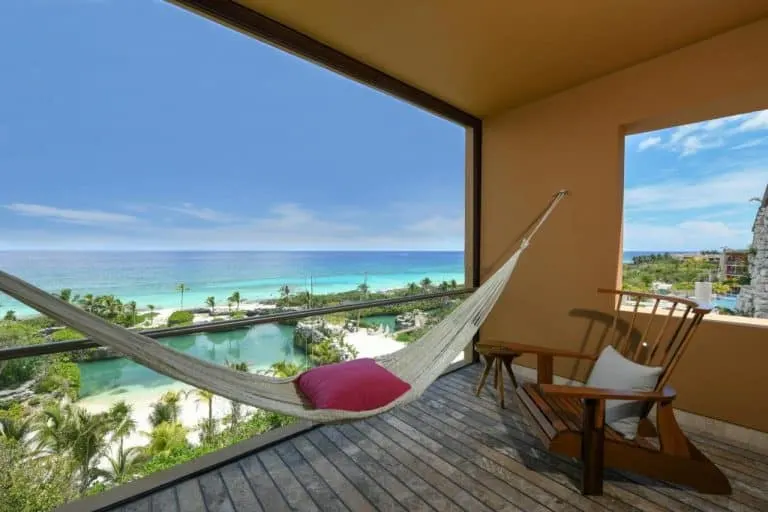 Hotel Xcaret is an all-inclusive resort that caters to those who love adventure. In addition to being a 900-room mega all-inclusive with 11 restaurants and onsite pools and entertainment, the resort gives you unlimited access and round trip transportation to the brand's renowned parks- Xcaret, Xel-Há, Xplor, Xplor Fuego, Xoximilco, Xenses, Xavage and Xenotes.
Book your stay at Hotel Xcaret.
Each of these parks have something different to offer, and in our experience, they have always been the highlights of our trips to the Riviera Maya. We love that we can zip line, snorkel in cenotes, experience Mexican culture and wildlife, and not have to pay extra to visit the parks.
Of course, there is still plenty to do at the resort. There is a "river" which winds through the property and is fun to paddleboard, hang out on the hammock on your balcony, enjoy the eco-centric atmosphere, and walk fun shows at night.