Pixar Pier is open! Along with all the fun attractions and entertainment comes plenty of great new food. The Pixar Pier food options are diverse, from quick bites on the boardwalk to elevated food and drink at the waterfront Lamplight Lounge. Here is your Pixar Pier food guide.
Related: Discover 8 Can't Miss at Pixar Pier in Disney California Adventure.
Guide to Disney California Adventure's Pixar Pier Food & Drinks
Adorable Snowman Frosted Treats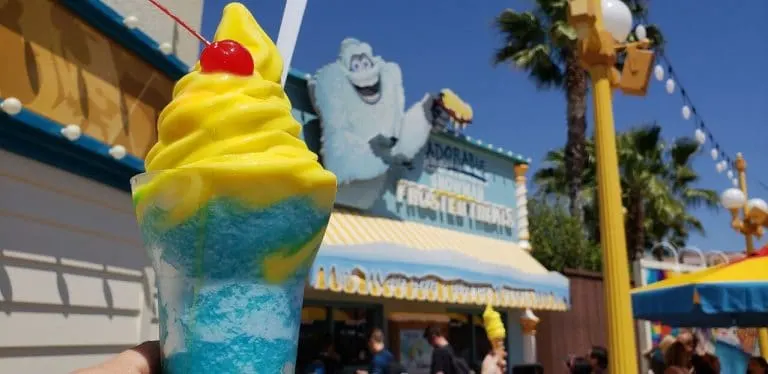 This soft-serve stand is located just past Knick's Knacks, a new store filled with fun Pixar merchandise. Soft serve cones and cups are available in non-dairy lemon, chocolate, and vanilla flavors ($3.79 small, $4.39 large). Root beer floats are $5.49. The stand also features two specialty desserts- Snow-Capped Lemon is a non-dairy lemon soft serve dipped in white chocolate ($4.59) and Pixar Pier Frosty Parfait ($5.99) is a non-dairy lemon soft serve with a blue raspberry swirl. We think the Pixar Pier Frosty Parfait tastes like the marriage of a frozen lemonade and a blue Icee, but in ice cream form. Delish! Fountain beverages and water are also sold at this stand.
Jack-Jack Cookie Nums Nums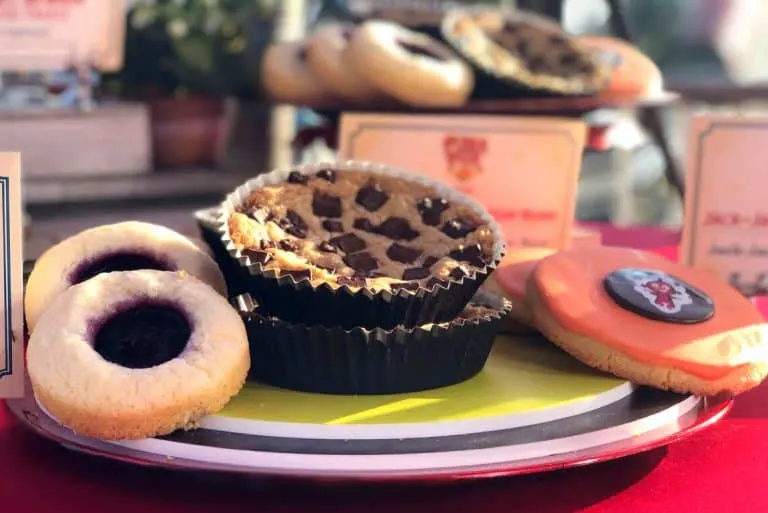 This milk and cookie stand is located just outside of the entrance to the new Incredicoaster. It pays homage to Jack-Jack's favorite treats, cookies! Warm chocolate chip cookies ($6) are the stars of the show. The chocolate chips are ooey gooey and the cookie is big enough to share. There is also a shortbread cookie ($6) and a gluten-free Incredicookie ($6) waiting to satisfy your sweet tooth. Our resident gluten-free expert, Katie Bodell, says the Incredicookie is rich, decadent, and full of flavor. It has none of the grit that is typical of many gluten-free products.
What goes best with cookies? Milk, of course! The stand has chocolate, strawberry, low-fat white, vanilla almond, and soy milk for $2.25. Water is available ($3.75) for us milk avoiders.
Poultry Palace
Across from Jessie's Critter Carousel (opening in 2019) is the adorably-themed Poultry Palace stand. Inspired by the Pixar short film, Toy Story Toon: Small Fry, this quick-service stand is designed to look just like the boxes that the chicken drumsticks are served in.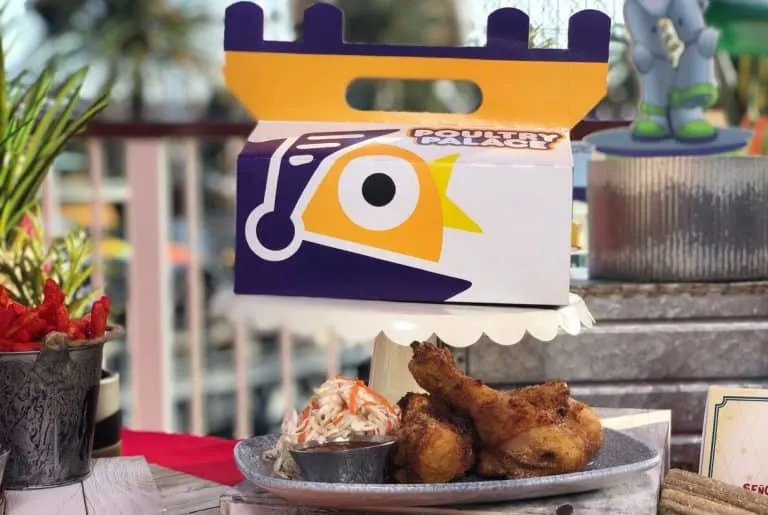 The chicken drumstick box ($9.99) comes with three seasoned legs and a side of slaw in a cute box that mimics the stand's design. The seasoning does have a bit of a kick to it but isn't overly spicy. I found them to be just "okay." The coleslaw was excellent. I appreciated that this slaw was very fresh tasting and not overly-coated in mayo. It was a nice compliment to the chicken. The stand serves the jumbo smoked turkey leg ($11.49) that has been a Disney staple for years. It also serves a large corn on the cob ($4.79), either chili lime or buttered, and large bags of chips ($3.19). Beverage options are soft drinks, water, and Vitaminwater.
Señor Buzz Churros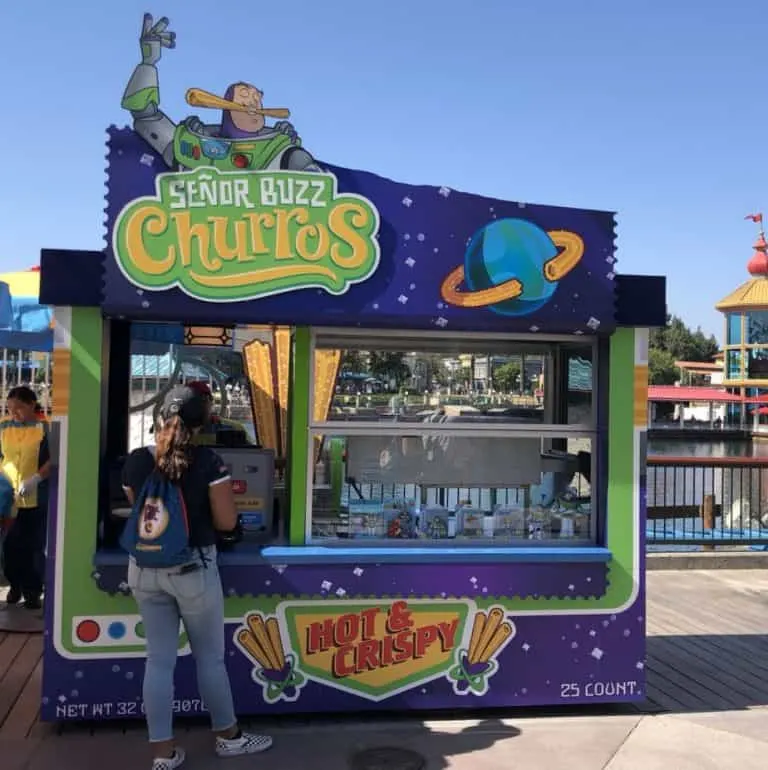 Remember how hard you laughed when Buzz Lightyear's Spanish language switch was turned on? SeñorBuzz became an instant classic. Now he has his own churro cart on the Pixar Promenade. Choose from the classic cinnamon and sugar churro ($5.25) or the new caliente churro ($5.25) which has a spicy sweet flavor which tastes like the marriage of a Red Hot and a churro. Bottled soft drinks, water, and Vitaminwater are also available for purchase.
Angry Dogs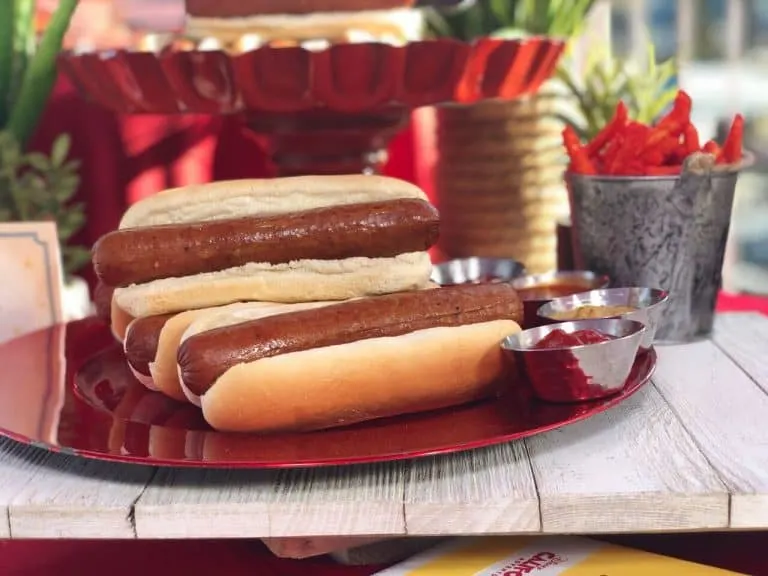 Angry Dogs sits on Pixar Promenade, adjacent to the Pixar Pal-A-Round Ferris Wheel. It is themed to celebrate that hot head, Anger, from Inside Out. The Angry Dog ($7.99) is a spicy, all-beef hot dog that is served with a bag of "flamin hot" fries (similar to hot Cheetos). I loved the flavor and good kick of heat. I also liked that there were different condiments to put on your hot dog, including spicy mustard. If you have a heat aversion, the Slightly Annoyed Dog ($6.99) is your best bet. This is an all beef hot dog served with potato chips. Water, fountain drinks, and Vitaminwater can be purchased at this stand.
Lamplight Lounge
Lamplight Lounge is the new sit-down restaurant on Pixar Pier. It replaces the Cove Bar and Ariel's Grotto. The vibe is hip, California-casual with expansive waterfront views and indoor and outdoor seating. The decor pays homage to Pixar artists and includes concept art, quick sketches, and memorabilia. A long bar runs much of the length of the downstairs and serves up a variety of signature cocktails as well as craft beer and California wines. The menu has a definite gastropub vibe and while they do serve up items like burgers and chicken sandwiches, they are much more elevated than you will find in other areas of the park. The restaurant does offer an allergy-friendly version of the menu. Here is a snapshot of what Lamplight Lounge has to offer.
Appetizers
Deviled Eggs and Toast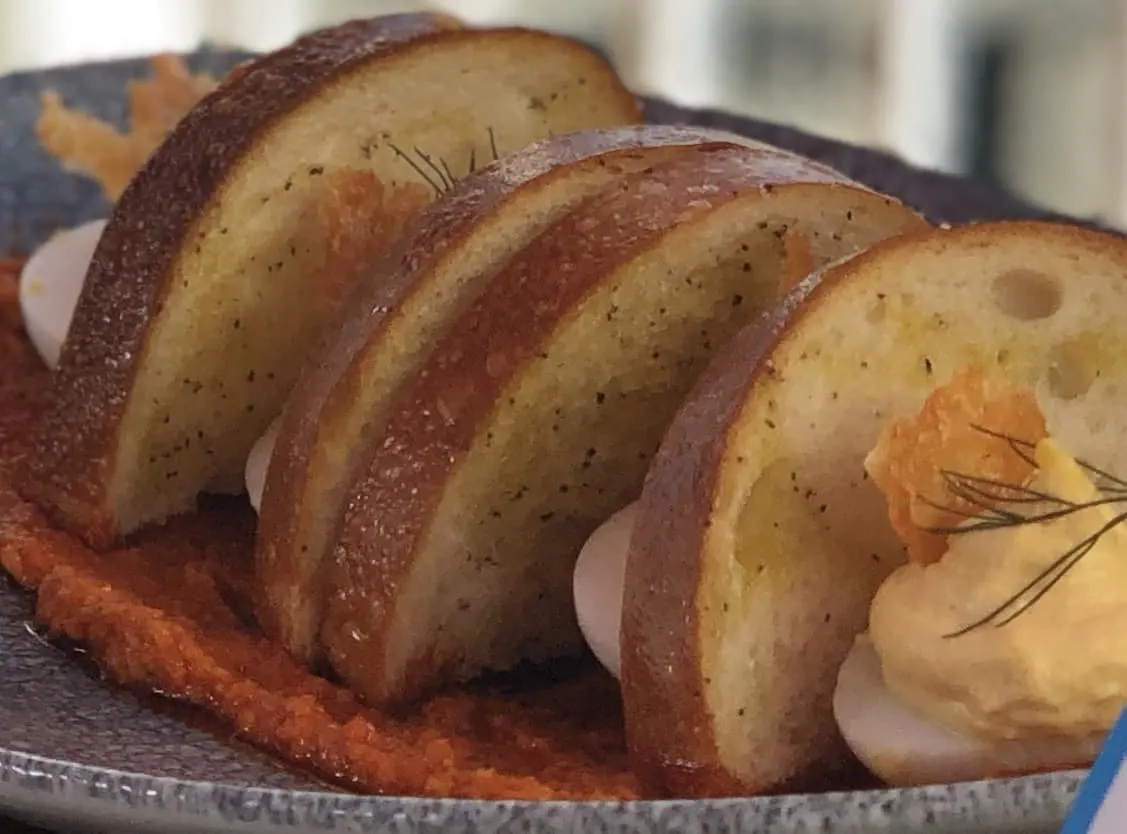 Deviled eggs and toast ($12) is a beloved mashup of hipster-loving treats. The dish includes toast points, a creamy egg salad, toasted almond romesco sauce, dill, and a Machengo crisp.
Carne Asada Roll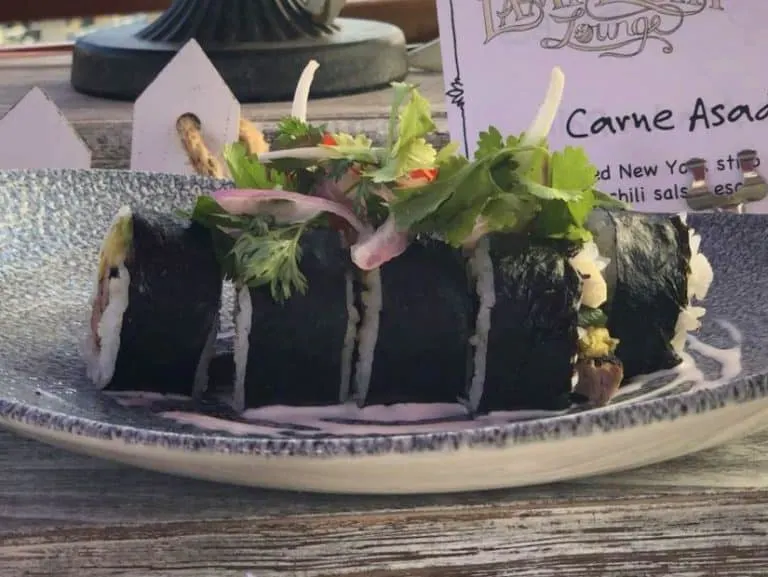 Mexico meets Japan in these fun sushi-style carne asada rolls ($17) with grilled New York strip steak, roasted Fresno chili salsa, escabeche, and crema.
Crispy Piggy Wings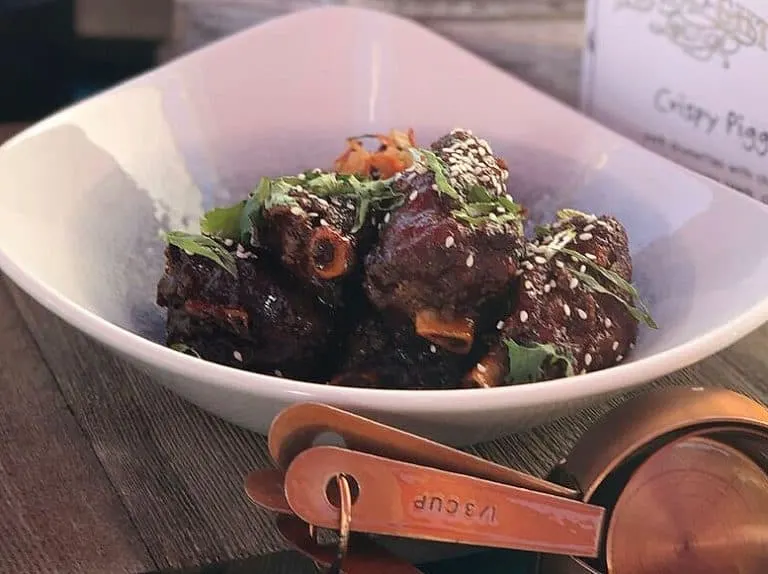 Who says wings just have to be for the birds? Lamplight's Crispy Piggy Wings ($17) are actually pork drumettes coated with a chili-ginger glaze and sesame seeds.
Potato Skins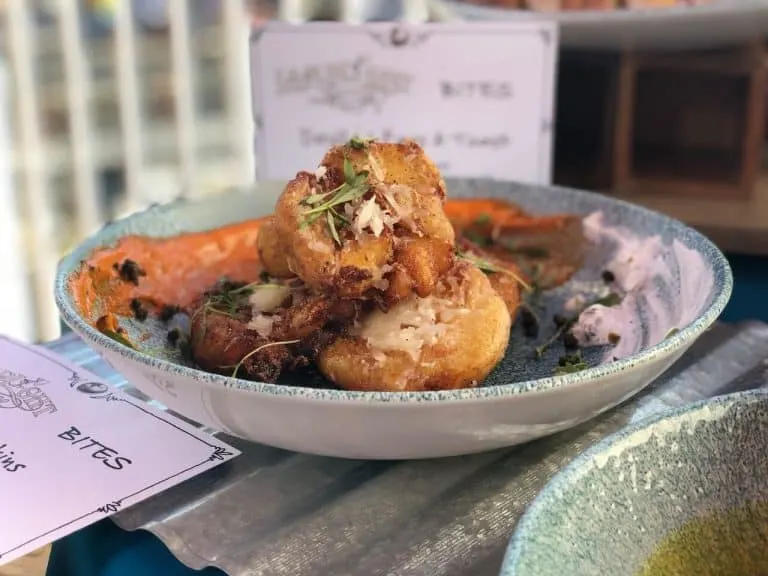 Elevated potato skins are a must-try treat. Lamplight's potato skins ($14) come topped with a brown-butter caper yogurt, smoked paprika aioli, and Manchego cheese.
Tuna Poke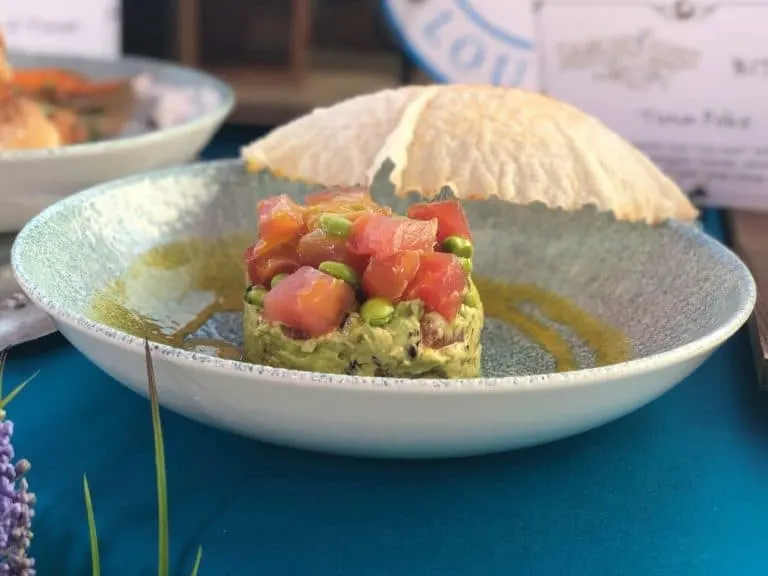 This yellowfin poke ($18) is not your typical poke bowl. The tuna mixes with avocado, edamame, shishito peppers, and compressed watermelon in a spiced mango nectar. The watermelon adds an unexpected yet refreshing pop to the dish. Crack open your upside-down rice cracker bowl to use as "chips."
Crab & Tuna Roll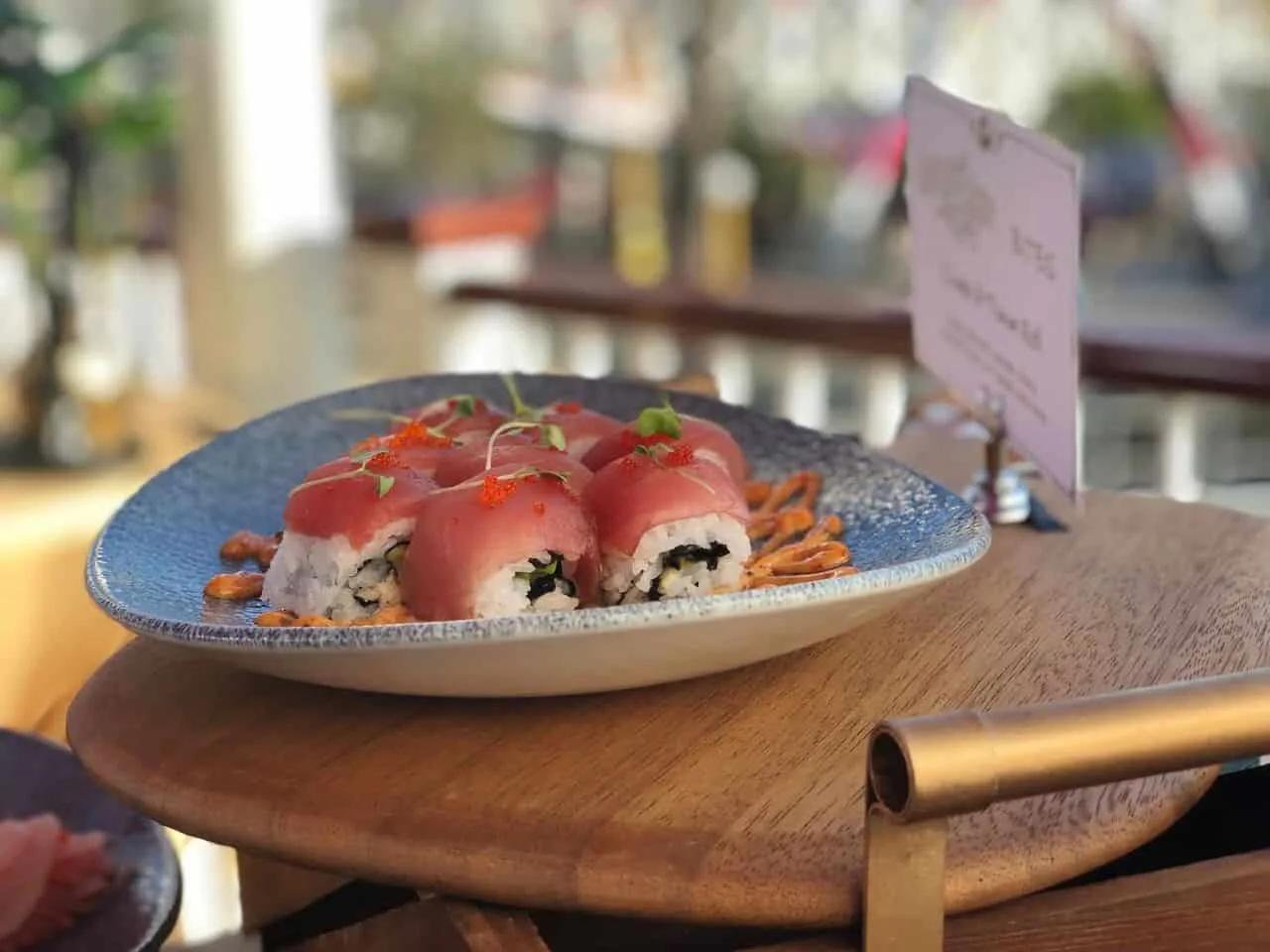 Stone crab, yellowfin tuna, avocado, jicama, and fireball-yuzu sauce. Yep sounds good to us ($19).
Lobster Nachos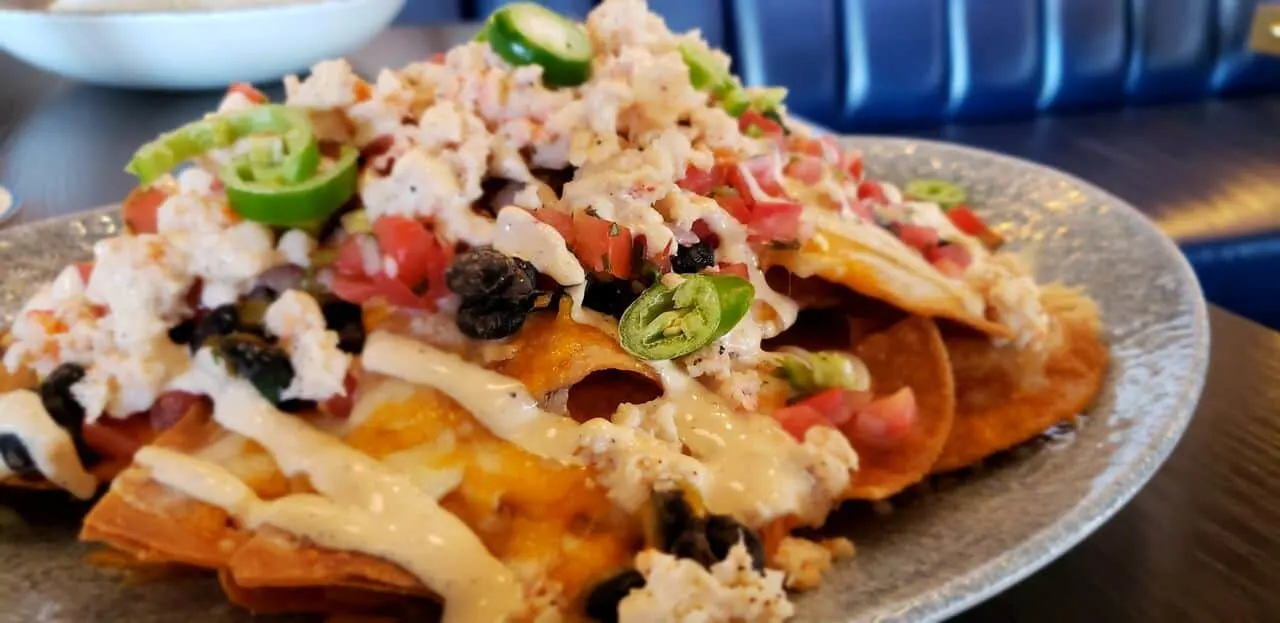 Fear not! Just because the Cove Bar closed doesn't mean their beloved lobster nachos had to go away. Thankfully, the lobster nachos ($20) are just as tasty as they were before with warm lobster, black beans, cheddar cheese, pico de gallo, and chipotle crema, served atop house-made tortilla chips.
Main Dishes
Spinach Salad
This entree-sized spinach salad ($21) includes with warm wild mushrooms, a soft poached egg, charred onion vinaigrette, shitake "bacon," and blue cheese toast. It is a great option for vegetarians.
Salmon PLT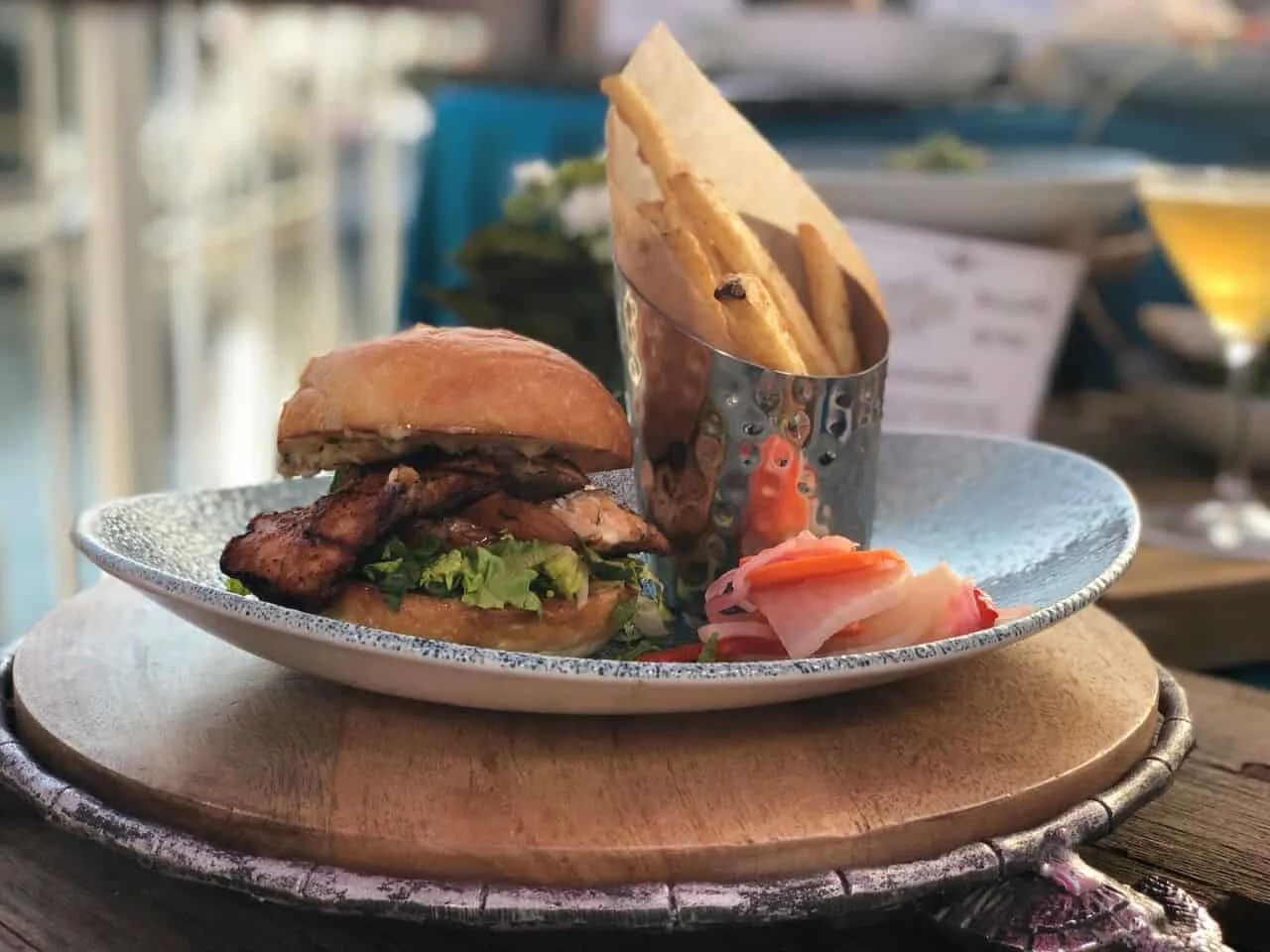 The grilled salmon PLT sandwich ($23) is a unique surprise. The PLT boasts crispy pancetta, romaine lettuce, roasted plum tomato, and a lemon-bacon aioli. Served on toasted focaccia with a side of malted steak fries, you might never go back to a typical BLT.
Chicken Sandwich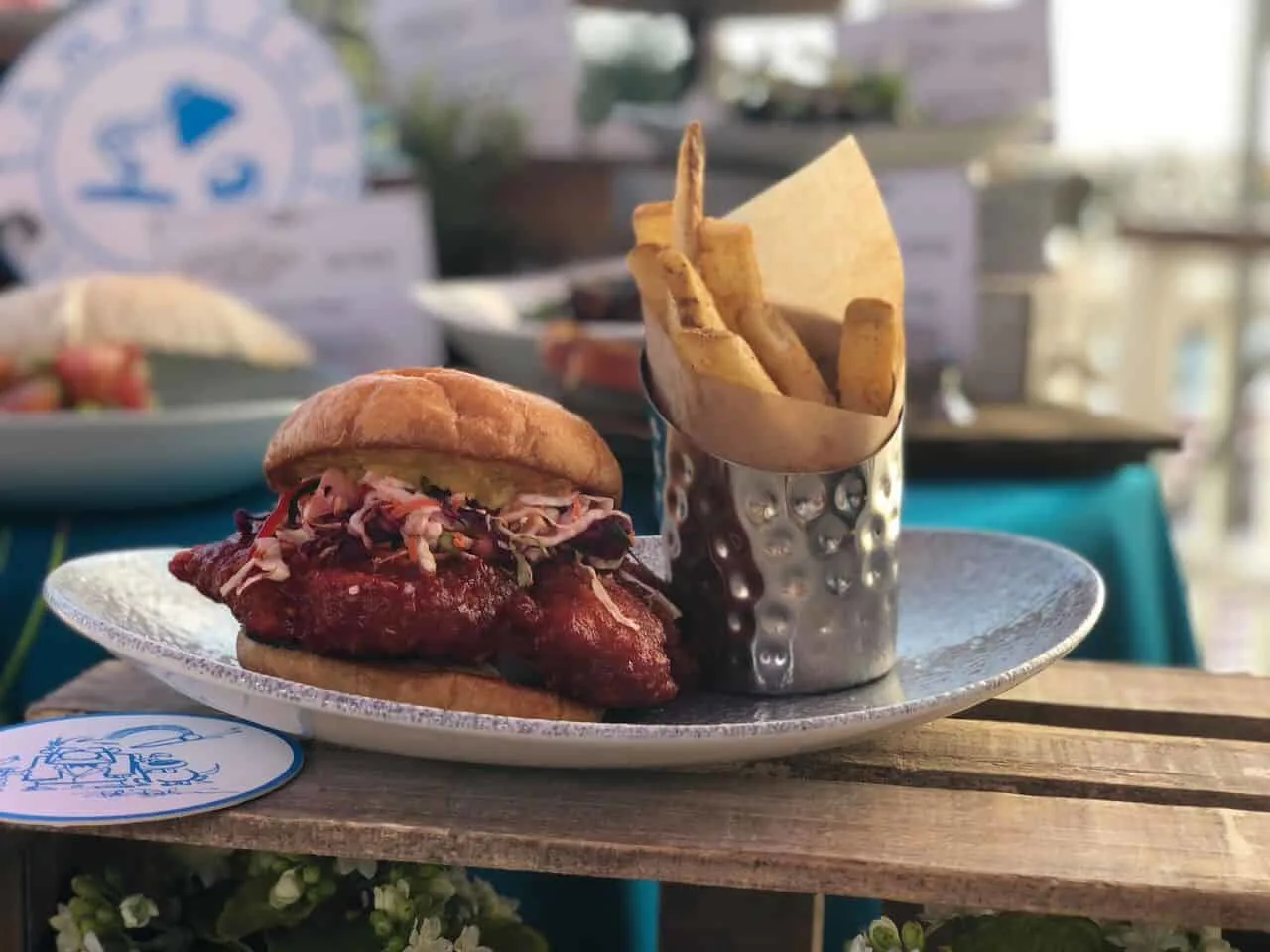 If you tire of the same old crispy chicken sandwich, give this one a shot. Lamplight's crispy grilled chicken sandwich ($21) is coated with a spicy chili glaze and topped with vinegar slaw, pineapple butter, and a toasted Amish bun. Delish! Malted fries round out this sandwich meal.
Grilled Chicken Salad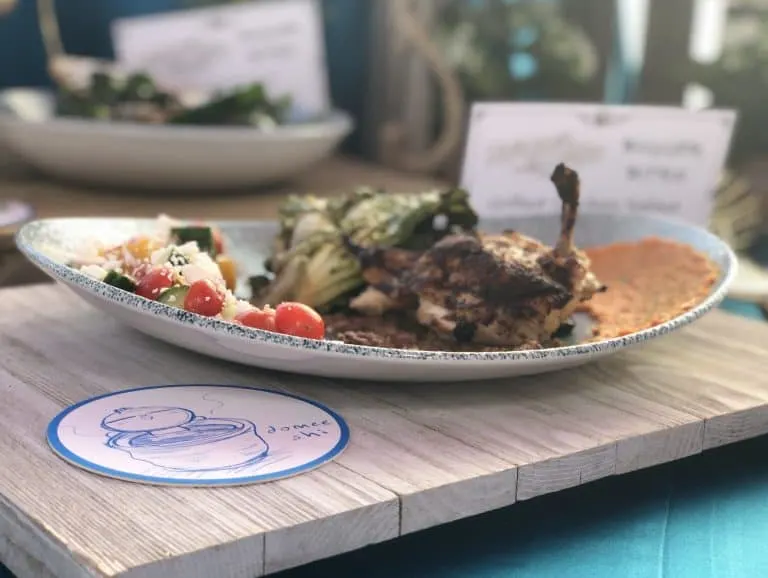 You want a grilled chicken salad? They've got a colorful and lovely grilled chicken salad ($21). It features grilled romaine lettuce, marinated tomato, cucumbers, feta, a piquillo pepper hummus, olive tapenade, and green dressing.
Ratatouille
This vegetarian ratatouille ($19) is warm and has wonderful depth of flavor. A roasted eggplant and bell pepper ragout sits atop zucchini noodles with warm burrata cheese, smoked tomato sauce, and basil aoili combining as you stir to create a rich sauce.
Cheddar Burger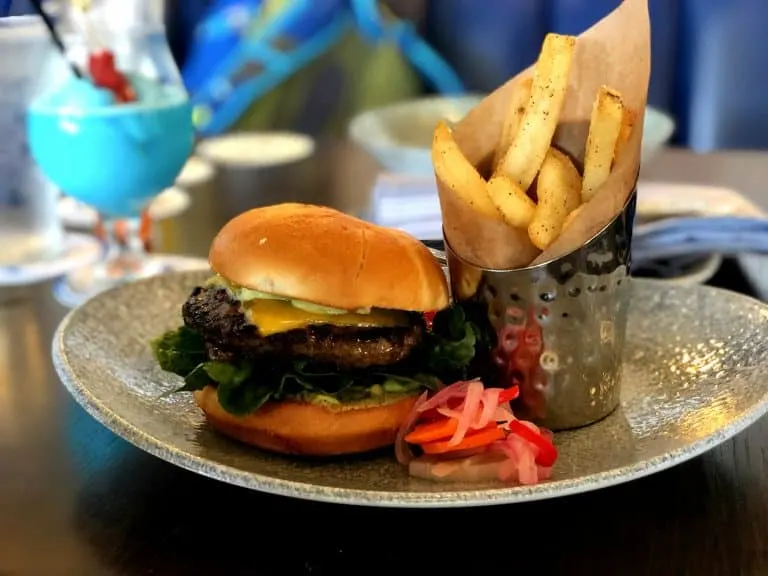 The Cheddar Burger ($22) boasts a signature patty made with a special blend of premium ground beef cuts and topped with melted Tillamook cheddar, roasted plum tomato, an avocado ranch spread, and an Amish bun. Trekaroo Blog Editor, Katie Bodell, tried the gluten-free version of this burger (served on an Udi's bun) and proclaimed it the best gluten-free burger she has ever had!
Budding Artists (Kids Menu)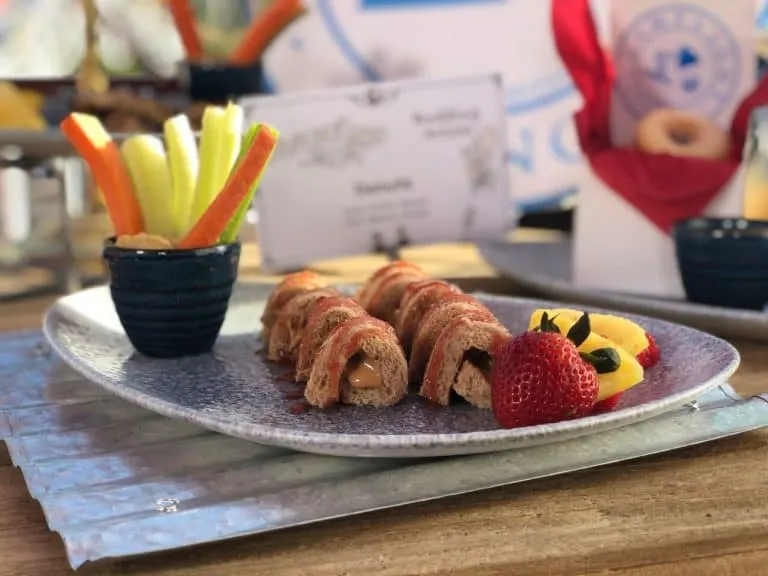 Don't worry, Disney never forgets about the kids. Lamplight Lounge's kids menu features PB&J rolls ($8), a mini burger ($10), grilled chicken tenders with sweet orange sauce($10), and corkscrew pasta in creamy cheese sauce($10). All kids menu entrees come with a flower pot of hummus and veggies, as well as fresh fruit.
Cocktails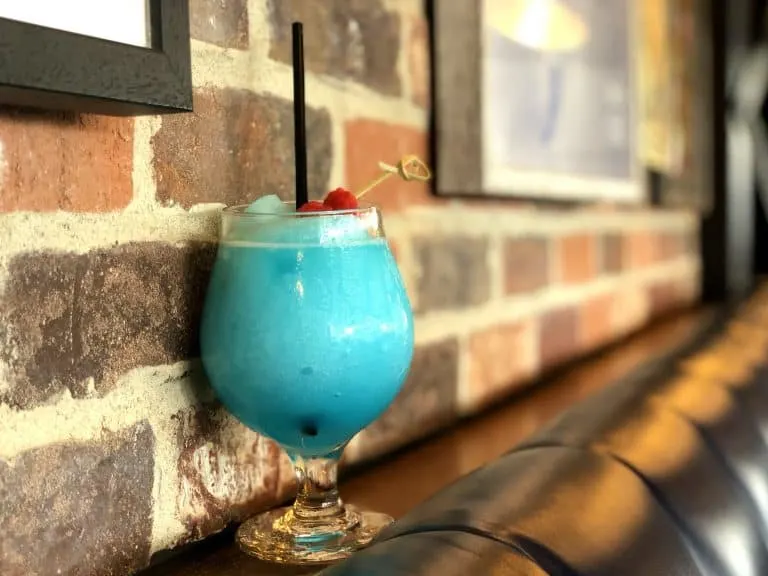 Lamplight Lounge has a long bar with a lovely water view that beckons you to stop by and have a cocktail. We couldn't resist having a few ourselves. Over Budget ($13.25) is Lamplight Lounge's version of the Moscow Mule, made with Grey Goose Vodka, passion fruit, fresh lime juice, agave nectar and ginger beer. Open Ocean with a Splash ($13.75) is ideal if you are looking for something frozen, bright blue, and social media friendly. Made with Bacardi raspberry rum, blue Curacao, Liquid Alchemist orgeat (almond flavor), agave nectar, and fresh lime juice, this beauty (pictured above) is delicious and stunning.
The Sequel ($15) is one of Lamplight Lounge's bubbling cocktails. It combines Citron vodka, rum, Liquid Alchemist passion fruit, fresh lime juice, and agave nectar. Server Room Chill ($15) also boasts bubbles and fizz along with gin, Aperol, agave nectar, and ruby red grapefruit juice. The bubbling cocktails were really fun, but we weren't too fond of the chemical smell caused by the dry ice.
Other cocktails that we thought looked interesting:
Sizzle Reel ($9.50)- a red wine sangria made with ruby red grapefruit juice and mixed berries.
Six Tentacles ($14.25)- Kikori Japanese whiskey, yuzu, passion fruit, fresh lime juice, and agave nectar.
Scream Canister ($14.25)- rum, cream of coconut, pineapple and orange juice, and Angosturea bitters.
Morning Glory ($14)- Lamplight Lounge's version of a spicy bloody Mary featuring dill pickle brine and celery bitters.
Learn more about Pixar Pier food & beverage offerings as we interview Disney Chef Jeremiah

Discover 8 Can't Miss at Pixar Pier in Disney California Adventure.
All photos by Sharlene Earnshaw and Katie Bodell.
Disclosure: The author attended a media event at Disney California Adventure. It included complimentary park admission and food. The event was organized so journalists could cover Pixar Pier's opening. All opinions are her own.