Omaha is a Nebraska city offering big city appeal without losing any of that classic Midwestern charm. There are lots of fun things to do in Omaha with kids, from getting outside at one of the region's many parks or one of the best zoos in the country to playing inside at one of the city's top-notch museums.
Here are our top picks for families, along with suggestions on where to eat and stay while you play in Omaha.
Explore more of the state! Here are our 10 favorite things to do in Nebraska with kids.
Fun Things to do in Omaha with Kids
1. Model Trains and Nature at Lauritzen Gardens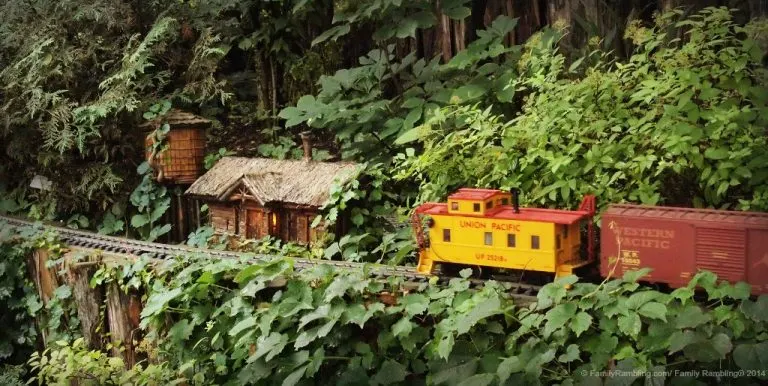 Lauritzen Gardens is a 100-acre urban oasis filled with four-season plant displays, so there is always something to enjoy no matter when you visit.
Explore the conservatory that is filled with tropical plants and then head out to the English garden and Japanese Garden to capute amazing photos in a picture-perfect setting.
Children will love the Model Railroad Garden where trains run daily May through October and the Childrens Garden where kids can get involved in planting and harvesting.
Seasonal events occur throughout the year, such as Brights Nights and the Poinsettia Show during the holiday season and the Ghoulish Garden Adventure in the fall.
2. Stand in Two States at Once on the Bob Kerry Pedestrian Bridge
The Bob Kerry Pedestrian Bridge is a 3,000-foot bridge that spans the Missouri River, connecting Nebraska with Iowa. You can acces this bridge from the Council Bluffs, Iowa side but it is much easier to reach on the Omaha side.
Park in the lot off Riverside Drive, near the Lewis and Clark National Historic Trail building. This whole area is in the midst of a major rehab, but the building is still worth peaking into.
After walking the bridge to admire the views and get the obligatory "standing in two states" picture, families will be thrilled to know there is a splash pad near the base of the bridge. It is a great place to cool off and play during those blazing Midwestern summer days.
3. Play in the Heart of the City at the Gene Leahy Pedestrian Mall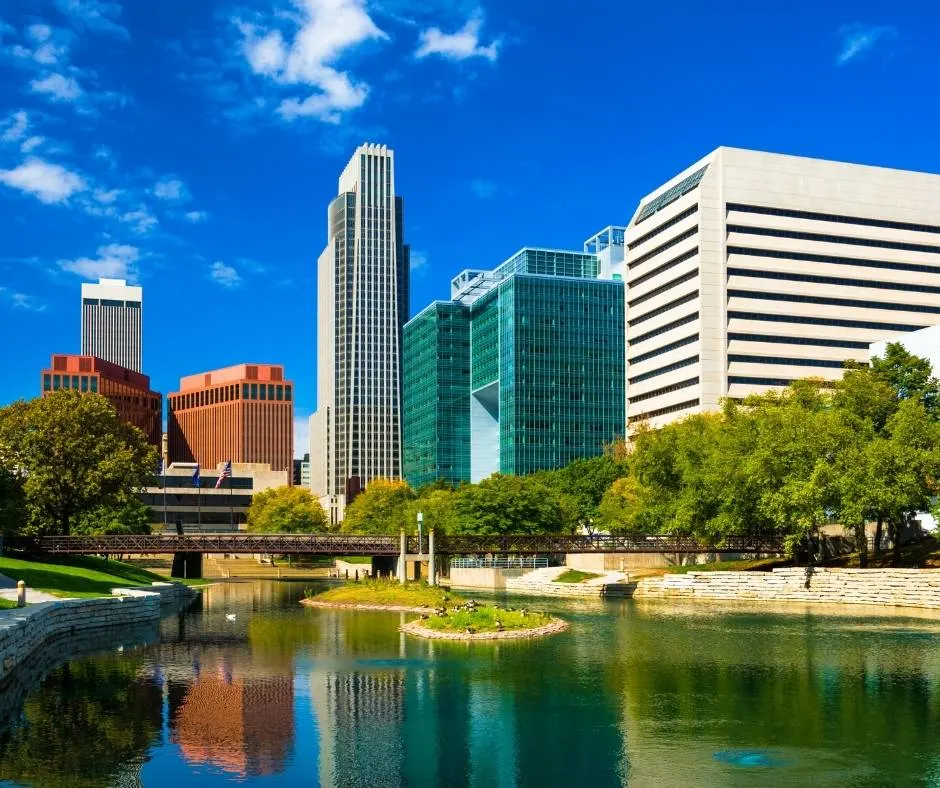 The Gene Leahy Pedestrian Mall is a 10-acre park in the heart of downtown Omaha with something for everyone.
There are walking paths, a sculpture garden, waterfalls and lagoons, and playgrounds for the kids. The Old Market neighbohood is nearby so grab something to eat there and then walk/play off your meal at the parrk.
4. Learn About Nebraska's Past at the Durham Museum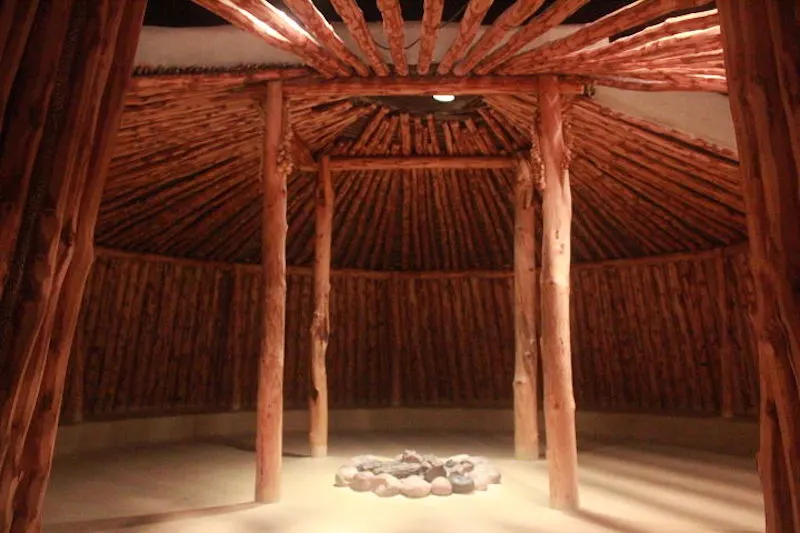 The Durham Museum, housed in Union Station, honors Omaha's history as the eastern terminus of the Transcontinental Railroad.
The highlights of this museum for kids are the teepee and mud lodge, the stage coach, and of course, the trains. There is a steam engine, coal car and caboose, a streetcar, and a passenger train where you can walk through a private dining car, seating car, a club car, and sleeper cars. There's also a big model train.
Kids will also like the Baright Home and Family Gallery (where the teepee and mud lodge are) where they can check out worker's cottages which were constructed as housing for blue-collar families at the turn of the 20th Century as well as a home that reflects how the higher class lived. There is also a recreated grocery store from that time.
There are some permanent exhibits and rotating exhibits that are interesting and educational, but will probably only appeal to older kids and adults.
The museum gift shop is housed in the former ticket counter. There is also a soda fountain offering ice cream sundaes, shakes and candy as well as brats and hot dogs.
5. Be a Kid at the Omaha Children's Museum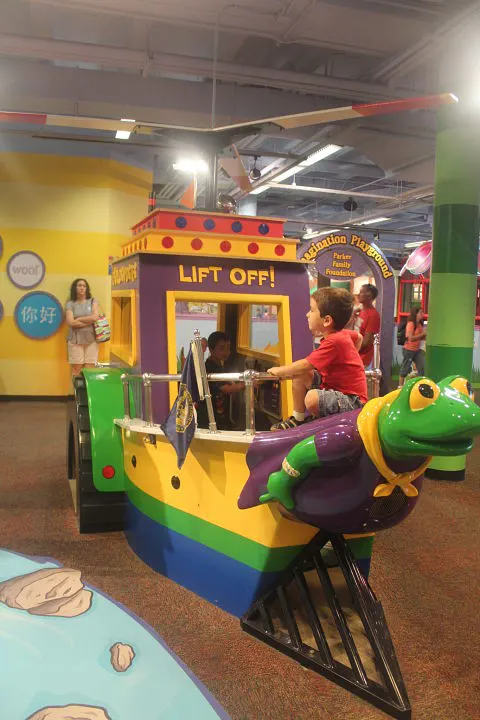 The Omaha Children's Museum will surely be a highlight of your visit to Omaha with kids if you have young children.
Housed on two floors, the museum is dedicated to play-focused learning and simple fun. The Imagination Playground has a grocery store, fire house, bank, and more. The Creative Arts Center offers places to build and paint. The Ball Matrix uses mechanical, pneumatic, and ballistic power to move the balls.
Outdoors there is a small spray park, a covered patio with a small fire truck, and a playground, with signs around encouraging families to run, play, and picnic. There are also daily science shows in the summer and rotating temproary exhibits that make this museum worth visiting again and again.
6. See a World of Animals at Henry Doorly Zoo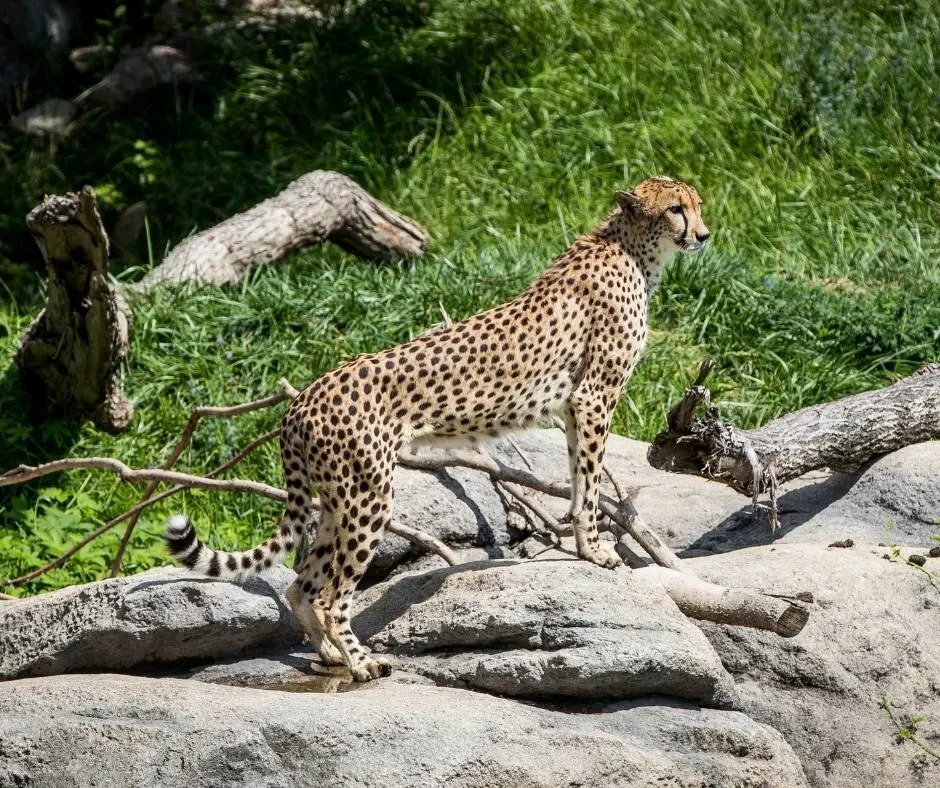 Making several lists that rank the top zoos in America, including Trekaroo's list of the best zoos visiting the Henry Doorly Zoo, is definitely one of the best things to do in Omaha with kids.
Henry Doorly Zoo is a sprawling complex with walkways lined with evergreen and deciduous trees. You'll find animals in expansive habitats that mimic their natural environs.
It is hard to see all this amazing zoo has to offer in one day, so here are some of the highlights you won't want to miss.
The Desert Dome, the Lied Jungle Forest, and the Scott Aquarium. All three lie close to the zoo entrance and are well worth the time. The desert dome is the world's largest indoor desert (though it's not as hot as you might expect). Below it is the "Kingdom of the Night," in which the day-night cycles are reversed so visitors can see the nocturnal animals in their active time. The Lied Jungle has an elevated trail which will put you at eye level with macaws and spider monkeys. The aquarium is simply beautiful.
Multiple play areas. Particularly of note: the Red Barn petting zoo and the African Grasslands, where kids can play on a retired helicopter and a couple of safari trucks.
A huge aviary with mature trees inside. A boardwalk winds through it, with benches to rest and take in the beauty.
The Alaskan Adventure Spray Park. This spectacular sculpture park lets kids play among sea lions and whales while splashing in the water. Let them come to the zoo in swim gear, because after this they'll be completely soaked.
7. Get Wild at Lee G. Simmons Conservation Park and Wildife Safari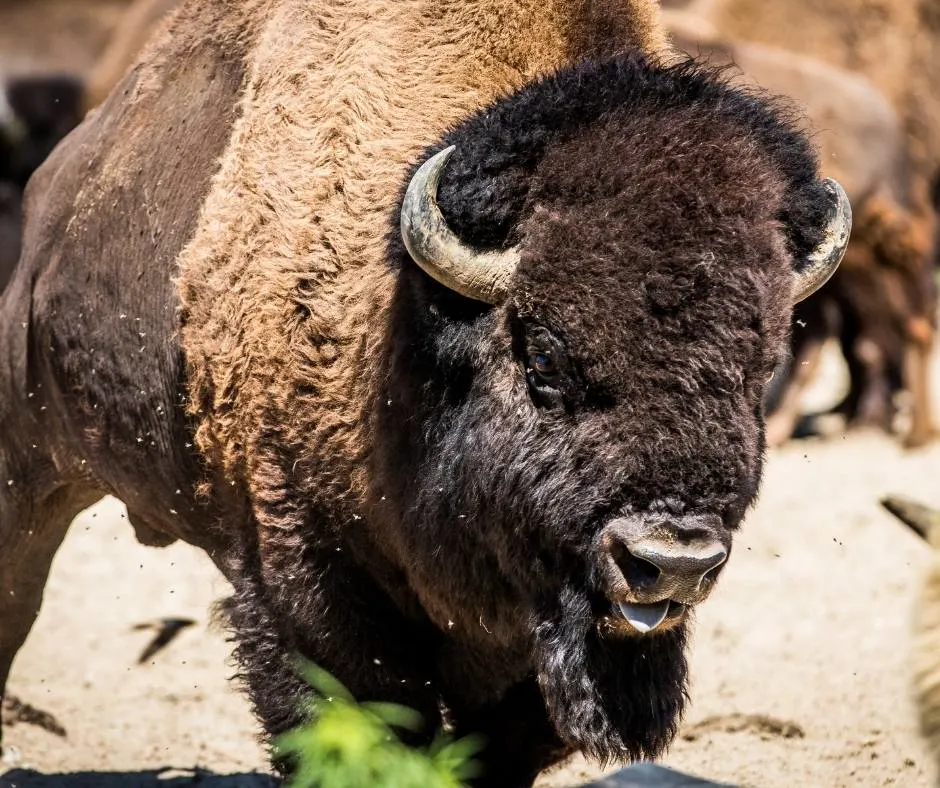 Wildlife Safari Park is a four-mile, drive-through wildlife featuring North American animals like . elk, white-tailed deer, bison, and pronghorn antelope. There is also an eagle aviary, prairie dog town, and enclosures housing grey wolves and black bears.
The Henry Doorly Zoo expanded its cheetah breeding efforts with the addition of a four-acre, off-display facility, at Wildlife Safari. You can visit this special place when you book a behind-the scenes tour.
In addition to the Cheetah Breeding Center, the park is also starting a Tiger Breeding Center to help this endangered species maintain genetic diversity.
This park is seasonal and open daily from 9am – 5pm April through October.
8. Explore the Tree Tops at Fontanelle Forest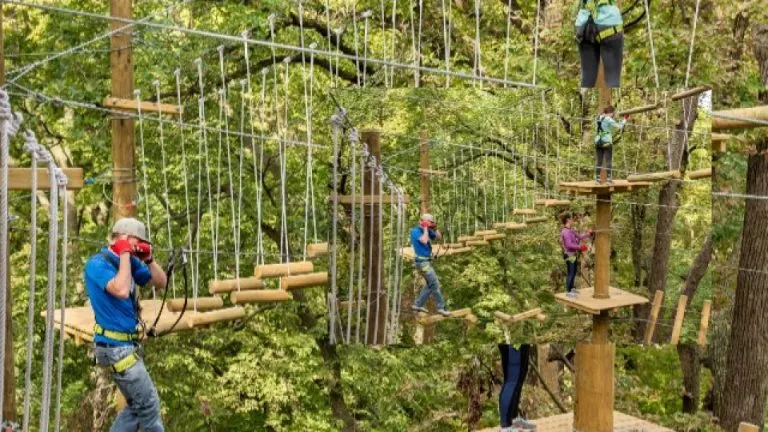 Fontanelle Forest is a pretty awesome spot for families just south of Omaha in neighboring Bellevue. This 1400-acre hardwood forest in the middle of an urban area is a National Natural Landmark with hiking trails, including a boardwalk above wetlands along the Missouri River. But wait, there's more!
There is also Acorn Acres, a one-acre natural playscape in the forest, Habitat Hollow where children can learn about animals and play nature games, and Raptor Woodland Refuge where you can visit rescued birds that live in a habitiat thirty feet above the forest floor.
Adventurers ages seven and up will love TreeRush Adventures where they can climb and zip through the forest canopy on an aerial course. Kids ages four to six can play at KidRush which is a course designed just for them.
9. Do it all at Eugene T. Mahoney State Park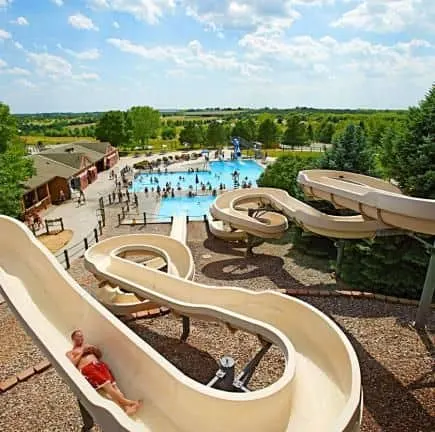 When I think of state parks I think of natural spaces with hiking and camping. Mahoney State Park, outside of Omaha, has all of that plus so much more!
In addition to hiking trails, families will also enjoy the Go Ape ropes course where you can zip line and tackle obstacles up in the tree canopy; an Aquatic Center with waterslides, a wave pool, and a swimming pool; golf, mini golf, and disc golf; an indoor playground with plenty of tubes, slides, and bridges to explore; a climbing wall; horse rides; and a marina.
During the winter, Mahoney State Park is a great place to enjoy sledding, cross country skiing, ice skating and ice fishing.
Mahoney State Park is truly a destination unto itself so there are plenty of lodging options on site. Families can choose to book campsite, stay in cabins, or stay in the Kiewit Lodge which overlooks the beautiful Platte River.
10. Create at the Joslyn Art Museum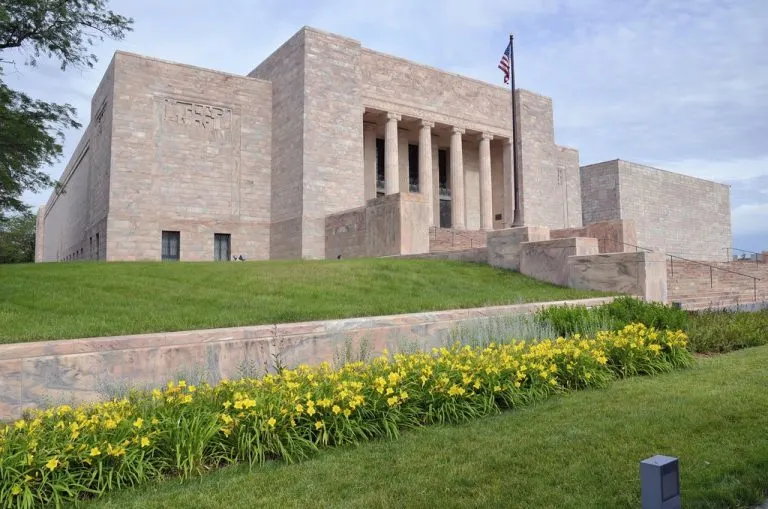 If you have a burgeoning artist in your group than you won't want to miss the Joslyn Art Museum. Visitin this museum is FREE and they have several great offerings for families visiting the museum.
Art Works is an interactive space with nine hands-on activity stations, including some where children can make their own works of art to take home. The stations have connections to the art that you will see on display in the museum's galleries.
The museum als has Art Packs which are special backpacks with different themes based on some of the art encountered at the museum. Children (5-12) and adults work together to complete the mission of each particular pack, typically in about 30-45 minutes.
11. Celebrate Trees (and Treehouses!) at Arbor Day Farm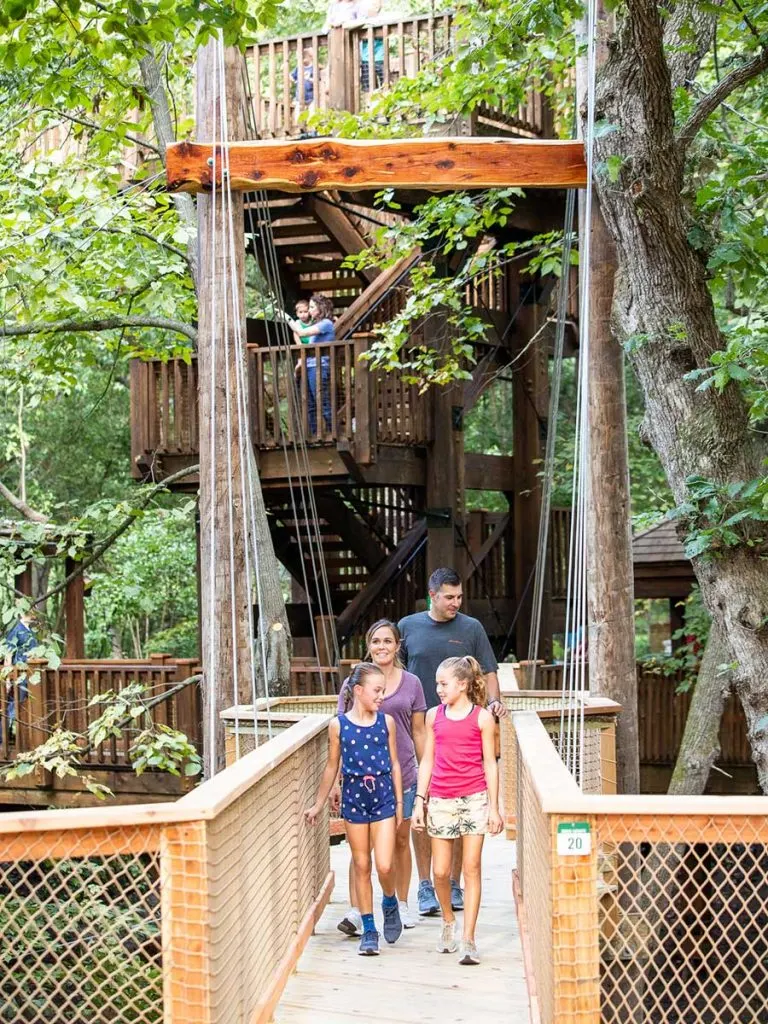 South of Omaha in Nebraska City, the Arbor Day Farm is a working tree farm, vineyard, and orchard. There are two outdoor nature classrooms, which contain areas for art, tree house-building, and music. There are also two "rope" adventures: a tightrope and a spider web climbing apparatus.
The big highlight is the Treetop Village, where 11 treehouses are connected by bridges and netted walkways across three acres.
The Discovery Ride (seasonal) is a canopied wagon that travels around the farm to demonstrate the history and mission of the farm. If you visit in the late summer or fall, you might get to stop and pick an heirloom apple straight off the tree in the "preservation" orchard.
The Tree Adventure shop is filled with home-baked pies, popcorn, jams, jellies, and wines, including wine tastings. The cafe adjacent to the gift shop serves basic hot dogs and burgers, as well as pies.
Arbor Lodge sits in a shady, 72-acre state park. The park itself is free to visit and has a playground and walking trails. You can also stroll through the family gardens.
The Arbor Lodge mansion and its carriage house require an admission fee, which may be purchased separately or bundled with a visit to the farm, which lies across the street.
12. Eat and Play at the Amazing Pizza Machine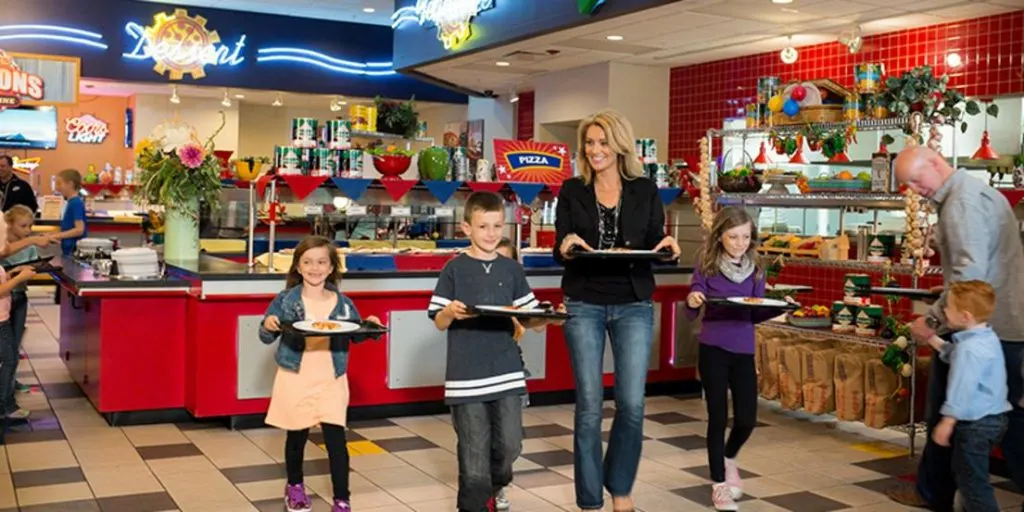 If you need dinner and a place for the kids to stretch their legs for a while, try the Amazing Pizza Machine, a buffet, arcade, and fun-plex.
Featuring an extensive buffet of pizza (the standard flavors as well as more creative types), salads, soups, desserts, baked potatoes, taco bar, pasta bar, and a nightly special, even the pickiest eaters will find something to their liking.
Every person who enters is required to purchase a buffet, but the Amazing Pizza Machine offers a number of dine-and-play packages.
The play area is expansive and varied, with all the usual things you'd expect to see at an arcade. There are many different play packages, including one for unlimited games like pinball machines and rides (Go Karts, bumper cars, a mini roller coaster that's more intense than it looks, and Frog jumper). Laser tag can also be purchased separately.
There is an area for little ones, with a climbing structure and arcade games aimed at the younger set. Prices vary by package, but if you are looking for the best deal, visit on "Half Price Wacky Wednesdays".
Where to Stay in Omaha with Kids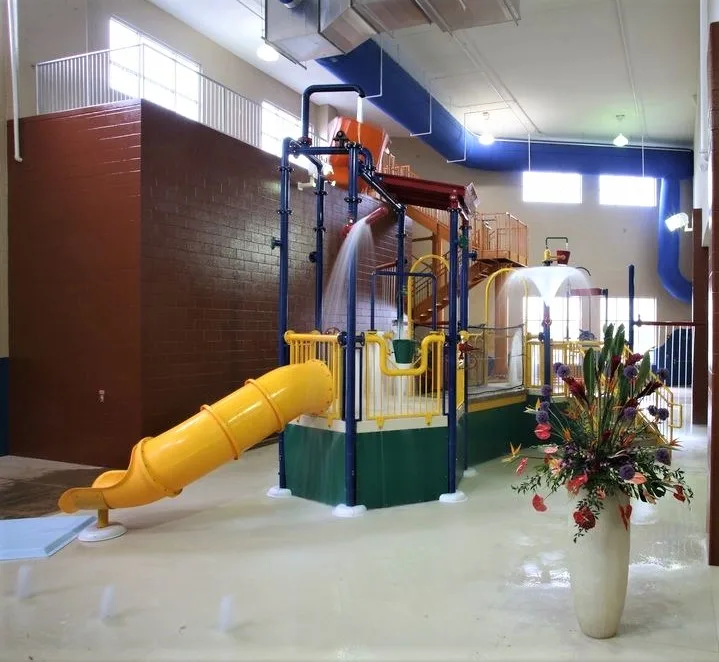 If your family is enjoying the multitude of things to do in Omaha, consider hanging your hat at the Holiday Inn-Downtown Omaha. This hotel is a few blocks away from the downtown attractions and has gone out of its way to make itself family-friendly.
They offer free lodging to children 19 and under as long as they're staying in their parents' room. Up to four children age 12 and under can eat for free at the restaurant in the hotel restaurant, Burger Theory, which offers standard pub fair and a wide selection of beers.
Their pool area features an indoor waterpark with a splash pad, buckets that dump over a play structure, and a three-story water slide that goes outside the building and comes back in. There is also a pool and hot tub.
Where to Eat in Omaha with Kids
Here are a few Trekaroo tested and approved spots around Omaha to find eats and treats during your visit.