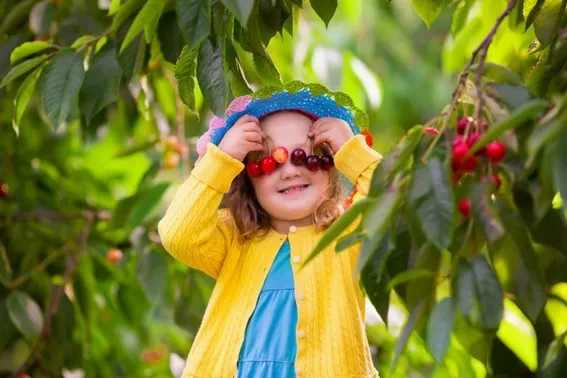 Photo by: Bigstock/famveldman
If there were ever a fruit worthy of a special trip to the farm, I'd say it's "Cherries." Okay…I confess. I do have an obsession with picking my own cherries. Since the first time I had the pleasure of picking these wonderfully sweet and juicy little things, I've declared it a yearly family tradition. In my opinion, cherry picking is a near perfect family activity.
Visiting cherry farms with kids
Why should you visit a cherry farm?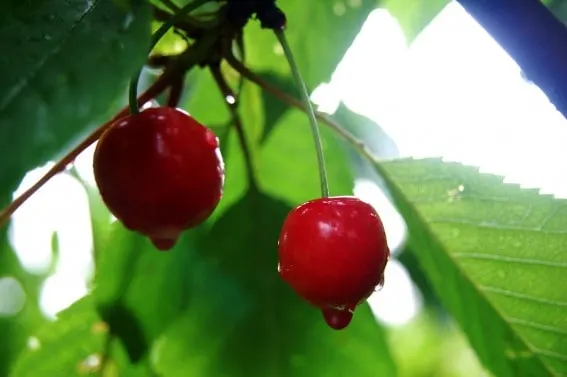 Photo by: Flickr/Clare Black
Cherry picking is an activity even toddlers can fully participate in while for big kids, teens, and parents, picking your own fruit just never gets old. (Well, unless you live on a farm.)
Cherries are small and take a while to pick. It's an activity that can last for about 1-2 hours, but won't take all day.
Eating fresh cherries off a tree is simply delightful for anyone of any age. They are super sweet and your hard work is immediately rewarded.
You're in total control of how much you spend. Take home a little, pay a little. Take home a lot, pay more.
The cherry fun can be enjoyed for days. After the picking trip, plan on more fun canning, baking, or drying them. There are so many ways to enjoy cherries as a family.
10 Tips for Cherry Picking with Kids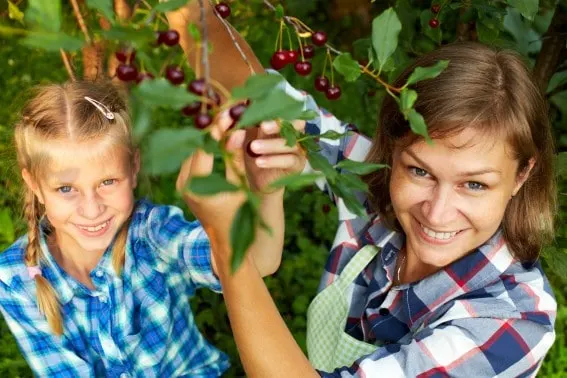 Photo by: Bigstock/NataSnow
Find farms with dwarf-sized trees so that young kids can easily reach the cherries without a ladder.
Bring lots of water, even ice-water, and sunscreen. Where cherries grow, the sun is usually blazing hot.
If you have young ones who don't know how to spit out cherry pits, you might want to bring along a cherry pitter, so your don't end up with cherry juice all over your fingers.
Sometimes, too much of a good thing is not good. Cherries when consumed in large quantities can caused tummy aches and the runs. It helps to bring lots of crackers and other savory food to keep little and big tummies settled. Pack a picnic lunch and make a day of it.
Teach your kids to pick cherries with stems attached. They last longer that way. Remove leaves though because those add to your weight.
Dress kids in clothes that can get dirty and stained because cherry juice stains badly.
Bring CASH. Most farms don't accept credit cards or checks.
Call ahead by phone (yes by phone!) to check when the growing season begins and availability of fruit. Some farms have email newsletters, but many haven't caught up to the 21st Century and don't have websites that are updated regularly.
At home, don't wash cherries until you're ready to use them. They grow mold quickly when wet.
Get a few cherry recipes and ingredients ready before heading out to the farm if you plan to bring a lot of cherries home. You want to be ready to use your cherries as quickly as possible.
If you're not up for picking your own cherries, but still want to enjoy all the cherry goodness, check out a local cherry festival. In California, we have the annual Cherry Festival at C.J. Olson Cherries. This free festival about everything cherry has a great old fashion home town feel about it. Enjoy a free cherry orchard tour, cherry-licious pancakes, and great music.
Where do you find pick-your-own cherry farms?
Cherries like to grow in a dry and mild climate, although many places across the United State provide the right weather since they need cold winters. Lucky for us, just over an hour's drive away in Brentwood, CA are numerous pick-your-own cherry farms. My favorite is DC's Extraordinary Cherries. I love their European style short trees that have branches that even toddlers can stumble up to and pick cherries off without difficulty. They also have a wide variety of cherries. Another favorite farm in Northern California is Pease Ranch. Do you have a favorite? Let us know in the comments.
Here's a full list of Pick Your Own Cherry Farms Around San Francisco.
Don't live in the bay area, check out Lydie's list of Pick Your Own Cherry Farms Around the US.
Yippeee! Cherry season is here. Hurry! Get out there and enjoy them with your kids.
Featured photo by: Shutterstock