Milwaukee is no stranger to celebrating the best time of the year. From lights and light festivals to holiday performances and unique, quaint towns, Christmas in Milwaukee has it all!
Check out these fun activities perfect for the entire family and make lasting memories for years to come. You are bound to have happy holidays while attending these Milwaukee Christmas events. Updated for 2021!
Milwaukee Christmas Events 2021
Holiday Lights Festival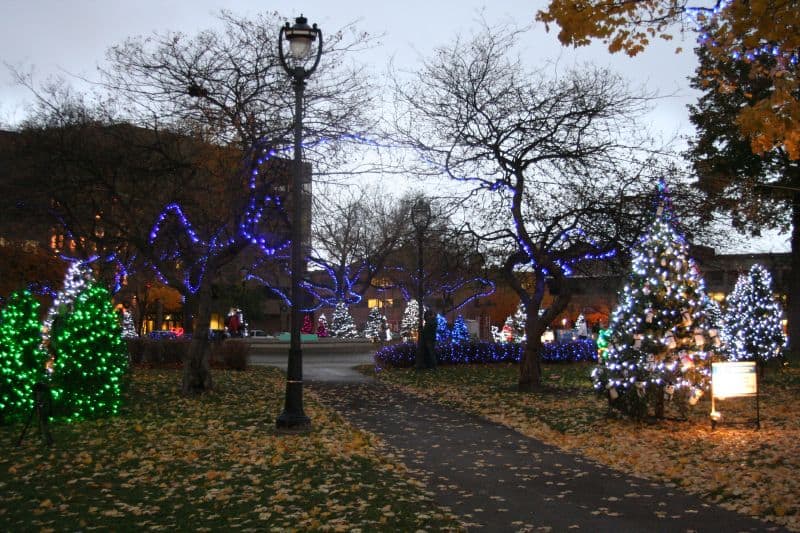 The Milwaukee area's most popular holiday event, the Holiday Lights Festival, lights up the sky for six weeks November 18, 2021 through January 1, 2022.
With holiday light displays, hundreds of wreaths, a variety of animated sculptures, and tons of activities, there is something enchanting for everyone.
A family favorite is the Jingle Bus, a 40-minute tour that highlights the city's brightly festive spots and provides cookies and hot cocoa. And, at only $2 a ride, it's easy on the pockets too!
Don't forget to stop by "Community Spirit Park" in Cathedral Square Park and drop off your wish lists at Santa's Mailbox. The best thing? Santa actually writes back to you!
How about experiencing the Holiday Lights aboard a mini coach while sipping on hot chocolate and munching on desserts?
On the Milwaukee Food Tours Christmas Lights and Desserts Tour, riders will be able to do just that, along with two walking stops at Zeidler Union Square and Cathedral Square. They also have a Christmas Around Milwaukee Bakery Tour for all you sweet tooths.
If you can't make it into town, Milwaukee Food Tours also sells popular Christmas boxes such as their Wisconsin advent calendar.
To really celebrate the holidays like a local one must stop by annual Christmas lights at Candy Cane Lane. In this residential neighborhood almost everyone decorates their home for the holidays!
The best thing is that they do so to support the Midwest Athletes against Childhood Cancer. There is no entrance fee, but they do have a central corner where donations for the cause are collected.
Ice Skating in Milwaukee During the Christmas Season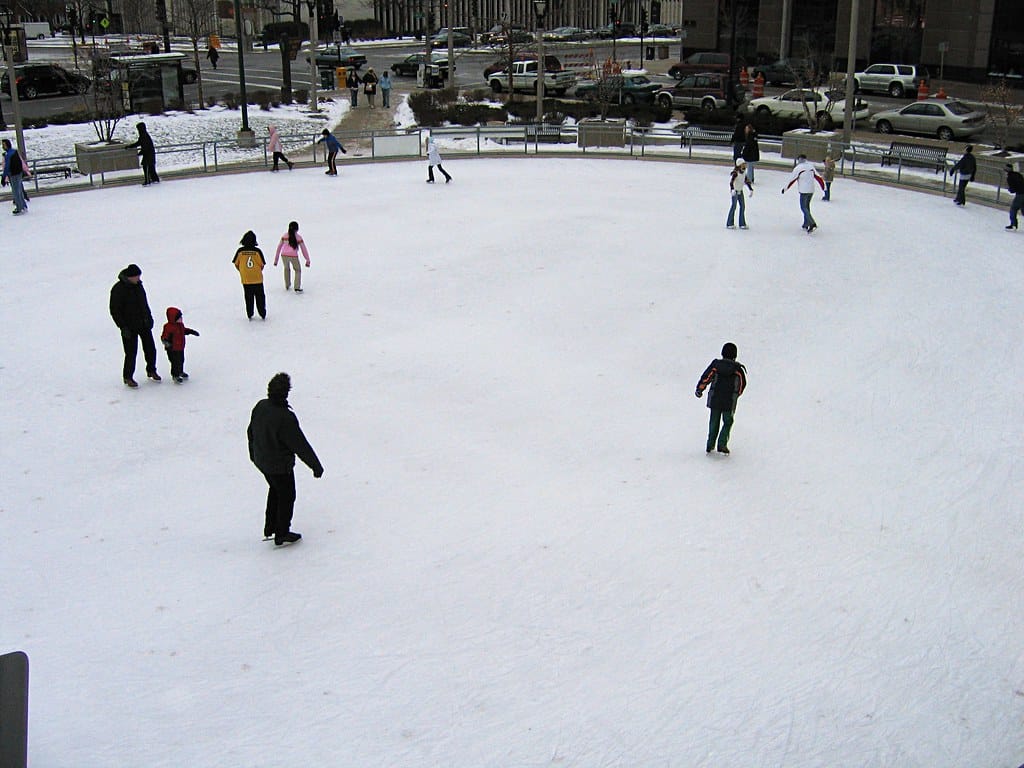 Ice skating anyone? Well, how about skating in a rink bigger than Rockefeller Center? Located in downtown Milwaukee, Red Arrow Park's Slice of Ice can accommodate 100 skaters at once.
Skating is free if you have your own skates. No skates? No worries! They rent them out as well. When the Midwest chill starts to set in, get toasty inside the warming house where you'll be sure to have a great view of all the action from the floor-to-ceiling windows.
Milwaukee Zoo Wild Lights
New for December 2021 is Wild Lights, where the Milwaukee County Zoo will be covered with millions of twinkling lights.
There will be a one-mile path with lined wiht animal-themed light displays and plenty of holiday decorations to get you in the spirit of the season.
There will be lots of treats and drinks to purchase and the North Shore Bank Safari Train and Penzeys Carousel will be operating when the weather cooperates.
Wild Lights is offered Dec. 1-5, 8-12, 15-23, and 26-31, from 5:30 to 9:30 pm. Save $2 per ticket by buying your tickets online.
Santa Claus Sightings in Milwaukee
Santa can also be spotted in his outdoor gingerbread house at the Historic Third Ward's Christmas in the Ward. Afterward, experience an old-fashioned Christmas tree lighting ceremony in Catalano Square, see live reindeer, go on horse-drawn carriage rides, and enjoy live music and holiday shopping! This year's event will take place December 3, 2021.
For more of a traditional setting, share a jolly breakfast in a festively decorated ballroom at Breakfast with Santa at the Pfister Hotel. Children will receive a special gift, make crafts, and write letters to Santa. This experience is only available on select dates so book early!
Catch a Holiday Performance
Need to get into the festive spirit this holiday season? Milwaukee hosts a few shows that will no doubt warm your hearts.
One of Milwaukee's most well-known holiday shows and simply a holiday classic is the Milwaukee Ballet's annual Christmas season performance of The Nutcracker December 10-26, 2021. With unforgettable music, impressive set designs, and toys coming to life, what more could you want?
For a fun family favorite, the First Stage Theater presents A Charlie Brown Christmas at the Todd Wehr Theatre November 20-December 26, 2021.
Check for amazing deals on family-friendly hotels in Milwaukee.
Celebrate an Old-Fashioned Christmas
Milwaukee is a winter wonderland filled with old-fashioned elegance during the Christmas season. Step back in time and imagine Christmas as it was during the 19th century by touring the home of the famous beer baron Captain Frederick Pabst Mansion for Twilight Tour on select dates in November and December.
With its ornate holiday decorations and historic setting, it's no wonder why more than 100,000 people visit this restored Victorian mansion.
For a unique Christmas experience, families need to visit the quaint, cozy, and historic town of Cedarburg. Visit Santa's Workshop, a candy-covered house where Santa stays on weekends to visit families and where elves work hard on building toys for good boys and girls.
A Polar Express ride takes children on a journey to the North Pole where there's a toy store, arts and crafts, caroling, snacks, music, and gifts from Santa.
How about celebrating the holidays as it was in the 19th-century? At Old World Wisconsin, on weekends during December, families will find Christmas tales, free horse-drawn bobsled rides (or wagon rides if there's no snow on the ground), caroling and hymn singing, food sampling from cherished recipes, wood-fired stoves and bonfires.
Plus, take photos with a 19th-century Santa! Don't miss Vanocka, North America's largest Yule Goat!
Is there a Milwaukee Christmas event we missed? Does your business have updated information to share? Email [email protected] and tell us about it!
Find more Christmas events near you! Trekaroo has guides for dozens of cities across the country.
Updated for 2019 -2021 by Sharlene Earnshaw. A special thanks to Tina Jalowiec for contributing to the original version of this article.
Lead image by Bigstock