Let me start off first by saying, I'm a baby wrap kinda gal. I love how snug and secure baby feels against my chest. I also have an old injury on my lower back and the wraps do a great job of distributing the weight across my entire back. However, what I don't like about wraps is that I have to wrap it around me. They are fussy and only work well in cool weather places. However, a few months ago, I traveled to Singapore and Cambodia, two countries where the temperatures and humidity year round are just too hot to carry a baby in a wrap.
If you live in a place that gets really hot or you're traveling to such a place, it's preferable to explore with baby in a lightweight stroller with a seat made out of mesh like the Maclaren Volo. However, it's always good to have an alternative in case you're an hour into your trip to the zoo and junior decides he's done with the stroller. In our case, our 4-month-old wasn't ready for an umbrella stroller and Cambodia was not exactly a stroller-friendly country. The search for the best hot weather baby carrier became my obsession for the months leading up to our trip. While we were in Singapore and Cambodia, I stopped any baby carrying mom I could find on the street to find out what her experiences were with her baby carrier. Here's the scoop.
Baby K-tan Breeze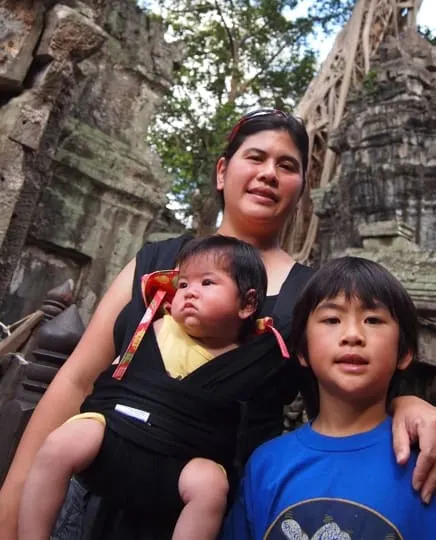 Baby K-tan is quite the ingenious baby wrap hybrid. It behaves much like a baby wrap, but it's double loop design makes it really fast to put on and take off. I could do it with just one hand. I couldn't believe how brilliant the design was. It solves one of my biggest frustrations about baby wraps!
I chose to take the Baby K-tan Breeze model with me on my trip because half of it is made out of a thin mesh fabric. The fabric reminds me of basketball jersey material and seemed like a great idea for the hot weather we'd encounter. Indeed the Baby K-tan Breeze took all the bulk out of the wrap. There is very little fabric around your body. It was also super lightweight and compact to carry around. However, unlike a wrap where one size can adjust to fit anybody, the Baby K-tan is offered in different sizes. The sizing chart seemed to run a little on the big side especially with the Breeze model. The mesh fabric on the Baby K-tan Breeze is extra stretchy, so my medium size carrier that should have fit my size 12 body, left baby sagging rather low despite all my attempts to twist, tuck or adjust the crisscross at the back. After a few days of carrying baby this way, my back really began to hurt. My recommendation would be to make sure you purchase it way before your trip to make sure you have enough time to exchange it for the correct size if you need to. The Baby K-tan is a two piece carrier. You're suppose to be able to use it with just the double loop piece, but I never felt like it was secure enough alone because the mesh fabric is fairly thin and slippery. When I wrapped around the sash piece, it felt much better, but that also meant that baby was now warmer and so was I.
Bottomline: I think the concept of the Baby K-tan is brilliant for how it simplifies the baby wrap, but be careful with the sizing. I love the regular models, but as for the Breeze model which promised to be great for hot weather, I would love to see an improvement with a less stretchy mesh fabric.
Taylormade Slings – Organic Cotton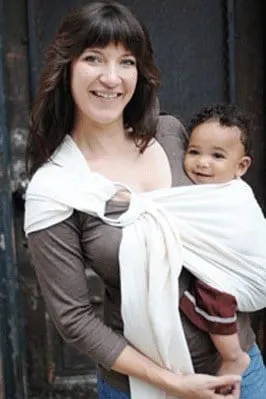 Taylormade Slings make a typical ring sling out of lovely fabrics. They offer one model made out of an organic cotton that weaves together like a muslin cloth I loved how the organic fabric wicked mosisture away quickly from our skin, making it excellent for the hot weather. It doesn't have extra padding on the shoulder so it packs away compactly for travel. Like most ring slings, getting baby in and out was quick and easy. If you don't have any back issues and want a carrier that you can pop baby in and out of quickly, this is a great choice. There is minimal fabric around your body and in a cradle position, there is a piece of fabric between your body and baby's body. This piece of fabric helps to reduce that clammy feeling between two sweaty bodies. However, the cradle position can really strain your back if your infant is heavy. Once baby is able to sit up and be carried in the hip position, the sling is great for the occasional times when your child doesn't want to sit in their stroller or walk. I took it to Universal Studios in Singapore with my 4 month old and it was really great for waiting in line. Once we were ready to get on the ride, I could pop her out quickly.
Bottomline: I loved the organic cotton weave material for hot weather. I would recommend this sling to accompany a child who's mostly in a stroller or walking. It's compact enough to throw in your bag for the occasional carry or if your baby is still really light.
Buy the Organic Cotton Taylormade Sling
Ergo Baby Carrier Sport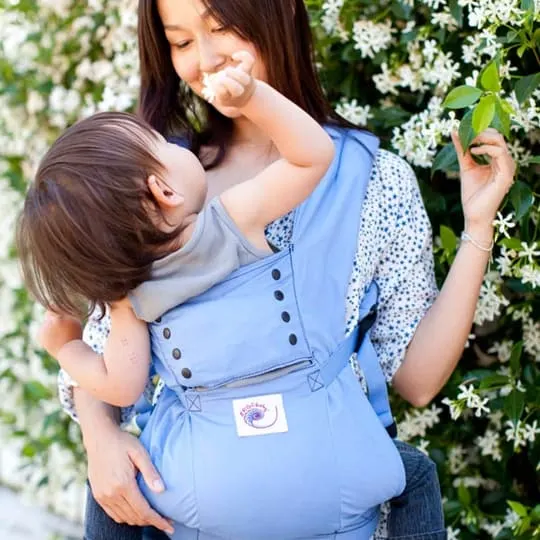 A Singaporean friend, Wanli Xavier was using an Ergo Baby Carrier Sport so I got to see it in action. Unlike the regular models, the sport version has a lighter fabric and doesn't have the bulky pocket behind your child making it a little cooler on baby's body. Now, I'm usually a huge fan of these back and front carriers for travel. In the heat, the upside about all carriers like the Ergo is that there are just two straps and a waist band tugging on your sweaty body. For a child 4-10 months, I think the Ergo Sport is a great choice because you are still likely to be carrying them in the front carry position and they can fit securely in the carrier without the extra infant positioner. The baby positioner would make the Ergo too uncomfortable for baby in hot weather. If you're planning to carry your child in the back carry position, and if your priority is a compact and lightweight carrier that travels well, the Ergo sport or something similiar like the Boba Carrier or the Becco carrier fits the bill pretty well. While they aren't as compact to throw into your diaper bag easily like a sling as my friend Wanli complained about, if you'll be carrying your child a lot during your trip, totting around a little extra bulk is well worth it. The main downside in the heat is that these carriers have baby plastered against your back which can be rather uncomfortable if both of you are sweating up a storm. Fortunately, there is an alternative below.
Bottomline: I would recommend the Ergo Baby Carrier Sport as the hot weather carrie of choice if you're still carrying baby in the front carry position, but only if baby no longer needs the infant positioner.
Buy the Ergo Sport
Baby Bjorn Air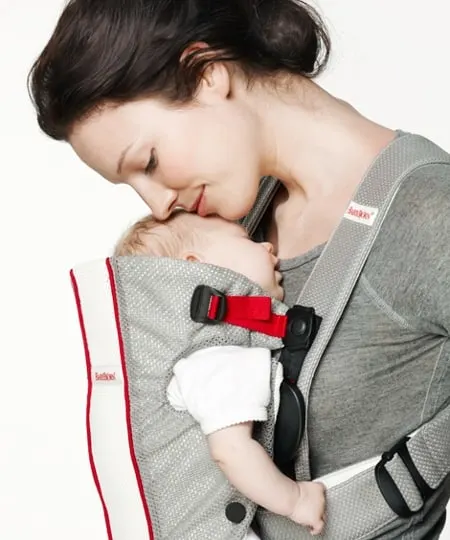 Another friend was using the Baby Bjorn Air. Instead of the body of the carrier being made of that thick quilted material we're used to seeing on Baby Bjorns, the body of the sport carrier is made of a 3D breakthable mesh fabric. My friends were questioning whether the high tech fabric really wicks away moisture. Instead, i was told that they didn't like the fabric because it's a little rough on baby's soft skin. Unfortunately, regardless of how well the mesh fabric works, I am still not a huge fan of the Baby Bjorn's because they can strain your back tremendously once baby gets beyond 10 lbs. All in all, I thought that for an infant, the ring sling would be a better choice.
Bottomline: Baby Bjorn carriers strain your back if your baby is much more than 10 lbs, for a wee one. It's not worth the expense.
Buy the Baby Bjorn Air
Deuter KidComfort Pro Child Carrier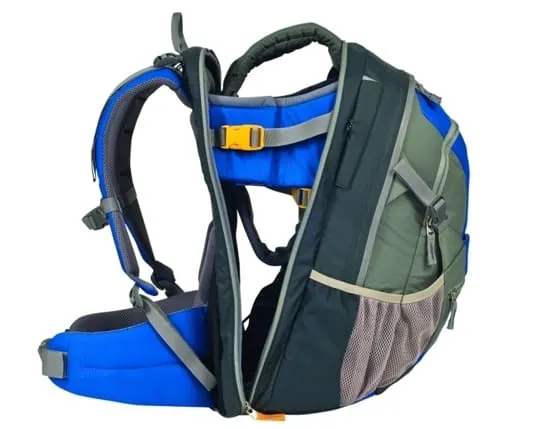 If you have a child who is over 7 months old, you might want to consider something like the Deuter Kid Comfort Pro (replaced the KangaKid) for carrying your child on the back during travel. Unlike the combined back and front carriers, the Deuter has a piece between you and your child so you won't be retaining heat between each other in hot weather. Here's an idea, you might even consider putting a reusable icepack in the backpack part of the carrier to keep your child cool. Furthermore, the backpack feature is great for parents who have more than one young child that needs to be carriered or who are traveling alone because the backpack and carrier and one piece. This allows one parent to carry both a child and a few items you'll need for the day on their back. While it maybe more cumbersome to get your child into the backpack without a metal frame or kickstand, what you gain is a carrier that is more compact and easier for travel. To add some additional sun protection the KangaKid has a sun roof that can be attached. It's sold separately.
There are also a few other alternatives on the market.
Bottomline: I would pick the Deuter Child Carrier for carriering a older baby, toddler, or preschooler.
Buy the Deuter Kid Comfort Active
*Disclosure: I received the Baby K'tan Breeze and a Taylormade Sing to complete this review. However, these honest opinions are entirely my own and are not influenced by companies that make these products.