European river cruise – check! Tour of European Christmas markets – check! In one week, we checked off two bucket list experiences on an AmaWaterways Christmas market river cruise on the Danube. The idea of a river cruise was probably planted in my mind during hours of watching Downton Abbey and watching river cruise ads. But I wondered, is there such a thing as a family river cruise?
Our family doesn't typically go on many large ship cruises, but we love small ship adventure cruises. River cruising seemed like it might be a similar type of experience.
To investigate this important question, AmaWaterways hosted us on an Ama river cruise on the Danube to help uncover the experience of river cruising with kids and teens. I figured if Adventures by Disney picked them as their river cruise partner, then an Ama river cruise is likely to have all the makings of a family-friendly river cruise experience.
What Families can Expect on an Ama River Cruise
If you're new to river cruising like our family, you might not even know that not all river cruise lines welcome kids on their cruises. Fortunately, AmaWaterways embraces families with kids ages four and up on board any of their cruises. They even offer specific family-themed itineraries in partnership with Adventures by Disney.
On Adventures by Disney/AmaWaterways sailings, Disney counselors sail with you. They organize special kid and teen-centered activities and meals on-board. There are more workshop style excursions like cooking classes and active experiences compared to regular Ama Danube river cruises. Adventures by Disney brings that special magic that families have grown to love and trust to the river cruise experience.
We booked one of Ama's most popular cruise itineraries for families – the Iconic Christmas Markets Cruise on the Danube. Our kids were 8, 13, and 16 and I'm happy to report we all loved this cruise experience.
We found this experience very different from a large ship cruise. There are no special kids/teens counselors on-board. There is also no kids club or kids table at mealtimes.
There were other kids and teens on our cruise since our cruise was over the U.S. Thanksgiving school break. However, it took a long time for the ice to break between the kids. Interestingly, many kids were traveling with grandparents. Unless you are traveling with other families who you already know, it's unlikely that your kids will find other kids to hang out with on a river cruise.
What we found exceptional is that the Cruise Director and the rest of the crew truly went out of their way to make their youngest guests particularly welcome. They greeted the kids warmly, took the time to learn their names, and paid special attention to their food preferences.
Our kids were spoiled silly. The same excellent service we loved on a small ship adventure cruise, we experienced with the crew of the AmaViola, even if they were formally dressed in jackets and bow ties.
Similar to any small ship cruise, we spent just as much time off the ship as you do on the ship. On an Ama river cruise, excursions are mostly walking tours or bike tours. We also had opportunities to explore on our own in the numerous Christmas Markets.
The walking tours are generally about one or two hours long. While the local guides are excellent and mix in storytelling to make their tours more engaging for all age groups, a child younger than eight might struggle to keep up.
The content of local walking tours isn't specifically tuned to kids, but the brilliant use of Quietvox listening devices by tour guides allow kids to tune in and out of the tour as they wish. When kids get squirrelly, they can hang back without disrupting the group.
Our teens were excited to explore the region by bike. The famous Danube Cycle Path offers lovely scenic rides through small towns and countryside. This active option is only suitable to kids who can ride two-wheel bikes confidently on their own for several miles at a time. There were only two youth size bikes on our Ama ship. There were no child seats, tag-along tandem bikes, or trailers available.
Don't miss our article on everything you need to know before you go on a Danube River Cruise.
AmaWaterways Danube River Cruises Itineraries
The first thing to understand is there are two basic Danube cruise itineraries – one week Upper Danube or Lower Danube cruises. They are also sometimes combined into a 10-14 day cruise. The Upper Danube is the most popular and that's what our family sailed. The primary destinations on the Upper Danube are Budapest, Vienna, Wachau Valley, and Passau.
During our trip, we sailed on one of AmaWaterways specialty cruises – the Iconic Christmas Markets cruise which is only offered from the end of November through December.
In their effort to create the perfect package of experiences for different travelers, AmaWaterways offers many different Upper Danube River Cruise itineraries. I found it hard to differentiate between the cruise itineraries before I had a clear sense of the geography of the area. So, assembled this side-by-side comparison of Ama Upper Danube Cruises that I hope you'll find useful.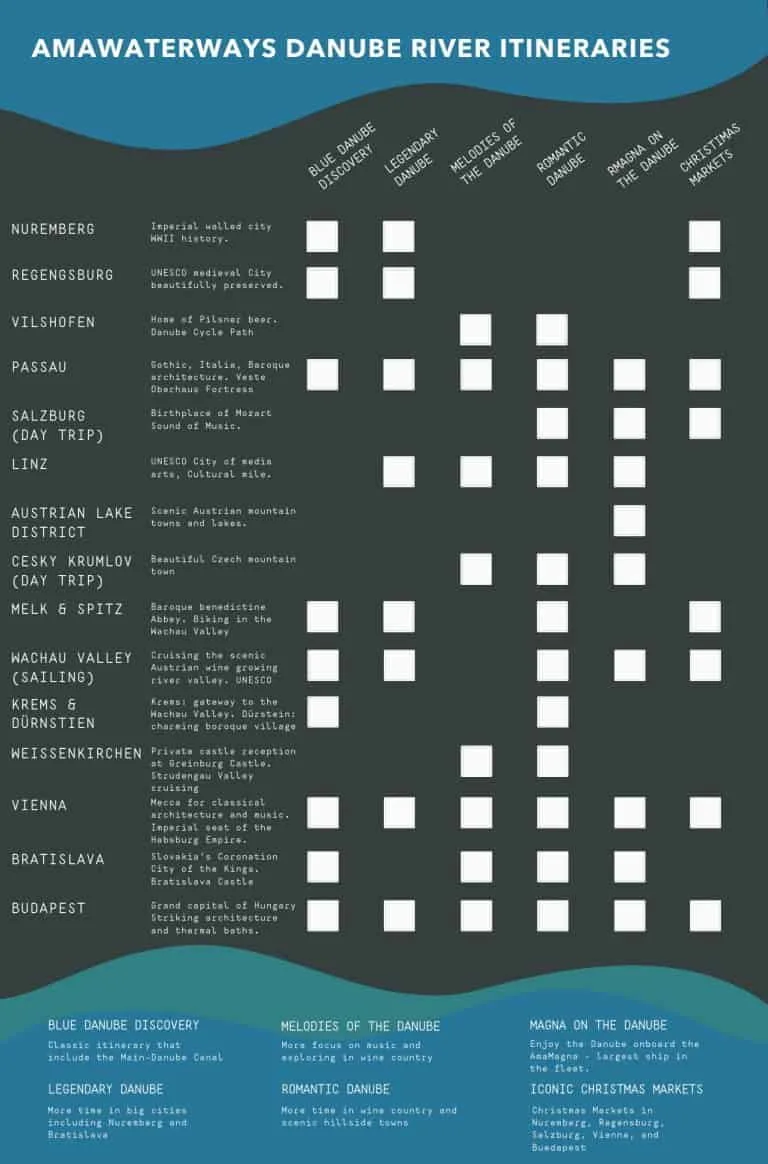 Ama Iconic Christmas Markets on the Danube
From the end of November through December, AmaWaterways offers special river cruises focused on visiting the most iconic Christmas Markets along the Danube. Some of the most unique and romantic Christmas Markets can be found along the Danube. You'd have to be Scrooge to not get not the Christmas spirit!
As soon as the sun sets, big cities and little towns burst into a festive twinkle. Massive Christmas trees strung with thousands of Christmas lights line the streets of every town. Vienna has the most impressive display of all.
Christmas Markets come alive with artisans selling their unique handmade gifts, and street vendors selling Christmas treats and hearty sausages while merrymakers warm up with a mug of spiced Gluhwein. I was delighted to discover that each Christmas Market has its own unique charm and the exquisite handmade ornaments and gifts were different in each town.
However, if you're worried that not everyone in your family is equally fond of visiting Christmas markets, there are always other shore excursions they can opt for. Shore excursions are the highlight of any river cruise.
Every evening over cocktails, the Cruise Director (aka on your onboard Energizer bunny) shares the upcoming choice of excursions for the next day. While your ports of call are usually mapped out ahead of time, the excursions can change depending on weather and water-levels on the Danube.
The Cruise Director goes over the options available, explains what might be involved physically, and answers any questions. Families always have the option to take different tours. However, kids always have to be with a responsible adult with them on excursions or while they are on board the ship.
Nuremberg
Nuremberg isn't always on all Upper Danube river cruise itineraries, but we found it to be a fascinating city. Since we embarked on our cruise here, my family arrived a few days early. We really loved exploring the old town area. Don't miss the half-timber homes on Tanner's street.
Stop for some gingerbread at Wicklein Lebkuchen. Germans are famous for their handmade toys, and you can find an extensive collection at the Nuremberg Toy Museum.
If you are interested in World War II history, I highly recommend going on the excursion that takes you on a tour of the Old Nazi Party Rally Grounds. The Nazi Documentation Center gives much food for thought but can be a little hard to get through for kids unless they have a lot of patience for a very long audio tour.
Regensburg
Regensburg in a beautifully preserved medieval town. Our kids enjoyed the walking tour because the local guide shared lots of interesting details about the characters who lived in the city. Including the strange architectural heritage of building decorative towers on their homes as a status symbol.
The highlight of our visit to Regensburg was the medieval-themed Christmas Market at the Thurn and Taxis Palace. We loved the atmosphere, the old fashioned foods, and the beautiful ornaments and gifts made out of natural materials. If you see something here that you like, go ahead and buy it. You won't find it at another Christmas Market.
Vilshofen
At Vilshofen, we enjoyed a private pipe organ concert at St. Stephen's Cathedral. This 17,000 pipe organ was recently restored in part with the financial generosity of the founder of AmaWaterways.
This was followed by a beer cave tour which I found interesting but the kids didn't care for it too much. The highlight for our kids here was the afternoon bike ride along the famous Danube Cycle Path.
Salzburg
Located about a two-hour drive from Passau, a day trip to Salzburg was a highlight of our trip. If you are a fan of the Sound of Music, the hills of Salzburg are still alive with the sound of music.
The old town area of Salzburg is full of adorable squares and narrow passageways. All of us really enjoyed the walking tour, visiting Mozart's birth home, and enjoying a cup of coffee and cakes at Café Tomaselli as Mozart himself did as a young man. Salzburg's cafe culture has earned it's very own designation as a UNESCO World Heritage Site.
Melk and Sailing Through the Wachau Valley
The Wachau Valley is the prettiest stretch of the Upper Danube, the river narrows and the hills that surround this section of the Danube are lined with vineyards, quaint villages, castles, and colorful church steeples. Melk and Durnsteins are the typical stops for most Danube cruise ships.
At Melk, the boys took their bikes once again to explore the countryside while we girls visited the lemony yellow Melk Abbey. Perched high on a rocky outcrop is a magnificently restored Baroque-style Benedictine Abbey. Melk Abbey dates back to 1089 and is renowned for its extensive library of ancient texts. Today, it serves as a monastic school for neighboring children.
Vienna
Vienna, the city of dreams and the city of lights lives up to both its names. The imperial seat of the Habsburg Empire, Vienna's architectural beauties are the jewels in the crown of Austria. We could easily have spent a whole week in Vienna but decisions had to be made on how we would spend a day and a half.
We opted to skip the evening classical music concert but fellow guests told us it was an exceptional experience. Instead, we visited the RathausPlatz Christmas Market which was bustling with energy and twinkling lights. There is an awesome ice skating rink that the kids were begging to try out. Vienna is positively magical at Christmastime when it's lit up by an estimated two million LED lights.
The next day, we went on a walking tour of Vienna and saw some of the most important sites around the Ringstrasse. Our favorite stop was the austere St Stephen's Cathedral, a Gothic church with a tall tower that you can climb to the top off.
We visited two more Christmas markets in Vienna. The kids drank warm punch while the adults sipped on Gluhwein at the Maria Theresien Platz Christmas Market.
But we agreed that the market with the most impressive handmade gifts was at the Schönbrunn Palace Christmas Market. We picked up some Viennese snow globes. Did you know snow globes were invented in Vienna? I wish we had enough time to take a tour of this magnificent palace that was inspired by the Versaille Palace in Paris.
Budapest
Budapest was the last stop on our AmaWaterways Danube River cruise. This Hungarian capital is flanked on both sides of the Danube River with impressive architecture. Buda Castle and Fishermen's Bastion sit high upon the hill on the Buda side. While the Parliament Building graces Pest, the flat side.
There is so much to love about Budapest, but our whole family agrees our most memorable experiences was our visit to Szechenyi Thermal Baths. This traditional Hungarian thermal bath is located a little further away from the Danube but is well worth the trek to City Park. Located on the banks of the Danube and a short walk from where our cruise ship was docked the first night is Gellert Bath, with its beautiful mosaics and Rudas Bath with its rooftop pool.
The capstone of our Danube river cruise was the night time sail we did past the brightly lit Budapest Parliament building. The view of Budapest from the river at night is jaw-droppingly beautiful. As tempting as it is to snap a bazillion photos, we took a moment to pause and soak it all in.
AmaWaterways Ships that Sail on the Danube
The pride and joy of the Ama fleet on the Danube in the AmaMagna. At twice the width of regular European river cruise ships, the AmaMagna has bigger cabins (355 to 710 sq. ft.) as well as larger common spaces and leisure facilities. With guest capacity capped at 194, you're guaranteed personalized and attentive service.
The other Ama cruise ships that sail the Danube which families should pay special attention to are the AmaViola and AmaLea. Both of these ships have adjoining rooms and triple rooms for families with an odd number of people.
The AmaViola Staterooms
All the staterooms on the AmaViola face out with floor to ceiling windows and private balcony in most rooms. We loved watching the world go by from our bed. Most staterooms sleep two in two single beds. Like most cruise ships, the beds are slightly narrower than a twin, but the bedding is plush.
Our family of five fit comfortably in two adjoining rooms – a triple and a double. The triple has an armchair that converts into a third single bed. A sliding door between the two rooms allows for easy communication and privacy at the same time.
Each cabin has a spacious bathroom with a regular-sized shower. A little window in the bathroom allows natural light in but can frost over with the flick of a switch for privacy! The kids found this very amusing.
Every stateroom on the AmaViola has an Apple computer from which you can access the internet, watch movies, and play games. Housekeeping keeps the mini-fridge stocked with bottled water. Reuse your water bottles by refilling it with gemstone water available at the bar any time of the day, and reduce plastic waste at the same time.
Our kids loved the little surprises that the housekeeping staff left us almost every evening. Since it was the Christmas season, we were asked to leave a slipper outside of our stateroom door one evening. Early the next morning, we found a huge chocolate Christkindl and Krampus. It's a good idea to pack an extra duffle bag for all the little extra surprises.
The AmaViola Facilities
The center of activity on the AmaViola is the lounge. This is where guests gather, hang out, and enjoy evening entertainment from local performers. The open bar keeps the drinks flowing. The coffee and tea counter is always available for those who need a little pick me up at any time of the day.
The main dining room serves most of the meals on board. The dining room also has large windows so you won't miss any views even at mealtime. There is seating for all the passengers at the same time so there is no need to make any reservations.
The Chef's Table dining area is separate. This is an intimate formal dining area where you can enjoy a multi-course meal inspired by local seasonal flavors at least once during your cruise.
On board there is also a small gym staffed by a multi-talented fitness instructor. He also runs fitness classes throughout the cruise that might happen in the lounge or sundeck when more space is needed.
The salon provides massages, hair styling, and makeup service for those looking to relax and look their best for a special evening.
The top level of the AmaViola is fully open. There is a running/walking track, a small heated swimming pool, lounge chairs, and an outdoor dining area. We were sailing during the winter, so we didn't spend too much time on the sundeck. I imagine it a popular spot during the summer sailings.
Dining on Ama River Cruises
I'm not at all exaggerating that the most memorable part of our AmaWaterways river cruise was the award-winning cuisine we had on-board the AmaViola.
In fact, AmaWaterways received critical acclaim recently when it was inducted into La Confrérie de la Chaîne des Rôtisseur. It is the first and only river cruise line to be accepted as a member of this exclusive and prestigious international gastronomic society.
This speaks volumes about the quality of the AmaWaterways dining experience. While we were aboard the AmaViola, we had the opportunity to sample a special meal prepared by our chef commemorating this event.
All meals on the AmaViola are served in the main dining room with free seating.
The Chef's Table dining room offers an additional and unique epicurean dimension to your cruise. The chef creates a unique menu every week featuring what's local and seasonal in the region. Fine wines are specially selected for each course. Reservations for this dining experience can be made after boarding your cruise.
The buffet-style breakfast features an entire table of different types of bread and pastries, hot items, eggs cooked to order, smoothies, yogurts, freshly squeezed orange juice, and champagne. Every morning, we were also served special cleansing water infused with crystal minerals, herbs, and fruit.
The lunchtime buffet is complemented by daily a la carte selections. There are always salads, cold cuts, finger foods, and sandwiches available. The cooking station might serve a roast, cook to order pasta, Asian noodle bowls, or Indian curry. The lunch a la carte menu offered a soup du jour, an appetizer, and an entree.
Dinner was a little more formal, with a multi-course fine dining menu offering a couple of options for each course, including a vegetarian option. The portions are well-sized so you can enjoy each course without feeling stuffed at the end of dinner.
Our kids loved admiring the beautifully plated dishes. But our hungry teens were glad they could always order an extra steak, grilled chicken breast, or grilled salmon, burger or pizza for all that extra space that never fills up in their tummies.
If my daughter could have given out an award, she would have given it to the pastry chef on the AmaViola. There is no end to the sweet treats on an Ama cruise, but the ice-cream sundae party was our little girl's highlight of the cruise.
Fine wine, beer, and soft drinks served during mealtimes are all included. The sommelier selects wine pairings from the finest local German beers and Austrian wines. French and California wines also grace the wine glasses.
Europe's rivers are lined with some of the top wine-producing regions in the world. Along the Danube River, we sailed through the Wachau Valley in Austria. If you're a wine enthusiast, you might consider one of Amawaterways wine cruises. These specialty cruises invite different wine hosts onboard.
Mealtimes vary on the AmaViola depending on what excursions are going on each day. But generally, breakfast was between 8-9am. Lunch between 1-2pm. Dinner was usually around 7pm.
In the intimate setting of a river cruise, servers really get to know their guests. After a couple of days, they knew what our kid's preferences were. If you have any food allergies or are on a special diet, the chefs are happy to cater to your preferences or needs. However, it is best to indicate your dietary requirements in your pre-departure forms so that they can be ready for you.
Evening Entertainment on an Ama Cruise
Every evening following dinner, local performers came on board to entertain guests. Our favorite performance was the Hungarian dancers in Budapest who brought their festive accordion and click-clack dancing style. To be honest, the other performers who joined us on our cruise were just okay.
One afternoon a university professor came to give a lecture on the history of the European Union and where it is today. The lecture provided such useful insight into the current international political climate.
During the holidays, AmaWaterways ships get all decked out in Christmas cheer. Not only did we visit many Christmas markets, while sailing on the AmaViola, but we also decorated Christmas trees together, hunted for pickles all over the ship (a local tradition), and even got a visit from Santa.
Questions about an AmaWaterways Danube River Cruise Answered
If it's your first time taking a river cruise or sailing with AmaWaterways, you probably have lots of questions. These are some of the questions that came up as I went through the process from start to finish.
What is the Best Month to Cruise the Danube?
The short answer – the fall (September and October) is the best time to cruise the Danube. You'll also encounter fewer crowds, nice weather, and the best deals. But to read more about what to expect at different times of the year one the Danube, here is our article on Danube River Cruises.
What is the Cheapest Month to go on a Cruise?
Unlike some other cruise lines, the rates on AmaWaterways Cruises don't fluctuate greatly by season. However, if you book early (over 6 months in advance) or last minute, you can usually find really great incentives like free flight included, or last-minute discounts up to $1000 per person. Also when you are on board and put a deposit down on your next cruise, you can pile on some additional savings.
What Do I Need to Do Pre-Departure?
After you've booked your AmaWaterway Cruise, there are several important steps you need to take.
Passport and visas:

Make sure your passport is up to date and has at least six months left during the date of your sailing. Check if you will need visas for any of the countries you will be visiting. You are responsible for taking care of all these matters.

Book your flights and hotels: You can do this via AmaWaterways, your travel agent, or on Booking.com (Support Trekaroo and book hotels with our affiliate link. Thanks!). You'll need to provide your reservation information to AmaWaterways.
Complete your pre-cruise check-in forms online:

AmaWaterways will send you a link to create a login. You'll need your confirmation number and birthdate of an adult registered for each cabin. Fill in your flight information, hotel info, and passport info.
Then gather your group and select what shore excursions you are interested in. Note you can change your mind on board. This is just to help your Cruise Director plan ahead.
Pre-Departure documents:

AmaWaterways will be emailing you pre-departure documents with detailed instructions and contact phone numbers a month before sailing. Read carefully and save a copy to your phone or print a hard copy.

Double-check docking location:

A few days before embarkation, it is a good idea to double-check that there are no changes to the embarkation location for your cruise. Make sure that AmaWaterways has your in-country phone number in case any last-minute changes occur.
How and Where Do I Meeting My Cruise Ship?
If you are flying in on the day that your cruise departs (usually boarding time starts at 3pm), AmaWaterways can provide transportation from the airport to your cruise ship. Otherwise, it's your responsibility to make your way to meet your ship at the designated docking location with all your luggage.
The exact docking location isn't fixed until a day or two before, but you should receive notification by email and text when that location is finalized. Read your pre-departure packet very carefully and make sure you have the in-country contact information written down or recorded on your phone in case you need to call to clarify last-minute instructions.
There are no big cruise terminal check-in counters like on typical cruises. You arrive at the dock, look for your AmaWaterways ship and there will be a crew member to meet you and check your name against their list. That's it.
While AmaWaterways has suggested hotels to stay in should you arrive a few days before or leave a few days after your cruise, there is no real advantage to staying at these hotels in terms of getting transportation to or from your cruise ship.
Disembarkation – on the day before disembarkation, the Cruise Director helps guests make arrangements for getting to the airport and hotels by taxi. Everyone needs to be checked out of their rooms by 9am. Guests are able to hang out in the lounge until they are picked up by a taxi. Alternatively, guests can leave our luggage with the ship in a secure location and explore on our own.
What Do I Wear on an Amawaterway River Cruise?
Although Ama's fleet of cruise ships are so elegantly appointed, you'll feel like you want to dress up, you'll be out and about on excursions most of the day. Smart casual wear made of wrinkle-free, easy to hand wash fabrics are best. Keep in mind that irons are not allowed in staterooms for fire safety reasons and laundry services, while available, are expensive.
It's also a good idea to have one dressier outfit to wear to the Captain's Dinner or an evening concert.
During the fall and winter, pack layers including long underwear, winter jackets/coats, hats, scarfs, and gloves. If you plan to bike during this season, a windbreaker jacket is essential. You'll be out on walking tours most of the day and temperatures can be very cold.
For shoes, have comfortable walking shoes. During the fall and winter, you're likely to encounter rain. Waterproof footwear would be useful.
What is included on an Ama River Cruise?
AmaWaterways cruises are all-inclusive. At the time you book your cruise, you'll also pay all associated taxes. This covers your stateroom of course.
All on-board meals are also included. You can eat like Hobbit if you like starting with early risers breakfast, followed by breakfast, late-risers breakfast, lunch, light lunch in the lounge, afternoon tapas/snack, dinner, and a late-night snack. Dinner at the chef's table is an option you can sign up for but is also included.
Beverages that are included are soft drinks, fine wines, premium beers, specialty coffees, and teas served during main meals. A daily cocktail is also served during the Sip-and-Sail hour. Unlimited bottled water is stocked in your staterooms, although I recommend using a reusable water bottle and being kind to our earth. Otherwise, there is an open bar that serves alcoholic beverages that can be charged to your account.
Fitness classes and bike rentals are also included.
Excursions are all included except for the special classical music concert in Vienna.
Massages and beauty salon services are available for an additional service fee.
Gratuities for local guides, the crew, and your cruise director are not included and should be factored into your trip costs. More on that below.
How Much do you Tip for Gratuities on a River Cruise?
AmaWaterways does provide some guidelines on tipping but it's entirely up to your discretion.
The crew shares their tips and the recommendation is 100 Euros per guest for a week. Your Cruise Director receives tips separately and the recommendation is 50 Euros per week. Go to AmaWaterways for more detailed tipping guidelines. Tips can be charged to your credit card while on board or by cash.
Local guides who lead your walking tours during the cruise are not AmaWaterways staff. Have Euros on hand in small bills to tip them at the end of your walking tour. 2-5 Euros per person is typical depending on how long the tour is.
What if I Don't Want to go on an Excursion?
Guests are also always free to skip excursions to hang out on the ship or explore on their own. But you are responsible for getting back on board before the ship departs that port. Otherwise, the ship will set sail as scheduled and you'll have to find your way to the next port of call on your own and bear the cost.
What Kind of Bikes are Available on an Ama Cruise Ship?
There were only two kid-sized bikes onboard the AmaViola, and they do not carry trailers, tagalongs tandem bikes, or bike seats for younger children who aren't confident and independent bikers.
Everyone must wear helmets when riding an AmaWaterways bike.
Pre and Post Cruise Options
AmaWaterways offers both pre and post cruise options if you have extra days to explore. From Passau, Vilshofen, and Nuremberg, a popular extension is to visit Prague. Prague is about a 3-hour bus ride from Nuremberg, and a 2.5 bus ride from Passau. There are comfortable and inexpensive buses that service this route.
Our cruise started in Nuremberg so we spent a couple of days exploring on our own ahead of the cruise. We were really surprised by how much there is to do in Nuremberg.
Budapest is a grand city. I would definitely encourage spending a few extra days exploring Budapest. During your cruise excursions, you'll see a few highlights, but there are so many more things to do in Budapest.
Disclosure: Our family received a complimentary cruise from AmaWaterways to facilitate this review and to help answer questions that families have about taking a family river cruise. However, all these opinions are entirely mine.