Getting ready to send a child off to college? You'll need to schedule college visits to make sure any school is going to be a fit for your scholar. To ensure your student's happiness in a given location, I highly recommend seeing what's outside the campus as well. A great way to accomplish this is to make some college visits during your next family vacation. We learned so much on our California college tour.
We're an affiliate of Booking.com. When you book with us, it helps us feed our kangaroos at no additional cost to you. Thanks for helping to keep Trekaroo free.
The Benefits of Taking Younger Kids on College Visits
By taking the younger kids along, even on campus tours, you're showing them what their futures may look like after high school. Believe or not, you may even be making life easier for yourself when the next one flies from the nest. Seriously, how great would it be for you if your 14-year-old fell in love with a school while making college visits on this trip?
Tips for Planning a Family Vacation with College Visits
Identify a route: We identified a great road trip route using our high school senior's wish list of schools.
Focus on local spots: We agreed to load our itinerary with local spots. We focused on fun places our student may visit if attending college in the area.
Strike a balance: Let the younger kids participate in the planning. We also hit up points of interest for our youngest striking a balance between educational and fun.
Ready to plan a graduation trip next? Here are 30 great graduation trip ideas.
Our California College Tour Road Trip itinerary
California College Tour Stop 1: Berkeley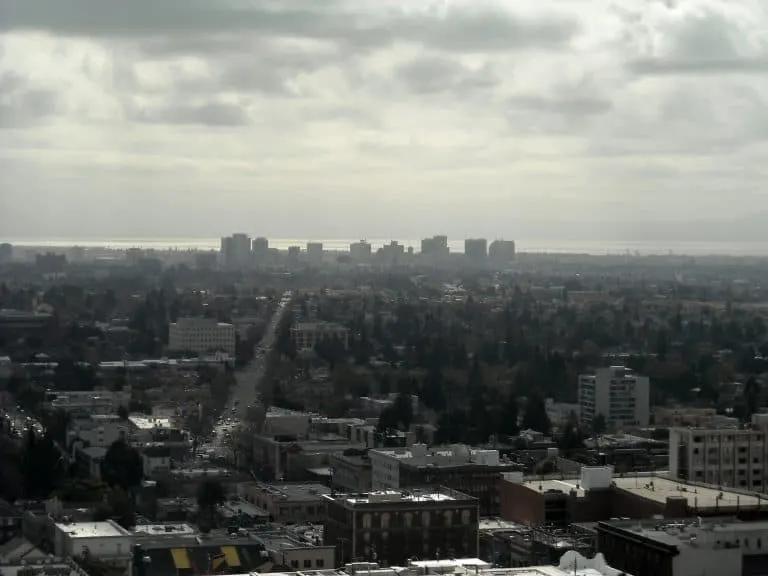 Our first visit on our California college tour was to the oldest campus in the University of California system — UC Berkeley. A city with a track record of serious academics and a history of civic unrest, Berkeley conjures images of liberal activism and the 1960's hippie scene.
A popular foodie enclave has taken hold there now. So we took a food tour with Edible Excursions. It was three delectable hours of amazing locally sourced and sustainable food served at colorful culinary landmarks in Berkeley's Gourmet Ghetto. Thank goodness the campus tour offered an opportunity to walk it all off!
UC Berkeley's Campanile turned out to be a fabulous calorie burner. The third-tallest bell and clock tower in the world, it offers a spectacular, sprawling view of the San Francisco Bay Area from its observation platform. Berkeley was a great surprise and there is so much family fun to be had there that doesn't involve the university.
Find more things to do in Berkeley.
Check for deals on family-friendly hotels in Berkeley, California.
California College Tour Stop 2: San Luis Obispo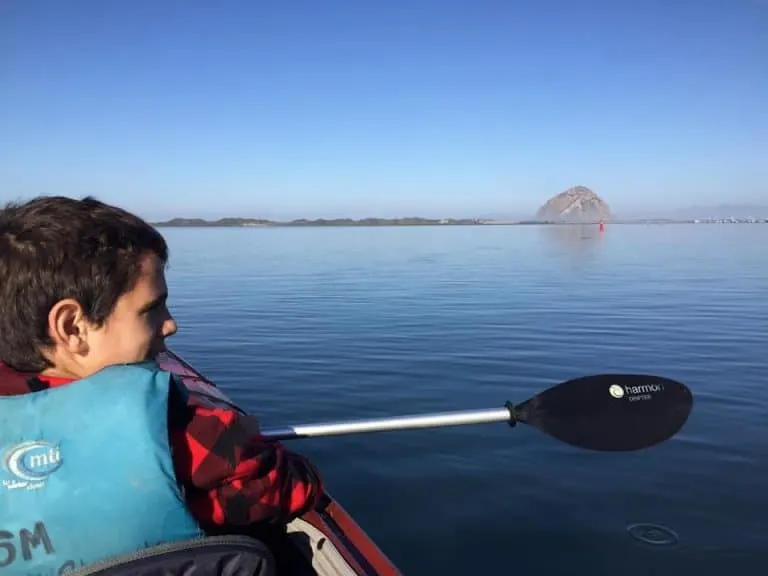 Our next visit on our California college tour was California Polytechnic State University (Cal Poly). Located on the state's stunning Central Coast, the campus sits in the hills above San Luis Obispo.
After a long tour with a lengthy Q&A, my youngest rejoiced in grossing me out with the biggest deposits of DNA I've ever seen — Bubble Gum Alley! Wad after wad of chewed gum stretching over an entire alleyway tucked between two restaurants in downtown San Luis Obispo. It's just the thing you want to see on your way to lunch!
Families making a college visit to the area should venture over to Morro Bay. A short drive from San Luis Obispo, a guided kayak tour is not to be missed. Travel along the gorgeous central coast up to San Simeon, the home of the legendary Hearst Castle. Peek in on the Elephant Seals at Piedras Blancas. The scenery is breathtaking.
Check out my guide to where to eat, stay, and things to do in Morro Bay.
Look for amazing deals on hotels in San Luis Obispo.
California College Tour Stop 3: Santa Barbara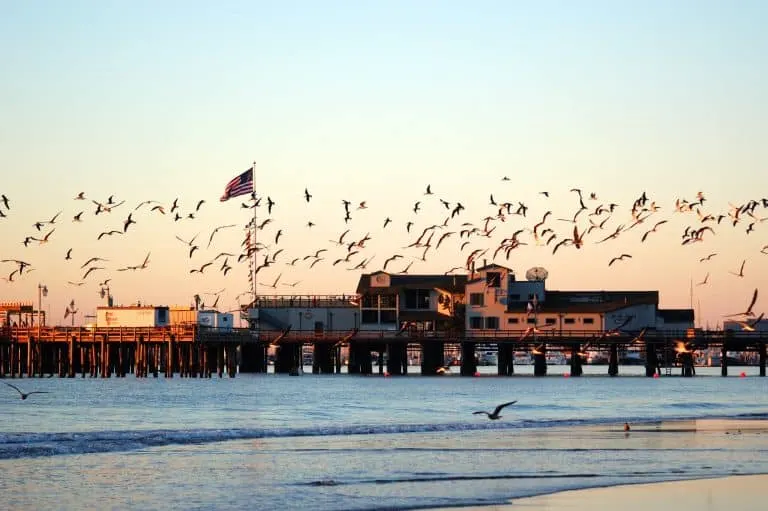 The beach scene plays a central role in UC Santa Barbara campus life, which makes this college visit a tantalizing choice. It's beautiful and so wonderfully close to the ocean. It also has an intricate web of crazy bicycle paths where I thought I'd meet my end!
Should you survive this California college tour visit, celebrate by dining on Stearns Wharf. It's a great place to watch surfers and fishing enthusiasts. Before heading there, gather the family in a central campus location for some serious people watching. The beach life is beguiling, encourage your would-be college student to take a moment to really picture themselves in the environment. One last note, if you have a fourth grader studying the California Missions, check out Mission Santa Barbara while you're in town. It is beautiful and loaded with helpful facts for executing a history report that will blow a teacher's mind!
There are so many things to do in Santa Barbara and thankfully most of them are enjoyed outdoors.
Check for deals on family-friendly hotels in Santa Barbara.
California College Tour Stop 4: Los Angeles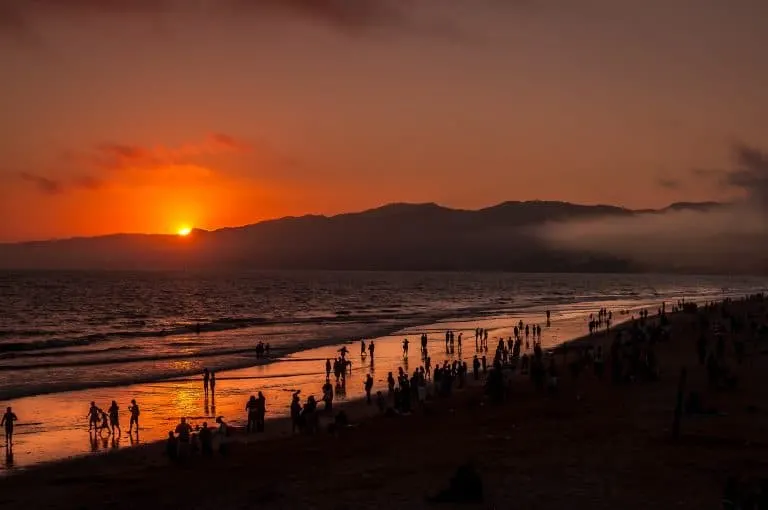 This college visit brought us into the storied brick buildings and leafy pathways that are home to the UCLA Bruins! UCLA felt a bit buttoned up and serious. It's possible that any environment would feel that way after touring a campus on the beach. After a nice long walk that included stops in the iconic Powell Library and Royce Hall, we retreated right back to the beach for a debriefing on the campuses we'd seen up to this point.
The Santa Monica Pier provided a great spot for sorting through the pros and cons of each school while our youngest burned off pent up energy bouncing between the ocean waves and the arcade. The pier's old-fashioned carnival fun was a great release for all of us. Here's a fun fact, Route 66 ends on the Santa Monica Pier! Doesn't that stir up some travel inspiration to explore this historic highway?
Who's up for a beach day? There are so many great Santa Monica activities.
Look for availability at hotels for families in Santa Monica.
California College Tour Stop 5: San Diego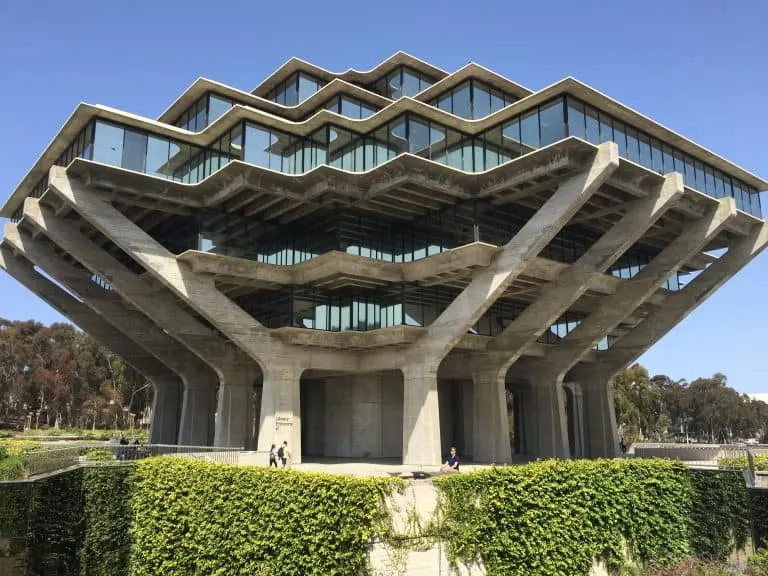 We made two college visits in San Diego — San Diego State University (SDSU) and UC San Diego (UCSD). While the entire student body had a bike in Santa Barbara, everyone at SDSU had a skateboard!
At UCSD, Geisel Library was an interesting stop to our youngest who was adept at the whole college touring experience at this point. It's named for Theodor Seuss Geisel, better known as Dr. Seuss. It looks like as if resting atop a pedestal.
Kids will love the Snake Path, a 560-foot-long serpent with hexagonal pieces of colored slate as its scales. It's a great place to let them burn energy. I watched a mom stay engaged in the tour from the snake's head with her kiddos corralled on the path. We steeped ourselves in a little history in Old Town San Diego afterward. We also discovered another spot for beach boardwalk fun at Belmont Park.
Check for deals on hotels in San Diego.
California College Tour Stop 6: Solvang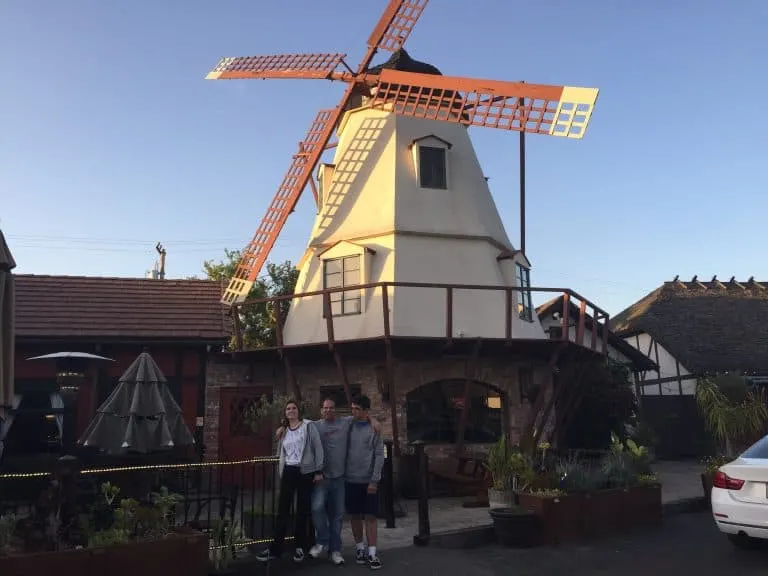 We capped our week of college visits by making a stop where there are no colleges to tour. We spent the night in the storybook village of Solvang. Fans of the wine country road trip movie, "Sideways" will recognize many sights, it was partially filmed there after all.
Solvang offers the best of the Santa Ynez Valley and Santa Barbara wine country but, it is also a great place to bring kids. Go for a walk and admire an entire American village of old-world European charm. Indulge in Danish pastries called Aebleskivers at the Solvang Restaurant and come away with treasures found in the unique boutiques and shops. It was a sweet way to wrap up the week.
Check out my guide on where to eat, sleep, and things to do in Solvang.
Look for deals on family-friendly hotels in Solvang.
Plan Your Own Vacation Around College Visits
Our California college tour proved to be a fun-filled week of looking into the future while enjoying the now. While our 14-year-old didn't find his dream school on this trip, our high school senior feels better prepared for making the big decision about her higher education. Here are few final tips from my family for planning your own vacation around college visits.
Schedule any campus walking tours as soon as you can to ensure a spot on your desired date.
When you're visiting multiple colleges, there's a danger of having them seemingly blur together. We first noticed this during the planning phases of our trip. So, we built in breaks and small sit downs after each tour to talk about what we'd just seen, even taking the opportunity to record a few thoughts while they were fresh in our heads.
Yes, a trip like this is largely about your high school senior. Involve your non-college age youngsters in the planning process anyway and talk to them about the purpose of the trip! This reinforces the importance of planning for college and what's possible for them.
Have fun! Enjoy the now because as you are about to see with each campus tour, your family's life is about to change.
Lead image by Photo by Flickr/David Stewart