"I needed this." "I feel like myself again." "I was stuck in a rut. I'm not anymore." "I can breathe again." "I'm so glad I came." "I'm so happy I met you all."
These are only some phrases that I heard over and over again during Zion Ponderosa Ranch Resort's Women's Getaway Retreat. We women tend to hesitate when it comes to doing something for ourselves, especially apart from our families. We immediately think of all the roadblocks in our way, and won't let ourselves imagine a way around them. I'm here to tell you to seize the opportunity to be adventurous, to challenge yourself, to breathe fresh air into your lungs, your heart, and your mind. Believe me, any planning it takes for a week away will be worth it. You'll return rejuvenated and ready to be a better mom. And, as a bonus, you'll be modeling lifelong learning, wellness, and healthy self-care to the kids. Are you ready to rediscover what it means to be you?
Be Adventurous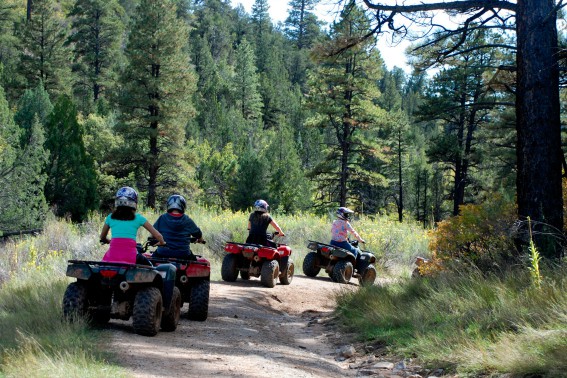 Photo by: Zion Ponderosa Ranch Resort
One of the things that I want most for my kids is for them to be lifelong learners. I want them to challenge themselves, to continue to learn, to try new things, and to see the wonder of the world.
All through the week, I got to model lifelong learning by trying something new! Our schedule was filled with fun outdoor adventures, most of which were new to at least a few participants, and all of which gave us a different perspective on the landscape and history of the area. From day hiking in Zion National Park and flying over the mesas with Zion Helicopters, to experiencing the force of the wind while sledding down sand dunes at Coral Pink Sand Dune State Park, heading out on an ATV ride, and rappelling through the sandstone canyons, we got to see the world from all angles, and feel empowered by conquering something new.
Bonus: When I returned home and showed my kids the activities I was able to participate in, they made a list of all the new things they wanted to try, and hikes they wanted to attempt. Lifelong learning for the win!
Be Awed By Natural Beauty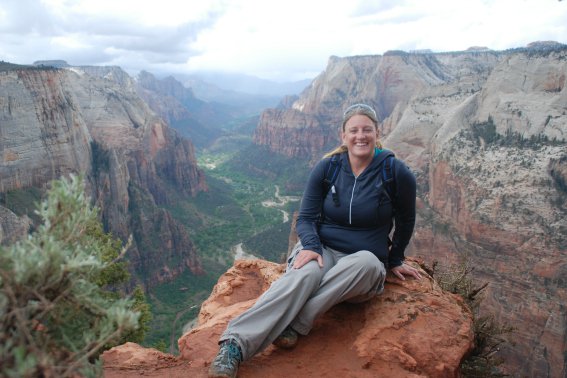 Photo by: Zion Ponderosa Ranch Resort
Zion National Park, Zion Ponderosa Ranch Resort's property, and the surrounding areas are gorgeous! The way the red rocks pair with the big blue sky and the green trees can't be replicated. We found ourselves wanting to stop and take pictures around each turn, because every step led to another awe-inspiring view. It was a feast for our eyes. Being so close to nature allowed us to get a bit of perspective, almost like being able to see the big picture of who we are and where we fit into the world. Many of the women on the retreat came with loaded lives and found solace in the natural surroundings. All of us found ourselves being stirred and rejuvenated by the natural world of Zion Ponderosa Ranch Resort.
Be Reminded of Your Strength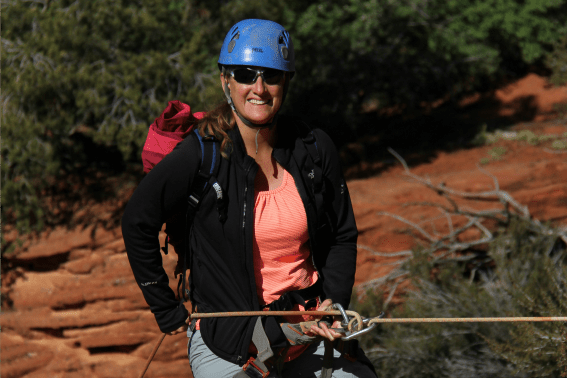 Photo by: Zion Ponderosa Ranch Resort
As we age, we can sometimes forget our own strength. We forget what our bodies are capable of. We forget that our minds are meant to take on challenges, both mental and physical. During our week, we jokingly said that we experienced every weather phenomenon Utah had to offer: Mother Nature provided rain, snow, hail, and sunshine. The springtime conditions provided ample opportunity for us to be strong in safe ways. We experienced the mud of an ATV ride and how to work together as team to get through wet areas of a hike. The snow provided a fun atmosphere for our zipline experience. The sun shone brightly during our visit to Zion National Park and then, there was the rappels.
Before going on the retreat I knew that I wasn't a fan of tight spaces, but I didn't think it would ever really be a challenge I would need to overcome. During our canyoneering tour, however, I realized that my fear was much more real than I had thought. I found myself struggling with fear and panic at points, but I did it! Even now that I'm home, I'm so proud of myself for conquering this mental challenge (with the support of our experienced guides and fellow participants). And, to be honest, I'm ready to try it again! By the end of the retreat, my muscles and brain were firing on all synapses letting me know just how strong I really am (in mind, spirit, and body).
Be Supported by a Group of Multi-Generational Women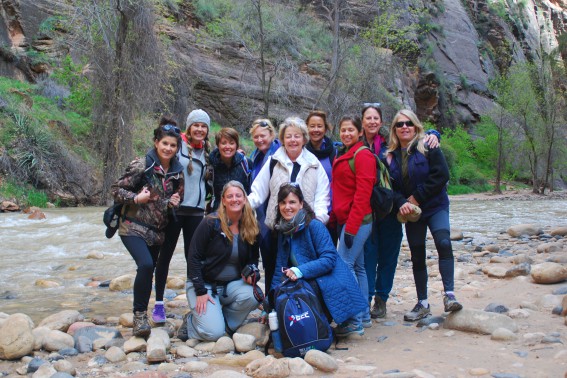 Photo by: Zion Ponderosa Ranch Resort
One of my favorite aspects about this retreat was the strong bonds that developed between all participants. Many times women compete and are at odds with each other. For some reason, we sometimes have a hard time being each other's advocates. Zion Ponderosa's Women's Getaway Retreat was the opposite in my experience. We were each other's biggest cheerleaders and genuinely wished the best for each other. The retreat attracts a multi-generational group, typically made up of women from their 20s into their 60s, with a wide range of physical abilities. We were also from all corners of the country; some past participants have been from other countries. This created such a unique dynamic, one where women came alongside and helped other women where if we saw one participant start to struggle, the others rallied around her. We got the privilege to watch how one participant would shine in one activity, but need a bit of assistance in another and vice versa. No matter what, we all knew that we had each other's backs. This is incredible considering that half of us had come alone, knowing no one, yet by the end of the week, we were bonded together. It had been a long time since I laughed as hard and deep as I did during this retreat. I left the retreat with a well-rested heart because I was spurred on by this compassionate, gracious, and strong group of women.
Be Given Space to Breathe Again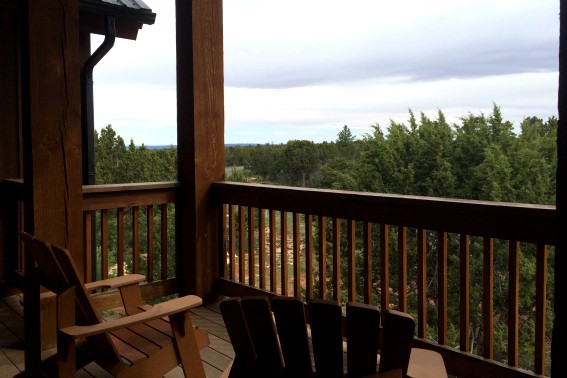 Photo by: Heather Erquiaga
So many times, we moms get stuck in our routine. We care for our kids, we plan activities, we work, and we toil. Sometimes we forget how important it is to breathe. I'm an introvert. One of my concerns coming on this trip was how I was going to be able to carve out downtime because that's the way I get refreshed.
I wanted to experience everything the trip had to offer, but I didn't want to do so at the expense of getting some solo time in as well. It turns out that I had nothing to worry about. In the early mornings and after dinner, the time is yours. I could participate in one of the optional activities (fitness classes, trail walk/runs in the morning and game nights etc. in the evenings) or I could retreat back to my comfy luxury suite for a hot bath and a good book. The choice was mine to make. I never felt pressure to participate nor did I feel pressure to exert myself further than my physical or mental abilities would allow. While the retreat offered up daily opportunities for participants to challenge themselves, ultimately, the choice was ours as to how far we were willing to go in a given moment. I left reminded of what it feels like to breathe.
Be Well Cared for Instead of Taking Care of Others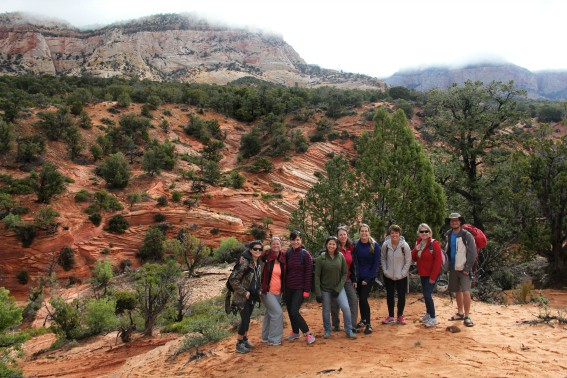 Photo by: Zion Ponderosa Ranch Resort
I found the service, attention to detail, and personal touch of the Women's Getaway Retreat to be second to none. Before our arrival, guests received email communication regarding weather, clothing, and little facts about the retreat, which spurred on our excitement. We also were able to complete a thorough questionnaire about our habits (early riser/night owl etc.), level of physical activity, any dietary restrictions (I have a food allergy, and had no problems all week), and what we were hoping to get out of the retreat. This way we were housed with women with similar habits, and the coordinator was able to craft the optimal schedule for our unique group.
We spent the week with the Women's Getaway Retreat Coordinator, a woman whose essence is wrapped up in adventure, encouragement, and top-notch service. She was our tour guide, our supporter when we got ourselves into tough spots, our negotiator when it came to figuring out how to get all of the guests to be able to participate in all of the activities we wanted to, and our driver. I didn't drive my car from the moment I parked outside the luxurious vacation home until I left to return home. Talk about service! The Women's Getaway Retreat capped out at 12 ladies. This magical number ensured a retreat where each woman felt important, cared for, and known.
The incredible service didn't end with our coordinator. I found Zion Ponderosa Ranch Resort to be filled with kind employees. From the women manning the front desk to the adventure staff, from the general manager and marketing director who shared stories from times past with us, to our canyoneering guide who literally held our feet in place so we could be successful, everyone had a smile, a kind, encouraging word, and a great attitude (no matter the time or weather – did, I mention that we had snow?!).
Be Rejuvenated by an All-Inclusive Week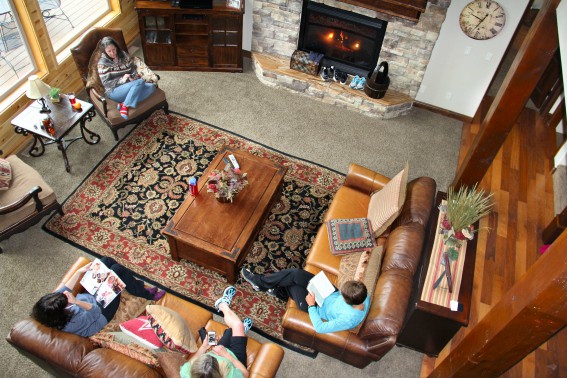 Photo by: Zion Ponderosa Ranch Resort
Zion Ponderosa Ranch Resort sits on 4,000 pristine acres on the eastern border of Zion National Park. There, nestled among the ponderosa pines and sagebrush, are the luxury vacation homes of Zion Ridge, home to the Women's Getaway Retreat. Each guest had her own suite with a shared common area, WiFi, and kitchen stocked with everything a guest would need to make a meal if she wanted to. Rest assured, moms, there was no need to lift a finger in the kitchen. The homes varied in size depending on accommodation needs, but the luxurious feel of a mountain lodge was consistent.
The retreat is all-inclusive: 6-nights in a luxurious, well-appointed vacation home, five full days of outdoor activities, guides and tours, transportation around the resort and Zion National Park, and three meals a day. Breakfasts were served in the Zion Ponderosa's onsite restaurant, lunches tended to be offsite during adventures, and dinners were served in the comfort of the retreat's vacation home where we recounted the highlights and funny stories from the day.
Be Ready to Say Yes to Wellness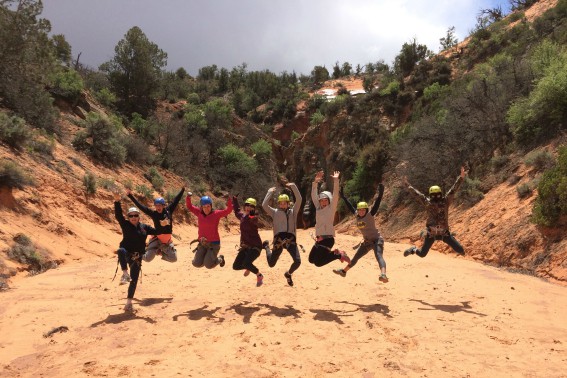 Photo by: Zion Ponderosa Ranch Resort
How can I possibly convey the feelings I have looking back on my week-long adventure at Zion Ponderosa Ranch Resort? The phrase "mountain top experience" comes to mind. It's the feeling when the exhilaration of completing multiple physical outdoor activities combined with the incredible sense of belonging and wholeness that only comes from the emotional bonds of a shared experience. Ready for your own experience? The next Women's Getaway Retreat is slated for October 2016.
Have you experienced an all-women getaway? Tell us about it in the comments.
Disclosure: I was a guest of Zion Ponderosa Ranch Resort in order to provide this information to trekaroo readers. While I truly appreciate the hospitality, as always, my opinions are my own.
Featured photo by: Shutterstock