Originally published in 2011, this article is being re-featured on Trekaroo for the season of whale watching in southern California.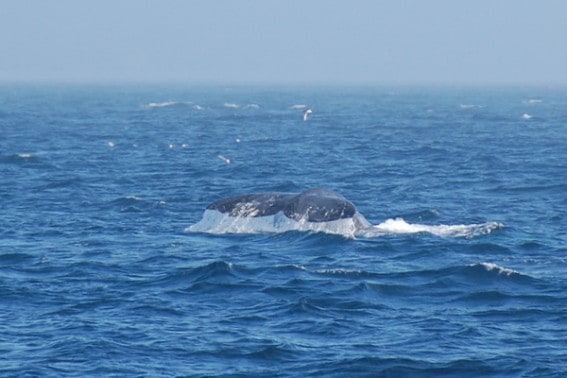 Enjoying a perfectly clear 70 degree day from a boat off the coast of Southern California is a pretty great way to spend an afternoon. If that afternoon is a seasonally warm January and the boat is taking you on a whale watching adventure, that day goes from great to spectacular. Gray whale season is just beginning and catching a glimpse of one of these gentle giants on their 10,000 mile migration from Alaska's Bering Sea to Baja California's breeding lagoons results in one of those moments where an involuntary gasp escapes as you find yourself in complete awe of nature.
Whale watching in Southern California
My family has gone whale watching twice this winter with Dana Wharf Whale Watching. The first time was at the beginning of December. The weather was perfect and as we cruised south past Dana Point and along the Laguna Beach coast, I was in my happy place. The scenery was spectacular, the seas were calm, and my kids were having a great time on the boat, giggling away at the pelican (which they named Bruce) that decided to hitch a ride on the stern of the boat. Alas, Bruce and a half dozen sea lions lazing about on a buoy would be the summation of our animal encounters that day. That is not to say that we found our day to be a bust; quite the contrary! We thoroughly enjoyed our time on the water- the kids raved about it to anyone who would listen to them- and everyone on the boat received a voucher to come back again for another attempt at whale spotting.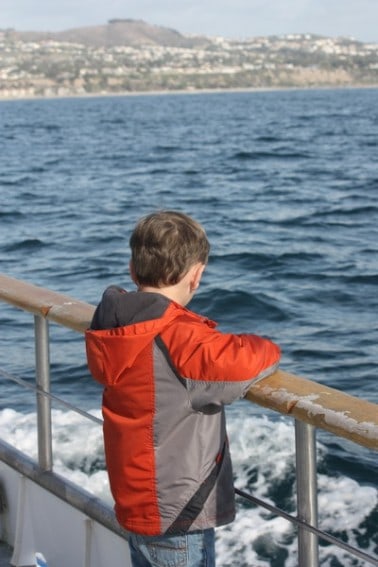 As soon as the excitement of Christmas passed, my daughter began pestering me every day to see when we might go whale watching again. I checked the forecast and saw that the weather on the second day of the new year was forecasted to be spectacular- another calm 70 degree day was calling our names. This go round was different. The holiday visitors packed the boat and passengers ranged from infants to seniors. The fog was just beginning to burn off and the excitement on board was tangible. The whales must have known we were ready for a show because as soon as we exited the harbor, a gray whale was there to meet us! Success! My kids squealed (and I admit, so did I) as we saw the whale send up a stream of water in exhale and flip its tail as it dove back down below to feed. Unfortunately, the close proximity to the harbor meant that many causal boaters were also in the area and not exhibiting the best etiquette. Our captain decided to head out into open water in search of another whale. I couldn't help but question his decision. What if there weren't any more whales? Boy was I wrong!
We zipped down the coast for several miles with an urgency that a boat which left a perfectly good whale could only exhibit. And then… we found them- a pair of whales, more than happy to put on a show. At first they demonstrated typical whale patterns, surfacing for a few minutes and then heading down for a deep feeding dive. But after a few minutes, they decided to hang out on the surface with us. They seemed just as interested in figuring out what we were about as we were them. Then, as if the day wasn't going well enough, a pod of bottlenose dolphins headed over to play with the whales! So now we had two whales, dozens of dolphins, and wait… is that a sea lion I spy? Yes, we actually witnessed dolphins and whales playing together while a sea lion watched! "Wild Kingdom" had nothing on this day.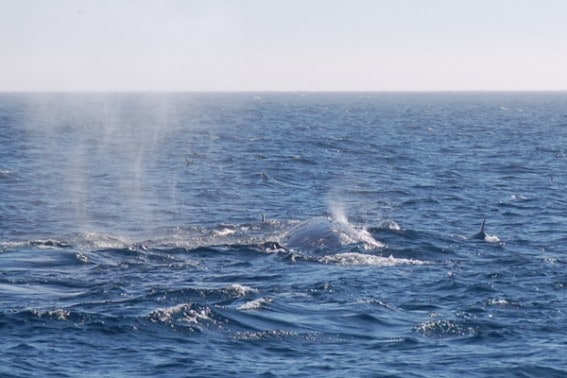 Eventually, the captain regretfully informed us that we had to leave the spectacle and get back to dock so the 2 o'clock boat could head out. I could tell from his tone that we had witnessed something special. As we headed back in, we came across a pod of common dolphins that wanted to swim in our wake, leaping up to 20 feet in the air in what was most definitely an act of play. Our perfect day just became a bit more perfect.
Whale Watching for Land Lovers
If you suffer from sea sickness, have an aversion to boats, or just prefer to have two feet on land at all times, you may still get lucky and spot whales from the shore if you happen to know the right places to look. Dana Point is thought to be a landmark to gray whales heading down to Baja so heading out onto the headlands with a pair of binoculars is a great place to start. If you are visiting the area and want to search for whales from your hotel, there is no better place than the Ritz Carlton Laguna Niguel.
The Ritz sits on a bluff above the ocean just north of the Dana Point and has many great vantage points from which to view whales. Whether you are enjoying appetizers at 180blũ, sitting on a Adirondack chair overlooking the ocean on the resorts lawn, or playing at Salt Creek Beach next door, keep your eyes on the sea. The winter months are prime for gray whale watching and the summer brings blue whales, the largest animals on earth. Salt Creek is my family's local beach and we have seen dolphins from the sand on several occasions.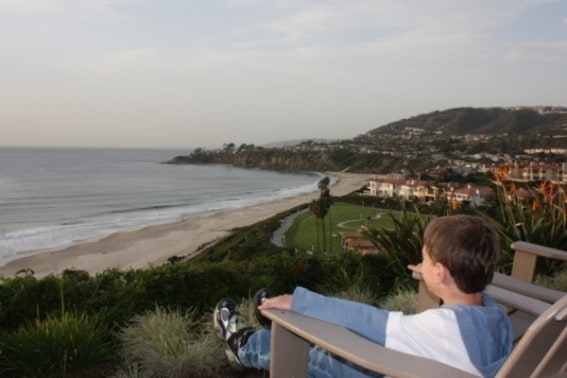 Read more about the family friendly and ideally located Ritz Carlton Laguna Niguel.
It has been only a couple weeks since my last whale watching experience and I am already pining for more. I am quite certain that my family has developed a brand new past time and I will be watching the reports for the first good blue whale sightings this summer. How can I possibly bear letting another season go by without seeing those massive yet gentle giants?
Disclosure: My family received a complimentary night's stay at the Ritz Carlton Laguna Niguel and whale watching trip with Dana Wharf Sportfishing & Whale Watching in order complete reviews fro Trekaroo and write this story. Neither business asked that I state anything in particular and all opinions are always my own honest thoughts.
Featured photo by: Bigstock/CValle