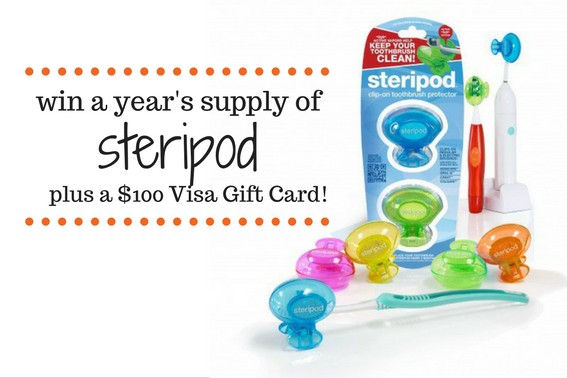 Ready for your gross out moment of the day? A recent study from the University of Manchester shows that more than 10 million bacteria are found on the average toothbrush. By comparison the average public bathroom floor has 2 million bacteria per square inch. Yep, your toothbrush could be more filthy than a public bathroom floor. I didn't share that bit of information with you to cause you to spiral into a germaphobic pit of despair. I shared it with you because I recently discovered a clean solution for your family's toothbrushes- Steripod!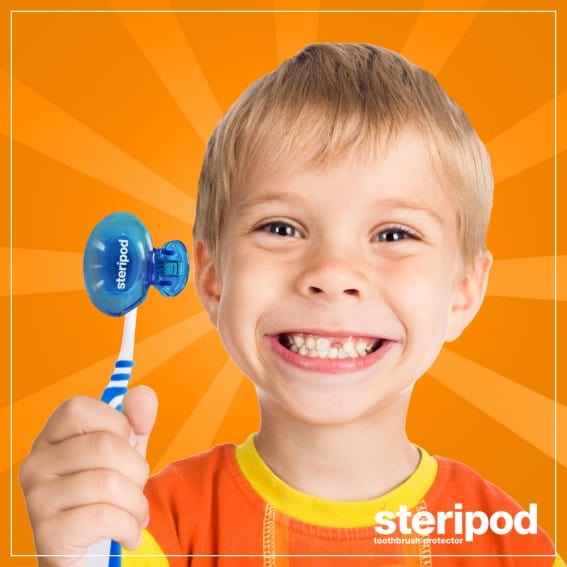 Steripod is a clip-on protector that fits any standard or electric toothbrush and keeps it fresh and clean for 3 months. The clip is super easy for children of all ages to use, perfect for home or travel, and manages to keep toothbrushes covered without leaving them moist and yucky like the average travel toothbrush cover. Each Steripod contains thymol- an ingredient found in many mouthwashes and oral antiseptics. They come in a variety of colors, making it easy for everyone in the family to identify their toothbrushes.  My family recently used our Steripods while on a road trip through a few National Parks in Utah and Nevada and we all still put them on our toothbrushes every day at home. So long disgusting bacteria- we are officially converts! The company also makes a product called Razerpod which is a clip-on protector for your disposable razor, perfect for travel.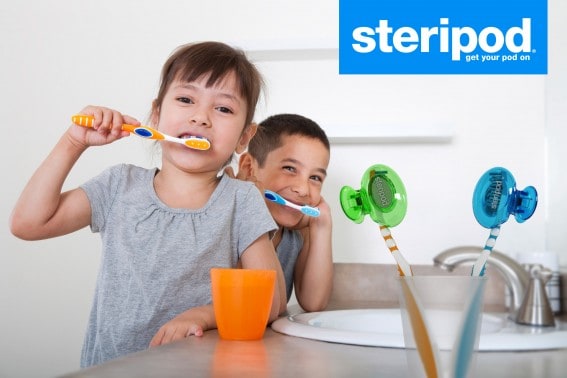 Still not convinced? Consider this compelling pro-Steripod argument by Pediatric Dentist D.M.D. Danielle Gilbert-Fowler:
"You wouldn't clean your house with a dirty washcloth. Why clean your teeth with a dirty toothbrush? Use of a Steripod clip-on toothbrush protector will help keep your toothbrush clean and protect against outside contaminants and even cross contamination from storage amongst other family members' toothbrushes. Good oral health is not just about your mouth, it's about your overall health. The mouth is a major doorway for microorganisms linked to everything from the common cold to heart disease and diabetes. Research indicates that kids get sick on average about 10 times a year—that's almost once a month —and that can really put a damper on your family vacation! While we advocate good oral hygiene, it would be nice to do so without worrying about re-infection caused by brushing teeth with contaminated toothbrushes. It's important for kids and adults alike to replace toothbrushes every three months or more frequently after any illness. Keep toothbrushes in a clean environment and separate from other toothbrushes."
Ready for a cleaner toothbrush and a little travel spending cash? Then we have got a giveaway for you!
Enter to Win a Year's Supply of Steripod for a Family of 4 and a $100 Visa Gift Card (3 Winners)!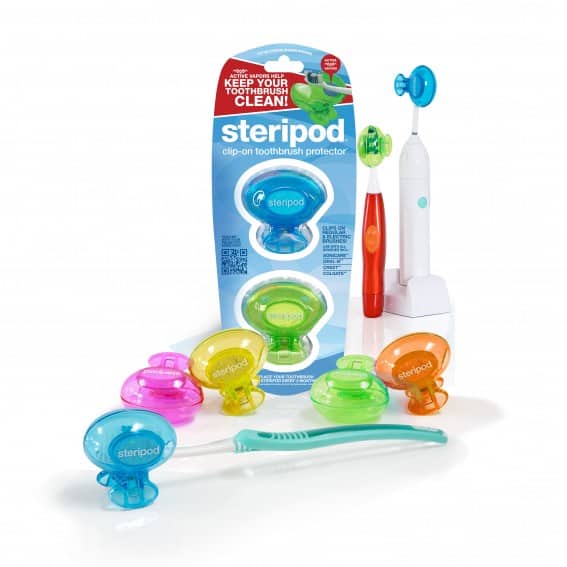 Grand prize winner (3 winners): 16 Steripods (a year's supply for 4 people), 8 Razorpod razor protectors, and a $100 Visa gift card to put towards your next family getaway!
Enter today and everyday for the next two weeks via the Rafflecopter widget below:
Restrictions:
The prizes are non-transferable
No cash value
Rules and Guidelines:
No purchase necessary
Three raffle winners will be selected
Winners will be selected randomly and your chances of winning are based on the number of entry points you acquired against the total number of entries for this giveaway.
18 years of age and older
US and Canada residents only, excluding residents of the Provence of Quebec.
Winners will be notified via the email provided and must respond to the notification to confirm their prize within the time specified in the email.  (Usually 3 days)
After the winners have been confirmed, the winner will be announced on this blog post.
Prize Value: $828.00
Entry Period: August 22, 2016 at 12:01 AM PST to September 4, 2016 at 11:59 PM PST.
Special thanks our sponsor: Steripod
What is Monday Madness?
On select special Mondays, Trekaroo announces on our blog, either a fantastic giveaway or an incredible deal.  It could be a green water bottle, a hotel stay on Maui or theme park tickets. Return every Monday to the Talking Trekaroo Blog for the details. Want a reminder? Become a Trekaroo member or follow us on Facebook or Twitter.
Disclosure: The author received Steripods and Razorpods for the purposes of performing an unbiased review for Trekaroo. All opinions are her own.