I'm a native of Virginia, but it took me moving to Los Angeles and going back to visit my home state years later to appreciate Williamsburg, one of America's most historic destinations. During a recent trip to the Old Dominion with my kindergartener, I realized all the charms of Williamsburg I had overlooked in my youth.
Many of the attractions have changed very little since I last visited some 20 years ago with my parents. Seeing the sites with my own child, I was grateful that the city's preservation allows visitors to step back in history and experience our country's heritage in true, living 3D (better than any iPad app).
Fun A-Brewing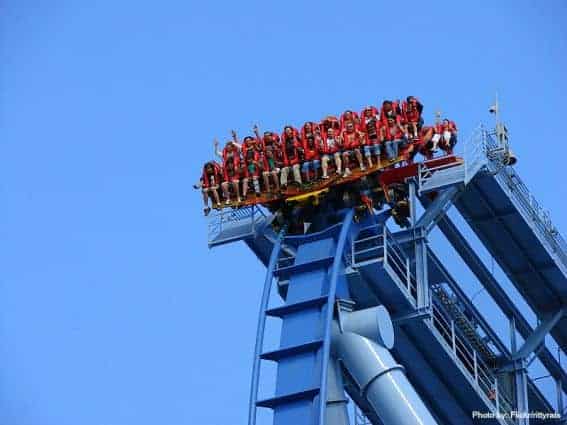 When I was a kid, the main attraction of Williamsburg was Busch Gardens, the area's Old-World themed amusement park. With its gorgeously rendered landmarks of European countries, one can see why Busch Gardens Williamsburg has won awards as the world's most beautiful theme park in the US for 22 consecutive years.
I first visited the park in the 70s, before rides were built, when the only attraction was a year-round Oktoberfest celebration.  I recall red-faced men in lederhosen on stage dancing to accordion music with splashing sterns of free-flowing Anheuser-Busch beer. My parents loved it. I was bored.
Today the sprawling park is packed with thrill rides, like the new speed car Verbolten roller coaster that replicates Germany's Autobahn, and the just-opened Griffon, the world's tallest plunging and looping dive coaster evoking a mythical beast that haunts a French village; or the legendary Loch Ness Monster, a serpentine coaster that twists, turns and turns upside down over water. One welcome feature of Busch Gardens' rides for younger children is a requirement that a child must accompany anyone over 48 inches tall, which helps keep lines shorter for those rides.
The Most Wonderful Time of the Year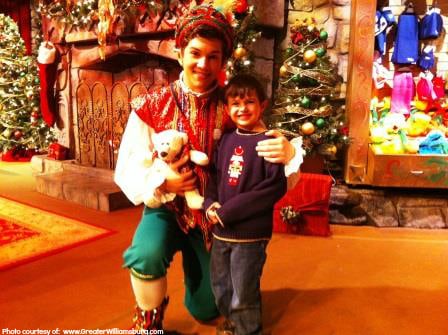 Besides its rides, beauty and brew, Busch Gardens has become famed for its winter attraction, Christmas Town, a holiday extravaganza of more than five million lights across the park and miles of garland and holiday decorations, and special holiday shows and experiences. Families can dine with Santa and Mrs. Claus, sing and dance along to the favorite carols, shop for hand-made ornaments, and visit with penguins among other activities. Strolling along the park's cobblestone paths, (which by the way are murder on a stroller) one feels transported to a winter wonderland. Of course the freezing temperatures, often below 30 degrees during winter months, make the North Pole feeling even more immersive.
The holidays in Williamsburg are a special treat for all ages. Across the historic triangle of Williamsburg, Jamestown, and Yorktown, guests can experience a Colonial Christmas celebration with historic buildings, streets and gardens decorated with classic twinkling white lights, roving carolers, and music and dance performances.
Keeping it Real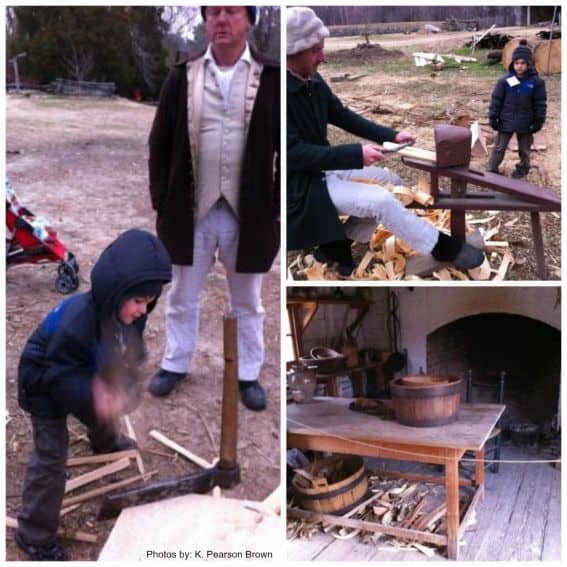 Year-round in Colonial Williamsburg, visitors can engage themselves in a variety of different historic experiences, from a mock trial where visitors help decide the fate of an accused citizen, to a re-creation of an actual working farm, which was my son's favorite. Docents dressed in traditional 18th century garb are quick to greet visitors and impart history lessons about each of the sites. At the Great Hopes Plantation, my son was guided by a craftsman who showed him how to use a mallet and an iron wedge to split wood planks off a log to make shingles. We were also able to get up close and personal with the working farm animals, including enormous oxen that captivated my son. We could also peer inside or walk in actual colonial structures, equipped with centuries-old farming tools and other accouterments. We loved that most exhibits allowed us to see close up and even touch artifacts, with only a rope between us and history.
Mad About Stew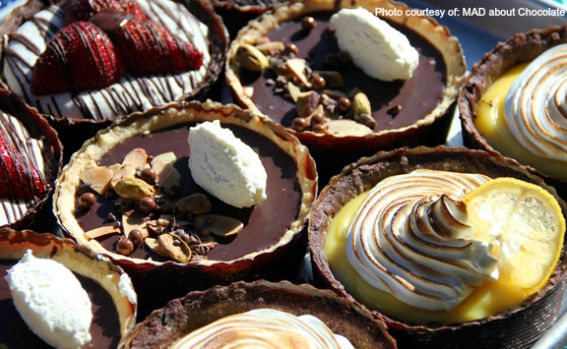 Dining in Williamsburg offers a huge variety of experiences. The many, many historic taverns around town feature the flavors of the 18th century, if you fancy rabbit stew and other sumptuous southern fare. Our family dined at the Brickhouse Tavern on Scotland Street, which has a fun pub-like atmosphere as well as great pizza and burger specials making it popular with the William and Mary college crowd. On the recommendation of a foodie review in The New Yorker, we also enjoyed Peter Chang on Richmond Road, an authentic Szechuan restaurant known for its bold and spicy cuisine, especially its signature duck and seafood chef specialties served in stone pots.
For dessert, the most decadent and delicious treat in town is Marcel Desaulniers' MAD about Chocolate on Armistead Avenue. If you consider yourself a chocoholic, you can indulge in the best bender ever, with delectable desserts like Black Mamba Cookies, with a killer combo of chocolate, chocolate chips and nuts.  You can also choose from the 8-layer MAD cake, Double Mad Brownies, or White Chocolate Ice Cream downed with thick and dark MAD and Hot Chocolate. The treats are scrumptious, and the festive atmosphere and friendly service by Marcel and wife Connie make this chocolate café an absolute delight.
Play, Drop and Roll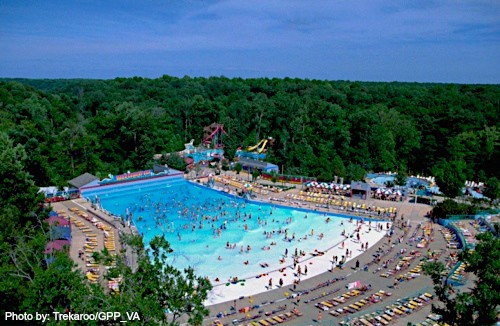 One terrific free attraction for kids is the Mid-County Park, featuring Kidsburg, a sprawling park of unique climbing and play structures made of old tires and wood rails, such as a giant swing and a four-across slide. In summer, Water Country USA, three miles west of Busch Gardens, is a huge draw as families escape the heat in the Surfer's Bay wave pool.  At Water Country USA, you can also disappear down Vanish Point, a drop slide from a 75-foot tower. Other kid amusements include Go-Karts Plus and the Ripley's Believe it or Not Museum and 4-D Theatres.
Where to Stay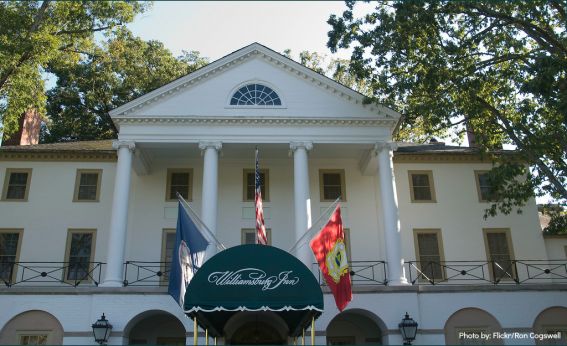 Our family stayed at Greensprings Vacation Resort, one of the many timeshare communities around Williamsburg, which was nothing to write home about.  But, there many bed and breakfasts and historic inns that offer authentic historic period accommodations, like the Colonial Houses on England Street, or the Williamsburg Inn on East Francis Street, which are regarded to be among the world's great hotels.
Getting Around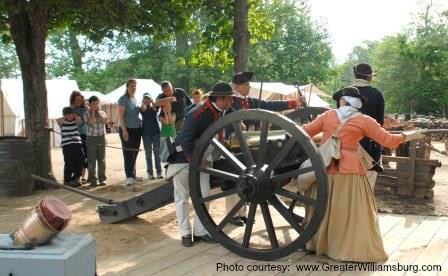 The best way to see all the sites of Colonial Williamsburg is with a multi-day pass to the Historic Area, which includes museums, exhibition sites, trade shops, and gardens. The Historic Area shuttle bus is an easy way to get around Williamsburg and is free for pass holders. The Williamsburg Trolley, which runs in a loop from Main Street to Prince George Street with stops at major site seeing attractions, is also an efficient and very economical (all-day fares are 25 to 50 cents) way to get around.
To find out what is happening during your visit, pick up the Colonial Williamsburg Foundation's "This Week in Williamsburg" map and program guide, distributed free around town, and at the Visitor's Center. Information about accommodations and the area's attractions can be found at the Greater Williamsburg Chamber of Tourism Alliance.
As always, check out Trekaroo for kid-friendly travel reviews about the Williamsburg area.