Have you ever been slobbered on by a deer?  I'm a mom, so I'm very familiar with snot and drool, but it's usually coming from my kids, and not from a large four-legged creature who has stuck its head inside my car window! Thanks to a recent adventure at Parc Omega  in Western Quebec, I got to get up close and personal with all sorts of creatures!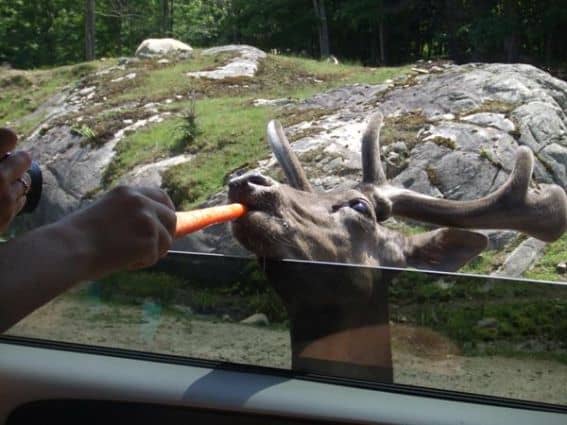 As a city girl, I don't see a whole lot of wildlife, so I was excited from the moment we arrived at Parc Omega.  This wildlife park allows visitors to drive through in their own cars and feed carrots to most of the animals.  When my group first entered the park we were surrounded by tons of deer and warthogs and handed out lots of carrots to hungry animals.  We were pretty excited by those animals but we had no idea that the best was definitely still to come.
Every time we saw a new animal, there was a squeal of joy from all the passengers in the car. Baby warthogs! A raccoon! A baby bison! My travel companions were desperately hoping to see a moose, and were beyond thrilled when we turned a corner and saw one. There are a variety of different habitats for the animals including lots of lakes, trees, and open spaces. The route through the park takes about an hour to complete at a relatively slow speed, with lots of stops to feed carrots to animals.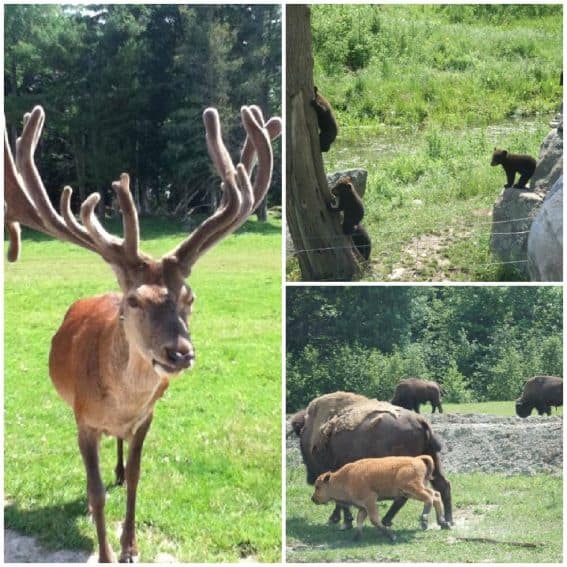 As much as I liked all the animals we had spotted, nothing remotely compared with the thrill of pulling into Bear Valley and seeing a mommy bear with her cub. And as we oohed and aahed over the baby bear's cuteness, another baby bear climbed up to where the mommy bear sat. And another, and another! All in all there were five baby bears climbing, playing, and making us laugh.  We were sure to take lots of photos and video of those darling little bears!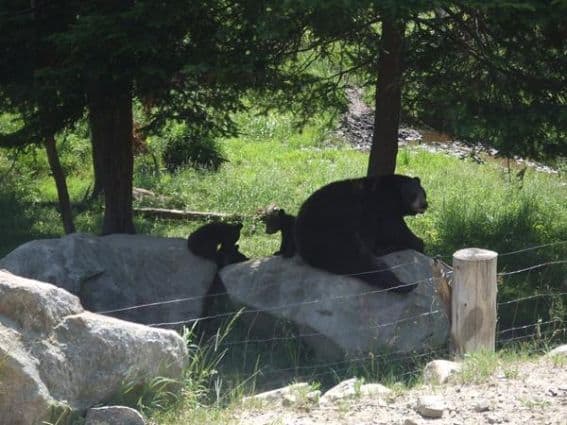 Parc Omega is such a fun way to get to see many different kinds of animal in a setting that closely resembles their native habitat.  It's open year-round, and I'd love to visit in the winter to see the animals in their winter coats. Hopefully there will be a return trip to Parc Omega in my future- I had such a great time!
Thanks to Tourism Outaouais for hosting me on this trip and taking me to Parc Omega! 
---
Carrie Yu is a mom of two kids, ages 3 and 5 as well as a Trekaroo Superoo. When she and her family aren't off on an adventure, she blogs at http://www.growingababyreviews.com
Travel with kids to: CA |CO | DC| FL | HI | IL |MA | NC | NJ | NY | OR| PA| TN | TX | UT | VA | WA