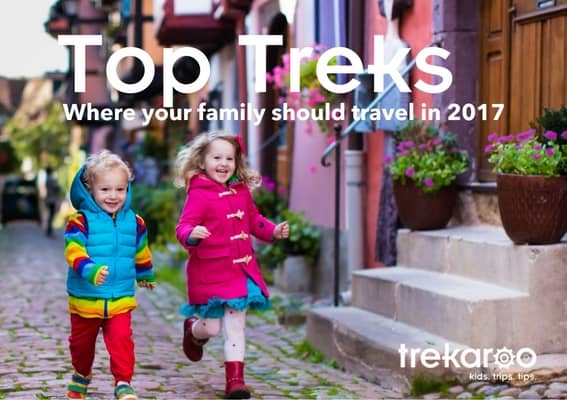 Where to travel in 2017? Is this question creeping its way into your head yet? We at Trekaroo certainly hope so because travel is sort of our thing and we believe the world is filled with amazing places to explore with your family! Every year, our team gets together and selects our best family vacation ideas for our readers to. From far-flung luxury locales to domestic getaways that are pocketbook friendly. Our hope is that one (or several) of these spots sparks your interest and our website filled with tips and reviews will help lay the groundwork for your next big adventure. Here are our top picks for where your family should be heading in 2017.
Be sure to check out Top Treks Lodging to see where your family should be staying in 2017.
Click a spot on our map to explore these family-friendly destinations, or click through to read about each one.
View Top Treks: Where your Family Should Travel in 2017 in a full screen map
Click NEXT to get inspired by our first destination's cobblestone streets, s'il vous plait.
Pages:
Page

1
,
Page

2
,
Page

3
,
Page

4
,
Page

5
,
Page

6
,
Page

7
,
Page

8
,
Page

9
,
Page

10
,
Page

11
,
Page

12
,
Page

13
,
Page

14
,
Page

15
,
Page

16
,
Page

17
,
Page

18
,
Page

19
,
Page

20
,
Page

21
,
Page

22
,
Page

23