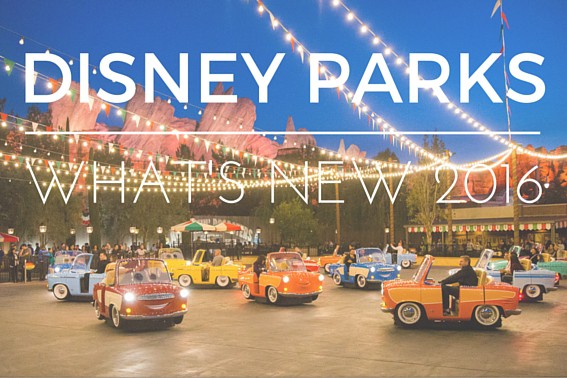 Always evolving, Disney Parks and Resorts make fantastic changes every year from Frozen-themed fun to Star Wars inspired events and activities, a brand new park in China, and new rides on both coasts. Explore this handy guide to see what's new at Disney Parks and Cruise lines for 2016.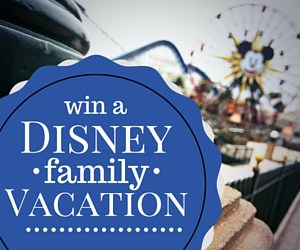 Enter to win a Disney Family Vacation at either Walt Disney World or Disneyland Resort. Two families will win. Enter today!
---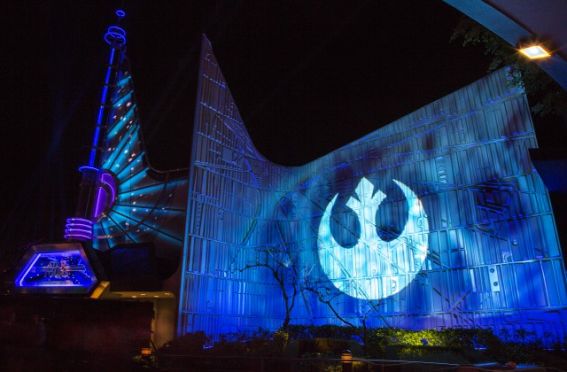 What's New at Disney Parks: Star Wars 
The merger of Star Wars and Disney has been an exciting one, and new Star Wars-themed additions are popping up all over the globe.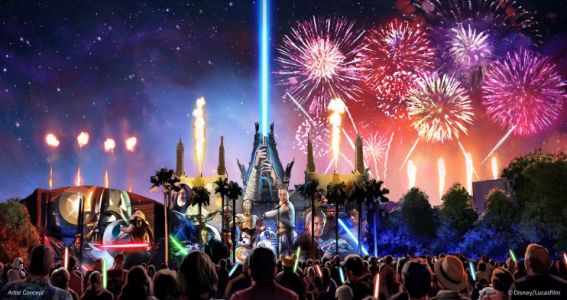 Artist Rendering Courtesy of Disney/Lucasfilm
Disney Hollywood Studios, Florida
Star Wars: A Galactic Spectacular. This next-generation fireworks show premieres summer 2016 with themed fireworks, lasers, special effects, and video projections of characters and scenes from the complete saga, all set to the iconic score of the film series.
"Star Wars: A Galazy Far, Far Away." A brand new stage show debuts April 4, 2016 with popular characters live on stage including BB-8, Kylo Ren, Chewbacca, Darth Vader, and Darth Maul.
Star Wars Launch Bay. The just-opened area boasts new encounters with Kylo Ren as well as The March of the First Order Stormtrooper procession.
Jedi Training: Trials of the Temple. The interactive experience boasts new characters.
Star Tours – The Adventures Continue. The iconic ride now features a high-speed journey to Jakku, as well as characters from The Force Awakens.
Read and write kid-friendly reviews of Disney Hollywood Studios.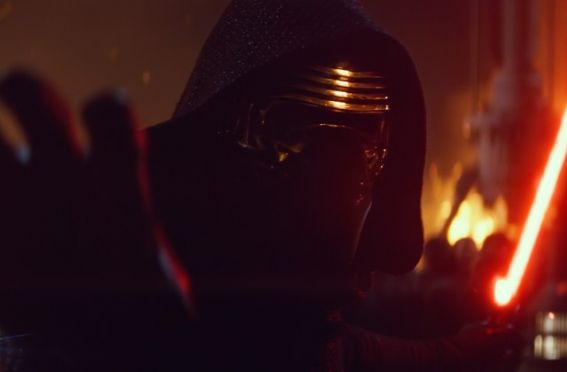 Disneyland Resort, California
Check out our in-depth guide to the Season of the Force at the Disneyland Resort.
Star Wars Launch Bay. Opened this winter, the Launch Bay now includes an encounter with the dark side as you meet face to face with Kylo Ren!
Hyperspace Mountain. The Star Wars-themed transformation of Space Mountain continues into 2016.
Star Tours – The Adventures Continue. Head to The Force Awakens locations while encountering new characters onboard your Starspeeder 1000.
"Star Wars: Path of the Jedi." The brand new film connects iconic scenes from the entire Star Wars saga, the perfect primer for newbies.
Jedi Training: Trials of the Temple. The interactive show has been reimagined with Darth Vader and the Seventh Sister Inquisitor from the popular Disney XD series Star Wars Rebels.
Star Wars Land. Construction has begun on Star Wars Land, closing down a few attractions at a time for construction. For example, while the Disneyland Railroad is temporarily closed this spring, guests can visit the Main Street and New Orleans Train Stations to get up-close with the historic steam trains while learning about them from Disneyland Railroad engineers.
Disneyland Paris, France
Jedi Training Academy. Young boys and girls are now able (opened March 12, 2016) to learn directly from Jedi Master Yoda, and they will be joined by R2 D2!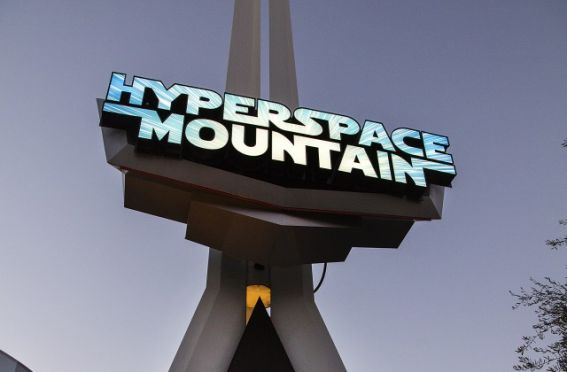 Photo by: Paul Hiffmeyer/Disneyland Resort
Hong Kong Disneyland, China
Hyperspace Mountain. Star Wars elements will take over Space Mountain later this year.
Jedi Training: Trials of the Temple. Young paduan apprentices will soon be able to use the Force to battle with lightsabers against the dark side, including Darth Vader.
Check out our guide to the Hong Kong Disneyland Resort.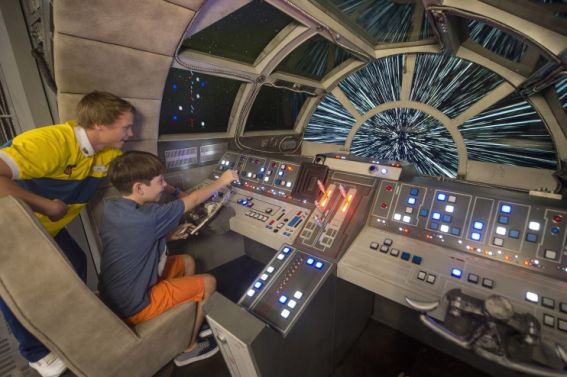 Photo by: Disney Cruise Lines/Kent Phillips
Disney Cruise Lines
Star Wars Day at Sea. Occurring one day during each of eight Disney Fantasy sailings, Star Wars Day at Sea transports guests to a galaxy far, far away — in the Western Caribbean. The event features a full day of Star Wars celebrations, including a deck party, meet-and-greets with favorite characters, Star Wars-themed family and youth games and activities, unique food and beverage offerings, and special merchandise. Screenings of all the Star Wars films, and also Star Wars Rebels, will take place throughout the day.
Star Wars: Millenium Falcon. On board the Disney Dream, guests can now step into a model of the Millennium Falcon for an epic battle of good vs evil. An action-filled training adventure and screenings of Star Wars Rebels are also offered in this play area.
Check out these 30 Reasons Your Family Should Book a Disney Cruise.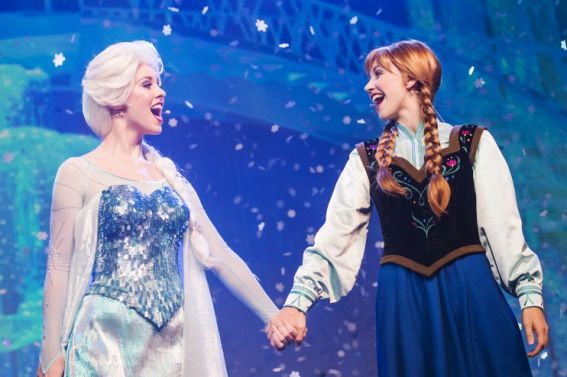 Frozen Fun at Disney Parks
Although Frozen has been out for nearly two years, the film's popularity has only increased the demand for Frozen-themed activities at Disney Parks. Based on the number one animated film of all time, here's the new-to-the-scene options for seeing Anna, Elsa, Olaf, and the rest of the citizens of Arendelle.
Disney California Adventure, California
"Frozen – Live at the Hyperion Theater." Premiering May 27, 2016, a new "Frozen" musical, based on the blockbuster Walt Disney Animation Studios film, will take over DCA's Hyperion Theater immersing audiences in the story with elaborate costumes, sets, special effects, and theatrical surprises. The live stage show takes over for "Alladin," which ran for 13 years on the stage, showing to more than 13 million park guests!
Other Frozen-themed activities at DCA include the Frozen Sing-Along Celebration and Anna & Elsa's Royal Welcome (character meet & greet).
Magic Kingdom, Florida
Mickey's Royal Friendship Faire. This summer, Anna, Elsa, Tiana, Rapunzel and more join the stage for this "timeless fairytale" of show that combines dance, fireworks, music, and special effects.
Read & write reviews of WDW's Magic Kingdom.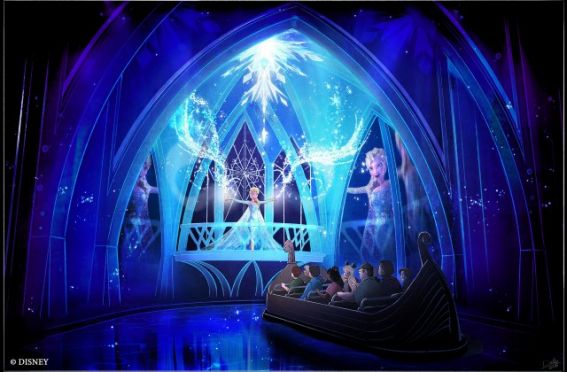 Epcot, Florida
Frozen Ever After. Disney's first-ever Frozen-themed ride will premier this summer at Epcot's Norway Pavilion. Favorite film tunes and advanced audio-animatronics will immerse families in this beloved story as they journey through Arendelle. An Elsa and Anna character meet-and-greet will take place in nearby's Royal Sommerhus, modeled after a traditional Norwegian cabin.
Disney Hollywood Studios, Florida
For the First Time in Forever: A Frozen Sing-Along Celebration. Sing your heart out with Anna, Elsa, Kristoff, and friends in this family-friendly 30-minute part live action, part film show.
Olaf Meet and Greet. Meet Olaf in his favorite environment this year as he greets guests in the all-new Celebrity Spotlight in the Echo Lake area of Disney's Hollywood Studios.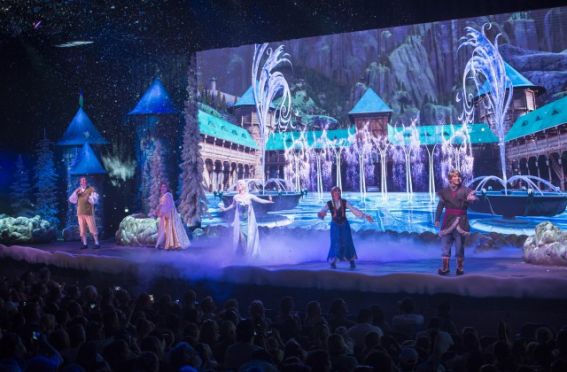 Photo by: Disney Parks/Ryan Wendler
Disneyland Paris, France
Frozen Sing-Along. Olaf returns to the Chaparral Theater stage this summer at Disneyland Paris from June 4- September 18th.
New & Newsworthy Additions for 2016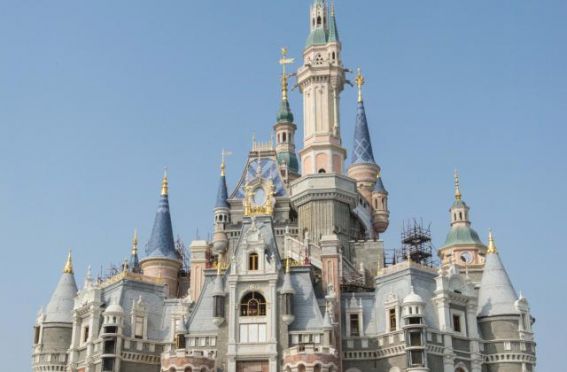 Shanghai Disneyland, China
The first Disney resort in mainland China will open this June, home to Shanghai Disneyland park and two themed hotels, Shanghai Disneyland Hotel and the Toy Story Hotel, as well as Disneytown, a large shopping, dining, and entertainment venue.
Shanghai Disneyland, with an iconic Enchanted Storybook Castle at its center, will feature classic Disney storytelling and characters paired with cultural references and similarities for the Chinese people. Firsts are set to include Adventure Isle, a mysterious land with an ancient legend; Voyage to the Crystal Grotto, that will go underneath and inside of the castle; Tomorrowland, a venue with a stunning original design and new attractions to celebrate the hope, optimism and potential of the future; the thrilling TRON Lightcycle Power Run; and Treasure Cove, the first pirate-themed land at a Disney park, including a live-action stunt show starring Jack Sparrow.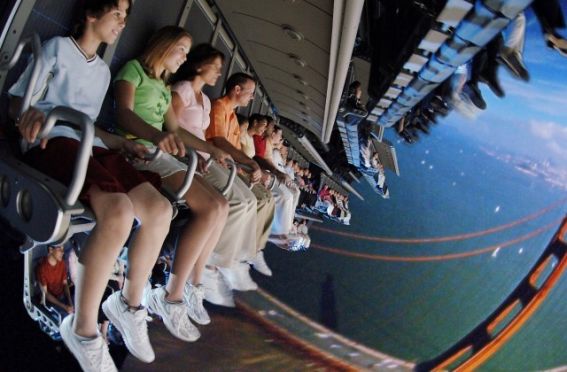 Epcot, Florida
Soarin' Around the World. In Epcot's Future World, guests will celebrate the U.S. debut of the new Soarin' Around the World attraction at The Land pavilion this summer. Now with a third Epcot theater, plus new digital screens and projection systems, the expanded attraction takes guests on an exhilarating "flight" above spectacular global landscapes and man-made wonders.
Turtle Talk with Crush. The interactive experience will be joined some additional friends this May as characters from Disney•Pixar's "Finding Dory."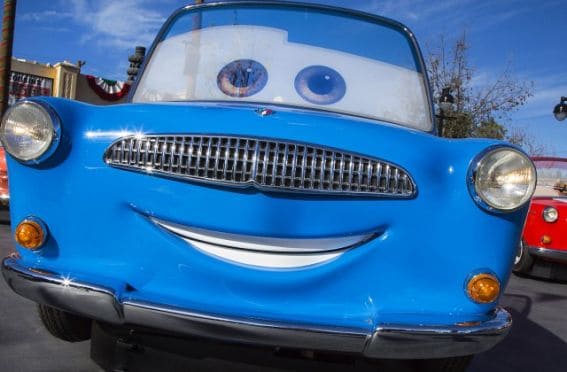 Disney California Adventure, California
Luigi's Rollickin' Roadsters. Luigi's cousins have come all the way from Carsoli, Italy to help celebrate Race Day in Cars Land's Radiator Springs. Families of all ages and stages can "dance" with the cousins on a trackless dance floor that moves each car to a unique and different routine.
Soarin' Around the World. The popular Soarin' Over California will transform into a brand-new attraction, Soarin' Around the World, sometime this summer. Details have yet to be set for this flight, but we will be sure to keep you posted.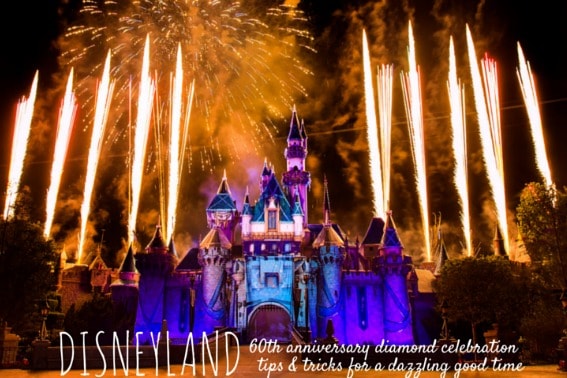 Disneyland, California
Diamond Celebration. Disneyland's 60th Anniversary Diamond Celebration Continues through September 5, 2016 with "Paint the Night," the "Disneyland Forever" fireworks spectacular, and more dazzling sparkles throughout the resort.
Check out our guide to the Disneyland Diamond Celebration & all its offerings.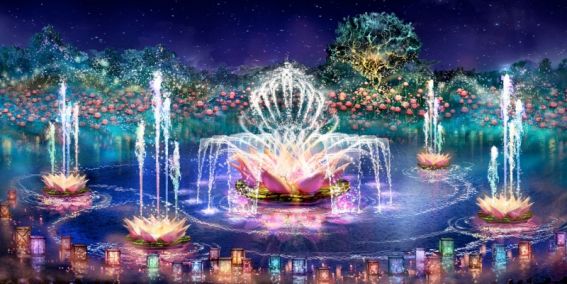 Disney's Animal Kingdom, Florida
Rivers of Light Watershow. Nature after dark will unfold at Disney's Animal Kingdom starting Earth Day 2016 (April 22) with the opening of Rivers of Light, an immersive nighttime extravaganza with performers, special effects and theatrical imagery. The Tree of Life and Kilimanjaro Safaris attractions will also feature brand-new nighttime opportunities.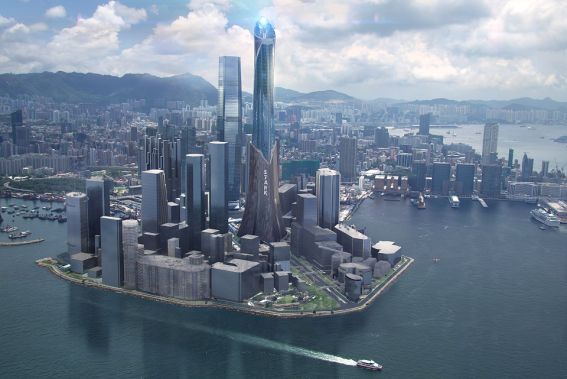 Hong Kong Disneyland, China
Iron Man-themed area. Guests will be able to join Tony Stark in a battle across Hong Kong in a first-of-its-kind attraction in an all new themed area based on Marvel's Iron Man franchise, set to open late this year.
Check out our guide to the Hong Kong Disneyland Resort.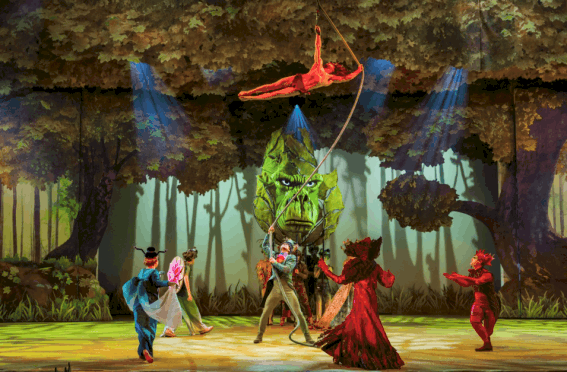 Walt Disney Studios Park & Disneyland, Paris
Mickey and the Magician. Opening July 2, 2016, Mickey and the Magician will follow the famous mouse himself as he interacts with Genie, Cinderella, Belle, Rafiki, and more famous characters.
The Forest of Enchantment: a Disney Musical Adventure. The brand-new Broadway style show, The Forest of Enchantment: a Disney musical adventure pays a heartfelt tribute to nature and the forest, with help from Disney heroes and heroines such as Pocahontas, Baloo and King Louie, Tarzan, Rapunzel, and Merida (through May 2016).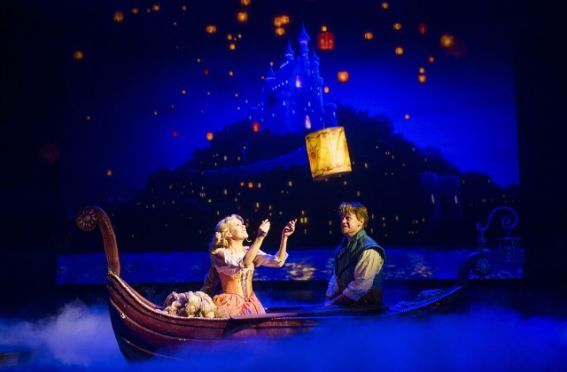 Disney Cruise Lines
"Tangled: The Musical." This Broadway-style production immerses Disney Magic audiences in Rapunzel's fairytale world through lavish production numbers and spellbinding music. Three new songs created exclusively for the show by Academy Award-winning composer Alan Menken and Grammy Award-winning lyricist Glenn Slater have been added to the storyline.
New sailings. New port options for 2016 include a British Isles itinerary, visiting Scotland, England, Ireland, and France. Two new 12-night Disney Magic sailings, with stops in Iceland, Norway, and Scotland will also be offered. A new seven-night cruise through the Norwegian fjords is being offered from Dover. A few limited-time sailing engagements to and from New York will be offered this fall.
All images courtesy of Disney Parks unless otherwise noted.
Explore our ultimate guides to Disneyland and Walt Disney World!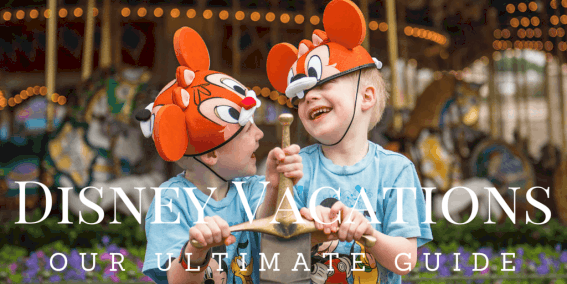 Our Ultimate Disney Guide is our go-to-resource for everything you need to know when planning the perfect family-friendly vacation. Explore our ultimate guides to the Disneyland California Resort, Walt Disney World, and other Disney properties, resorts, destination vacations, and cruises.
Pin this to save for later!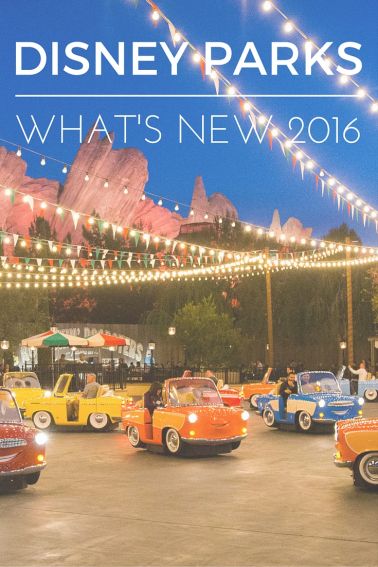 Comments
comments