My family travels much more than the average family.  I have a major case of wanderlust which I have passed on to my children.  How bad is it?  After traveling around the Western US and Canada for 24 days, my son cried when he spotted our house and begged for it not to end.  Lucky for me, I am a travel writer and staying at countless hotels around the country is part of my job.  I have seen plenty of family friendly hotels and some that were seriously lacking.  Since family travel is a huge part of the travel economy, I think its important for hotels to know what parents are looking for, and strive to meet those demands.
When a hotel hits the mark, we at Trekaroo love to celebrate it.  We share our excitement with our readers, and they share their new found knowledge with their friends and family.  There is no better form of advertising than word of mouth and the user generated reviews found on Trekaroo provide a valuable resource for families looking to explore a new part of the country.  A bad stay at a hotel can negatively impact the families entire vacation and we are in the business of helping families make good lodging choices.
Recently, we asked our members what they wanted in a family & kid friendly hotel room.  They provided us with great insight on how families travel and what they want hotels to provide so that they can travel better.  In fact, the response was so great that we have decided to share the information with the cyber world in hopes that hotel chains will take notice and strive to serve families better.  This week we will cover the hotel room itself and next week we will share what amenities families are looking for.
What Families Want (Our Dream Kid Friendly Hotel Room):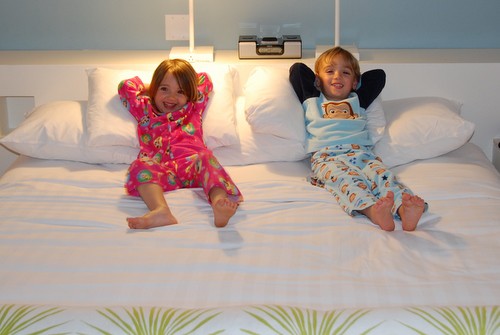 Families Want Suites
We want a bedroom that is separated from the living area with a door.  Please don't call it a suite unless there is a door separating the two areas because we are mislead an disappointed that we have nowhere to escape to once the children go to sleep.  If the room is large and has a separate sitting area but no door, in our minds that is not a suite, its a studio.  Besides offering a place for parents to relax after the children to go to bed, they also offer space to spread out or set up a portable crib or cot.  After spending all day traveling as a family, space can be our sanity saver.  We would love for hotels to list the square footage of their rooms on their websites.
If suites are not available, then adjoining rooms should be an option.  Although the typical American family only has two children, there are still millions of families with 3 or more children that need accommodations.  Multigenerational family travelers find adjoining rooms important as well.  The more comfortable we are while traveling, the more often we will travel.
Families want well equipped and well insulated rooms
Recently, I stayed at a popular chain hotel near Disneyland and was woken up to the sound of neighbors having some intimate fun.  They were not being loud, the walls were just that thin.  Not cool.  Thin walls not only prevent our children from sleeping, they also cause our neighbors to be awakened by unhappy children.  We also want comfortable beds.  Running around with children all day can be exhausting and a poor mattress can lead to a poor nights sleep which leads to one cranky mommy.
Part of being well equipped is having a small fridge and microwave in room.  Families with young children need a place to store juice and milk, and heat food for their little ones.  A full kitchen is even better.  Families love hotel chains that were originally designed for business travelers, such as Homewood Suites, for this very reason.  How can hotels hit a homerun with families?  Provide us with a full kitchen and a grocery service which allows us to have our kitchens fully stocked with our needs upon arrival.
Another crucial part of being well equipped is having kid friendly tv stations available.  I will never understand the randomness that is hotel room cable channel offerings, but a hotel in Orlando that doesn't offer Nickelodeon or Disney Channel is bound to frustrate some parents.  We don't want our children to sit in their rooms all day watching a Phineas and Ferb marathon, but we do want an hour or two to veg out in between theme park visits while our kids quietly watch a cartoon.  An even better option would be a free library of family friendly movies in the lobby for families to check out and watch on the dvd player provided in room.
Families want safe and clean rooms
There is nothing more disgusting to me than an old fashioned hotel bedspread.  We have all seen enough stories about the dirt and germs that accumulate on those nasty things and keeping a toddler from putting their hands and mouths all over the bedspreads is close to impossible.  Please use duvet covers, preferably white duvet covers, so we can see that they are clean and we know that they are changed after every guest just like the sheets.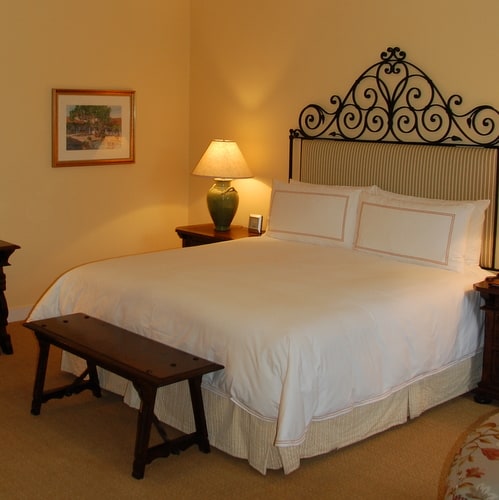 Children have a way of finding danger so having a safe room is crucial to a parent's sanity.  We would love to have child proofing kits offered upon check in (at no additional cost).  We also would appreciate having flat panel televisions and low mirrors bolted securely to the wall.  Glass and knick knacks don't mix well with children, and families  like to avoid them when at all possible.  Mini fridges and microwaves should not be placed at toddler level.  Baths and showers should have quality non-slip mats.  Finally, door safety latches should be out of reach of toddler hands.  I have seen the terror on a mother's face whose child escaped her room while she was in the bathroom and I don't think any parent should have to experience that kind of avoidable fear.
Families want free Wifi
We live in the digital age and many of us consider our laptop and extension of our right arm.   We want to be able to look up information on local attractions, find directions on Google Maps, and check out family friendly reviews on Trekaroo without having to pay $20 for internet access.  If mid-priced hotel chains can provide free internet access, surely high end brands can do it as well. We don't consider free internet a luxury, we consider it a necessity.
Families don't want fee associated goodies in sight of our children
My family visited a popular National Park a couple years ago and upon entering the room, we found a cuddly teddy bear sitting on our bed.  That cute teddy was ours to keep, with a $20 donation to the National Park fund.  It didn't take more than two seconds for my daughter to zero in on that teddy bear and claim it as her own.  What were we to do, tell the toddler she couldn't keep the cuddly teddy bear someone left on her bed?  Of course not! We bought the bear. I am happy to donate to our National Parks, that is not the issue.  The issue is matter in which it was solicited.
The same "no teddy bear on the bed" rule holds true for honor bar items.  Please don't place, drinks, cookies, and candy at eye level of toddlers in our rooms.  It creates more problems than convenience.  We love that you offer those items but we prefer to be able to purchase them in the lobby.  An in-room list of items available would be ideal.
Is there something your family wants in a hotel room that we didn't cover? Please let us know in the comments section.
Come by next week for part two when we cover the fun stuff- the amenities!