Last week, Trekaroo shared with the world what families want in a hotel room. This week, we are getting to the good stuff, the amenities. Part of what makes hotel travel so fun is experiencing perks that we might not have at home. Staying in a hotel is a huge treat to most kids, and when they are happy, parents can actually relax and enjoy their vacations. So what amenities persuade families to choose one hotel over another? Here is a glimpse at what Trekaroo readers and family travel experts are looking for:
For families with children, one of the most important amenities is a pool. Nothing gets kids more excited about the prospect of staying in a hotel than a good pool. Kids don't remember the hotel with the highest thread count sheets or the imported silk drapes, they remember which place has the coolest pool. For parents, pools can be a sanity saver. They entertain children for hours and give us a chance to sit down and relax. Our favorite pools are those with a graduated or beach entries, as they give non-swimmers a place to safely play in the water. Wading pools or play fountains at locations that have traditional pools are appreciated for the very same reason. Pools with water slides, lazy rivers, and other special water features are always a treat and definitely a selling point when booking a hotel. Being charged for rafts to float down the lazy river is irritating. Please don't do it.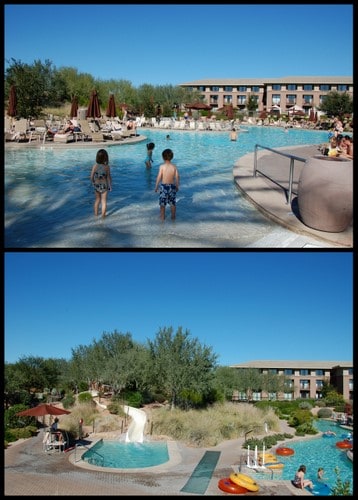 There is nothing more disappointing than booking a hotel for its pool and not being able to use it because its too cold! If we are visiting hotels in colder climates, such as the Midwest, we prefer for the pool to be indoors. This gives us the opportunity to enjoy the water in the dead of winter, which is always a special treat. There are many destinations, such as Los Angeles, where a pool should most definitely be outside. However, unless its 90 degrees outside, the unheated pool can feel pretty chilly. A little heat goes a long way.
Families don't want to have to pack all their entertainment. Traveling with children involves lugging stuff, lots and lots of stuff. In the past, it was merely cumbersome to fly with so many bags, but these days, its also becoming very expensive. Airlines charge exorbitant fees for for every bag we check, which means families are forced to leave some of their creature comforts at home. Hotels that provide toys, board games, books, dvds, and video games to check out (for free!) are helping families pack less and enjoy more. Kids are always excited to play with toys that aren't theirs and parents are always happy when they don't have to listen to their children whine "I'm bored" over and over.
We also love entertainment that takes place outside our room but still on hotel property. Putting courses, ping pong tables, air hockey, pool tables, and arcades are all great options. I have visited a couple different hotels that offer scavenger hunts around their property,which were a big hit with the kids. Hotels with playgrounds are godsends for families with young children. Active families appreciate amenities such as tennis courts, horseback riding, and golf. Obviously, not every property has the capacity to run a horseback riding operation, but whatever entertainment that is offered is always appreciated.
Families love room service and free breakfast. I frequently dine with two 4 year olds in public. Its similar to having dinner alongside a goat and a monkey and expecting them both to stay seated for an hour and not eat the tablecloth. Dining with children in public is my least favorite part of traveling. Before I had children, I never ordered room service. Now, I am happy to cough up a few extra dollars to save my sanity after a long day of seeing the sights. A reasonably priced children's room service menu is like a gift from the hotel gods.
An even greater gift is a free hot breakfast. I know more than a few families who consider free breakfast a top priority when booking a hotel, and for good reason. Mornings can be chaotic and the thought of having to drive to a restaurant, sit down, wait to be served, and then finally eat is an exercise in pure torture that some of us just can't handle that early in the day. We want to drag ourselves downstairs, plop some pancakes on our kids' plates, and spend the next 20 minutes letting the caffeine fully absorb into our system before we even think about leaving the hotel grounds. We also love the option of sending our spouse down to grab a plate full of grub for everyone and bringing it back up to the room while the kids watch Dora the Explorer and Mommy takes her shower. Why does the breakfast have to be free? Because someone, somewhere started offering free breakfast way back when and we all loved the idea so much, we've decided it should be mandatory. In a perfect world, free breakfast would be just as compulsory as clean sheets.
A good kids club goes a long way. We love our children more than anything else on the planet but sometimes, us parents need a little break. For that reason, we love hotels with kids clubs. Recently, I visited the Westin Kierland Resort in Scottsdale and found that they offered a complimentary pajama party to kids whose parents dined at their fine dining establishment, Deseo. I loved this concept and hope to see more hotels offering a similar service. While my children were eating pizza, playing games, making crafts, and taking tours of the hotel's massive kitchen, I was have an adult diner in a nice restaurant. It was heaven. Evening kids club programs are nice dinner escapes for parents but daytime kids clubs allow children to enjoy some time with their peers in a more active setting. Clubs that incorporate local themes (such as surfing in California and Native American crafts in Arizona) and give children an education in the process are some of my personal favorites.
The one drawback of kids clubs is that they don't usually offer services to the youngest guests, usually requiring that children who participate be at least 4. While completely understandable, parents would love to have a separate option for their toddlers such as in room babysitting services. Sometimes the parents that are most in need of a break are those traveling with a squirrely two year old.
Is there an amenity your family wants from a hotel that we didn't cover? Please let us know in the comments section.
– – – – – – – – – – – – – –
Sharlene Earnshaw (aka doubleadventure) is Blogger-in-chief for Trekaroo and the blogger behind Double the Adventure.

Travel with kids to: CA |CO | DC | FL | HI | IL |MA | NC | NY | OR | PA | TN | TX | VA | WA