One of the many benefits of writing for Trekaroo is that it is actually my job to seek out the best in family travel.  Many resorts claim to be family friendly but few take it as seriously as the Westin Kierland Resort in Scottsdale, Arizona.  From the moment we stepped on resort property and were handed our copy of the Kierland Pathfinder, a guide to all the fun happening at the resort, I knew my family was visiting someplace special.  Here are just a few of the many features that make the Westin Kierland a true family resort.: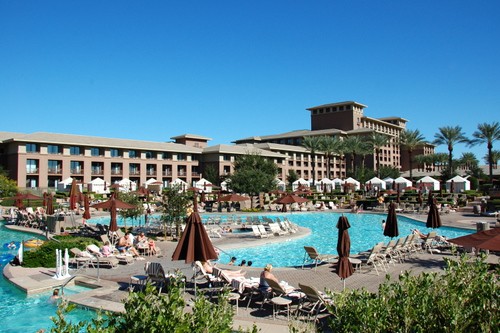 Read my full review of the Westin Kierland Resort.
The pool area is just SO COOL!: Anyone who has a kid or has ever been a kid knows the most important aspect of a hotel is its pool.  If I would have had the chance to spend the day at Westin Kierland's Adventure Water Park when I was a child, I would have thought I had died and gone to hotel pool heaven.  Besides a massive beach entry pool (perfect for kids of all ages and swimming abilities), the Adventure Water Park also boasts a 900 foot lazy river and 110 foot water slide, making it the perfect place to cool off during those hot Sonoran desert days.  Toddlers will especially love splashing in the pop jet water fountain.  There is a pool bar and grill onsite, allowing families to hang out poolside until the sun goes down.  Families looking for comfort and a little splurge should rent a cabana for the day. $90 gets you 4 bottles of water, a basket of fresh fruit, 2 jumbo cookies, frozen grapes, a dedicated server, 2 chaise lounges with an umbrella, a table with 4 chairs, and a tv with dvd player for the entire day!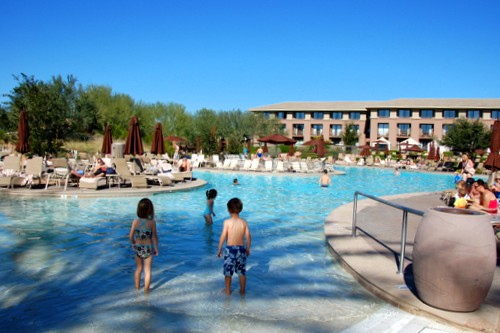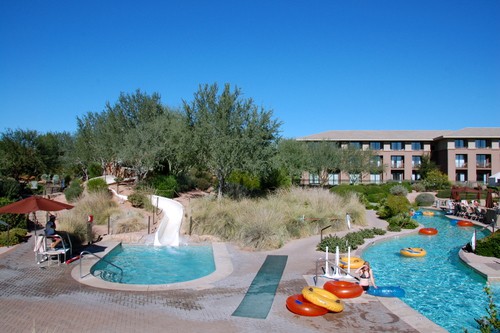 The Kierland FUN team and the OK Corral keeps kids busy (and having fun) all day long: One thing I loved about staying at the Westin Kierland was that they always seemed to have something cool planned for families.  Whether the FUN team was organizing pool games, helping kids put on a talent show, or assisting families in making Arizona S'mores during Kierland Kampfires at the OK Corral, they always seem to be followed around by families with smiles on their faces.  Speaking of the OK Corral- this place will quickly become your family's favorite spot for non-pool based fun.  Lawn chess, a basketball court, ping pong tables, and RC race car tracks are just a few of the entertainment options at this spot named for the most famous gunfight in Arizona history.
Parents can enjoy an "adult" dinner while kids are having a blast at the Pajama Party for FREE: This deal alone makes me want to stay at Westin Kierland over and over again.  Where else can parents enjoy an adult meal at Deseo, a posh and sophisticated restaurant on resort property, while their kids are having fun eating dinner, making crafts, playing games, and even taking a behind the scenes tour of the inner workings of the resort?  It certainly helps that Deseo serves some seriously great food (millionaire tacos anyone?) and killer mojitos.
Read my entire review of Deseo.
The resort is ideal for families who love to golf together: I don't golf (my husband banned me from playing after a certain club throwing incident…), but my husband and son love to.  Ben enjoys spending time at the driving range with his dad and in about 2 or 3 more years, I think golf is going to play a serious role in our family vacations.  The Westin Kierland sits on a gorgeous golf course, and families are encouraged to enjoy the course together.   Even those who have never picked up a club will love sitting by the bonfire and listening to a bagpiper play in full Scottish regalia on the putting green as the sun sets.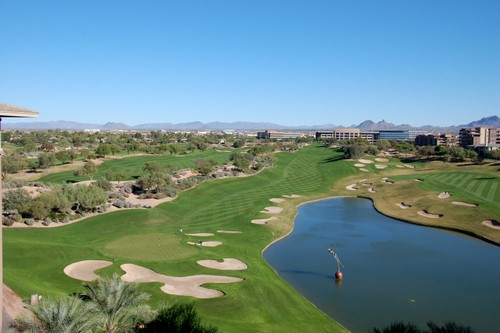 Excited about the Westin Kierland Resort? Than stop by on Monday to check our giveaway!
Disclosure: My family received a complimentary stay at the Westin Kierland Resort in order to review the property. Westin did not request that I express any particular opinion and all opinions expressed in this article are entirely my own.  Trust me, this resort really is that family friendly!
– – – – – – – – – – – – – – – – – – – – – –
Sharlene Earnshaw (aka doubleadventure) is Blogger-in-chief for Trekaroo and the blogger behind Double the Adventure.

Travel with kids to: CA |CO | DC | FL | HI | IL |MA | NC | NY | OR | PA | TN | TX | VA | WA