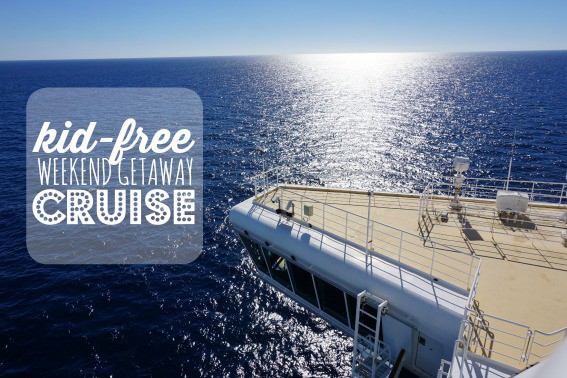 There are lots of ways to usher in a new year, with kisses, promises, fireworks, and equally dazzling resolutions. However, 2015 and my 40th year kicked off like no other, gliding through a vast ocean for a weekend getaway. Curled up on a deck chair with the first string of uninterrupted thought I've had in what feels like 10,000 years, I imagined my toes stretching out as far as possible into the horizon. It's moments like these that I've craved more than anything as a mom. Where am I, you ask? Well, "I'm here." That's all I want to say. Actually, I've escaped to "The Sanctuary" onboard the Crown Princess cruise ship heading into the sunny, warm waters of the Mexican Riviera. This is where weary parents find space to breathe deeply and to be fussed over with a limitless supply of iced tea and fresh juice cocktails.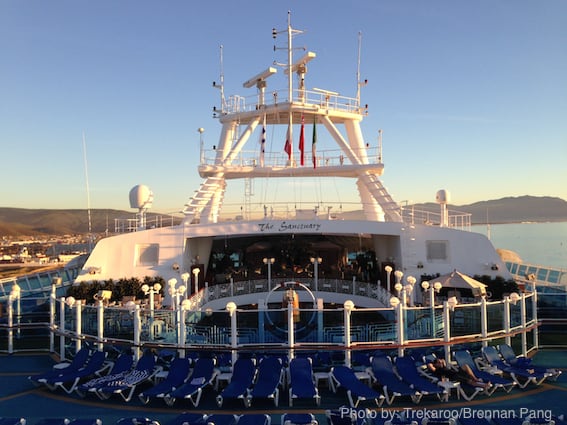 Although it's rare for us to leave our kids home when we travel, at least once a year, my husband and I tear ourselves away from our kids to focus on our relationship. I love traveling and exploring with my kids, but setting aside time to reconnect as a couple is just as important. Princess Cruises offers several short three- to four-day weekend getaway cruises to the Mexican Riviera and California ports leaving from Southern California. Leaving out of Fort Lauderdale, Fla., the weekend getaway cruises sail to both Western and Eastern Caribbean ports offering sun-soaked escapes. On short weekend getaway cruises, the emphasis is really on the onboard experience and less about the ports you'll be stopping at, so pick and choose the ship to make sure it fits with your needs.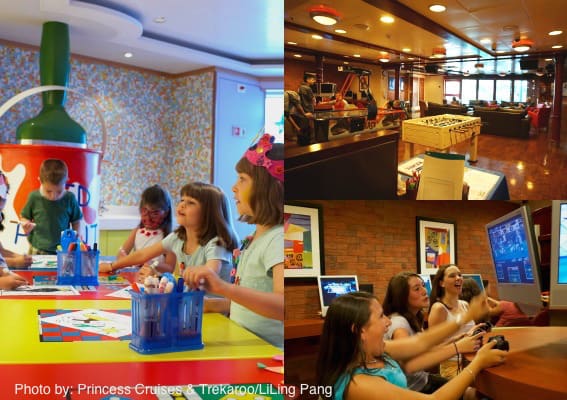 On board the Crown Princess, parents can take advantage of adults-only areas of the ship to find peace and quiet while the kids are off meeting new friends at the wonderful kids club and youth lounge. Here, the ship crew has one mission — to ensure your children have a wonderful cruise. I was quite impressed with the children and youth facilities. Located at the top deck with an entire bank of floor-to-ceiling windows, the rooms were drenched in natural light. Cheerful décor, a private swimming pool, games galore, and friendly crew entice even the shyest of children. Being the nosy travel writer, I knocked on the door to ask if I could take a closer look even though I didn't have my kids with me. I was politely informed that a tour could not be accommodated while children were present. Kudos to good security!
Delectable Dining is Healing for the Soul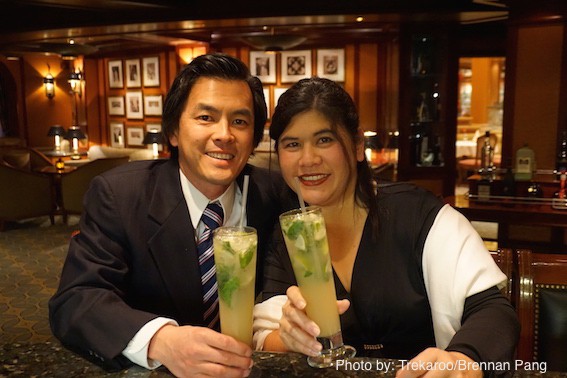 Do you cruise to eat? It seemed that this was to be our primary occupation for the next 72 hours. Everyone who boards a cruise ship knows that they should plan on disembarking about 10 pounds heavier. Honestly, my kids would have defined the experience as exceptional just from the fact that there was pizza (good pizza, I might add) and ice cream available morning, noon, and night. I, on the other hand, might describe my relationship with food more like a love language. Give me a few bites of divine over a plateful of drab any day.
So, it's not surprising that three exceptional dining experiences onboard the Crown Princess would redefine the cruise experience for me in three short days.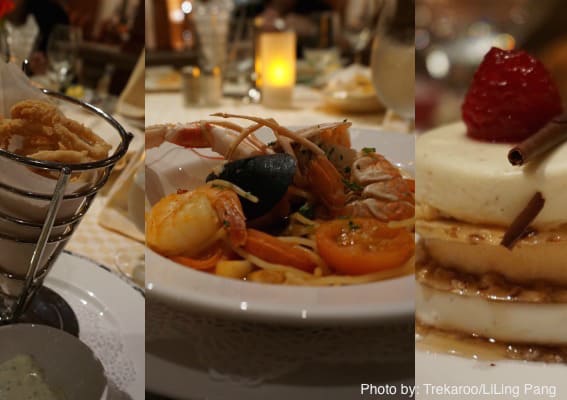 Sabatini's is one of three specialty restaurants onboard the Crown Princess serving a menu of refined Italian and Mediterranean cuisine with a heavy emphasis on premium fresh seafood. Old favorites are a great judge of a chef. The deep-fried calamari was a work of art, light and crisp, sweet and tender — in a word, exceptional. We also had the lobster cooked three ways, which was one of the most intense lobster experiences I've had. A lighter seafood dish, the Spaghetti allo Scoglio was the opposite approach. Just a touch of quality olive oil, fresh tomato, garlic, and white wine allowed the flavors of the langostino, diver scallops, tiger shrimp, vongole, and black mussels to speak for themselves. It was hard to resist ordering everything on the menu, but it would be a travesty to miss dessert. The Sinfonia di Sapori might just be one of the best desserts I've had the pleasure of putting into my mouth. Wafer-thin almond, hazelnut, and pecan Florentines sandwiched between cloud-like layers of praline mousse and caramel pecan brittle. It was crispy, salty, and melt-in-your-mouth fluffy. Our table was a chorus of oohs and aahs with every bite. Wine lovers will appreciate the extensive selection of wines.
While children are welcome at Sabatini's, parents might enjoy the romantic atmosphere and the delightful menu better if children dined early and elsewhere, allowing mom and dad to luxuriate over dinner without any battles over veggies.
The 50th Anniversary Menu, the second most memorable dining experience of our time at sea is a special menu being served on all Princess Cruise ships all over the world this year (2015). Princess Cruises is celebrating its 50th anniversary with a five-course menu available in the main dining rooms featuring dishes inspired by five decades of cruising around the world. We had the pleasure of tasting every dish on the menu and one of the two that really stood out was the rich and decadent Ossobuco Agnolotti, a crisp sage and veal reduction that was bold, rich, and complex. And the Filet of Turbot with Truffle Chive Sauce was so surprising, golden and crisp on the outside, deliciously buttery and flaky on the side.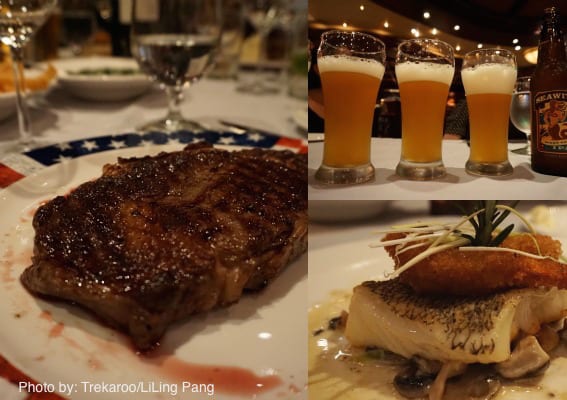 I was pretty excited to meet up with our friends for dinner at the Crown Grille. When a steakhouse has been named "The Best Cruise Ship Steakhouse" by USA Today, one has high expectations. After a day out at port ducking away from street vendors and eating yummy baja-style tacos at a hole-in-the-wall taqueria, I was ready for a hearty meal. The grilled scallops and lobster tails kicked off dinner with a flare. A comforting bowl of Black and Blue Onion Soup with its ooey gooey goodness followed. I had to finish every last drop. Then came a huge 14-ounce rib-eye steak accompanied by three salts: Hawaiian Black Salt (Hiwa Kai), which is a solar-evaporated salt that lends the flavor of the ocean to the steak; smoked Applewood Salt (Yakima) that has a deep smoky flavor that intensifies and deepens the grill flavors of the meat; and Himalayan Mountain Pink Salt that has traces of other minerals in it, which completely transforms the flavor of the steak while supposedly removing toxins from the body. Healthy salt? That was just the excuse I needed to sprinkle on more.
It is said that good food is best enjoyed in good company, and our meal at Crown Grill remains a treasured memory from our cruise. In the company of some new friends we had only met three days earlier, we feasted, compared notes from our day in Ensenda, Mexico, and told tales from our varied travels. We laughed till tears rolled down our cheeks and settled in for the night with hearts brimming full.
If having the best dining experience possible is important to you, do some research before boarding a cruise ship and figure out where you would like to dine for each meal. Then board the ship early, and jump on the phone to make dining reservations for each night immediately. Most ships have traditional, scheduled dinner times, but some cruise lines like Princess Cruises offer anytime dining room options. Reservations fill up quickly at these dining rooms, especially the specialty restaurants.
Exploring the Wine Country of Ensenada, Mexico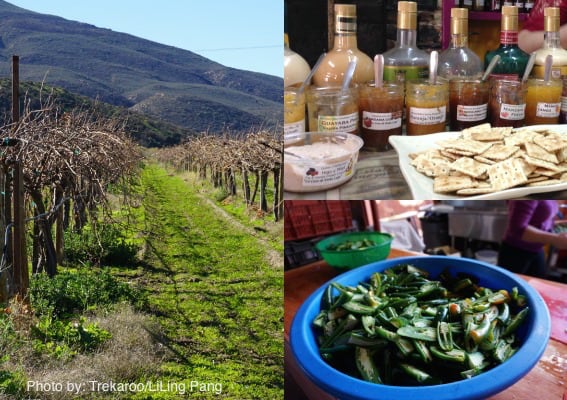 On short getaway cruises, you might only stop in one port of call. Many guests seem content to just stay onboard to enjoy discounted spa treatments and a less crowded pool. During our three-day cruise to the Mexican Riviera, we called in to Ensenada, Mexico. Ensenada is one of Mexico's up-and-coming wine regions. For easy transportation, book a land tour like we did, or hire a taxi and explore on your own. Our tour guide was full of energy and a wealth of information about the region. Our first stop was La Casa de Don Lupe, a local farm growing and producing jams, honey, and wine. The wine was too sweet, so we decided to abandon the tasting and slipped into the back only to find a colorful outdoor kitchen where women were gossiping over huge basins of brightly colored peppers being prepared to be cooked into jam. At the farmstand, we tasted their vast array of jams, from guava to jalepeno jam.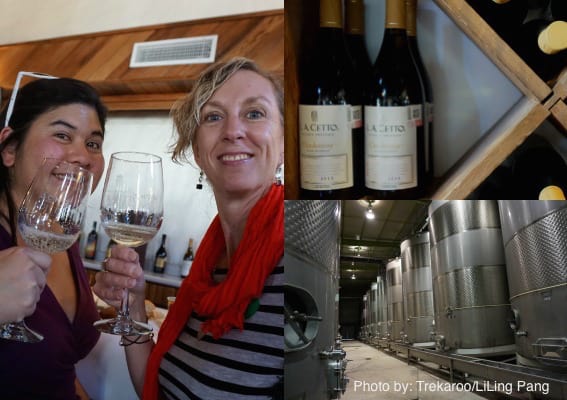 Back on the bus, we headed to L.A. Cetto Winery, one of the oldest wine makers in Mexico. The wine tour was nothing exceptional but a couple of wines from their reserve were muy bueno (very good).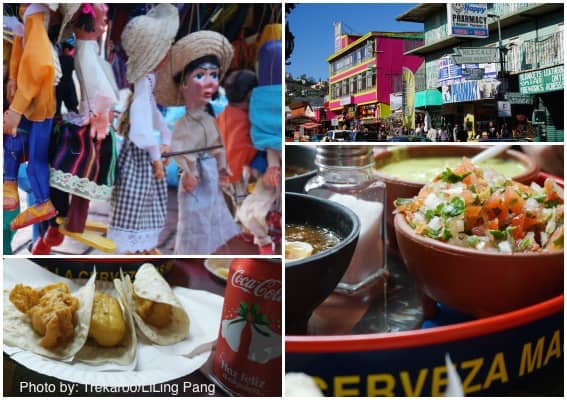 Downtown Ensenada was overrun with souvenir stands, street vendors, blasting stereos, and American tourists drowning themselves in cerveza. That just wasn't our cup of tea so we escaped into the hole-in-the-wall Taqueria Mexico Lindo to squeeze in a few yummy baja-style tacos topped with salsa muy picante (a.k.a. salsa that could set your mouth on fire).
Designed for the Multi-Generational Family Vacation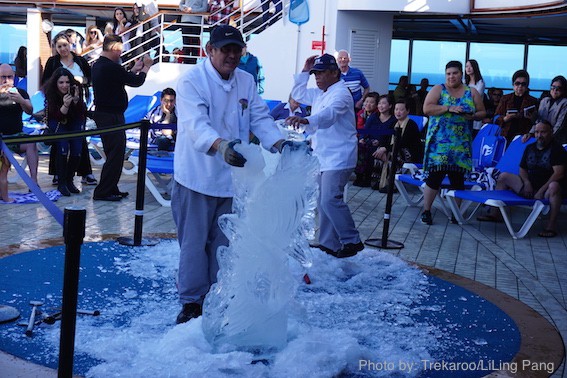 Back on the ship, it was heartwarming to see so many groups of multi-generational families escaping for a few days together. I think Princess Cruises does an extraordinary job of catering to the needs of everyone from toddlers to grandparents. Their onboard offering is not skewed heavily toward one demographic. There are no big waterslides, but lots of pools — some for adults only, others for youth only, and some for everyone to enjoy. There are casinos and comedy shows aplenty, but also places to get away from it all — an exceptional spa as well as basketball courts and other sports facilities. While the kitchen supplies tasty pizza 24 hours a day, there are also delectable fine dining experiences. Even on the short cruises, choose from a plethora of activities and events on a wide variety of topics.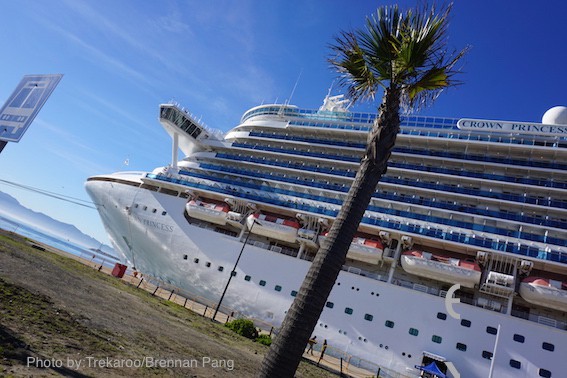 I loved that the Crown Princess also offers many rooms with balconies. For families, balcony dividers can be left open so that it feels like you have adjoining rooms. With some rooms starting as low as $199 per person for short cruises, it accommodates large groups with varied budgets to still travel together.
The memory I will treasure most from our trip were the laughs we shared with some very fun people we met onboard the Crown Princess. Whether you board as a group or meet new friends on the cruise, arrive with a friendly attitude and you're bound to have a great time. Even if it's just for three days, setting sail in a floating city together marks a shared journey. Together you dine, do silly things, laugh and linger over a sunset; when soaking in a hot tub together till wrinkled from finger to toe, it's hard to feel like strangers. Forever, when I picture Ensenada, Mexico, I will think of my new friend Heather and me scrunching our faces at the oddest tasting sweet wine. I'll remember dodging street vendors with my friend Jyl and scouring the streets for the best local tacos. I'll remember the night we sat at the Crown Grille dining with Luke Tipple, the Aussie shark lover, and his sweet wife, Aria, who entertained us with stories from their life in Hollywood. A chuckle will always bubble up when I remember our friends at the table rolling over in stitches after exchanging ridiculous travel tales.
Got the urge to sail away after reading our tales of cruising into the deep blue? Check out these DropandGo cruises by Princess Cruises.  For a limited time this March and April, departures are going for a song.
Disclosure: We are grateful to Princess Cruises for hosting us to kick off 2015 with some much needed time to reconnect. We didn't receive any other compensation and our observations and recommendations are entirely our own.