EPCOT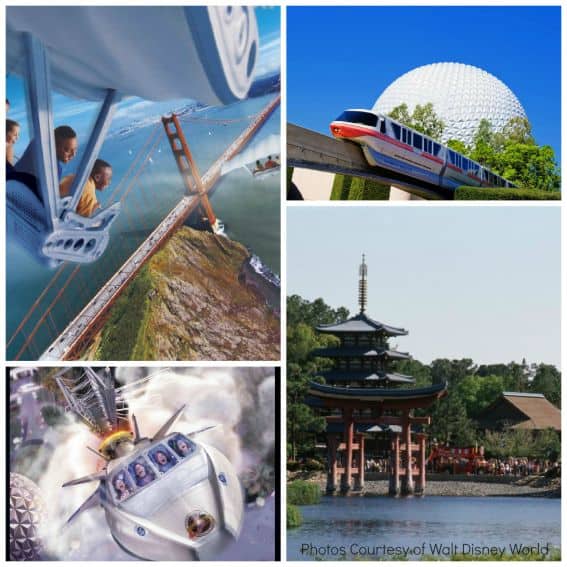 This park can be accessed via Monorail,car, bus, and boat. The Boardwalk Resort, Beach Club, Yacht Club, and Swan and Dolphin Resorts exclusively use water transportation to get to Epcot.
Epcot is huge so be prepared to do a ton of walking. People tend to experience the World Showcase later in the day (because it opens later), leaving many rides near the front of the park far less crowded in the late afternoon. I suggest entering World Showcase when it opens at 11AM and then returning to the front of the park later in the day to avoid crowds. Exceptions would be Soarin' and Test Track which luckily, do have FastPasses (grab those when you enter). Here is a list of rides that use FastPass+ at Epcot.
There is a Baby Care Center next near the Mexico Pavilion. It has a large changing room with padded changing tables, quiet nursing room, feeding area with high chairs and food/bottle warming, and plenty of baby care items to buy.
When you enter World Showcase, be sure to find a Kidcot Fun Stop where kids can pick up a free cardboard Duffy bear on a paddle to decorate. Stop at every country's station in the World Showcase to receive a stamp on your paddle! It is a great way to keep young kids engaged while exploring an area that is short on rides.
The character lines at Epcot are typically shorter than those at Magic Kingdom, especially in the World Showcase where characters such as Snow White, Jasmine, and Mulan can be found.
Make sure you eat and drink while in Epcot. Many of the countries offer quick service restaurants as well as premium dining experiences. It is fun to purchase snacks from different countries to share with your entire party.
There is an indoor waiting area complete with a play area for toddlers at Mission Space. It is a nice place to relax and cool off from the heat.
Stop by Club Cool near Innoventions West where you can test different Coke products from around the world for free (just bring a cup or they will charge you to "build" one) in flavors such as watermelon and lychee.
Book your hotel at these family friendly hotels in Walt Disney World!
Click next for visiting tips for Animal Kingdom.