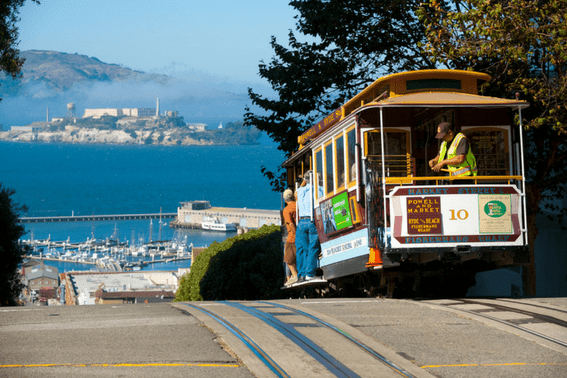 San Francisco is my favorite city to visit with my family.
The City offers much from pristine shoreline and cool breezes to an urban city core chock full of entertainment, dining, and activities. If you haven't ever been to the City by the Bay, I recommend jumping in full San Francisco tourist style. Although these sites are typically busy with hoards of people, embrace it: there is a reason all these tourists are there! So go ahead – grab your camera, fanny pack, and map, and get ready for some family-friendly tourist fun in San Fran!*
*Pun intended: only tourists call the city "San Fran" and "Frisco."
Featured Image Courtesy of BigStock/pius99
San Francisco Tourist Stop One: Walk the Golden Gate Bridge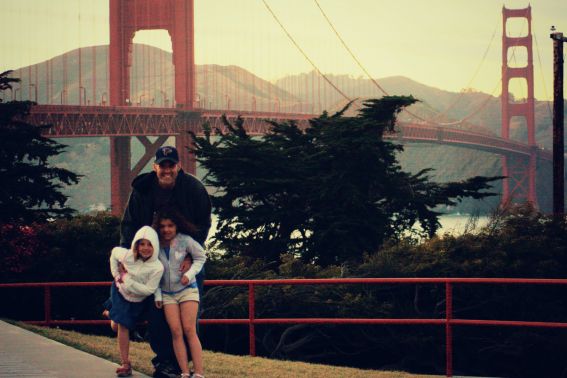 Every time I visit the Golden Gate Bridge, I am in awe of its massive size and ingenious architecture – especially considering its construction taking place in the early 1930s. The bridge spans 1.7 miles and offers breathtaking scenery and views of the city and the bay. Take a walk out on the bridge and snap a few pictures with your family. You won't regret it.
Tips: Bring a sweater; even in the summer months, the chilly air on the bridge can be biting. Although it is free to drive out of San Francisco on the bridge, there is a toll for your return trip.
San Francisco Tourist Stop Two: Shop and Play at Pier 39/Fisherman's Wharf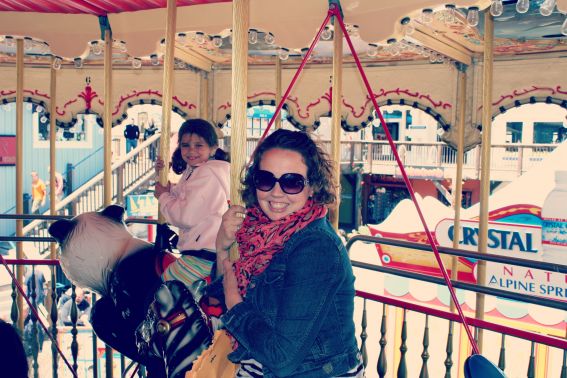 Pier 39 is definitely a tourist Mecca for obvious reasons. The pier is full of hundreds of shops offering plentiful souvenir scoring chances, loads of restaurants featuring the fare of both local and international palates, and entertainment options such as tours around the bay on the Blue and Gold Fleet, a beautiful old-fashioned carousel, and the Aquarium of the Bay. California Sea Lions call the Pier home and their massive clan of barking buddies can be seen year-round toward the end of the pier.
Tip: At Fisherman's Wharf, take the Boudin Bakery tour and get some yummy samples of San Francisco's famous sourdough bread!
Read full reviews of Pier 39 | Blue & Gold Fleet | Carousel | Aquarium of the Bay | Boudin Bakery
San Francisco Tourist Stop Three: Visit Alcatraz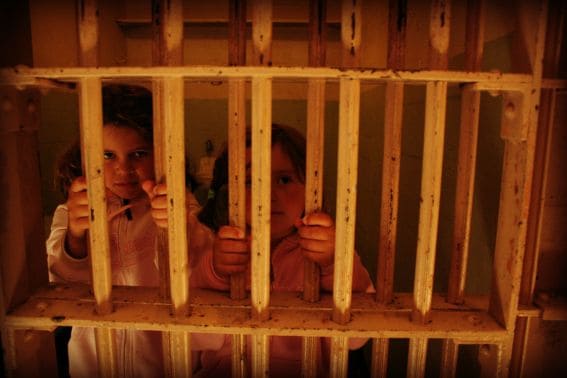 Touring the Rock is a major attraction in San Francisco. Although very small children will probably not enjoy most of the tour of Alcatraz, they will get a kick out of the boat ride and wildlife spotting opportunities on the island. Tickets sell out early, so reserve your spot in advance. School age kids might actually enjoy the tour. Despite the sad "locked-up" faces above, my older girls really enjoyed visiting Alcatraz.
Check out numerous inside tips to planning your trip to Alacatraz with Kids.

Read full reviews of Alcatraz
San Francisco Tourist Stop Four: Hop on the Cable Cars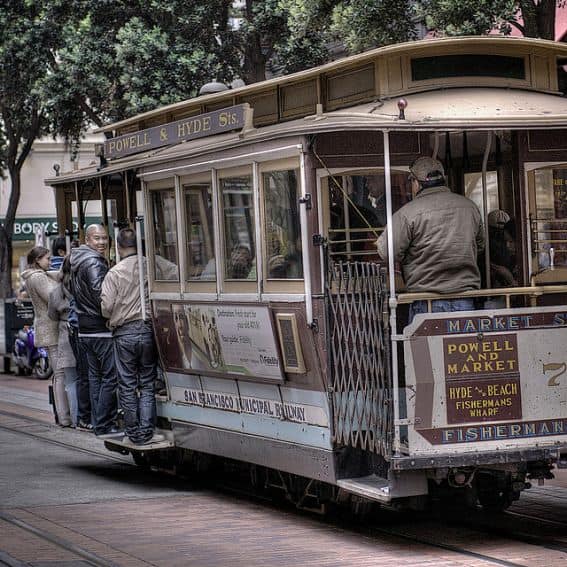 Photo by: Flickr/mat79
You've seen it in the movies, commercials, and on post cards, so hop aboard a cable car and ride some of San Francisco's most famous streets. If you want to avoid the long lines as the line ends, feel free to board the cars at any of their stops along the route, marked out by brown cable car stop signage. We have never waited more than 10 minutes to board a cable car at one of these stops, but lines can get VERY long where the cars turn around and begin again.
Tip: If you have older kids, they can "hang on" to the outside of the car for a fun experience. Younger children must ride inside the vehicle.
San Francisco Tourist Stop Five: Grab a sweet treat at Ghirardelli Square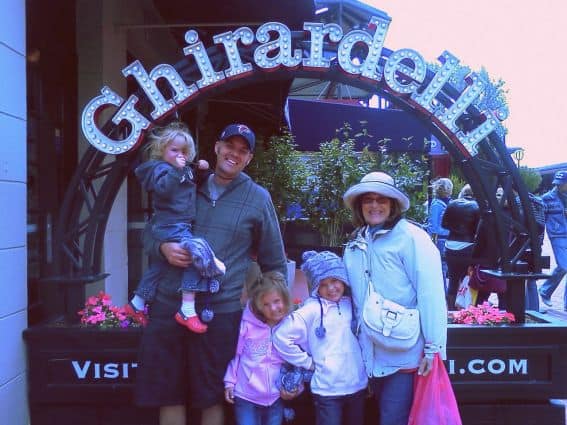 Culminate your touristy day with a special ice cream treat at Ghirardelli Square. Although the square is no longer in operation as the actual chocolate making factory, you can enjoy their beautiful grounds, snag some samples in the store, and chow down on an incredibly rich chocolate and ice cream confection. The rear of the shop boasts a small chocolate making factory and explains the process of how the chocolate is made.
Tip: If lines are long, head to the upstairs to-go only shop and enjoy your dessert by the fountain in the courtyard. Live music is often playing and it is a very relaxing way to end your tourist day.
Love chocolate? Check out this incredible list of the best chocolate in San Francisco.
Read my full review of Ghirardelli Square.
If you are headed to San Francisco as a tourist, I highly recommend the purchase of the San Francisco CityPASS. We have been using the pass on visits for years. The pass offers a convenient and budget friendly way to see the City's top sites including many mentioned above and numerous other museums and attractions. For details or to purchase, head to CityPASS.

Explore MORE San Francisco with Kids:
Best places to take the Kids |Attractions by age for Top 10 San Francisco | K-5 | Tweens & Teens | Find a great restaurant | Check out more attractions
Disclosure: I received complimentary tours and admissions to San Francisco attractions from individual businesses and CityPASS for the purpose of this review. I was not required to state any particular view; all opinions are my own.
---
Travel with kids to: CA |CO | DC| FL | HI | IL |MA | NC | NJ | NY | OR| PA| TN | TX | UT | VA | WA
Featured photo by: Shutterstock