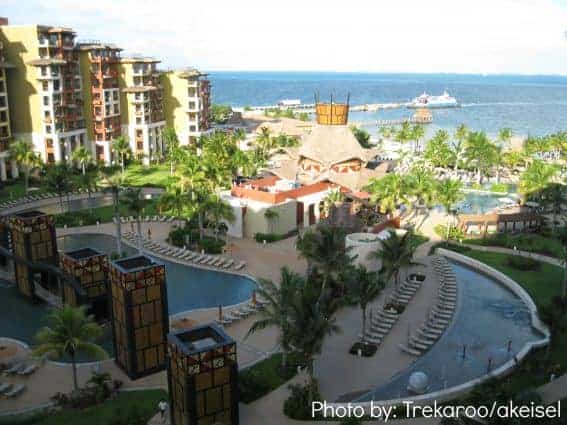 Recently I was invited to a branding campaign launch for the Villa del Palmar Beach Resort in Cancun, Mexico.  The new campaign touted the tagline "Your Story Starts Here."   As a travel obsessed Mom, and a lover of good stories, the new tagline grabbed my attention, yet puzzled me.  What does a luxury collection of Mexican resorts have to do with "my story?"  The answer to this question dawned on me while gazing at my bookshelf lined with photos and scrapbooks – milestones, traditions, and everlasting memories, all preserved on my shelves, creating "my story."
Every story has three parts –a setting, a plot, and a character.  The Villa del Palmar Beach Resort seeks to become the setting and strives to offer the plot for "your story."  The character is you.
The Setting

The setting of your story is serene – The Villa del Palmar,  a beachfront resort located 25 minutes north of Cancun's hotel zone along the pristine beaches of Playa Mujeras.  Walk through the resort's entrance doors and step in to your setting; a luxurious beachfront jungle oasis.  Guest villas encircle beautifully landscaped grounds, five outdoor pools, and four distinctive restaurants.  White sand beckons guests to bury toes while turquoise water gently collides with the beach.
As parents remain busy dusting sand off their toes, they'll be pleased to know that The Villa del Palmar caters to kids, treating them like child stars of your story.  The most rambunctious kid-characters will especially love the children's pool, and the personalized attention they'll receive at the resort's in-house Kids Club.  Along with divine toe-burying sand, parent-characters will especially love amenities such as:
Luxurious suites with separate living and sleeping areas
Kitchens with full sized appliances – stocked with fine dishware
Washers and dryers located in each suite
Balcony with ocean views and large relaxing hammocks
Complimentary non-motorized water activities – kayaks, paddle boards, and snorkels
All inclusive dining option
The Plot
The plot of your story is cultivated and refined by The Villa del Palmar.  Think of it like this, you are the writer and actor, and The Villa del Palmar is the director.  Would your story benefit from a holistic-Mayan spa experience incorporating the millenarian culture and ancient Mayan wisdom?  Would your story benefit from a Tzolkin Vision expert charged with interpreting your personal Mayan oracle?  Would your story benefit from tequila tasting while the kids create souvenirs with the Kids Club counselors?  The Villa del Palmar will arrange these experiences, plus much more, adapting precisely to your story's plot.
So now "your story" at The Villa del Palmar has a character, setting, and plot.  The only thing you need now is a film crew, and a handful of critics.  So pack your cameras and your family of critics, and get ready to create your story.
The Fable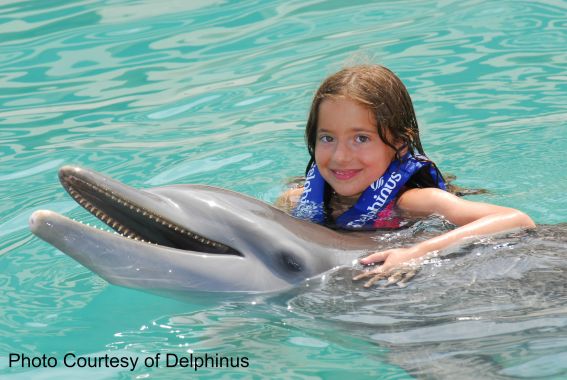 Your story at Villa del Palmar might include a fable; as did my story.  A fable is defined as a short tale that often uses inanimate characters to teach a moral lesson.  The setting of my fable was Delphinus, a worldwide leader in responsible and sustainable management of dolphins, which offers an amazing swim with a dolphin experience.
The characters in  my fable were the Delphinus dolphins.   These playful dolphins were human-like and quite endearing as they kissed me, hugged me, danced with me, and splashed me.  I fell in love with the dolphins' perpetual smiles and sweet puppy-dog eyes.  So much so, that I was overwhelmed at the power I felt when two dolphins pushed me up out of the water and across the pool with tremendous force.  This little trick, called the "foot push," made me realize my fable's moral: appearances are often deceiving.
The Fairytale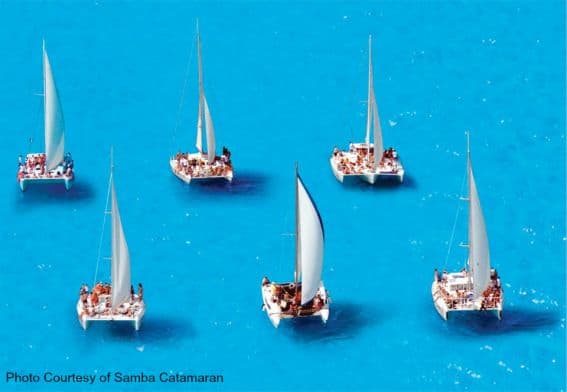 Your story at Villa del Palmar might include a fairytale, as did my story.  In my fairytale, I was sailed away on a Samba Catamaran to the mysterious island of Women, also known as Isla Mujeres, a former sanctuary for the Mayan Goddess Ixchel.
I snorkeled. I dined. I kayaked. Then, I basked in endless Caribbean sun.  No, my fairytale didn't end with a prince whisking me away to live happily ever after – my prince had already whisked me away over 12 years ago.  But my fairytale did end like many fairytales do: "I sailed off in to the sunset."
Your Story Starts Here
Your story starts at the Villa del Palmar – possibly beginning with a honeymoon, continuing on through family tradition, and concluding with an empty nest.   Your stories at Villa del Palmar culminate into a saga, a compilation of fables, fairytales, and anecdotes, while everlasting memories abound.

Related Posts:
Cancun & the Riveria Maya with Kids
CasaMagna Marriott Cancun Resort – A True Marriott Reward
Family Adventures in the Riviera Maya, Cancun
All-inclusive Cancun- A budget conscious vacation that doesn't sacrifice quality
Dolphin Discovery Riviera Maya
Tulum- A History Lesson in the Riviera Maya
Barcelo Resort- All Inclusive Paradise on the Riviera Maya
Disclosure: Thank you to Villa del Palmar Beach for hosting me as part of a press trip.  The resort did not ask that I express anything other than my honest opinion.