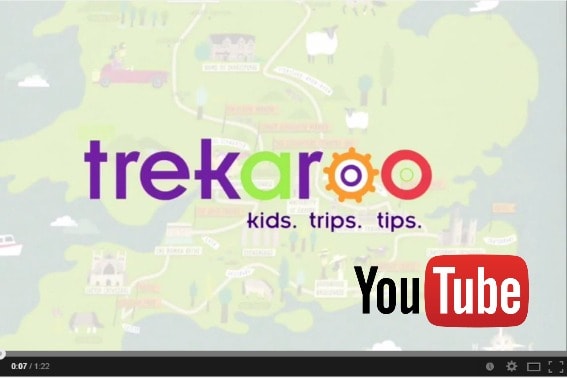 If a picture says a thousand words, then a video can speak an entire book's worth of information. We've got so much happening that we wanted to spotlight a few of our most recent video additions. We hope that you'll subscribe to our Trekaroo YouTube page; we're adding great content on a regular basis.
Video: Cooking with kids at the Ritz Carlton
Explore the family fun of your very own Chef-taught cooking class with the Fresh Market Package at the Ritz Carlton, Cleveland.
Video: California Baseball, Basilicas, and Breweries
Think you've done everything up and down the California coast? Think again. One of our talented blog editors took her family on a tour of the coast with a unique twist of inspiration: baseball, basilicas, and breweries. We're inspired by the fun theme!
Video: Hit the dusty trails at TWO unique dude ranches
Trekaroo families love dude ranches. These all-inclusive vacations tend to be the getaways of a lifetime. Blog Editor, Katie Bodell, and New England Guroo, Michelle Brennan, just returned from two unique dude ranch vacations and are eager to share their adventures.
Video: Pack your bags for a family camp
If the idea of sending the kids off to camp sounds like it should be a whole family experience, we agree. Take the entire family to camp at Mt. Snow Family Camp in Vermont.
Video: Must-visit destination for music lovers
Don't be fooled, this museum is much more than meets the eye. This incredibly immersive musical experience that spans countries, cultures, genres, and generations will have your family enthralled with the language of the soul.
Video: Day Trips from Seattle
After you've been there and done that in the Emerald City of Seattle, explore nearby day trips that are a short ferry ride away from the heart of the city, but a lifetime away in scope and wonder.
Video: Coronado resort features kid-friendly adventures at sea
The Loews Coronado Bay Resort in sunny San Diego is one of our favorite, newly reviewed hotels. Perfect for families of all shapes and sizes, the resort offers bay front views, easy beach access, a Junior Ranger program, scavenger hunts, stunning pools, and sailing lessons.
Video: Racing fans rejoice at IndyCar races
Get an inside look into the family fun available at IndyCar races across the country with this video spotlight.
Don't forget to subscribe to Trekaroo's YouTube Channel so you don't miss any more great content.