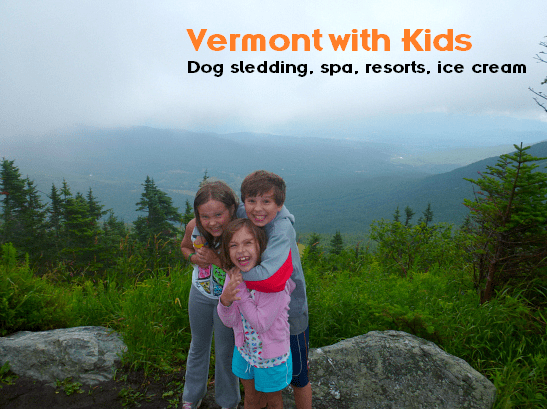 I am moving to Vermont.
Well, I would like to anyway, but my husband's job is in Connecticut so we will stay here for now.
I have been to Vermont before in the winter for skiing and it was enjoyable. However, summer in Vermont has a decidedly different aura. The air feels clean, the people everywhere are enjoying the outdoors, the food is fresh, and there is SO MUCH to do.
We recently traveled to Vermont for a week's stay in the Green Mountain areas of Stowe and Smugglers' Notch. Our family is a group of outdoor, animal, adventure lovers. I tried to convince them this place was MADE for us,  but I guess we will just have to keep vacationing here. We were lucky enough to find two family-friendly resorts that both happen to be ski resorts as well.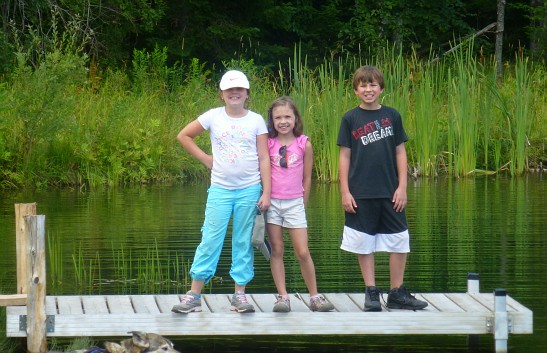 Smugglers' Notch Resort
Smugglers' Notch Resort in Jeffersonville is a true family resort. They advertise themselves as America's Family Resort and truly live up to this billing. We stayed for 4 days in a beautiful condominium on the outskirts of the designed and bustling Smugglers' Notch Resort Village Green. Our accommodations had everything we could wish for including an incredible, private, screened porch for our first morning breath of fresh mountain air.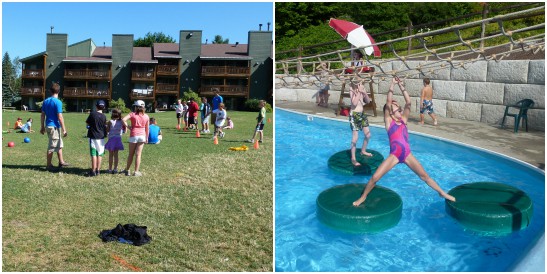 Smugglers' Notch Resort (otherwise known as Smuggs) has thought of everything to keep your family busy and adventuring, while constantly adding more options in order to stay up-to-date. This is best represented in their award-winning day camps called Summer Fun University. In addition to age-appropriate day camps divided by interest (arts and crafts, nature, sound and stage, and adventure), they have specialized camps, the newest being Survival and H2Awesome camps. Our kids participated in the classic day camp and had a great time being outdoors in the Vermont air all day. This left hubby and I free to explore beautiful outdoor hiking options on our own. It was probably just the right combination of family and alone time to create a magical experience.
Each day after camp, as a family, we were free to check out the rest of what Smuggs has to offer including eight unbelievable, heated pools with water slides and water features, family game events on the green, the FunZone indoor play area with mini-golf and inflatables, tennis, disc golf, and more. We did not get to do everything we wanted to, because there was just so much to do.
Smuggs can also connect you with other activities from outside operators through their resort. We went on a friendly Llama trek though the Smuggs trails with The Northern Vermont Llama Company, watched people zip line through the forest with ArborTrek (we would have liked to participate, but one of us did not make the 80 pound weight limit), and had a fantastically memorable time learning about and taking a summer dog sled ride at the remote Eden Dog Sledding, with the "unchained gang" of 33 incredibly friendly and well-loved mixed-breed Huskies. Dog sledding was the highlight of our trip.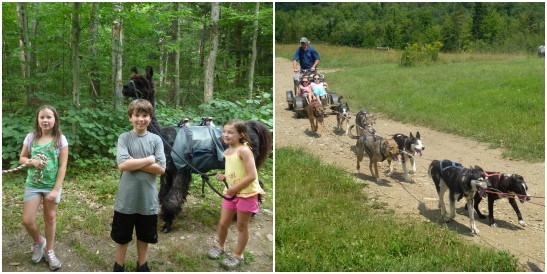 Stowe Mountain Lodge

Stowe Mountain Lodge also offers family mountain adventure, albeit in a more luxurious manner. Stowe Mountain Lodge offers most of its lodging in an Austrian-styled lodge perched on the side of a ski mountain. The atmosphere here is laid-back, quiet luxury. Again, there is an abundance of activities to keep busy families hopping.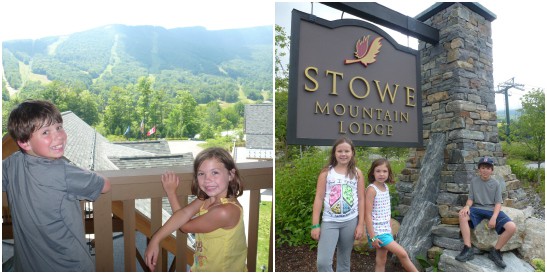 Our room was a suite complete with a full kitchen, two beds and baths, and laundry. We couldn't ask for a more splendidly Vermont feel. Stowe Mountain Lodge keeps all décor local in their hotel and restaurants. It is a comfortable, luxurious atmosphere.
Outdoors is where is action happens. In addition to a highly-rated golf course and kids camps, there are a bunch of activities that create the hub. The alpine slide on-site offers two mountainside slide options that are accessed from a lift right outside the door of the resort. Lift riders journey two at a time to the top, grab a sled, receive instructions and start their descent. Also in this vicinity are a Euro-Bungee, inflatable obstacle course and climbing wall. We spent the day alternating through these attractions with a full-day activity pass, which I highly recommend. With the pass you can hit the attraction with the least amount of people for the least amount of waiting. The pass is $70 for kids kids and $78 for adults. This was my first time on a Euro-Bungee and it is quite a workout!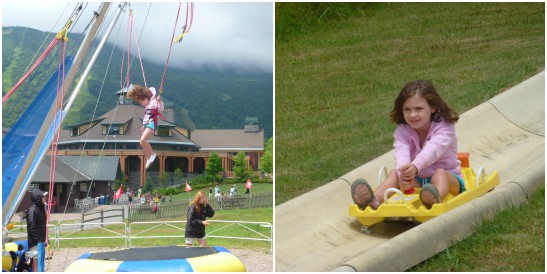 When you are done with your adventures on the mountain, there are a couple of options for some down time. The heated pool is fabulous with two adjacent hot tubs, an adult swimming lane, plenty of room for the kids, and a bunch of lounge chairs. We also had the chance to relax at the Spa at Stowe Mountain Lodge. Adults can enjoy treatments and relax at the Healing Lodge. A menu of treatments for children is also available so my three experienced the Chillax session. They left the spa very relaxed and ready for their next appointment!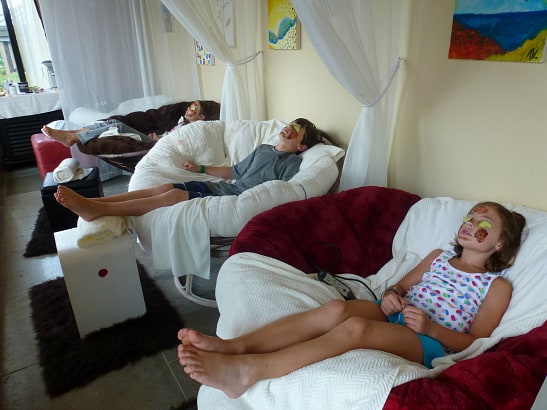 Locally-sourced Vermont Food
I am a berry lover and have been since I was a kid. Vermont is the place for me, because I found my berries everywhere we went. Blackberries and raspberries can be found on hikes, served at restaurants with berry sundaes and berry smoothies, or purchased at local stands. It's heaven!
Part of the reason why I love Vermont so much is because the area restaurants create dishes with local, fresh, in-season, and organic ingredients as well as berries.
We first encountered this on our way to Smuggs at a pizza place named Angelenos in the unbelievably quaint capital city of Montpelier. We found it in a rush and I wondered why the pizza tasted so good. I thought it was because I was hungry, and only found out about their use of fresh, local ingredients after I'd eaten. This trend continued throughout our stay.
At Stowe, we ate at two of the resort restaurants: Solstice in the main building and the Cliff House after an adventurous ride up Mount Mansfield on the summer gondola. Solstice offered a tasty breakfast full of local foods, including a delicious berry smoothie. The Cliff House presented both a grand view down Mount Mansfield as well as local artisan cheeses.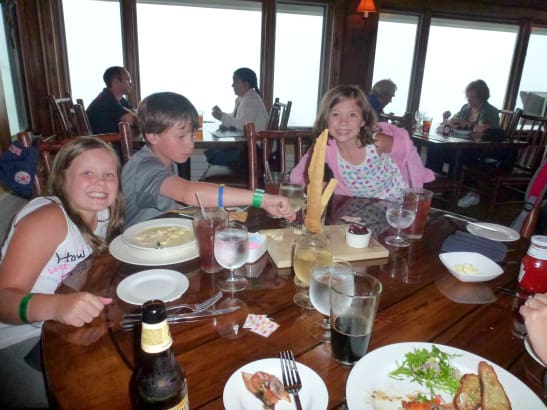 Finally, in the charming village of Stowe, we enjoyed Mexican food at an artsy spot called Fridas, located in an unlikely colonial building. There, we ate fresh guacamole and cod tacos!
Activities Outside the Resorts
If you want to leave your hotel, there are other activities in the area. A hiking metropolis lies at the top of Smugglers Notch. A bevy of trails leave from this unbelievably narrow and windy notch that closes in the winter and barely allows your car to pass in the summer. Views from hikes for a variety of levels are amazing. There is a beautiful 5-mile bike path in Stowe, as well as tours of the iconic Ben and Jerry's ice cream factory or a stop at Ziemke glass blowing.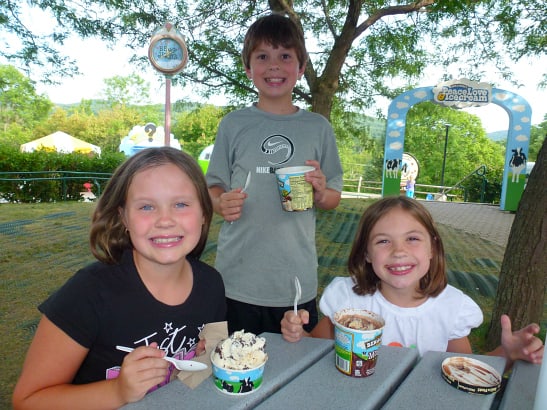 I loved everything we did, but driving through the wilds of Vermont on country roads while spotting wildlife and stopping at country stores and farms stands, such as Ashley's Garden Eden fruit and vegetable stand, are the highlights for me. Stub, the operator, is a renowned Vermont character with a political history as being a 13-year legislator, might even have some freshly picked blueberries or raspberries for sale!
Disclaimer: My family and I were provided complementary lodging, children's camp and the llama trek from Smugglers Notch. Stowe Mountain Lodge provided lodging and access to their outdoor activities, as well as spa treatments. Eden Mountain also provided us a press rate for the sled dog experience. I was not required to provide any specific reviews and all opinions are my own.
---
Travel with kids to: CA |CO | DC| FL | HI | IL |MA | NC | NJ | NY | OR| PA| TN | TX | UT | VA | WA