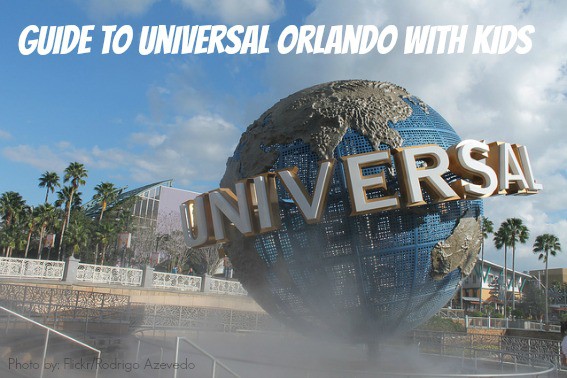 The first visit to any theme park can be overwhelming if you are unsure of what rides to go on, what restaurants to eat at, and which hotel to rest your theme-park-weary bones. Factor in the additional attractions and family time, and you've got an equation that Einstein would have difficulty solving. So, what if you've got a weekend to spend at Universal Orlando Resort and don't have a clue where to begin your planning? We've done all of the leg work for you and have come up with a tried and true list of the best of Universal Orlando for your next two-day visit to one of America's favorite parks!
Universal Studios Florida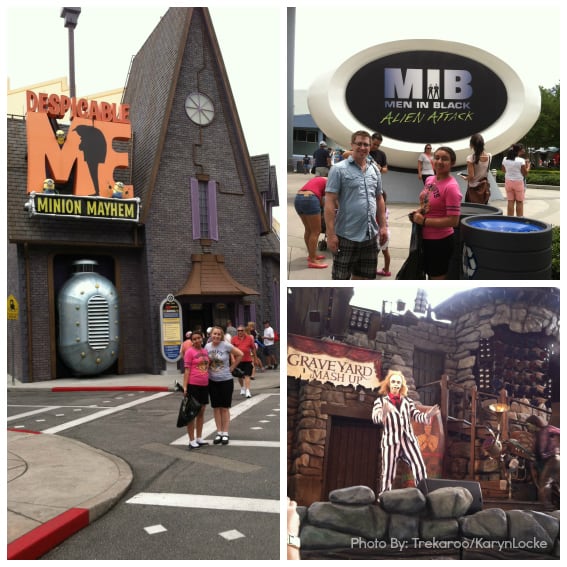 Universal Studios Florida is one of two parks inside Universal Orlando. The focus is on popular movie-themed rides, which makes a happy balance of thrill rides and play spaces, with great shows and shopping as well. With separately themed areas based on popular movie locations, getting around this park is a snap. Families with small children don't have to wait for their kids to get older to enjoy Universal Orlando. In Production Central, Shrek 4-D will have kids of all ages smiling and laughing at Shrek and Donkey and the shenanigans that their latest adventure entails. The seats move and shake, wind blows, and mist and water will catch you off guard during the show. Younger kids with lots of energy will adore Woody Woodpecker's KidZone, a huge play space that includes Fievel's Playland, E.T. Adventure ride, and Animal Actors on Location, a cute live show where animals are the stars. We loved the water play area and used it to cool off during the mid-day Florida heat. The most popular ride at the moment is definitely Despicable Me Minion Mayhem, a 3D motion simulator ride that will have you laughing, giggling, and dancing at the end!
Adrenaline Junkies will love the fast-paced offerings that Universal Studios Florida offers its guests. There's Revenge of the Mummy in New York, an indoor roller coaster with awesome special effects; Men in Black Alien Attack in World Expo, a spinning, alien shootin' ride; and for true lovers of speed, there's Hollywood Rip Ride Rocket in Production Central. If your kids love character interactions, there's plenty at Universal Studios Florida! SpongeBob, Shrek, and Donkey are just a few of the cool meet and greets that will guarantee you some awesome souvenir photos.
Other great options include A Day in the Park with Barney, The Blues Brothers in the New York Area, The Horror Make-up Show in Hollywood, and Fear Factor Live.
Islands of Adventure
With seven separately themed areas, Islands of Adventure is a breeze to navigate as well. Rides at this park range from a whimsical carousel to a high-speed roller coaster that accelerates from zero to 40 mph in two seconds!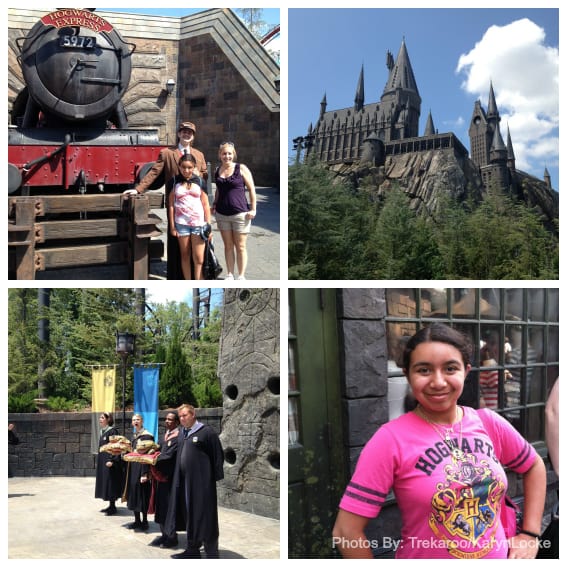 Wizarding World of Harry Potter is, by far, the most popular area of Islands of Adventure. So popular, in fact, that all of Universal Orlando's on-site hotels offer an hour early entrance to this area as a perk  for staying on site. Three major thrill rides are here and we loved each and every one! Harry Potter and the Forbidden Journey is a dark thrill ride for park guests over 48 inches tall and includes a queue through Hogwarts Castle. If your kiddos don't measure up, you can still utilize the walk through-only line and see the wondrous recreation of Hogwarts. We loved the greenhouse complete with mandrakes, the entrance to Dumbledore's office, and the Defense Against the Dark Arts classroom. Flight of the Hippogriff is a junior roller coaster for kids 42 inches and taller; we loved the smooth flight while pretending to ride on Buckbeak's back. Dragon Challenge is a dual coaster that is based on the fourth book, Goblet of Fire. It has loops and corkscrews and is loads of fun for riders 54 inches and taller. A trip to Wizarding World would not be complete without a visit to Ollivanders, the magical wand shop where the wand chooses the wizard. Groups of around 15 squeeze into the dark, dusty shop for a chance to be chosen to recreate the scene in Sorcerer's Stone where Harry Potter purchases his wand. By pure happenstance, my daughter was chosen for the wand ceremony and was elated! If you don't happen to get chosen, you can still purchase a wand inside the shop. Just around the corner from Ollivanders, the Owl Post is a nice, shady spot for taking a rest. We were able to purchase postcards and had them marked with an official Hogsmeade stamp!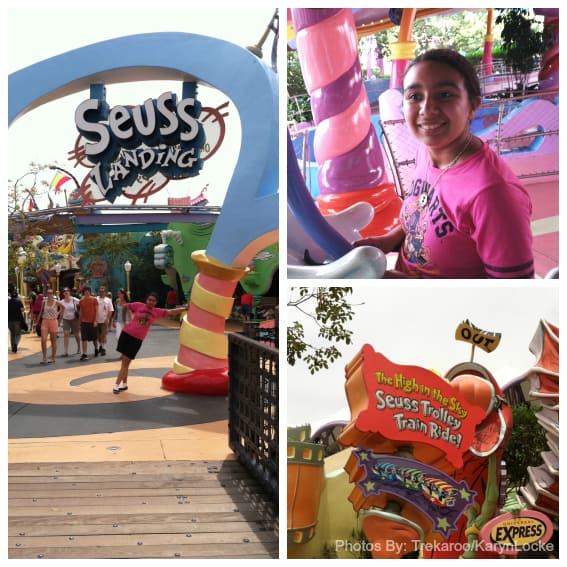 Seuss Landing, a whimsical, wonderful section of Islands of Adventure is based on the hugely popular books by Dr. Seuss. We loved The High in the Sky Seuss Trolley Train Ride, a slow-moving train ride that gives you an aerial view of Seuss Landing. The train weaves in and out of buildings, chugging its way around other Seuss rides and reciting famous lines from "The Sneeches," my favorite book as a child. This ride is extremely popular for families and peak wait times can reach well over an hour. The Cat in the Hat, a slow indoor track ride is a family favorite as well. Once we boarded a couch, we whirled and twirled through the famous book's scenes and laughed and recited rhymes the entire time. Caro-Suess-El, a whimsical wonderful carousel, is a fun way to relax and take a ride on a character from one of the books. Each character has a fun, interactive way of becoming animated that kept us enthralled with the ride!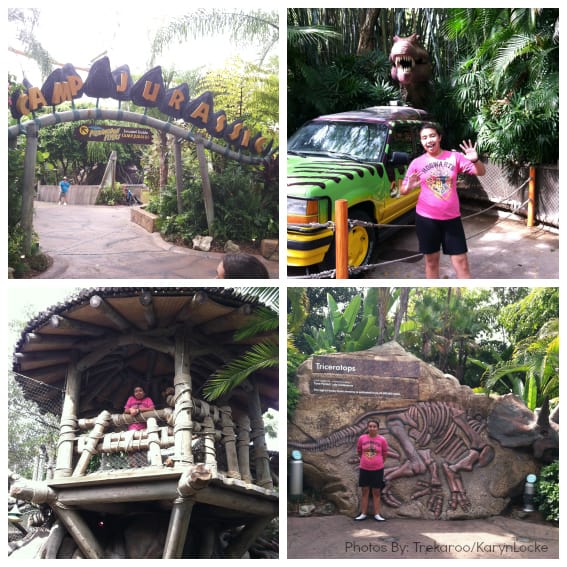 Jurassic Park is another themed area based on the Jurassic Park movies. Dino lovers will adore this section and the rides and play spaces are fun for all ages. Pteranodon Flyers is a hanging, swinging coaster ride inside of Camp Jurassic which offers a fun and safe play area. Kids can climb and explore the camp and run over suspension bridges, inside of an amber mine, and through caves. On hot days, Jurassic Park River Raft Ride is a great ride to cool off with, and its 85-foot drop will get your heart pumping. Jurassic Park Discovery Center is a fun and educational spot to learn about dinosaurs and their habitats in an indoor walk through area.
The Marvel Super Hero Island section of the park allows you and your thrill ride loving family to get up close and personal with Marvel Super Heroes. The Incredible Hulk Coaster shoots you like a rocket into a zero gravity roll, Dr. Doom's Fearfall propels you 150 feet into the air and then drops you just as quickly, and The Amazing Adventures of Spider Man takes you on a cool, 3-D ride.
Citywalk offers a  fun dining and shopping area and is also home to Blue Man Group, the incredibly popular show that engages the audience and encourages them to participate. Jimmy Buffett's Margaritaville, Emeril's Restaurant, and Pat O'Brien's are all family-friendly restaurant choices that are located at Citywalk. The best thing about Citywalk? Free admission! That's right, you don't need a ticket to hang out and enjoy the Citywalk scenery.
Dining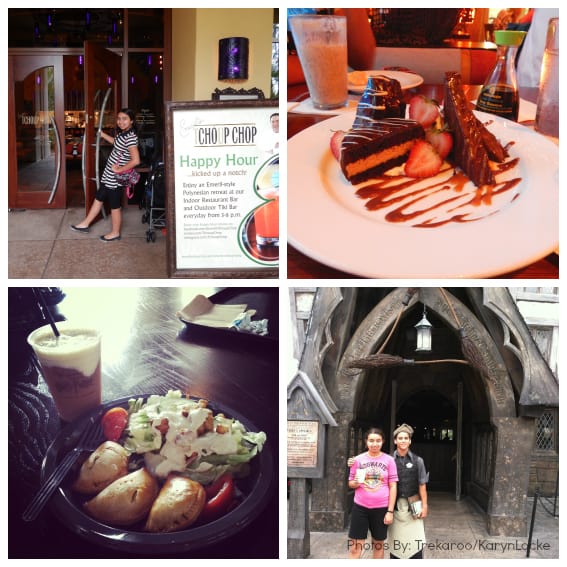 With dining and snack options literally around every corner in the parks and resorts, the toughest decision is not what to ride, but what to eat! There's a restaurant for every palate and taste, but three restaurants stood out for us: Three Broomsticks, Mythos Restaurant, and Emeril's Tchoup Chop. Three Broomsticks is located inside of Wizarding World of Harry Potter and has everything from Cornish pasties to the famous Butterbeer that Potter fans must try. We sat by the huge fireplace during our visit and tried the Cornish pasties and salads, inhaling every bite of our meal. You can also order fish & chips, shepherd's pie, and soup. Hog's Head Pub also serves frozen Butterbeer and generally has a much shorter line than the outdoor vendors. Mythos Restaurant offers a fun dining experience at Islands of Adventure. The ambiance of this restaurant is reason enough to dine there, but the high quality of the meals makes the restaurant a tried and true favorite. We enjoyed Mythos Pad Thai, a mildly spicy Asian noodle dish, and Blackened Fish Tacos that were perfectly seasoned and cooked. Emeril's Tchoup Chop is a true dining event inside of Loews Royal Pacific Resort located on Universal Orlando property. With a rectangular lily pond in the center of the restaurant, kids will love dressing up and enjoying a fancy meal with their parents. My daughter felt like a princess and the staff treated her like one. The best part of our meal? The freshly prepared hand rolled sushi and homemade banana cream pie.
Where to Stay
There's a hotel for every vacation budget at Universal Orlando, and extra park perks are a major bonus of staying onsite. All of the onsite resorts and hotels give guests a one hour early access to Wizarding World of Harry Potter. In addition, the deluxe resorts give each of their guests a free Universal Unlimited Express Pass for each night of their stay. This allows park visitors to walk straight to the front of the line for most park rides and shows. That's an $89 per person, per day savings! Lastly, each hotel and resort offers free shuttles to both parks and Citywalk, saving your family from renting a car or walking to the parks.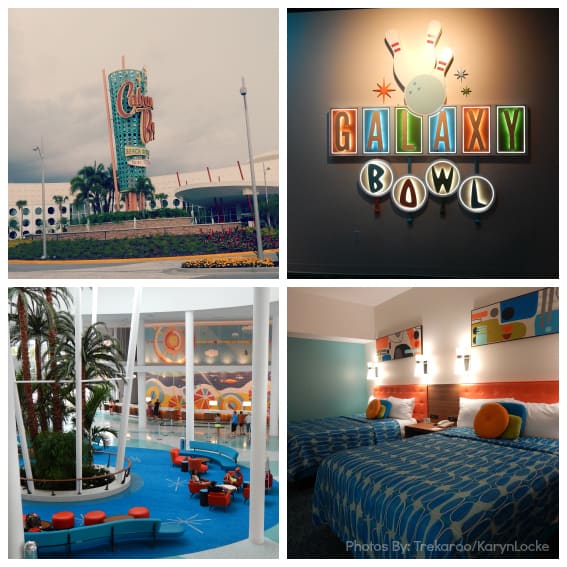 Cabana Bay Beach Resort is a great budget-friendly option at Universal Orlando, but don't confuse it's low nightly cost with a lack of fun! With a 50s and 60s era theme, the resort has a fabulous retro feel and was built for families that love the perks of staying onsite, but have a tighter budget. The resort has a bowling alley, fitness studio, huge pool area, and arcade. Family suites with kitchenettes, as well as basic rooms will fit any accommodation need.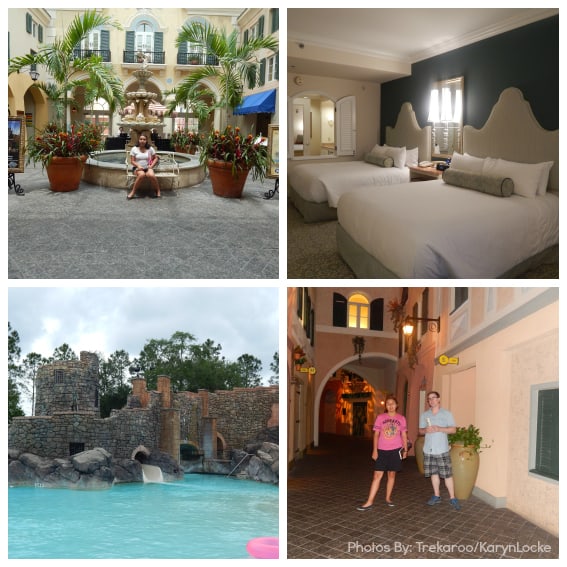 Loews Portofino Bay Hotel is an option for families that want to include luxury in their Universal Orlando visit. Italian decor and staff that loves to cater to families will make you feel like royalty. A beautiful, kid-friendly pool area complete with water slide and kiddie pool is the perfect respite from hot Florida weather and long days at the parks.
Universal Express Pass is the perfect choice for park guests that want to see and ride everything during their visit. With a front of the line guarantee, Express Pass lets you bypass the long ride queues on almost all of the rides and shows, giving you more time to ride! The only downfall is that there is an extra charge in addition to your park ticket, but it does save a lot of time waiting in line, especially on days with heavy park crowds. The extra cost is definitely worth it if your vacation budget permits.
Disclosure: My family and I were graciously hosted by Universal Orlando Resort. I was not asked to state a particular point of view and, as always, my opinions are my own.