The last two days of our Twizzlers trip were filled with long days on the road. While day 4 was extremely long, it also featured some of my favorite highlights of the entire trip.
We crossed the Golden Gate Bridge one last time (making sure to give a packet of Twizzlers to the tollworker) and bid farewell to San Francisco with our sights on San Jose. It was here that we met up with some friends for breakfast at a fun restaurant called Scramblz. The restaurant is open until 3PM daily and serves breakfast, it's speciality, the entire time.  Portions are huge (plenty to share) and the atmosphere is very family-friendly. As a matter of fact, there is even a toy chest in the waiting area for kids!  Unfortunately, breakfast was the extent of our time spent in the South Bay because we had so much road to cover.
After a nasty bout of traffic in route to the Monterey area and Highway 1, we finally cleared the crowds and began enjoying the dramatic central coast. It was my husband's first time driving along Big Sur and it was extra special driving the road with a first timer. We stopped at the first few turnouts so he could hop out and take pictures, though I reassured him that the views would go on for hours. Who could blame him? With views like this it is hard not to want to pull over and take it all in.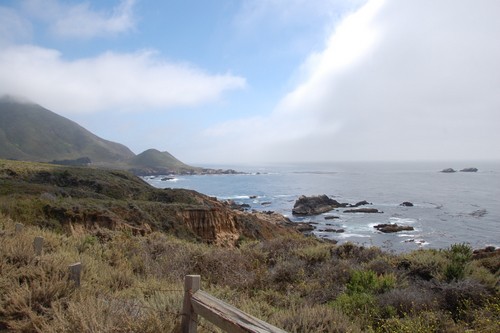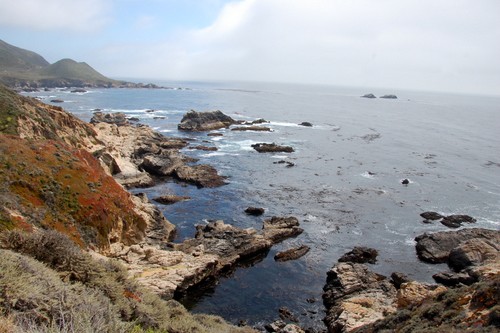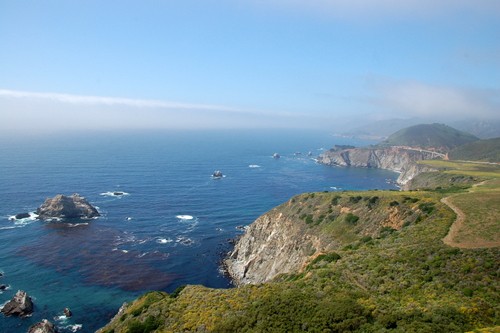 My daughter insisted we pull over when she spotted a herd of cattle feeding not far from the road. Watching the cattle graze, I couldn't help but think of those "Happy cows live in California" commercials.  A cool, grassy field alongside some of the most scenic coastline in the country is definitely not a bad place to be a cow.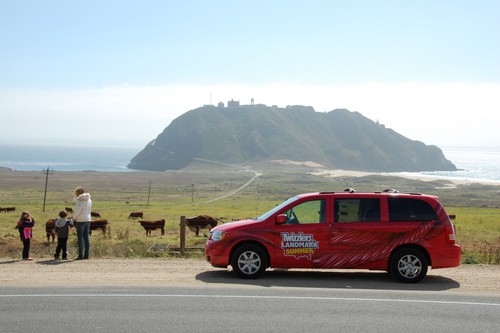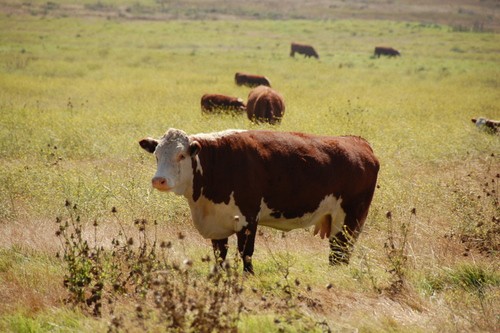 One spot I knew we couldn't miss was Julia Pfeiffer Burns State Park. A short 1/4 mile trail ends at a viewing point overlooking the most beautiful beach on the California Coast. What makes this beach so special?  Well besides having blue-green waters, dramatic cypress trees perched on surf-slammed rocks, and a perfect little cove that is usually deserted, the beach also has a waterfall that drops down onto the sand and into the sea!There is no reasonable way to actually get down to the beach unless you are into taking life-risking climbs down the side of an unstable cliff.  The empty sand, minus a few birds taking a bath in the waterfall, makes the scene even more picutre perfect.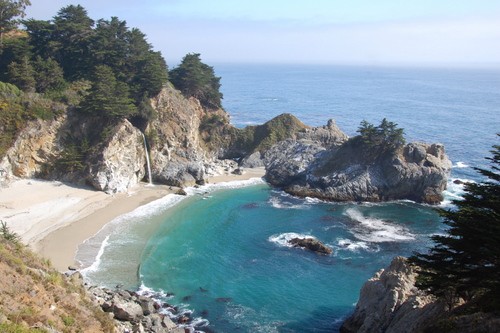 Our final stop of the day was just north of San Simeon, home to Hearst Castle. As much as I love Hearst Castle, there was no way I was going to take my four-year-olds on a guided tour of a mansion filled with priceless artifacts. Instead, we stopped at an elephant seal rookery on Piedras Blancas beach, just four miles north of the castle entrance.  Back in the 1800's, elephant seals were hunted for their blubber and thought to be extinct by the 1880's. Luckily a small group of 20-100 elephant seals managed to survive on Guadalupe Island, off the Baja California Coast. Now there are 170,000 protected elephant seals worldwide, all decendents of that very herd.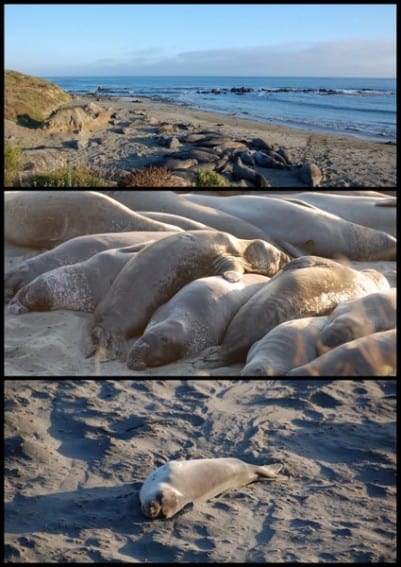 If you have never had the chance to sit and watch a heard of elephant seals interact, I would definitely put it on your to-do list. They lay on the sand like lazy lumps of blubber and frequently squabble about all sorts of elephant seal issues including: stepping on each others' flippers, looking at each other the wrong way, and generally just existing near one another. The sounds they make are highly entertaining and the brief moments of exursion followed by flops of exhaustion onto the sand are comical. There were several white furry babies in the group, all of them being worthy of an "Aww" moment. My kids loved watching the seals interact so much that I  literally had to drag my daughter to the car. I would have been happy to hang around a bit longer but the sun was setting and we hadn't even reached our hotel room yet.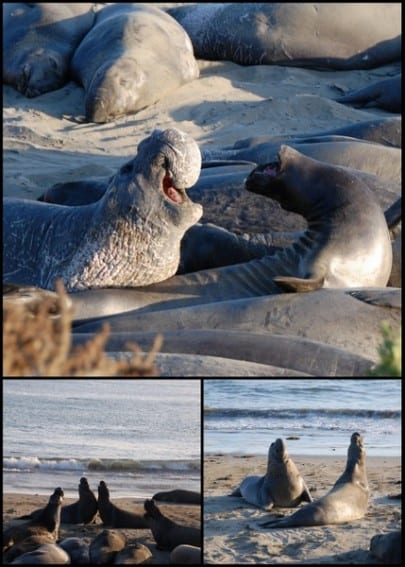 That night, we stayed at the Sand Pebbles Inn in Cambria. As soon as I walked in the door to register, I knew we were going to love this place. The woman behind the desk could not have been nicer and her kids were hanging out wearing PJs, playing board games, and quietly singing  Adele songs. A bucket near the door was filled with sand toys for visiting children to take across the street to Moonstone Beach.  I was walked to my room, asked about my day, and graciously helped when I asked for dinner suggestions. As a matter of fact, the innkeeeper even told me where to sit and which waiters to ask for! Our room had 2 queens beds, a fireplace, and an incredible ocean view for only $279. On a Saturday. In August! I was incredibly impressed.  Every single person working at the property wass incredibly welcoming and friendly, and the complimentary breakfast the next day was very tasty. I can't speak more positively about this wonderful little inn.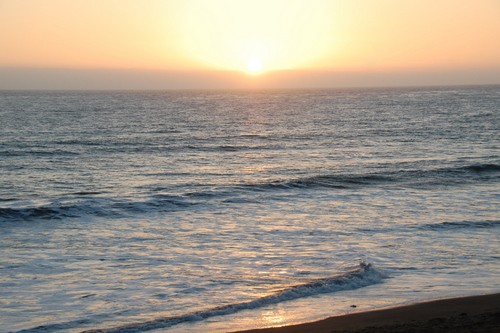 Day 5 of our trip didn't leave me much to write about. Since I had been feeling under the weather during the last two days of our trip(and my daughter was showing some of the ame symptoms), I wanted to just head home and get some rest. Unfortunately, we were heading home on a Sunday and many other people must have had the same plan. Our 4 hour drive turned into a 6 hour drive, and we didn't hit a bit of traffic through Los Angeles! Tonight, I had to break it to the kid that the Twizzlermobile was being handed off to another family in the morning. My son didn't take it well. I think he really enjoyed driving around in his "candy car".  I know we all did.
Disclosure: I have been chosen as one of the Twizzlers Traveling Families.  My trip (gas, hotel, food, and incidentals) is being paid for by Twizzlers. I have received no other compensation and opinions stated are entirely my own.
– – – – – – – – – – – – – – – – – – – – – –
Sharlene Earnshaw (aka doubleadventure) is Blogger-in-chief for Trekaroo and the blogger behind Double the Adventure.

Travel with kids to: CA |CO | DC | FL | HI | IL |MA | NC | NY | OR | PA | TN | TX | VA | WA