Last Updated on
My family only had one full day to spend in San Francisco so we set out to make the most of it. The day began at House of Air, a huge trampoline-filled building located at San Francisco's Crissy Field. I take that back- the day began with us scrambling to find enough spare change in our wallets to make bridge fare ($6.00 is obsene!) followed by our GPS leading us deep into the city and far from the true House of Air location. We we reached the Financial District, I knew something was very wrong and after some research I discovered that the House of Air website actually warns that GPS will take you to the wrong location. Oops! Luckily, my husband is excellent at manuerving the crowded and crazy city streets and got us to our destination just 5 minutes late. Phew!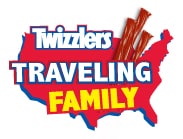 Win a Landmark Trip of your Own
and lots of other Prizes from Twizzler
As soon as we parked, we lept out of the car and ran to the entrance to make as much use of our hour long session as we could. We noted that the House of Air has an incredible view of the Golden Gate Bridge (a reaccuring theme in this trip) but didn't have time to fully enjoy the vista. We had to get inside and jump!
I can't begin to explain just how much fun House of Air truly is. My daughter was a bit nervous to jump on the super bouncy trampolines at first because they propelled much higher in the air than the typical bounce castle. Luckily after about 5 minutes, she was completely sold on the experience. Although I can say with 100% certainty that my kids had a blast, I think that my husband and I may have even had more fun. There is just something about letting loose and bouncing to your heart's content that is good for the soul. It didn't take long for my husband to find his way into the dodgeball room. It was truly hysterical to watch my 6'5″ husband play dodgeball in a room filled with teens and preteens. He must have looked like a giant with a menacing red ball to the kids on the other side of the court. While an hour doesn't seem like very long to spend at a trampoline house, I assure you it is plenty of time. Bouncing is a great workout but our aging joints and bladders were definitely feeling a bit jossled by the end.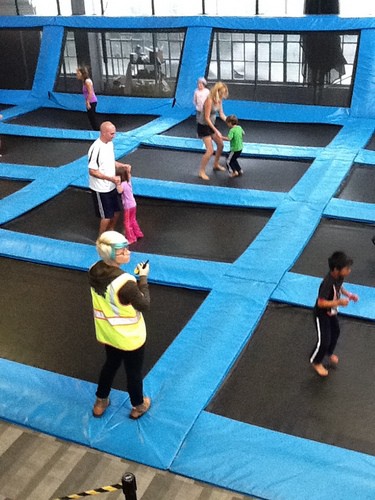 After all that bouncing we had worked up a good appetite so we headed up into the Marina District and had burgers at Barney's, which has won awards for serving the best burgers in San Francisco. The atmosphere was casual and family friendly but the burgers were gourmet all the way. Besides having a menu with about 15 different topping combinations, the restaurant also gave diners the option to choose a beef, chicken, turkey or veggie patty for their burgers. Being the purists that we are, both my husband and I went with the beef patty, which was large and flavorful. I dined on a very spicy chipotle burger, which was definitely up my heat-loving alley. Paul must have been dreaming of more tropical temperatures because he went with the Maui Wowie, which he gave two teriyaki splattered thumbs up. The kids weren't in a burger mood but the kids menu had many burger-free options such as hot dogs, girlled cheese, and chicken fingers.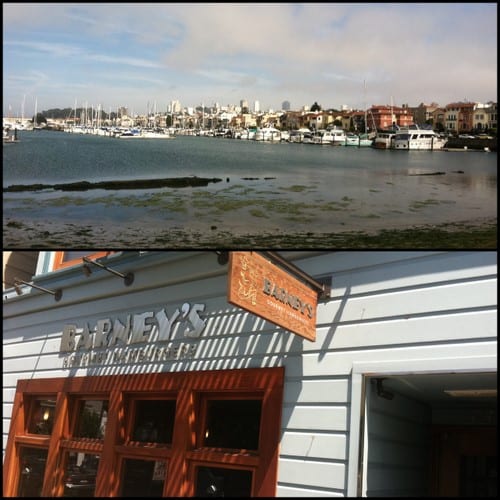 After lunch, we decided that no trip to San Francisco was complete without a ride in the Twizzlermobile down Lombard Street. I have been to San Francisco dozens of times but had never actually driven down the street, famous for being the most windy in the country. I always had the "that's what tourists do" mentality but today I face the reality that I am, in fact, a tourist. Riding down Lombard Street may be touristy but its also pretty fun. I think some of the most fun I had was when I hopped out of the car and tried to race down the hill through the crowds to get a good shot of the Twizzlermobile winding its way down the road. I felt like a member of the Hershey paparazzi.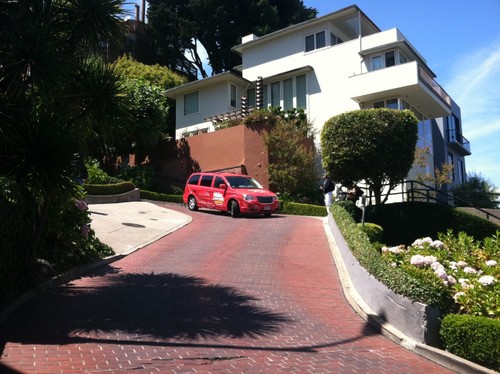 We spent the afternoon at the Exploratorium, a hands-on science museum and San Francisco institution located at the Palace of Fine Arts. I have fond memories of enjoying the Exploratorium without my kids but this was the first time they were old enough to enjoy and understand the exhibits. Though my preschool-aged children weren't interested in everything inside of the museum (many of the exhibits are geared towards ages 7 and up) , they did find plenty to keep them occupied during our 2 1/2 hour visit. My son was attracted to anything that related to balls including levatating balls, launching balls, and running marble balls down kid-created tracks. My daughter loved the exhibit that allows kids to create art using a wooden stick to manupilate sand on a spinning table and making the time lapse move forward and backward in the life cycle of a fungus. My favorite will always be the volcanic sand which has magnetic properties and is just so fun to play with!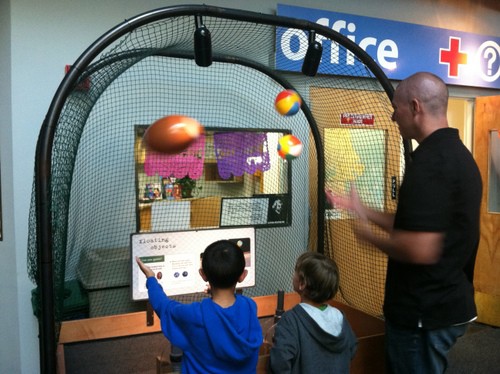 We ended our day with family and friends who met up with us at Off the Grid, a popular weekly food truck event that is held at Fort Mason on Friday evenings. It was here that I was able to meet up with Liling and Brennan, the masterminds behind Trekaroo. It's always great to have our little Trekaroo family together, and good food only sweetens the pot. Though my family enjoyed all the food we sampled from the different trucks, we concluded that Chairman Bao had the leg up on the competition with some amazing pork belly buns. The only downside to Off the Grid is that the lines are long and the seating is sparse, creating an environment that is not ideal for little kids. That being said, my kids love food trucks (they have been well-trained) and enjoyed the company of our group until Mr. Sandman started pouring extra doses of sleep dust into their eyes and it was evident that it was time to pile back into the Twizzlermobile and head back across the bridge for the night. Tomorrow, we take on Big Sur!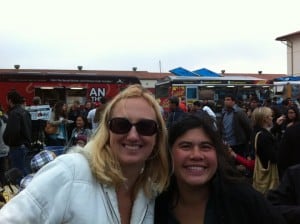 Disclosure: I have been chosen as one of the Twizzlers Traveling Families. My trip (gas, hotel, food, and incidentals) is being paid for by Twizzlers. I have received no other compensation and opinions stated are entirely my own.
– – – – – – – – – – – – – – – – – – – – – –
Sharlene Earnshaw (aka doubleadventure) is Blogger-in-chief for Trekaroo and the blogger behind Double the Adventure.

Travel with kids to: CA |CO | DC | FL | HI | IL |MA | NC | NY | OR | PA | TN | TX | VA | WA