Today wasn't high on activities but it most certainly was high on excitement. We made the four and a half hour drive from Avila Beach to San Francisco in the late morning, after enjoying some rousing games of ping pong at the Lighthouse Suites, or as my son called it "the best hotel ever!". We enjoyed the rolling hills landscaped with vineyards and vegetable fields, but after a few hours on the road, rolling hills covered in rowhouses and a foggy mist were much more exciting.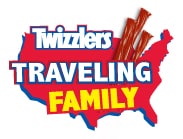 Win a Landmark Trip of your Own
and lots of other Prizes from Twizzler
San Francisco has always held a special place in my heart. So many of my favorite memories of early adulthood are set in this diverse city by the bay. Originally, we had planned to spend all of Friday afternoon in Golden Gate Park but a friend reminded us that the Outside Lands Festival was taking place in the park this weekend and trying to get in and out of the park would be a near impossiblity. I was a bit frazzled at the notion of having to change our plans at the last moment but thankful to not accidently stumble upon a traffic nightmare.
Though we only had about 90 minutes on Thursday to spend in the park before everything shut down (most concessions close at 5PM), we were able to take a fun paddleboat ride around Stow Lake. The last time I paddled my way around the lake my husband was simply my boyfriend, and he was successfully wooing me with a romantic day in the park. It felt nice to come back to the park and once again paddle side-by-side, but this time with two little ones enjoying the ride in the back seat. We couldn't help but notice that it was much harder to paddle the boat this go around and I am sure my gluteus maximus will be throbbing in the morning, but sharing pink popcorn with the kids and laughing at the ducks who were following our boat in hopes of snagging a bit of our sweet treat made it worth all the work.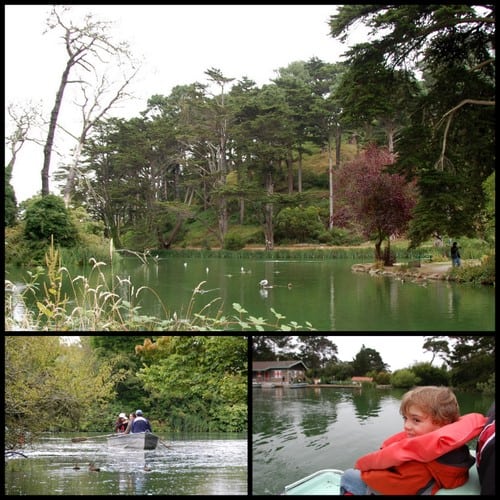 After the park we decided to cross the Golden Gate Bridge, our official landmark in the Twizzlers Landmark Summer event. The bridge and I have a funny relationship. I have a pretty big fear of bridges but I have always loved the iconic beauty of the Golden Gate. I love it so much that I have spent time admiring it from nearly ever angle, including a brave walk across the bridge itself. While walking the bridge is completely safe and certainly an experience I would recommend to anyone visiting San Francisco, driving across it today and seeing people peer over its edges reaffirmed by decision to make that a once in a lifetime experience. I would much rather view it from the lawn of our incredible hotel, Cavallo Point Lodge.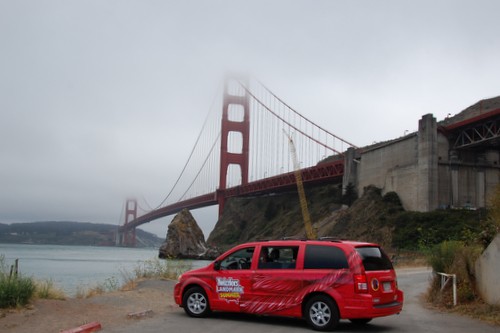 I have stayed at some pretty amazing hotels, but this hotel may just take the cake when it comes to amazing views and historical relevance. Cavallo Point is situated on Fort Baker in Sausalito, CA. Fort Baker is part of the National Park system, and the buildings which were formerly officers quarters built between 1901 and 1915, now serve as lodging. Sleeping in such gorgeous buildings filled with rich history and offering incredibly scenic views of San Francisco and the Golden Gate makes for quite the lodging experience. The other bonus is that there are several suite-sized options on-site which give parents some separation from the kids at bedtime.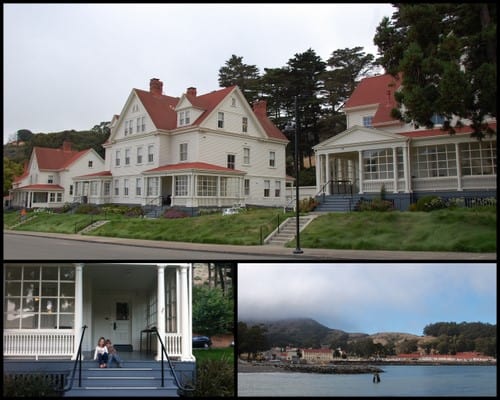 For dinner, we decided to head back into the city and enjoy some pizza at Tony's Pizza Napoletana in North Beach, San Francisco's Italian neighborhood. Unfortunately, they told us the wait was almost 2 hours to try a slice of Tony's world champion pizza and there was no way our four-year-0lds were going to last that long. The nice thing about the pizzeria is that Tony will call your cell phone when it is time to sit down so if you want eat here (and everyone who has tasted this pizza agrees it is worth the trouble) be sure to send someone earlier to make the reservation. We ended up at Calzones, an Italian restaurant specializing in homemade pastas, pizzas, and you guessed it- calzones! The food wass good but I can't help but wonder what I was missing at Tony's. It's a good thing we didn't decide to wait because my son ended up falling asslep at the table. We were all exhausted from a long day's travels. Luckily tomorrow is short on car time and big on fun!
Disclosure: I have been chosen as one of the Twizzlers Traveling Families. My trip (gas, hotel, food, and incidentals) is being paid for by Twizzlers. I have received no other compensation and opinions stated are entirely my own.
– – – – – – – – – – – – – – – – – – – – – –
Sharlene Earnshaw (aka doubleadventure) is Blogger-in-chief for Trekaroo and the blogger behind Double the Adventure.

Travel with kids to: CA |CO | DC | FL | HI | IL |MA | NC | NY | OR | PA | TN | TX | VA | WA