The Liberty Bell. Our nation's capital. The Golden Gate Bridge.  These are the type of landmarks families build their vacations around.  This summer Twizzlers (yes, the red twisty candy we all know and love) is encouraging families to take their own landmark vacations during their Twizzler Landmark Summer promotion.
Build your own landmark itinerary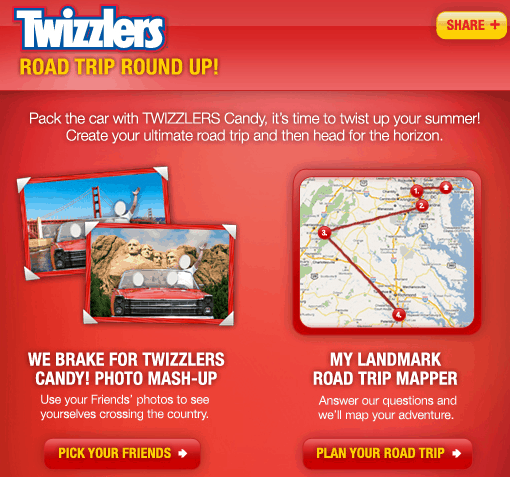 Trekaroo always encourages families to travel, so teaming with Twizzlers in an effort to get more families to take the Great American Roadtrip was a no brainer. Twizzlers has tools on their site to help families to plan their own trip as well as helpful travel tips.
Giveaways, giveaways, giveaways
Twizzlers knows that you love a good giveaway so they have made sure families have multiple opportunities to win all summer long.  You can enter daily to win prizes such as a GPS, digital camera, national parks guidebooks, and the grand prize- a vacation to your favorite American Landmark!
Of course, Trekaroo had to get in on the giveaway action as well, so stay tuned as we give away fabulous Twizzler prize packs to 10 lucky Trekaroo families throughout the summer (psst- our first giveaway will be here on the blog on May 30th).
Cruisin' in the Twizzlermobile
This summer, keep your eyes peeled for a super cool minivan decked out with a Twizzlers wrap cruising down the interstate.  Ten lucky bloggers ( including Superoos MamaCheaps and Minnemom)  have been chosen to travel to landmarks around the country, starting in  Rhode Island and ending in Seattle. Each family will take a 5 day road trip to a famous landmark and chronicle the journey on their blogs as well as the Twizzler website. I am thrilled to announce that my family is one of the lucky families!!!

My family will start in Orange County, CA and head up the California Coast (one of our country's finest natural landmarks) to the Golden Gate Bridge. We are very excited for our road trip, especially since we haven't been to San Francisco since we moved from Northern California almost 3 years ago. Of course, we are also excited about the massive supply of Twizzlers which will be accompanying us along the way.  I am still trying to convince my husband to walk around the streets San Francisco in a suit made of Twizzlers.  If you see us on the road, flag us down and I will throw some Twizzlers your way!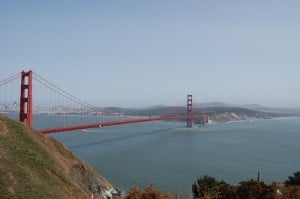 Follow that Twizzlermobile!
We encourage you to follow all of the bloggers as they take the mighty Twizzlermobile across the country.  As each blogger completes their leg of the journey, Trekaroo will be sharing a road trip itinerary which takes families to the featured destination each bloggers is visiting. We hope these will encourage you to make your own family road trip plans.
The journey kicks off in a few days as we follow Audrey Mc Clelland of MomGenerations.com and her family as they leave Rhode Island for Washington DC.
Let the Landmark Summer begin!
Disclosure: I have been chosen as one of the Twizzlers Traveling Families.  My trip (gas, hotel, food, and incidentals) is being paid for by Twizzlers. I have received no other compensation and opinions stated are entirely my own.
– – – – – – – – – – – – – – – – – – – – – –
Sharlene Earnshaw (aka doubleadventure) is Blogger-in-chief for Trekaroo and the blogger behind Double the Adventure.

Travel with kids to: CA |CO | DC | FL | HI | IL |MA | NC | NY | OR | PA | TN | TX | VA | WA