The kids and I arrived at Snow King Resort with the kids. Our family checked four items off our kid's summer wish list today. We rode an alpine slide, climbed a rock wall, went horseback riding, and swam in a gorgeous pool! Snow King Resort is so much fun!
After only one week, the kids and I were really missing my husband! So we were just beyond excited to pick him up today at Jackson Airport. Then we spent the day at Snow King Resort swimming, zooming down the alpine slide, climbing the rock wall, and riding horses.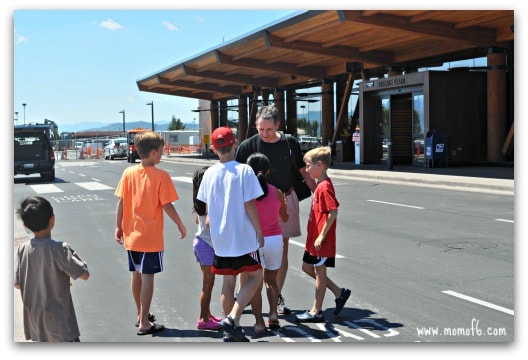 We ended this perfect day with a fantastic dinner at Hayden's Post right at the resort- dining on flat iron steak, bison chili, and grilled trout. This was the most amazing meal we have had on our trip! This was simply one of those magical "life is good" moments. All six kids were happy and behaving well, and my husband and I got to enjoy a nice glass of wine while enjoying a beautiful view. It seems like Snow King Resort has brought out the best in all of us. Even T-Roo was kicking back and taking it all in.
Question: What have you checked off your family's summer wish list so far?
Follow the journey: