So it is kind of a bummer when you travel 3000+ miles and have plans to do something that is weather-dependent… like hike a slot canyon, and your plans gets canceled because of rain and flash flood warnings. The kids were pretty disappointed. But out of lemons comes lemonade, right? So we decided to make a stop at Cedar Breaks National Monument on our way to the hotel… and it gave us the most amazing canyon view EVER! We would have totally missed this- and that would have been such a mistake. The thunder clouds were rolling in while we were there- so we couldn't stay too long… but WOW!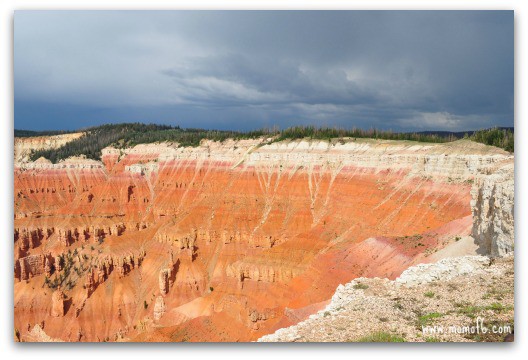 I wonder how many people skip over Cedar Breaks National Monument in favor of the larger National Parks? That would be a shame!
When's the last time you had to change your vacation plans because of weather or something unforeseen? Tell us your story.
Follow the journey: