News Release
For immediate release:
Trekaroo Contact:
LiLing Pang, (650) 248-7455, lpang@trekaroo.com
Trekaroo Kicks Off the Troo American Road Trip
One mom, six kids, 8,000 miles and a kangaroo.  That's the story of the Troo American Road Trip. Trekaroo mom, Sharon Rowley embarks on this brave and exciting journey starting July 19, 2013, sharing trip updates and tips from the road.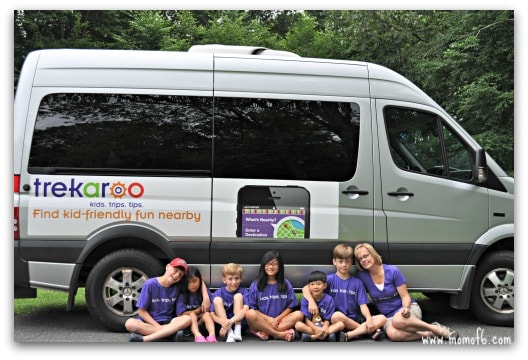 Trekaroo, California – July 19, 2013 – Sharon Rowley is a New York mom and when she decided she was going to take her six children to see the beauty of the western states, nothing was going to stop her.  Flying the entire family was way out of budget, so Sharon has decided to drive the entire 8,000 miles from New York to Utah and back.  Sharon's husband couldn't take a whole month off work to make the trip with her, but she is used to managing life for all six children ages 6-12 and wasn't about to let that stop her.  As if things weren't exciting enough, Trekaroo decided to ask Sharon if our hyperactive nomadic kangaroo, T-Roo, could tag along for the ride.  She said "Sure! We've got room for that cute little guy."
For 30 days, starting July 19, 2013, this uber organized mom behind Momof6.com will take us on her family's journey.  Together, they'll traverse 17 states, exploring some of American's greatest family attractions, National Parks, and fun roadside stops while driving the decked out Trekaroomobile.  Undoubtedly, things could go awry and we'll see this mom's endurance, patience, and creativity put to the test.  We'll get an inside look at how Sharon tackles the challenges of the road, her children, and whatever crazy little T-Roo throw her way.  Through video trip diaries, updates on Twitter, Facebook, Pinterest, and Instagram, we invite families all over the country to commiserate, marvel, and explore with the Rowley's.
Supporting her trip is the Trekaroo community of travel savvy families ready to answer trip questions for Sharon or any other family needing advice via Twitter.  Trekaroo has announced to families on the road to tweet @trekaroo their frustrations and travel questions using the hashtag #momSOS.  "We are ready to respond," says Trekaroo CEO LiLing Pang.  "Whether a mom just wants to commiserate or needs some urgent practical tips or road advice, we're here to help!"
T-Roo, Trekaroo's nomadic kangaroo begins his American adventure with the Rowley family.  He'll be hitching a ride with the Rowley's before continuing his journey with several other families he meets along the way, sending his trip updates to his very own Facebook page (http://facebook.com/trootrip).  By hitching a ride with fun families across the country, we hope that the kindness of strangers will help him explore the best of America and beyond. Trekaroo members are eager to see where T-Roo's adventures take him.
For Sharon's latest trip updates, go to #TrooTrip Central on Trekaroo: https://blog.trekaroo.com/trootrip2013/
You can also follow Sharon's trip on:
Twitter:  Follow @trekaroo and hashtag #trootrip
Trekaroo's Facebook Page: http://facebook.com/trekaroo
Pinterest: http://pinterest.com/trekaroo/road-trip-one-mom-six-kids-and-a-kangaroo/
Instagram: Follow @trekaroo and hashtag #trootrip
Sharon will be traveling through New York, New Jersey, Pennsylvania, Ohio, Michigan, Indiana, Illinois, Iowa, Nebraska, Colorado, Wyoming, Utah, Arizona, New Mexico, Kansas, Missouri
About Trekaroo
Trekaroo is the fun way to get the inside scoop on everyday travel with kids. With thousands of kid-friendly activities, hotels, and restaurants, Trekaroo unearths delightful discoveries near and far. Visit Trekaroo.com or download the Trekaroo iPhone app to connect with travel-savvy families.