My kids are definitely reaching that stage in life where they want to know everything about everything.  They want to know which grocery store I picked up their favorite cereal from, where the grocery store gets the cereal, and how the cereal is made.  I may not have all the answers to life's questions but I certainly want to harness every bit of that inquisitive energy and encourage them to learn as much as possible.  Adding a fun but educational trip to a factory can help satisfy that thirst for knowledge.  Lydie, our Superoo who always produces one great list after another, put together a fantastic list of family friendly factory tours that involve food.   Here are some of my favorite's:
The Jelly Belly Candy Factory: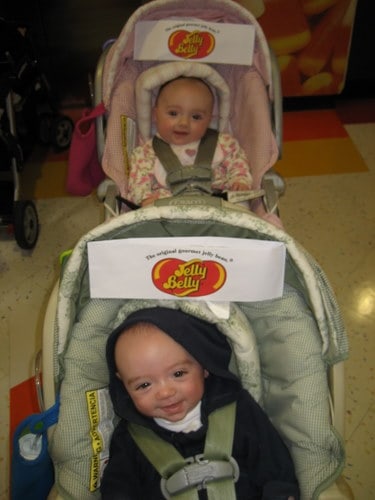 I took my kids to this factory when they were infants and I am pretty sure they would jump at the chance to head back.  After all, what kid doesn't want to be involved in a tour that involves free jelly beans?  Visitors will enjoy learning just what goes into those tiny little beans.   The tour is free.  Be sure to go during the week when the factory is in full hustle and bustle.
Ben and Jerry's Ice Cream Factory:
I took this tour when I was pregnant, which might explain my daughter's obsession with chocolate ice cream.   The tour is a right of passage for any ice cream lover, and an especially tricky way to sneak science into your vacation itinerary.   The free samples are fantastic and the Flavor Graveyard can't be missed.
Way back when I was a kid, I took this tour.  It left a lasting impression in my mind because I still have an allegiance to the Tillamook brand. The tour is self guided which allows families to explore at their own pace, and free samples of various cheeses are offered along the way.
Golden Gate Fortune Cookies Company Tour:
Hidden in a back alley of San Francisco's Chinatown is a factory filled with sweet treats.  Ever wonder how they get the fortunes in those tasty cookies?  Here they do it the same way they have been doing it for nearly a century.  Watch ladies with quick hands for a few minutes and then head over to purchase a bag of fortune cookies to take with you as you explore the rest of Chinatown.
Read about all the top food factory tours that made the list.
Still want more factory tour fun? Check out 14 family friendly factory tours and the 10 best chocolate factory tours.
– – – – – – – – – – – – – – –
Sharlene Earnshaw (aka doubleadventure) is Blogger-in-chief for Trekaroo and the blogger behind Double the Adventure.

Travel with kids to: CA |CO | DC | FL | HI | IL |MA | NC | NY | OR | PA | TN | TX | VA | WA