I'm jumping around like a maniac, because I'm excited that Trekaroo's iPhone App has been approved and is now in the iTunes App store!  There are certainly two things I'm personally addicted to – firstly, my iPhone and secondly, finding fun spots to explore with kids.  The Trekaroo iPhone App has been something I've been dreaming of for a while….and it's HERE!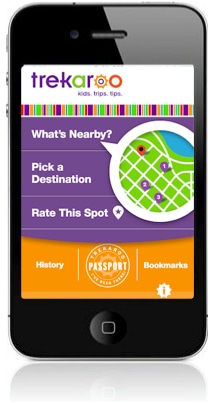 Find Kid-friendly Spots Neaby in a Snap
I cannot tell you how many times I've wished I could use my iPhone to find all those kid-friendly places near me that Trekaroo families have shared about.  So, we got our engineering team to make it happen.  The app makes different types of kid-friendly activities, restaurants, and hotels near your location just a click away.
List View
I've been testing it for the past few weeks while we were exploring Colorado.  I'm happy to say, it worked beautifully for helping us to plan our day.  Using the list view we could see the top rated attractions easily.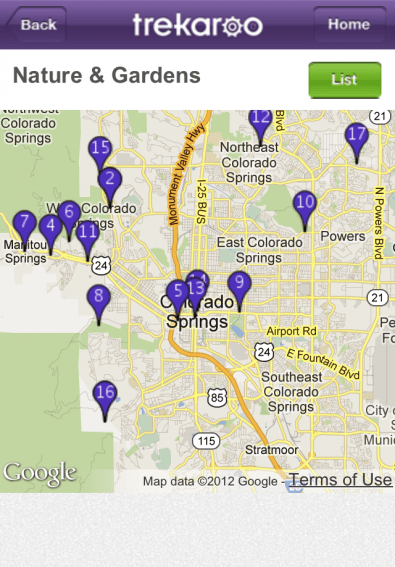 Map View
Using the map view, we could see where various attractions were in relation to our current location.  The map view was great for planning our road trip.  Drag it in the direction you're driving and refresh the map to see what's along your route.
Discover, then Add Photos and Reviews on the Spot

I also love discovering fun spots to explore with my kids and making sure that other families know about them.  I'm always whipping out my iPhone to take pictures of great playgrounds and other discoveries, but often those pictures and reviews don't quite make it onto Trekaroo. Sound familiar?  Well, this trip to Colorado, I found a great playground in Manitou Springs at Soda Springs Park and while the boys were happily playing, I snapped a few pictures, drafted a short review, and uploaded it all using the Trekaroo iPhone app.   It was awesome to be able to share my thoughts and photos in the moment that we were experiencing it. 
Download the Trekaroo iPhone for yourself as your explore this summer
Leave us a review on the app store about what you love about the app and what you wish the app would do for you in future releases.  We plan to keep making improvements.
Love it? Don't keep it to yourself. 
Share about it with moms you meet at the playground, in line at Disneyland, on Facebook, and Twitter. 
Cheers for a fun filled summer as we explore with the Trekaroo iPhone app.  I can't wait to hear about all the great places your family is finding this summer.