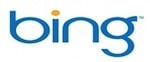 Are you staying up late searching for ways to stretch your fun dollars this summer?  Then you'll be excited to know that Bing Travel has a Price Predictor which uses crazy mathematical algorithms and historical data to tell you whether you should buy now or wait for an upcoming fare drop.  We think it's pretty cool, so Trekaroo's teamed up with Bing Travel to giveaway $1500 worth of travel dollars to Trekaroo families.  Get ready to cash it in for hotel stays, flights, restaurants, travel gear, car rentals or whatever you need for your summer family vacation!
All you have to do some writing and learn about Bing Travel's Price Predictor. Easy peasy!
Do you have a blog?
YES, I'm a blogger. We've got a special Summer Travel Blogathon to win $500 in cash from Bing Travel for you.  All the details are below. Feel free to enter the Summer of Travel Contest too.
How the Summer of Travel Blogathon works:
Write a post on your blog about "Your Family's 2010 Summer Travel Plans" any time before June 14, 2010.  Then, follow the rest of the requirements below.
Your posts will be collected and featured on the Trekaroo blog and marketed to lots of families in our network. We will contact the people whose submissions have been selected on June 14, 2010.
Prize: $500 Bing Travel gift card
Requirements:
To participate:
1. Create a post on your blog about your family's 2010 summer travel plans. Only 100% original content please.
2. Include at least one obvious link to Bing Travel's Summer Travel Forecast in your post and say a few lines about what you think of it.
*Include the following disclaimer as a footnote in your post:
"I wrote this blog post while participating in the Bing Travel and Trekaroo summer vacation spotlight for a chance to win $500 in cash. For more information on how you can participate, click here." (include this link: https://blog.trekaroo.com/2010/05/17/trekaroos-2010-summer-of-travel-contest-and-blogathon/)
3. Share with your readers about our $1000 Summer of Travel Contest and link it to https://www.trekaroo.com/summer-of-travel: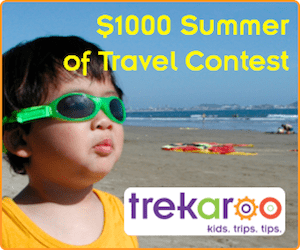 4. Return to this blogpost and post a comment below with an active link to your qualifying blog post.
Eligibility:
No purchase required to participate. You must be a legal resident of the 50 United States or the District of Columbia, have a personal blog and be a registered user of www.trekaroo.com to participate and at least 18 years of age or older at time of submission. See Terms and Conditions.
– – – – – – – – – – – – – – – – – – – – – – – – – – – – – – – – – –
Esther Lee is a contributing author on Trekaroo – a reviews site dedicated to exploring and traveling with kids.

Travel with kids to: CA | CO | DC | FL | HI | IL | MA | NC | NY | PA | TN | TX | VA | WA