The original inhabitants of the Yosemite Valley called the place Ahwahnee, which translates to something like "large mouth". The area was said to resemble a gaping bear's mouth, but it is also an apt description of the effect this rugged and vast landscape has on visitors of all ages. It's a stunning view that makes the soul feel big and the every body seem small and allows a child's imagination to fly wild in the high sky of the Sierras. Trekaroo parents attest to the majestic qualities of this national park and through their contributions they have given us a list of the top spots to visit while in Yosemite with the youngsters:
The Pinnacle of Wonder for Kids in Yosemite: Glacier Point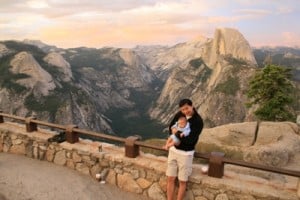 There's something about perspective that changes things and at Glacier Point it's all about perspective. The spectacular view from the top may have your child forgetting all about their Nintendo Wii bowling score for at least a few minutes while they contemplate the grandeur of the world around. Half Dome looms in the distance, allowing parents to briefly appreciate not having to trek 14 miles up that rock with the youngins. As trekaroo parent Lydie says "[Glacier Point is a] beautiful view without having to hike for hours." However, if hiking is part of your plan, Trekaroo mom Sarah assures us "there are hikes that start and end here." Whether hiking or driving to the top of this Yosemite landmark, Trekaroo parents rank this as one of the best places to visit with their kids. Shinyhappypeople has this advice: "If it's your first trip to Yosemite and you don't have much time, put Glacier Point at the top of your "must see" list. You won't regret it."
Best Place for a Kid-Friendly Yosemite Education: Yosemite Valley Visitor's Center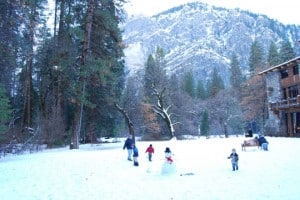 The Yosemite Valley Visitor's Center is frequented by many a mom and dad at the start of their pursuit of the great outdoors. It's a great place to begin with plenty of maps and advice to go around. "If you aren't an experienced camping/hiking/walking the trails family, you should stop in at the visitor's center. You'll find maps and hopefully a park employee to answer any questions," says familiarycerz. Besides gaining your bearings, the Visitor's Center offers other educational activities for kids. Trekaroo mom arial confirms that this is a great way to start your child's Yosemite adventure: "Not only can you learn about the surroundings and environment, but you can also watch a great free video that is full of history." With so much to see and do, first time visitors will especially benefit from the resources at the Visitor's Center and find the most enjoyable way to explore.
Photo Credit: uSchmarol
The Most Classic Yosemite Journey for Kids: Yosemite Falls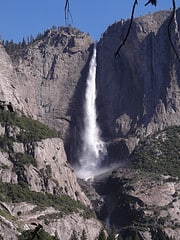 It's on the postcards and in the films, but there's nothing quite like watching massive amounts of water fall a few thousand feet. It's quite a step up from the bathtub faucet. Trekaroo parent doubleadventure reminds us that this aquatic wonder truly is for everyone, "Even the tiniest munchkins and those who are disabled can get up close and personal with the Lower Falls". Many a youngster (including this author at the ripe age of 7) has made the trek up this towering fall. Trekaroo user Arial also waxes nostalgic about her childhood journeys up the Falls and gives the recommendation of packing a good hearty lunch for the trek. Whatever level of physical exertion you choose, the kids will no doubt be awed by the sight and sound of the three falls the make up this beautiful trademark of Yosemite.
Photo Credit: bunny_mama
The Best Place for Kids to see their Parents Looking Up: Mariposa Grove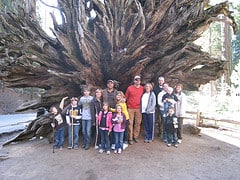 In Mariposa Grove the trees are nearly as tall as your child's imagination. "There are amazing trees here, really big ones, that you can walk through," says morrobaykim about this precious forest. HDinSoCal enjoyed the walk to "Grizzly Tree" with the family, "This tree was the best tree worth seeing." Amongst these cousins of the Redwoods, there are many ways to meander through the towering, millenniums-old trees by foot or by guided tour, whichever suits your motion fancy. Trekaroo parents warn, however, that the parking lot is frequently full, especially in the summer.
Photo Credit: flickr/Jared Hawkins
The Best Place for Kids to Reflect on Life's Big Questions: Mirror Lake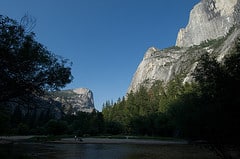 Even mountains can have a bit of vanity, which is why Mirror Lake rests below the towering façade of Half Dome. There are adventures to be found along the trail, such as TravelPang's see-saw discovery. And the destination itself is a spectacular way to relax the afternoon away with a packed lunch and swimming trunks. The hike is accommodating as maimai19 puts it, it's a "nice hike for anyone, young and old." The trail is stroller accessible for those who can't quite carry all their own weight yet. Trekaroo mom, Arial, recommends this place for all-comers: "Whether you get here by biking, hiking, bus, car, or horse this is a great place for all to visit."
Photo Credit: Giles Douglas
Trekaroo is seeking families who love National Parks! Sign in and share your reviews on Trekaroo. Every review you write over the next 3 weeks can be can be entered in the $1000 Summer of Travel Contest!.
Enter to win a National Park Pass

Related Articles:
– – – – – – – – – – – – – –
Stephen Wanta is a contributing author on Trekaroo – a reviews site dedicated to exploring and traveling with kids.
Travel with kids to: CA | CO | DC | FL | HI | IL | MA | NC | NY | PA | TN | TX | VA | WA
Featured photo by: Shutterstock