(Last Updated On: April 17, 2017)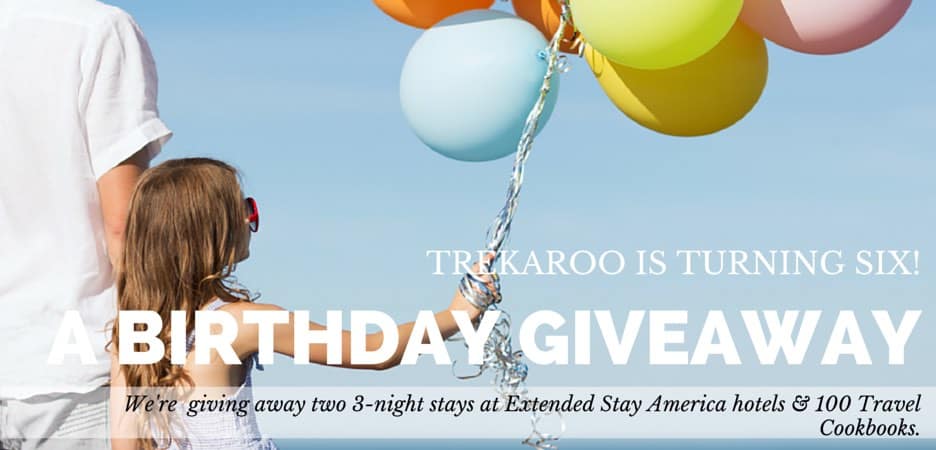 It's our birthday and we are delighted to celebrate with the entire Trekaroo community. For the past six years, families have found us and we've become friends, we've laughed together and commiserated together. Brands have also become cherished partners. This month, we'll celebrate together.
So, as we are accustomed to doing, our birthday bash includes a family vacation giveaway with two winners and some some birthday rewards for those of you who have a few reviews you're been sitting on from your adventures in 2014.
The Birthday Giveaway: 3 Nights at Any Extended Stay America Hotel
Every Extended Stay America hotel room includes a fully equipped kitchen and full size refrigerator. With lots of space to stretch out, free breakfast, facilities to self-cater some meals, and most properties with a swimming pool, you'll find your family is right at home. Their extensive network of 682 properties throughout the U.S. and Canada offer a consistent experience you can depend on and lots of options for using this prize. We'll be picking TWO winners.
Bonus Offer: Get $10 off your next Extended Stay America hotels reservation
Sign up for Extended Stay America hotels "Suite Offers" email and receive exclusive offers for members only.
It's Free!
Suite Offers discounts are available to members only.
Save $10 Today – You'll get $10 off your next reservation just for signing up.
The Birthday Rewards: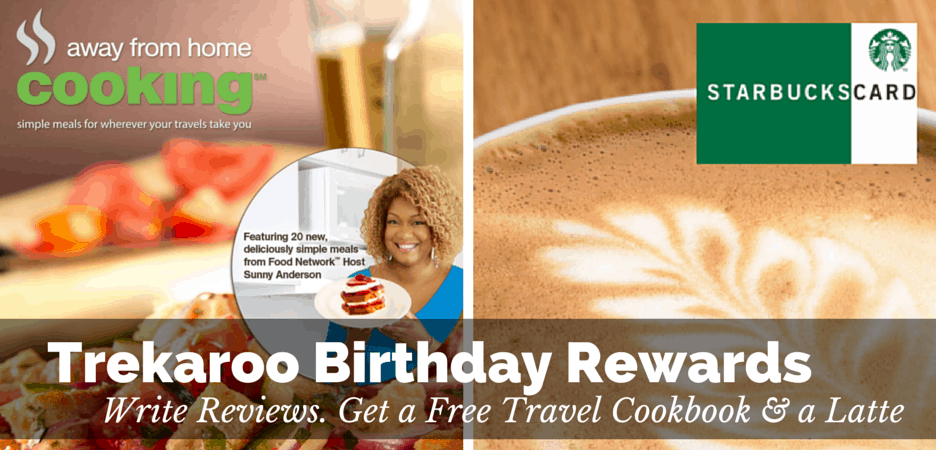 We are giving away a few fun birthday gifts to the first 100 people to write new reviews on Trekaroo between January 12 through Feb 11, 2015
Write just one review
To help plan your on-the-road cooking, we are giving away 100 copies of "Away From Home Cooking" travel-size cookbook to the first 100 people to write just one review.
Write five reviews
On a roll? Write 5 reviews, and we'll send you a $5 Starbucks gift card so you can enjoy a latte on us.
How to Get Trekaroo Birthday Rewards.
Step 1: Join/Sign in to Trekaroo
Step 2: Write some new reviews (1 if you just want the cookbook, 5 if you want a Starbucks gift card too)
Step 3: Claim your rewards by filling out the claim form
This is a limited Birthday Rewards offer, so hurry, submit your claim before Feb 11, 2015.
Official Rules for the Trekaroo Birthday Rewards Program.
About The Away From Home Cooking Travel Cookbook
Does your family love to mix in some self-catering for your family while you are on vacation? It sure goes a long way towards relaxed mealtimes and budget-friendly travel. Smart menu planning that includes easy and tasty recipes is the key to ensure that the cook of the family also gets a vacation.
It's small enough to tuck away in your carry on. Created in partnership with Extended Stay America hotels and Food Network host and frequent Extended Stay America Hotels guest, Sunny Anderson, it features 24 simple, budget-friendly recipes and supermarket shortcuts. A perfect cookbook for a family on-the-go, the easy everyday recipes are designed to be whipped-up in the fully equipped kitchen available in every Extended Stay America hotel room. Pack this little cookbook and enjoy delicious, affordable family dinners while on the road.
Comments
comments