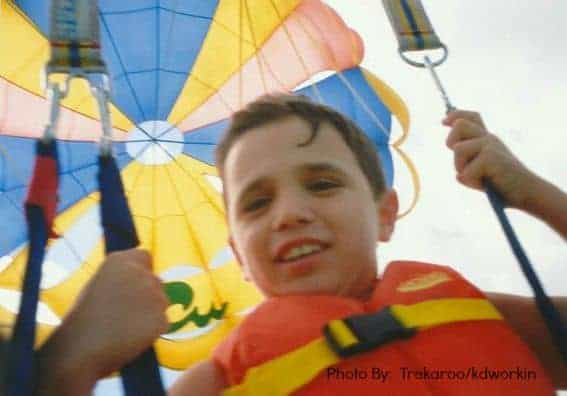 Travel produces eye-opening lessons not just about the world at large but about our place in it.  While some of my travel adventures have revealed strengths I didn't know I had and others have given me bits of world history to explore, all have colored my world view in wonderful and immeasurable ways.  None has changed me more though than traveling with my son who is on the Autism Spectrum.
Autism spectrum disorders are a group of developmental disabilities that can cause significant communication and behavioral challenges. My son travels in a world that is not designed for kids like him.  Sounds are louder in his mind, smells are more intense.  He often doesn't get social cues.  But when my son decides on an adventure he goes all out, perhaps a little more than the average 8-year-old boy.
Parasailing in the Florida Keys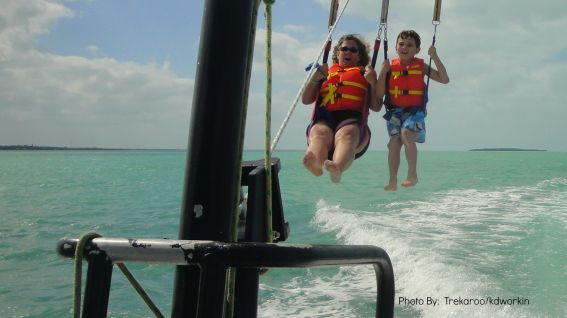 During a recent trip to the Florida Keys he announced, "I want to go parachuting!"  I looked into the big brown eyes of my suntanned little beach comber as he jumped up and down making the same announcement over and over again.  Just then a boat zipped by toting a parasailing chute behind it.  Suddenly the request made sense.  "I want to go! I want to go! We HAVE to go!" he squealed.
Much to my surprise, this was not an outlandish request.  The folks at Caribbean Water Sports, the outfit offering water activities at the Hilton Key Largo, can take kids as young as 6 up for a parasail.  However, he would have to ride tandem with a grown-up. This meant the only hurdle to get over before my little boy could take flight was his mom's fear of heights.
Proving that sometimes there's no quicker way to gain perspective than letting an objective stranger guide you there, the boat captain said to me, "Come on Mom, if he can do it with autism, you can do it with a fear of heights!"   With my sensory challenged child willing to put himself in a sensory filled situation, how could I say no?
In the blink of an eye we were flying above the bay behind the resort.  I was so busy watching my amazing boy that I hardly paid attention to the heights we'd reached.   He laughed and waved his legs around like he was walking on air.  For me, the landscape rushed by and in the end became part of the background.  When we landed, my son walked a little taller and was more than ready to move onto his next adventure.  It involved an air boat and a bunch of alligators on the Everglades of course!
Fan Boat in the Everglades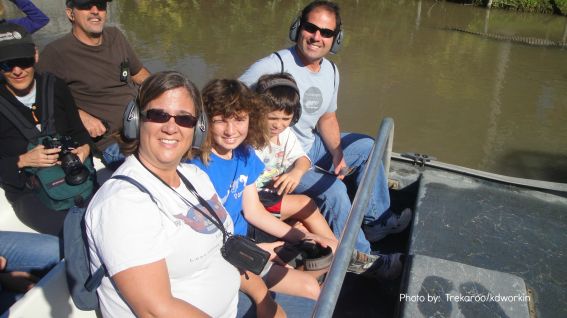 A ride on a fan boat is one of the many highlights of a visit to the Everglades Alligator Farm.  The whir of the spinning blades in that enormous circular fan as it skips along the surface of the murky waters of the Everglades can make even a typically developing kid protective of their hearing.  Fortunately my son was so fascinated by the fan, he didn't notice the noise.  We barely got some headphones on him before he climbed into the front row of the boat.  He was on an adventurous streak after all, so the front row seating was a must.
Let me be the first to warn all future fan boat riders, there is no wetter row than the front row!  When the pilot turns that boat around and heads back to the port, a rush of water floods the front of the boat!  It all happened so quickly, I slid off the bench and onto the floor leaving both of my kids in a fit of laughter.
I'm not sure what fed my son's adventurous streak on this trip, perhaps there is something in the Florida waters or maybe it's just that travel broadens the horizons of kids on the spectrum too as long as their parents take note and reach past their own fears.